Someone asked me a few days ago if I had a special memory about a Christmas gift I received as a child. You know, like something that you really really wanted, or something that was a surprise that you ended up loving. Do you guys have any fun Christmas gift memories?
I think mine would have to be the year when I didn't get enough presents. That sounds horribly selfish, but as a 7 year old, it was tough. I just remember sitting there on Christmas day, looking around at my older siblings playing with all their awesome new toys, and then looking down at the one or two presents that my parents had given me. I don't have much to say about the selflessness and longsuffering of my 7 year old self, but I will say that I must have been feeling extra Christmas spirit that day: I was determined not to mention anything to my parents, even though it seemed painfully obvious that I had been severely wronged. I went to bed that might thinking of myself as a kind of child-martyr.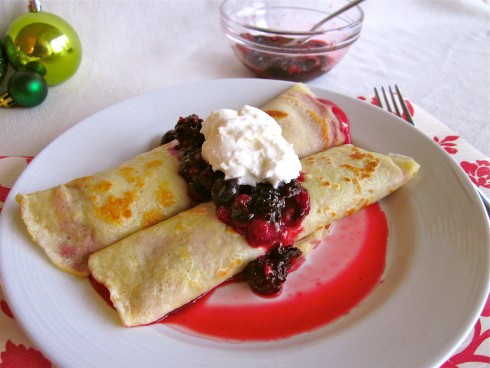 The next day I happened to be in the spare room where I noticed a large flat box leaned up against the wall. Curious (and completely unsuspecting, actually) I asked my mom what it was. She went into a little bit of a panic before telling me that she and Dad had completely forgotten about my Christmas present. It was a beautiful canopy bed, with all the drapes and sashes and bows that a 7-year-old girl/princess could ever want. I absolutely adored that bed. The memory is even sweeter to me knowing that I for once didn't whine about not getting what I wanted.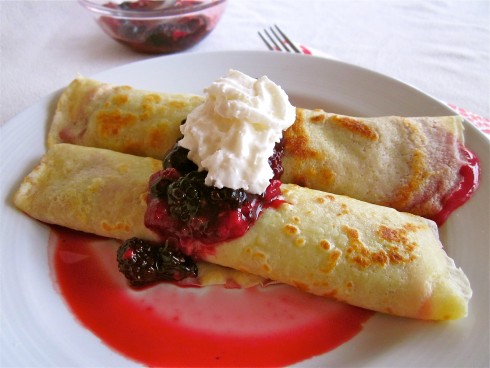 If you are wondering what to make for breakfast this Christmas, I have your recipe right here. It doesn't get any easier than this–it's all done beforehand, meaning you can focus on more important things, like your stocking. Both the crepes and the curd are made (or you can buy the crepes) up to a week before and stored in the fridge. And the berries just need a while to thaw. So you don't even have to do anything on Christmas Eve.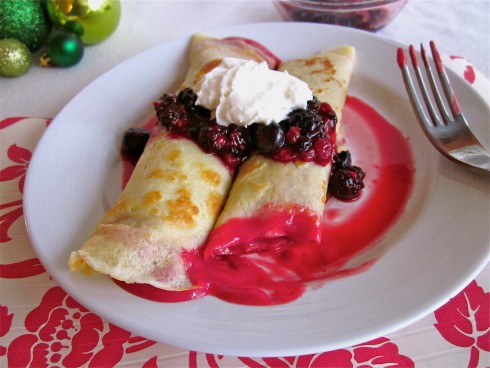 And did I mention that it tastes amazing? I love, love, LOVE any kind of curd, but I've never thought to make it from cranberries. It's so dang good. I was licking my spoon again and again. This recipe makes leftovers, and I've found all sorts of amazing things to put cranberry curd on. But I have to say my favorite so far are these crepes. Yum!!
Cranberry Curd Crepes with Berries and Whipped Cream

Source: Curd recipe slightly adapted from Cooking Light; Crepe recipe from my mom
You will need:
1 recipe Cranberry Curd (see below)
1 recipe Crepes (see below)
1 12-ounce package frozen mixed berries, thawed
whipped cream
To assemble: Place 1-2 tablespoons cranberry curd on a crepe. Top with mixed berries. Roll crepe and top with whipped cream and more berries, if desired.
Cranberry Curd
Makes about 2 1/2 cups curd-probably more than you will use in your crepes. Use the rest for toast, yogurt, trifle, parfaits…

1/2 cup water
2 tablespoons fresh lemon juice
1 (12-ounce) package fresh cranberries
2/3 cup granulated sugar
1/4 cup packed brown sugar
2 tablespoons unsalted butter, softened
2 large egg yolks
1 large egg
1 1/2 teaspoons cornstarch
1/8 teaspoon salt
1 tablespoon orange juice concentrate
Combine water, lemon juice, and cranberries in a medium saucepan; bring to a boil. Reduce heat; simmer 5 minutes or until cranberries pop. Place cranberry mixture in a blender or food processor; process until smooth. (I used my immersion blender). Strain cranberry mixture through a fine sieve over a bowl; discard solids.
Combine sugars and butter in a bowl; beat with a mixer at medium speed until well combined. Add egg yolks and egg, 1 at a time, beating well after each addition. Stir in cranberry mixture, cornstarch, and salt. Place mixture in the top of a double boiler. Cook over simmering water until a thermometer registers 160° and mixture thickens (about 10 minutes), stirring frequently. Remove from heat; let stand 5 minutes. Stir in orange concentrate. Cover and refrigerate up to 1 week.
Crepes
Makes 10-12 crepes. You can buy these at the store if you don't feel like making them!

3 eggs
1 1/2 cups milk
1 1/2 cups flour
3 tablespoons melted butter
Beat all ingredients well, using a stand mixer or hand mixer. Generously coat a large nonstick frying pan with cooking spray and set heat to medium. Pour 1/3 cup batter into the pan, lifting the pan to swirl batter all over the bottom; make it very thin. Do this quickly because it sets fast. Cook about 1 minute (keep an eye on it) until light brown; flip gently with a spatula and cook another 30 seconds, until browned. Remove to a plate, then repeat until batter is gone. Put squares of wax paper in between the finished crepes so that they don't stick together.