Lamb Meatball Gyros
It's great having a new baby. Everyone wants to do things for you and bring you dinner and let you take naps. I don't let them in on the secret that having an infant is easy: all I have to do is sit and feed a baby for about 18 hours a day. No problem, right? Who needs time away from their couch anyway? At least now I can sit back and watch my toddler tear my house apart without any feelings of guilt, because, hey, I'm busy doing nothing feeding the baby. Oh and add that I'm probably munching on some leftover Easter candy because when you're nursing you get to eat an extra 5,000 calories a day. Or something like that.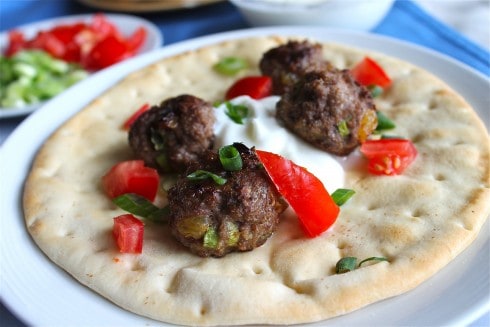 I made some Lamb Meatball Gyros. I just looked this up and learned that gyro is pronounced kind of like "euro." Not "hero," which was my most recent upgrade from "jie-row." …It's okay if you don't want to be friends anymore.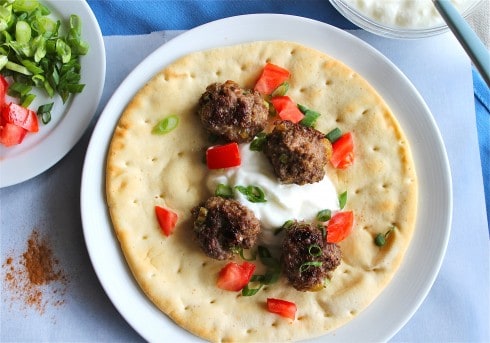 Take a lamb meatball. (Which, by the way, are amazing. Hello golden raisins.) Toss it on a pita. Dollop on some yogurt. Top with green onions, tomatoes, and lime. Done. This only took about a half an hour to make. Win! Oh and by the way if you think you don't like lamb think again. You're just wrong. Happy gyros!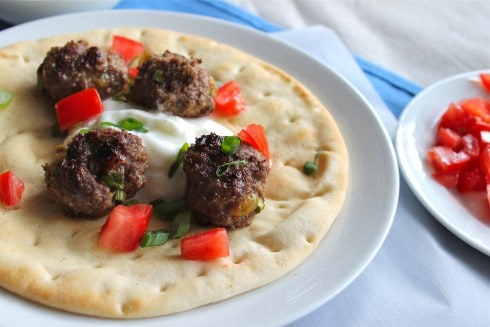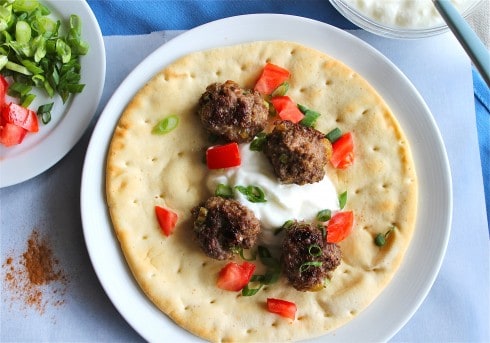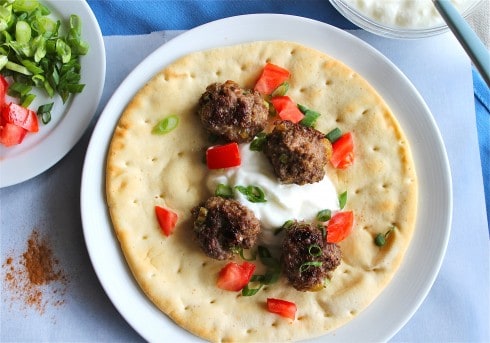 print
Did you make this recipe?
Leave a review »
Lamb Meatball Gyros
Serves 4
adjust servings
Ingredients
1

pound ground lamb

1/4

cup golden raisins

1/2

teaspoon ground cinnamon

1

English muffin, pulsed in a food processor until you have breadcrumbs

1

egg, lighten beaten

4

green onions, thinly sliced, divided

4

pita breads

1/2

cup Greek yogurt

fresh mint leaves, for garnish, optional

1/4

cup freshly chopped tomatoes, for garnish

1

lime, for spritzing

salt and pepper
Instructions
Preheat oven to 400.
In a large bowl combine the lamb, raisins, cinnamon, breadcrumbs, egg, 3/4 of the green onions, and salt and pepper to taste. Using your hands, form meatballs about the size of a golf ball. Place them on a rimmed baking sheet lined with foil and coated with nonstick spray.
Bake for 10 minutes. Remove from the oven, flip the meatballs, and return to the oven for another 10 minutes, or until they are starting to brown.
Heat the pita bread in the microwave until soft and pliable.
Place 3 to 5 meatballs on each pita bread. Dollop with yogurt and garnish with remaining green onions and tomatoes. Squirt with lime and enjoy!
by The Food Charlatan

If you make this recipe,
share it on Instagram
 using the hashtag
#TheFoodCharlatan
so I can see it!
Source:
Bev Cooks
We are a participant in the Amazon Services LLC Associates Program, an affiliate advertising program designed to provide a means for us to earn fees by linking to Amazon.com and affiliated sites.