Two night ago Eric and I were getting into bed when I saw a spider exactly where my head usually rests, as if it were waiting for me. I of course immediately started screaming at Eric (who was approximately 2 feet away) to get a kleenex or something. I couldn't get it myself because if you take your eyes off of a spider they disappear, it's a fact. Eric didn't believe me because I've found one too many lint spiders in our house. He had to come and check to make sure that it was really a spider.

By that time it had already jumped, yes, jumped two times, toward the safety of the crack between the head of the bed and the wall. Eric arrived in time to see the third jump, which he claimed was a fall, down the crack. Where it still is, I'm sure, waiting to crawl into my ear and lay eggs in my brain, right when I've let my guard down. If you don't hear from me soon, assume the worst.
In other news, Truman is being abused. He just sits around all day trying to be manly, but is helpless to defend himself from the whims of his sister: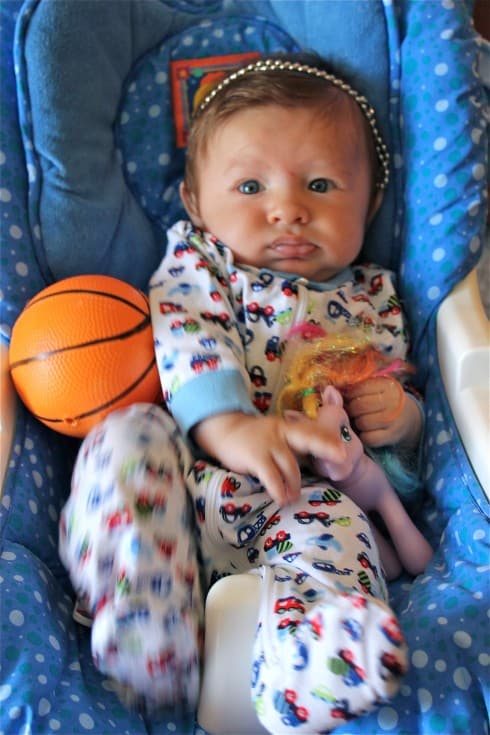 Also, Eric and I went to a pre-screening of Man of Steel last night. It was awesome. The usual overuse of violence that I have come to expect from superhero movies, but other than that it was fabulous.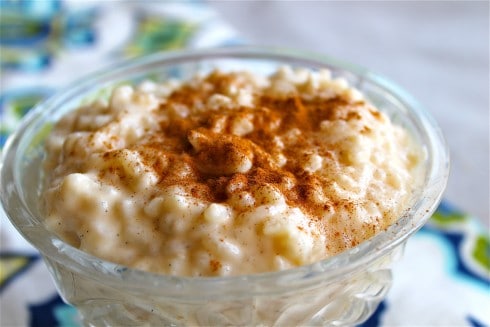 This Rice Pudding is a delicious twist on traditional Arroz con Leche. The coconut milk makes it super rich. And using vanilla bean makes the flavor really intense. You can add cinnamon, but you don't even really need to. It's amazing all on its own.

Vanilla Coconut Rice Pudding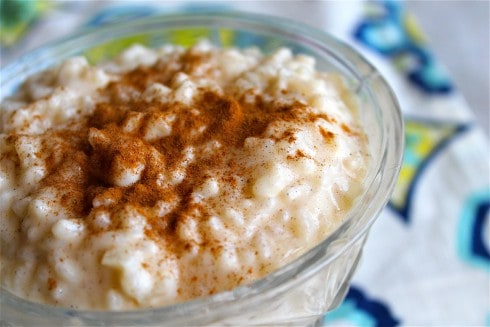 This Vanilla Coconut Rice Pudding is a delicious twist on traditional Arroz con Leche. The coconut milk makes it super rich.
Ingredients
1 & 3/4

cups

cold cooked rice

,

lightly salted

1

14-oz can

coconut milk

1

12-oz can

evaporated milk

1/3

cup

+ 2 tablespoons sugar

pinch

of salt

1

vanilla bean

,

insides scraped out, or 1 tablespoon vanilla bean paste

cinnamon

,

for serving
Instructions
Combine all the ingredients together in a saucepan. Set the heat to medium-high an keep an eye on it, stirring frequently until it reaches a boil. Then lower the heat to medium low and simmer for 40 minutes, stirring every 3 or 4 minutes. It should be pretty thick. Allows to cool and serve, or refrigerate thoroughly and serve cold (I like it best cold). Sprinkle with cinnamon if you want.
Nutrition
Serving:
0.5
cup
|
Calories:
104
kcal
|
Carbohydrates:
24
g
|
Protein:
1
g
|
Fat:
1
g
|
Saturated Fat:
1
g
|
Polyunsaturated Fat:
1
g
|
Monounsaturated Fat:
1
g
|
Cholesterol:
1
mg
|
Sodium:
1
mg
|
Potassium:
17
mg
|
Fiber:
1
g
|
Sugar:
11
g
|
Vitamin A:
1
IU
|
Vitamin C:
1
mg
|
Calcium:
5
mg
|
Iron:
1
mg