"Those who seek beauty will find it."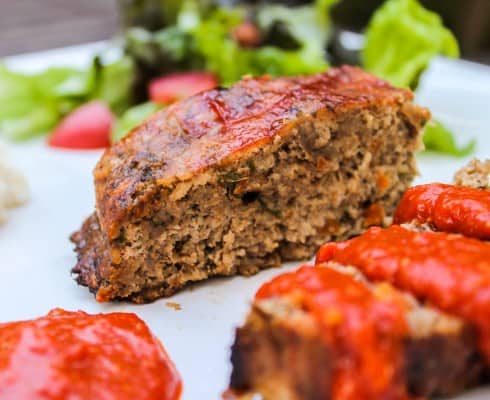 (I'm actually not talking about this here meatloaf, although I could be. What a beautiful sight to behold.) But seriously it sounds like a famous quote, right? Maybe the theme is kind of universal so it feels familiar. That's Bill Cunningham, renowned New York Times fashion photographer. And I suppose it is a famous quote now, since he said it and I'm quoting it. I just love it. I want to put it on my wall.
We just finished a documentary all about this guy. He's 84. Unlike his subjects, he wears the same blue jacket every single day, and rides a bike everywhere, the better to photograph street fashion. He's on his 29th bicycle. 28 have been stolen. He never stops smiling.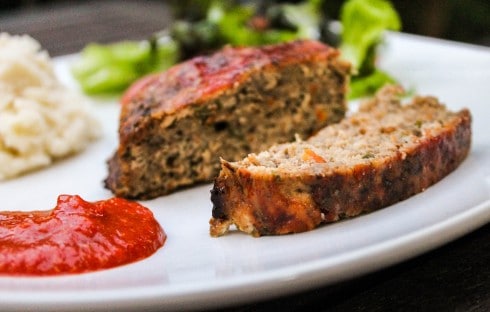 I felt like the movie was less about fashion and more about how to find happiness, which, for him, is beauty. Beauty isn't everything, as we all know, but I still really like the idea of finding beauty in everything.
We have watched this documentary before (read Eric's review here). But we are starting a Movie Club with my brother and his wife, and Eric wanted this for our inaugural viewing.
Heck yeah we're starting a movie club. We're also starting a babysit swap. I will have 3 toddlers once a week…but I will have 2 days a week Charlotte-free. Oh yeah. Don't judge me for being excited about this.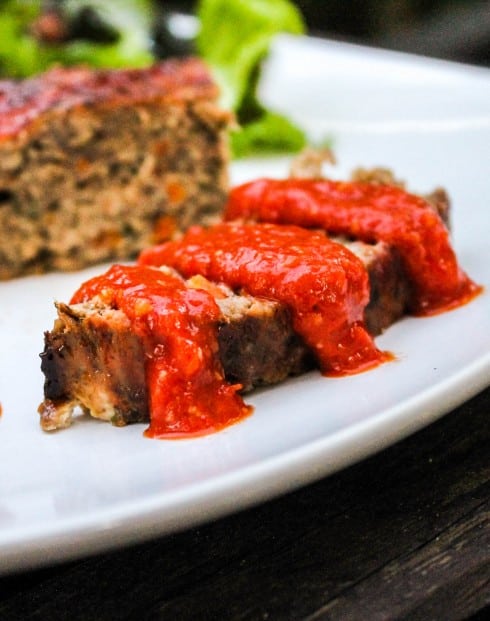 Here's some meatloaf. It's turkey! Don't turn your nose up, it was super moist and delicious. Eric didn't even realize it was turkey until I told him. And you would never guess that there was almost a pound of mushrooms in it. I love hiding veggies in main dishes, I just feel so sneaky. And this sauce! Roasted-red-pepper-anything has to be amazing, right? Right. It is so good and I want to put it on everything. It's a good idea to make the sauce ahead of time, because you can, and then you don't have to worry about doing the sauce and meatloaf at the same time.

Turkey Meatloaf with Roasted Red Pepper Sauce
Here's some turkey meatloaf! Don't turn your nose up, it was super moist and delicious. You would never guess that there was a pound of mushrooms in it.
Ingredients
For the Meatloaf:
1 & 1/2

cups

onion

,

finely chopped - use a food processor if you want

1

tablespoon

garlic

,

minced

1

teaspoon

olive oil

1

medium

carrot

,

finely diced, use a food processor

12-14

ounces

mushrooms

,

stems removed and very finely chopped in a food processor

1

teaspoon

salt

,

divided

1/2

teaspoon

black pepper

,

divided

1 & 1/2

teaspoons

Worcestershire sauce

1/3

cup

parsley

,

fresh - finely chopped

1/4

cup

ketchup

,

plus 1 tablespoon, divided

1

cup

fine bread crumbs

1/3

cup

1% milk

1

egg

,

lightly beaten

1

large

egg white

,

lightly beaten

1 & 1/4

pound

ground turkey
For the Sauce:
1

garlic

,

small head, 2 inches in diameter

1/2

pound

plum tomatoes

,

halved lengthwise

1

large

red bell pepper

,

1/2 pound

1

teaspoon

olive oil

1 & 1/2

teaspoons

lemon juice

,

fresh

1/2

teaspoon

balsamic vinegar

,

or to taste
Instructions
First make the sauce. Preheat oven to 375°F.

Cut off and discard top quarter of garlic head and wrap remainder in foil. Arrange tomatoes, cut sides up, on a lightly oiled foil-lined baking sheet and sprinkle lightly with salt. Add the foil-wrapped garlic and whole bell pepper to the pan and roast vegetables in middle of oven for 40 minutes to an hour. Start checking it around 40 minutes to make sure you don't burn your beautiful veggies!

Transfer bell pepper to a bowl and cover bowl with plastic wrap, then let stand about 20 minutes. When cool enough to handle, peel pepper, discarding stem and seeds, and transfer to a food processor or blender along with tomatoes.

Unwrap garlic and squeeze roasted cloves from skin into food processor. Add remaining ingredients and salt and pepper to taste, then purée sauce until smooth. At this point you can refrigerate the sauce for up to a week. Just stick it in the microwave when you need it.

Cook onion and garlic in oil in a 12-inch nonstick skillet over moderate heat, stirring, until onion is softened, about 2 minutes. Add carrot and cook until softened, about 3 minutes. Add mushrooms, 1/2 teaspoon salt, and 1/4 teaspoon pepper and cook, stirring occasionally, until liquid mushrooms give off is evaporated and they are very tender, 10 to 15 minutes. Stir in Worcestershire sauce, parsley, and 3 tablespoons ketchup, then transfer vegetables to a large bowl and cool for a few minutes.

Preheat oven to 400 F.

Stir together bread crumbs and milk in a small bowl and let stand 5 minutes. Stir in egg and egg white, then add to vegetables. Add turkey and remaining 1/2 teaspoon salt and 1/4 teaspoon pepper to vegetable mixture and mix well with your hands. Mixture will be very moist. Don't mix it too much or your meat will be tough.

Form into a 9- by 5-inch oval loaf in a lightly oiled 9x13 metal baking pan and brush meatloaf evenly with remaining 2 tablespoons ketchup. Bake in middle of oven until thermometer inserted into meatloaf registers 170°F, 40-50 minutes.

Let meatloaf stand 5 minutes before serving.
Nutrition
Serving:
1
slice
|
Calories:
273
kcal
|
Carbohydrates:
27
g
|
Protein:
30
g
|
Fat:
5
g
|
Saturated Fat:
1
g
|
Polyunsaturated Fat:
1
g
|
Monounsaturated Fat:
2
g
|
Trans Fat:
1
g
|
Cholesterol:
80
mg
|
Sodium:
715
mg
|
Potassium:
845
mg
|
Fiber:
4
g
|
Sugar:
10
g
|
Vitamin A:
3293
IU
|
Vitamin C:
51
mg
|
Calcium:
89
mg
|
Iron:
3
mg