It's that time of year again: turkey leftovers!!! It's so great to be able to eat the same meal over…and over…and over…and over…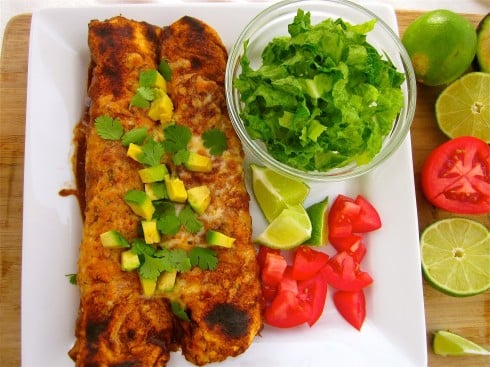 Well at least that's better than not having enough to feed everyone, right? One time in college my roommate Sarah decided to make dinner for everyone in our apartment. She invited over an apartment of boys in our complex, so there were 12 people total. She was making a chicken Caesar salad. Expect that she didn't think to quadruple the recipe…or even double it. The recipe called for one chicken breast. So after everyone had eaten approximately one bite of chicken and a handful of lettuce (which, in her defense, was delicious) we all looked around at each other kind of awkwardly until someone said, "Well who wants to order a pizza?"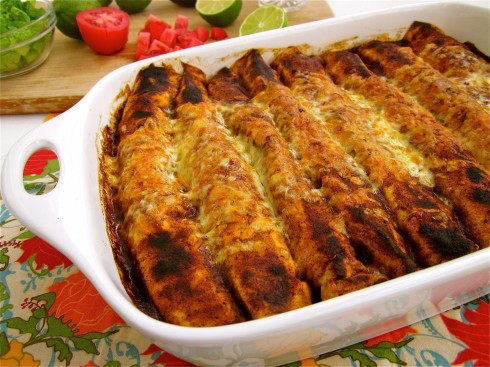 I would definitely rather eat turkey for a week or two than have to order a pizza on Thanksgiving.
I know you are probably not tired of turkey just yet, but believe me you will be soon. And what are you supposed to do when the mashed potatoes run out? Enter these turkey enchiladas. They. are. awesome. I think this is my new go-to enchilada recipe, regardless of what meat I have on hand. The sauce is what makes it. I've never made my own enchilada sauce, but it was super easy. It's got a really deep flavor, almost like a mole. The cloves and cinnamon give it a fun little twist without making it too sweet. Happy Thanksgiving leftovers everybody!!
Turkey Enchiladas

Source: Simply Recipes
Enchilada sauce:
4-7 tablespoons chili powder (the recipe calls for 7. I added 4, but next time I will add more. Just taste your sauce to see what you like)
2 teaspoons ground cumin
1 teaspoon crushed oregano
1 teaspoon garlic powder
1 teaspoon cinnamon
1/8 teaspoon ground cloves
1 teaspoon sugar
1-2 teaspoons salt (less if using salted stock)
1/4 cup flour
2 tablespoons olive oil
3 cups of turkey stock or chicken stock (or more if your sauce is too thick)
Enchilada filling:
1 tablespoon olive oil
1 medium onion, chopped
3 garlic cloves, minced
1 to 2 jalapeño chili peppers (1 for mild, 2 or more for spicy), seeded, minced
3 cups cooked turkey meat, chopped
1 15-ounce can black beans, rinsed and drained
8 ounces Monterey Jack cheese, grated (about 2 cups–I used way more. Plus I used Pepper Jack)
1/4 cup chopped fresh cilantro
2 tablespoons lime juice (can sub lemon juice)
1 to 2 teaspoons salt or more to taste
8-16 flour tortillas, depending on size and thickness
Garnishes:
Chopped red onion (or green)
Chopped avocado
Chopped fresh cilantro
Sour cream
Lettuce, sliced thin and sprinkled with salt and vinegar
First make the enchilada sauce. In a medium bowl, whisk together the chili powder, cumin, oregano, garlic powder, cinnamon, ground cloves, sugar, salt, and flour. Heat olive oil on medium heat in a cast iron pan (or other thick-bottomed sauté pan). Add the spices and cook for a minute or two, until fragrant. Slowly whisk in the stock, until smooth. Let come to a simmer, cook for a minute, then remove from heat, cover and set aside.
Prepare the filling. Heat olive oil in a sauté pan on medium heat. Add the chopped onion and jalapeños and cook until the onions are translucent, about 3-4 minutes. Add the garlic and cook a minute more. Remove from heat. Place onion mixture in a medium mixing bowl. Mix in the cooked turkey meat, the beans, 1 cup of the grated cheese, 1/4 cup of chopped cilantro, 2 Tbsp lime juice, and 1/2 a cup of the enchilada sauce. Add 1 to 2 teaspoons of salt, or more to taste. Set aside.
Preheat the oven to 350°F. Heat the pan with the enchilada sauce on medium heat. Spread 1/2 cup of the sauce over the bottom of a 9×13 casserole dish. Working one at a time, dip the flour tortillas in the sauce to coat them on both sides. If the sauce is too thick, thin it with a little water. Place the tortilla in the casserole dish and place anywhere from 1/4 of a cup to 1/2 cup of the filling in the middle of the tortilla. (I also added more cheese to each enchilada, because that's how I roll.) Roll up the tortilla around the filling and place it in the casserole dish. Continue to roll up the rest of your tortillas until they fill the casserole dish. Cover the enchiladas with the remaining sauce, and sprinkle with the remaining cheese. Place in the oven and bake, uncovered, for 15 to 20 minutes, until the enchiladas are heated through and the cheese has melted.
Sprinkle with a little more lime juice before serving. Serve with chopped onion, chopped avocado, fresh cilantro, sour cream, and thinly sliced lettuce that has been dressed with vinegar and salt (no oil).