I love being pregnant during the holidays. Not that I ever really watch what I eat (someday I will read this and hate myself) but because now I don't have to feel embarrassed when other people see me going back for thirds on dessert.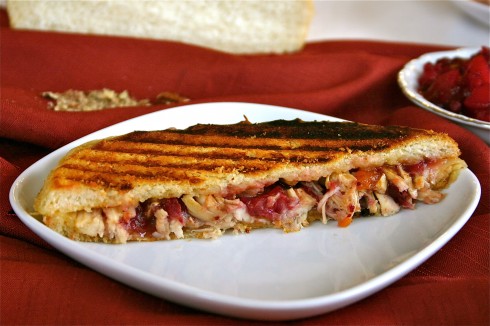 Here's a quick solution to the turkey-and-gravy blues. This one's from the good ol' Pioneer Woman. Slap some turkey, swiss, and cranberry sauce on sourdough bread, fry it up, and you've got one heck of a sandwich.
Turkey and Swiss Panini

Source: The Pioneer Woman
Makes 4 sandwiches
1-1/2 cup Leftover Turkey, Shredded
1/2 cup Leftover Cranberry Sauce
1/4 cup Chopped Pecans
2 Tablespoons Fig Or Apricot Jam
4 Tablespoons Dijon Mustard
8 slices (thick) Swiss Cheese
8 slices Sourdough Or Other Bread
8 Tablespoons Butter
Spread all bread slices on one side with jam and Dijon. Top four slices with turkey.
Mix together cranberry sauce and pecans and spread over the turkey.
Top with slices of Swiss cheese.
Top with other four slices of bread with the jam/Dijon side down.
Spread both sides generously with softened butter and toast in the panini press or in a heavy skillet, pressing with a spatula as they cook. (I used a George Foreman with great success)
Slice in half and serve.