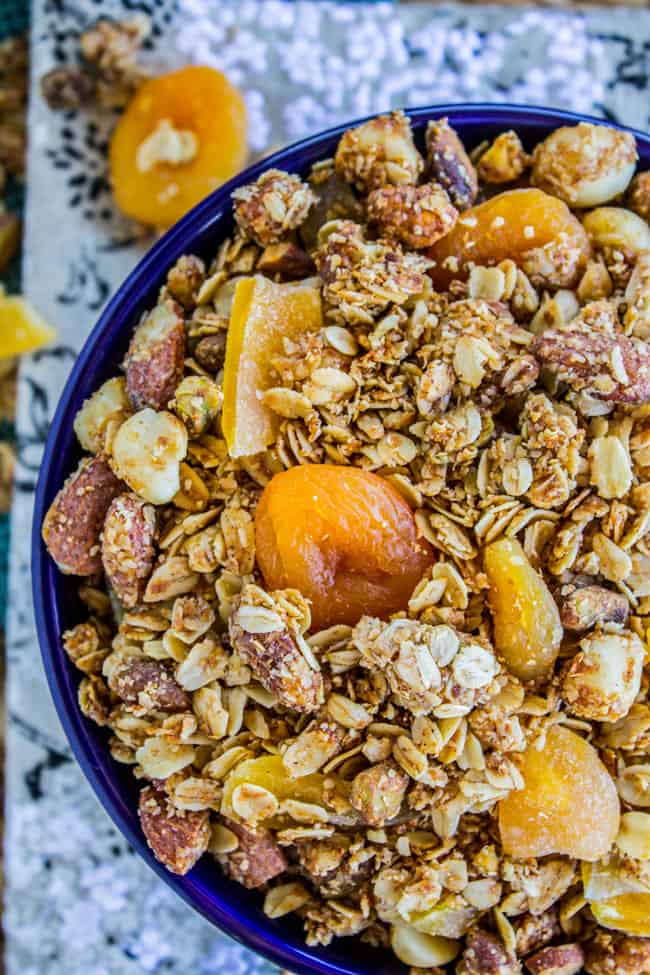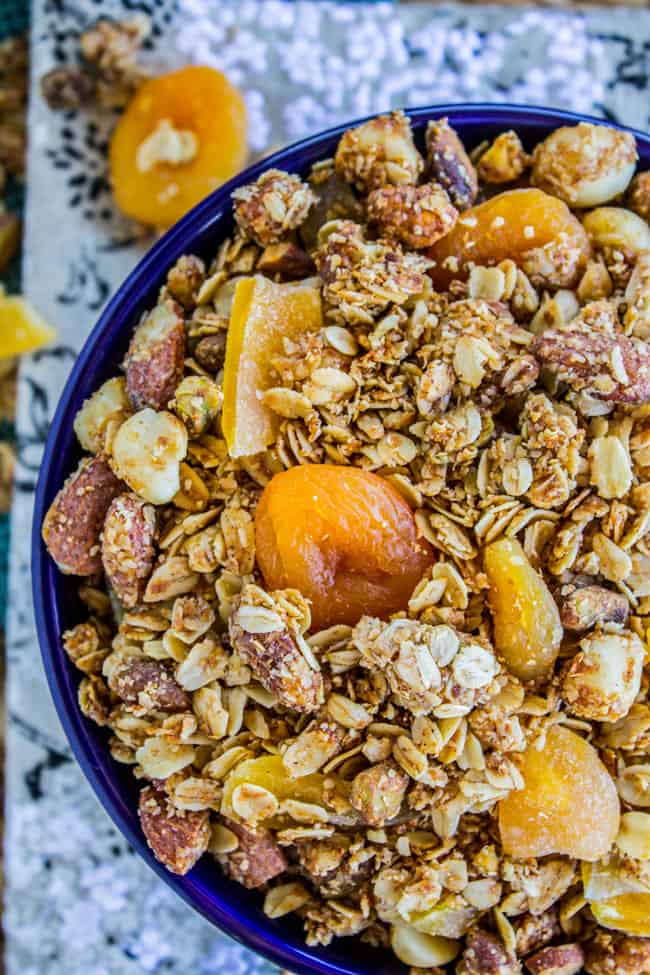 Did you make this recipe?
Leave a review »
Tropical Mango Coconut Granola
Fills about 2 gallon ziplock bags.
adjust servings
Ingredients
Dry
8

cups rolled oats

1

and 1/2 cups wheat germ

1

and 1/2 cups oat bran

2

(6 ounce) cans Blue Diamond Toasted Coconut Almonds

1

cup macadamia nuts (2 of the 2.25 oz packages)
Wet
1

cup coconut oil

1/2

cup maple syrup (the real stuff)

1/2

cup honey

1

teaspoon kosher salt

1/2

teaspoon ginger

1/2

teaspoon cardamom

1/4

teaspoon allspice

2

and 1/2 teaspoons cinnamon

1

tablespoon vanilla (or vanilla bean paste)

1

lime, juiced

1

and 1/2 cups dried mango, chopped

1

and 1/2 cups dried apricots, large ones halved
Instructions
Preheat the oven to 325 degrees F.
In the largest bowl you have, combine the oats, wheat germ, oat bran, Toasted Coconut Almonds, and macadamia nuts.
In a medium saucepan, combine oil, maple syrup, honey, salt, ginger, cardamom, allspice, and cinnamon.
Bring to a boil, then remove from heat. Wait about a minute and then stir in the vanilla (If you do it right away some of it will burn off). Add the lime juice.
Slowly pour some of the liquid over the oat mixture and stir. Add the rest in a few increments until it is all incorporated.
Line 2 large rimmed baking sheets (I used 1 large and 2 small) with foil or parchment paper. Spray with nonstick spray. Divide the granola between the pans and spread evenly.
Bake at 325 for about 12 minutes, then stir the pans and bake for another 10-12 minutes, until it's just starting to brown. (If you are baking all pans at once, rotate the top and bottom pans when you stir.)
Let the granola cool. Sprinkle the mangos and apricots over the granola and mix in.
Store in an airtight container. Ziplocks or quart jars work great.
by The Food Charlatan