Sweet and Saltines
We found a house to rent!!!!!!!!!!!!!!!!!!!!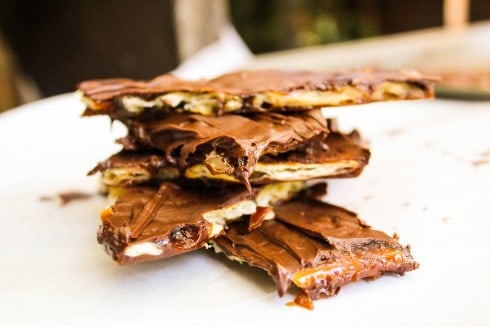 I can't tell you how excited I am. Those exclamation points don't even do it justice. I had become really discouraged after a full 2 months of looking and not finding anything that was in the right area, that we could afford, that had the amenities that we insist upon (read: dishwasher). But somehow, magically, we got it all. The right place, the right price, the right dishwasher. And TWO OVENS!!! Could my life be any better?? No. It could not. Except for the carpet in the kitchen. Yeah. That will take some getting used to.
How do people ever decide which house to buy? I felt so much pressure and this was just to rent. I guess it's because we were trying to get into a very specific area. We will now live 4 minutes from my brother and his family. Hello babysitting swaps. Woohoo!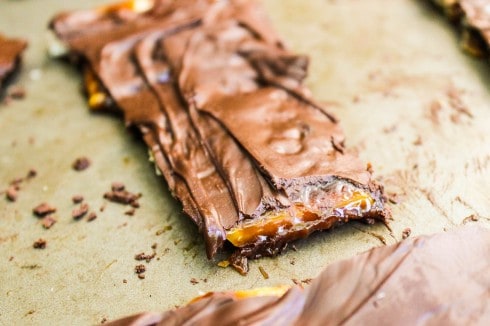 Let's talk about these delectable looking things. The magazine I got them from call them Sweet and Saltines, but another name might be Chocolate Toffee Saltines. You lay out some saltines on a pan. Boil some butter and sugar, pour it on top. Bake for 2 minutes. Then smear chocolate on top. You will probably think I am exaggerating when I tell you that this took me literally 10 minutes, start to finish. And the results are amazing. The fastest toffee known to man. And there's chocolate on top. Ain't nothin wrong with that.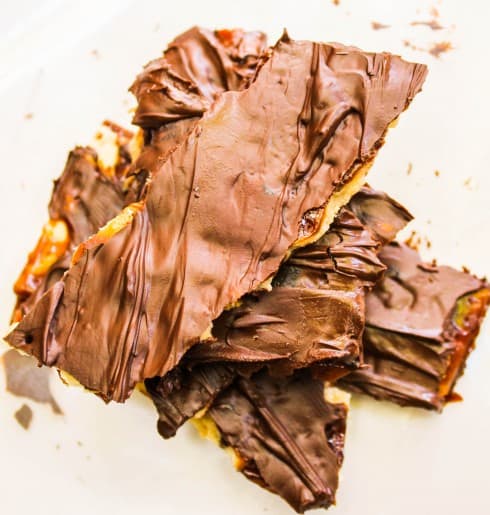 I was taking pictures of these when my cousin Amber came over for a visit. She said, Oh look you made Toffee Saltines! I was like what, did we talk about this, I just made these for the first time ever. Apparently she used to make these all the time in college. A quick sweet snack. I'm jealous I didn't find out about these earlier in my life.
Sweet and Saltines
The magazine I got these from call them Sweet and Saltines, but another name might be Chocolate Toffee Saltines.
Ingredients
40

saltine crackers

1

cup

butter

,

2 sticks

1

cup

brown sugar

8

ounces

semisweet chocolate chips

,

1 & 1/3 cups
Instructions
Preheat oven to 425 F. Cover a 15x10x1 inch pan with aluminum foil. Line up the 40 saltines flat on the pan.

In a small saucepan, melt butter and brown sugar and bring to a boil. Boil 5 minutes, stirring occasionally. Remove from heat and pour over crackers, spreading if necessary to cover them evenly.

Bake 2 to 4 minutes. Don't walk away. You need to watch them to make sure they don't scorch. When they are just starting to bubble they are done. Take them out and pour the chocolate chips over the top. Wait 3 or 4 minutes, then spread the chocolate with a knife.

I ate them at this point. The recipe says to freeze them for 15 minutes, but I don't like cold chocolate so I just got melty goodness all over my fingers. Do what you want. Break the sheet into pieces and store in a tupperware on the countertop.
Notes
Source: Better Homes and Gardens July 2013
Nutrition
Serving:
1
cracker
,
Calories:
107
kcal
,
Carbohydrates:
11
g
,
Protein:
1
g
,
Fat:
7
g
,
Saturated Fat:
4
g
,
Polyunsaturated Fat:
1
g
,
Monounsaturated Fat:
2
g
,
Trans Fat:
1
g
,
Cholesterol:
13
mg
,
Sodium:
73
mg
,
Potassium:
46
mg
,
Fiber:
1
g
,
Sugar:
7
g
,
Vitamin A:
145
IU
,
Calcium:
10
mg
,
Iron:
1
mg
We are a participant in the Amazon Services LLC Associates Program, an affiliate advertising program designed to provide a means for us to earn fees by linking to Amazon.com and affiliated sites.