These are the BEST Spritz Cookies! This is our family's number one favorite Christmas cookie. It's a traditional Swedish recipe from great-grandma Prudy. They are sweet and buttery and use only 6 ingredients, including almond extract, which gives them their unique flavor. They are made into adorable little shapes using a cookie press. It is basically impossible to eat just one! (I know I can eat about 5,000.) Originally published December 16, 2011.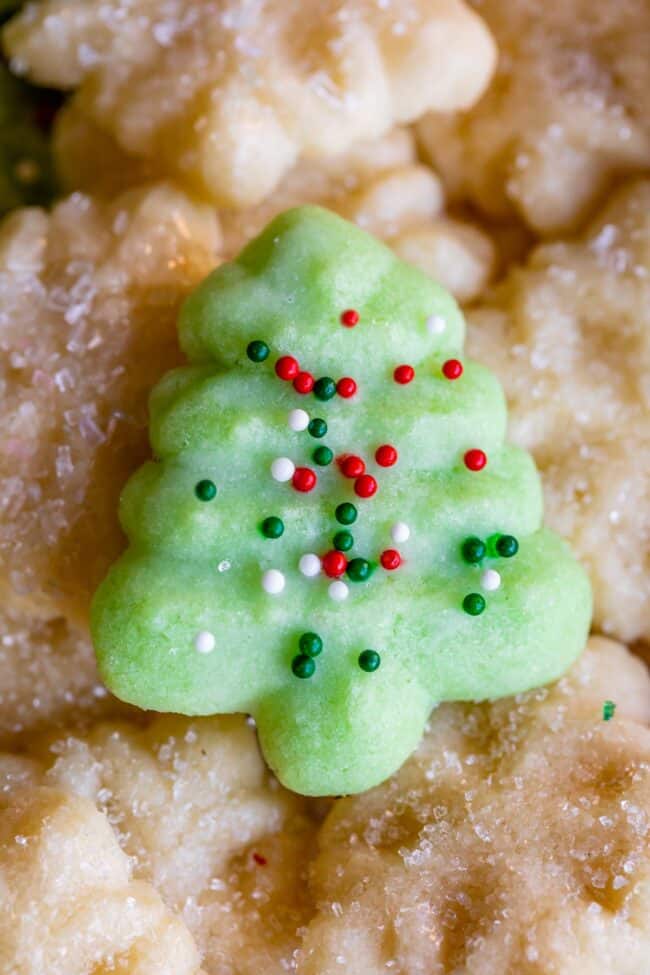 Table of Contents
This recipe was originally published on December 16, 2011. The following story was written in 2011.
A few days ago Eric and I received a box in the mail from our friends Sarah and Brian. It was obviously a Christmas present. I was about to start cutting it open (I knew there were going to be cookies in it) and Eric, as usual, said, No, we have to wait until Christmas!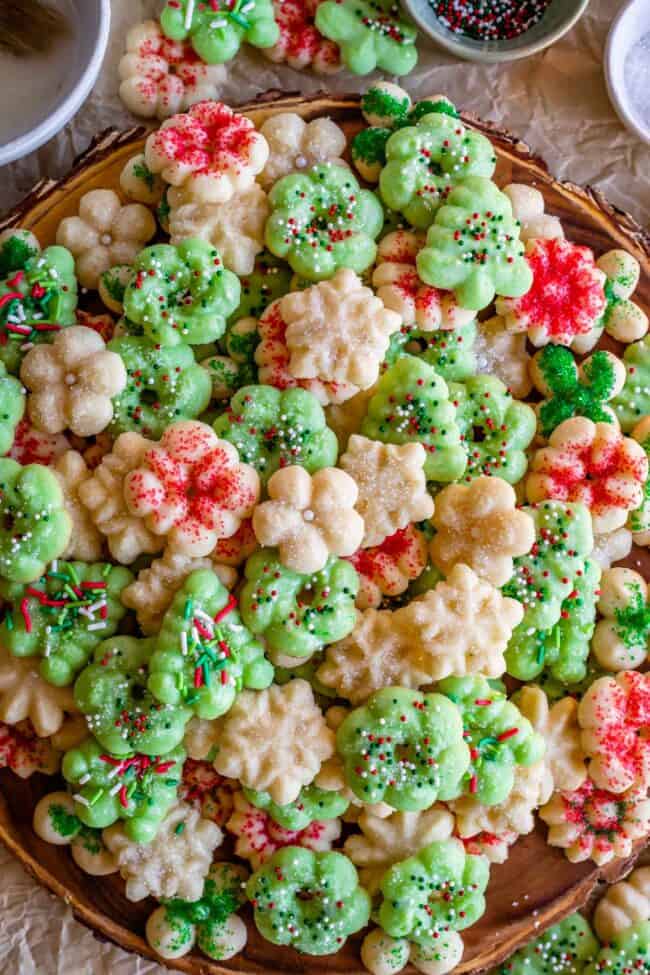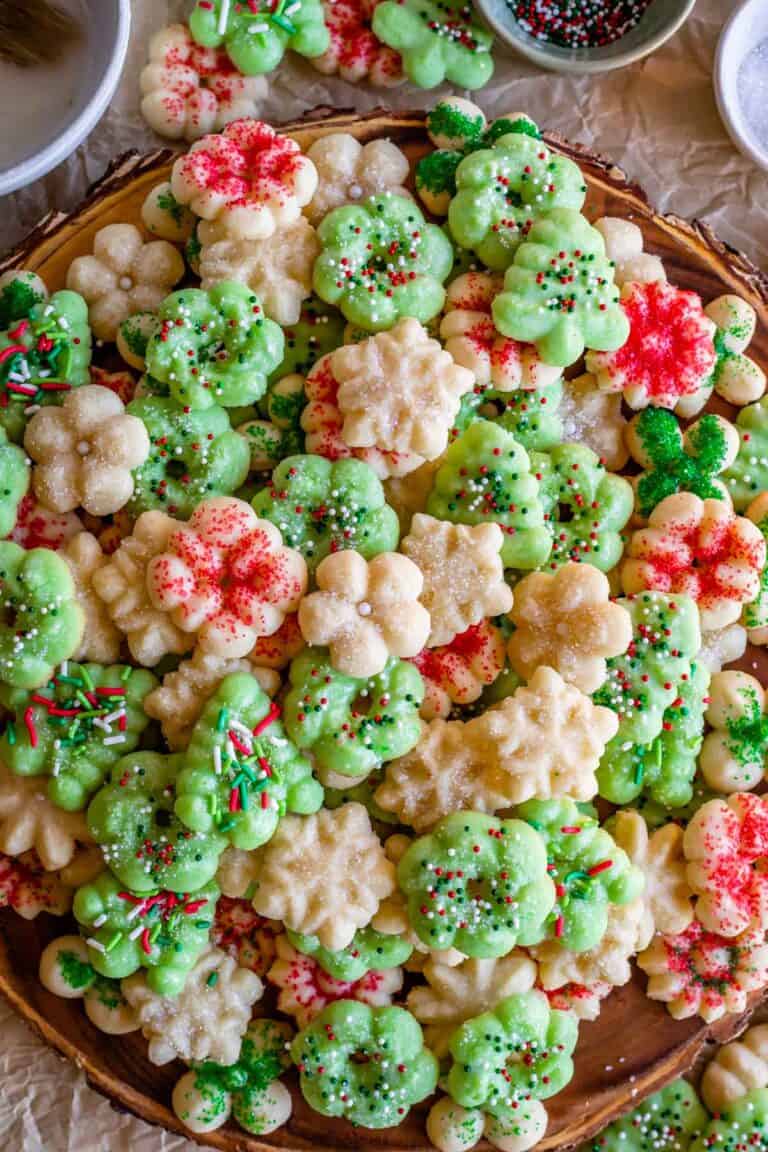 We have this argument every year. I think Eric must like stale cookies or something. But I won. Besides cookies, here's what was inside: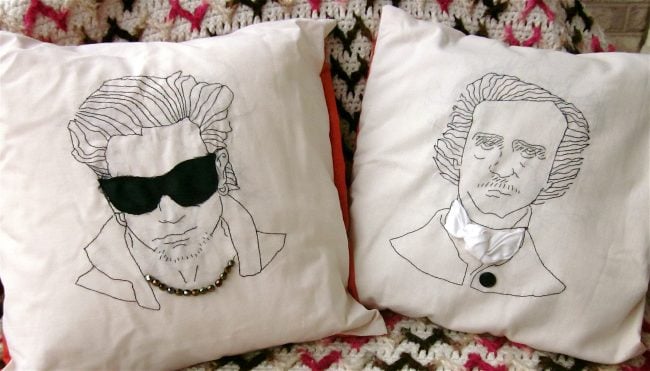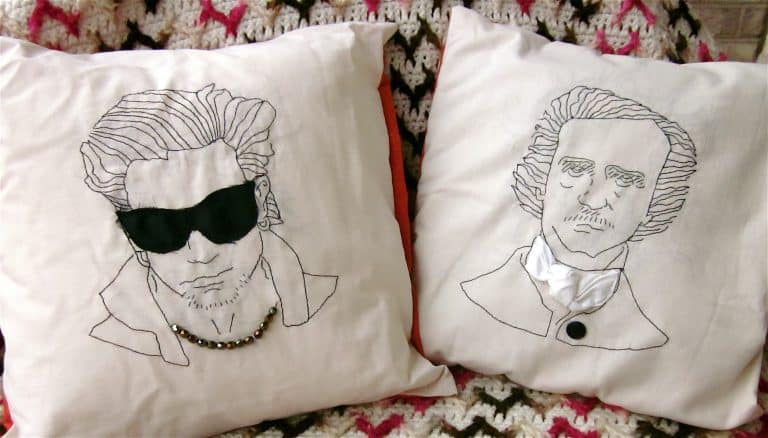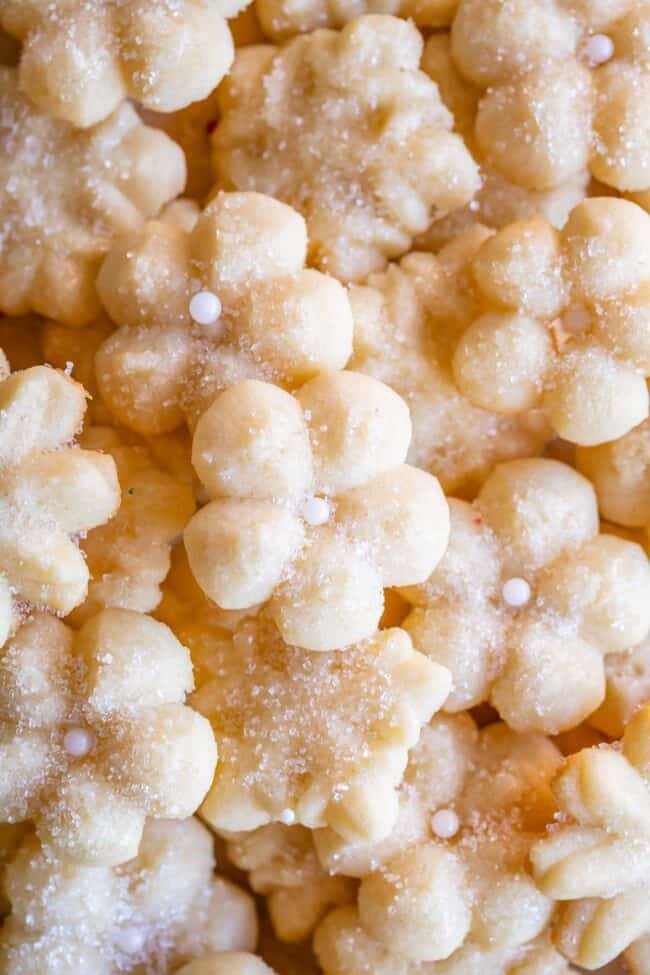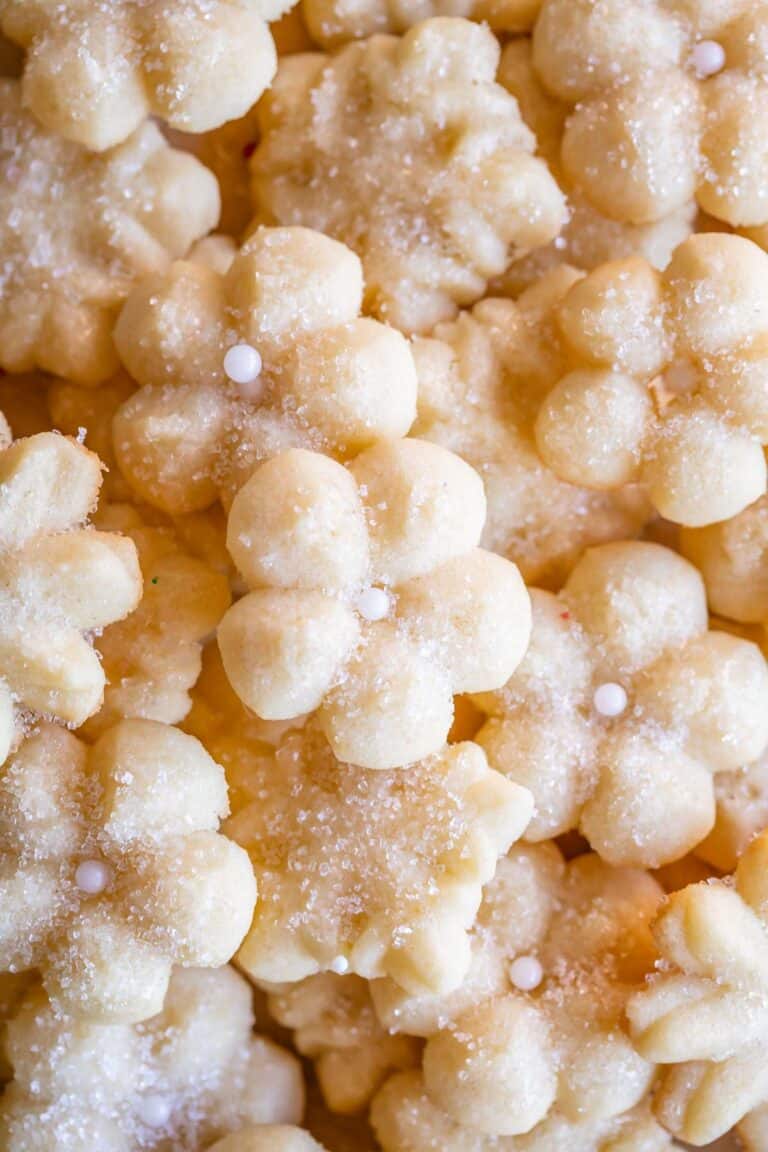 We have the most awesome friends ever. Who else gives you homemade pillows for Christmas that feature your favorite poets? Eric has a man-crush on Bono and I took an American Gothic Literature course in college, where I fell in love with Edgar Allan Poe's short stories.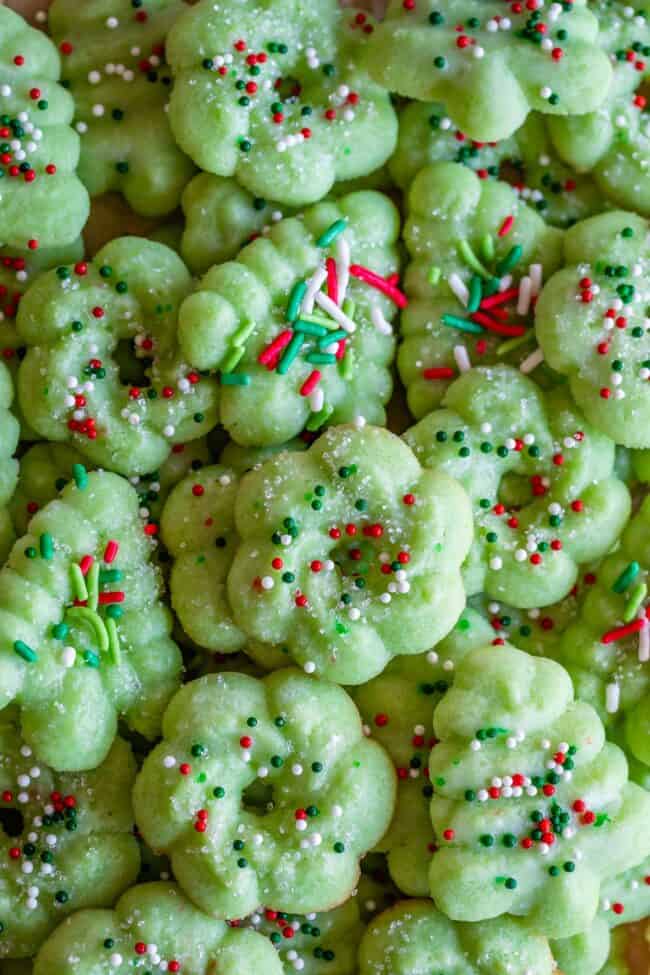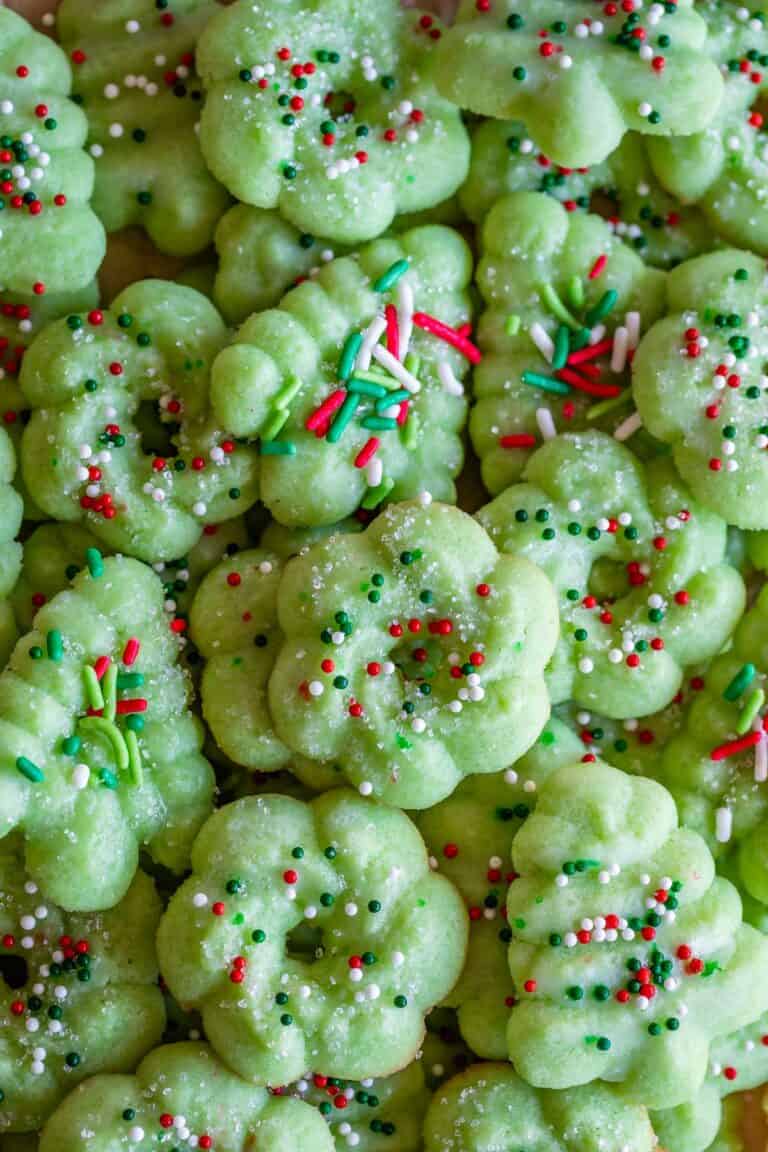 Sarah and I were roommates in college. (So were Brian and Eric, actually.) It was not love at first sight; the first time Sarah and I met was in our dorm room which she had already decorated with anime and "make love not war" posters. Later she told me that I came in with my snappy blonde hair, talking on my cell phone nonstop and saying "like" all the time, and she pretty much decided to hate me right then and there.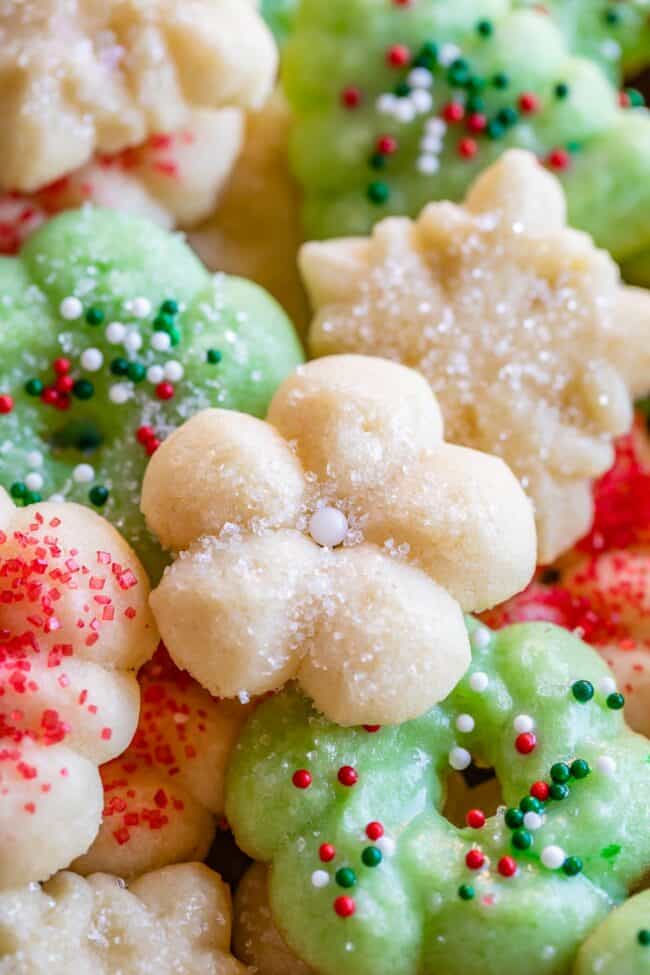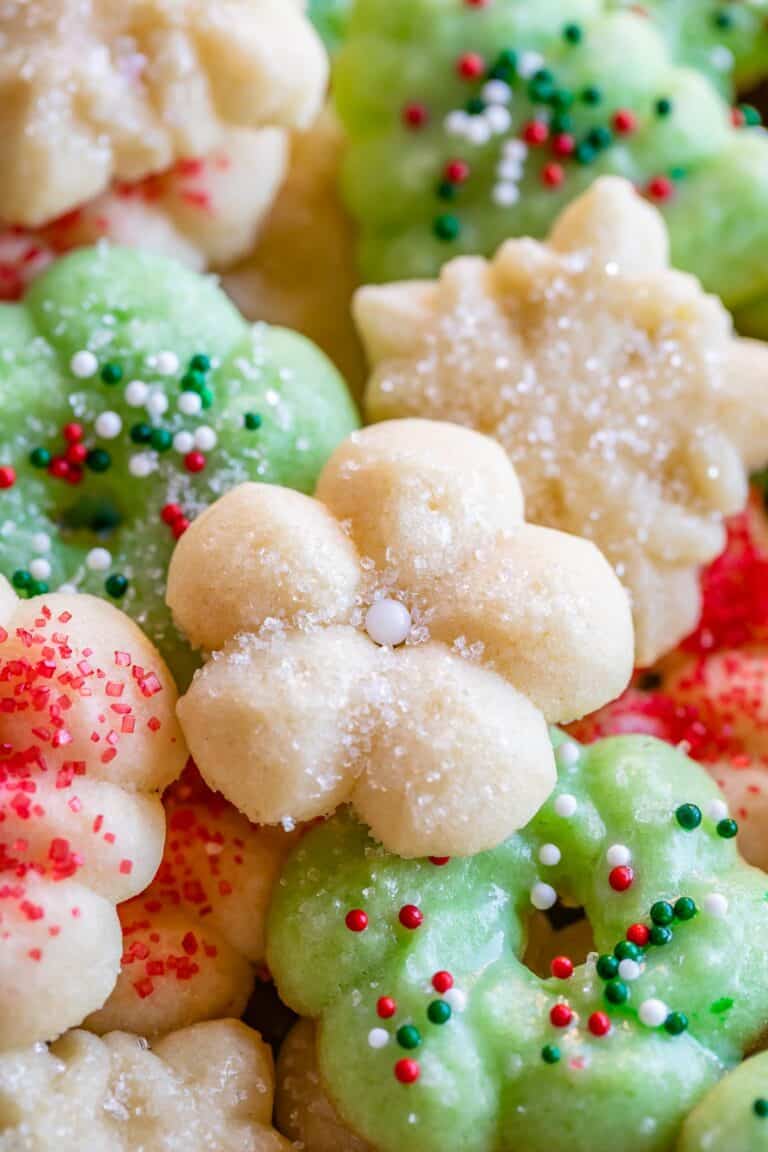 But some things were meant to be, and Sarah and I were, well, meant to be. Sarah loves poetry, and I think our fate was sealed when I wrote a poem for another roommate of ours once, when I borrowed some Q-tips from her. It was something like this:
I have taken
the Q-tips
that were in
the medicine cabinet
and which
you were probably
saving
for your ears.
Forgive me
they were perfect
so white
and so fuzzy.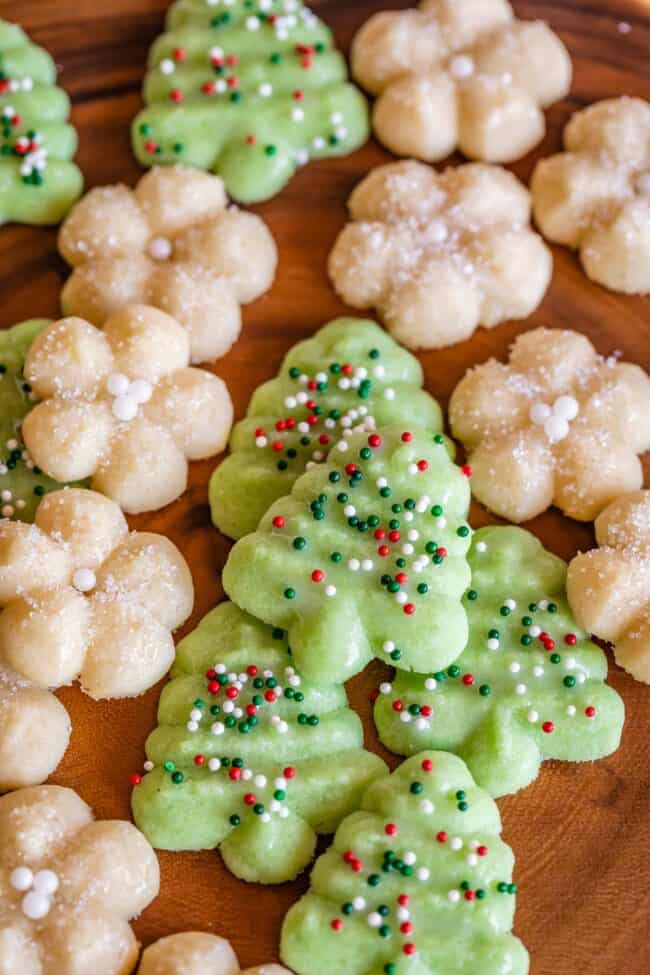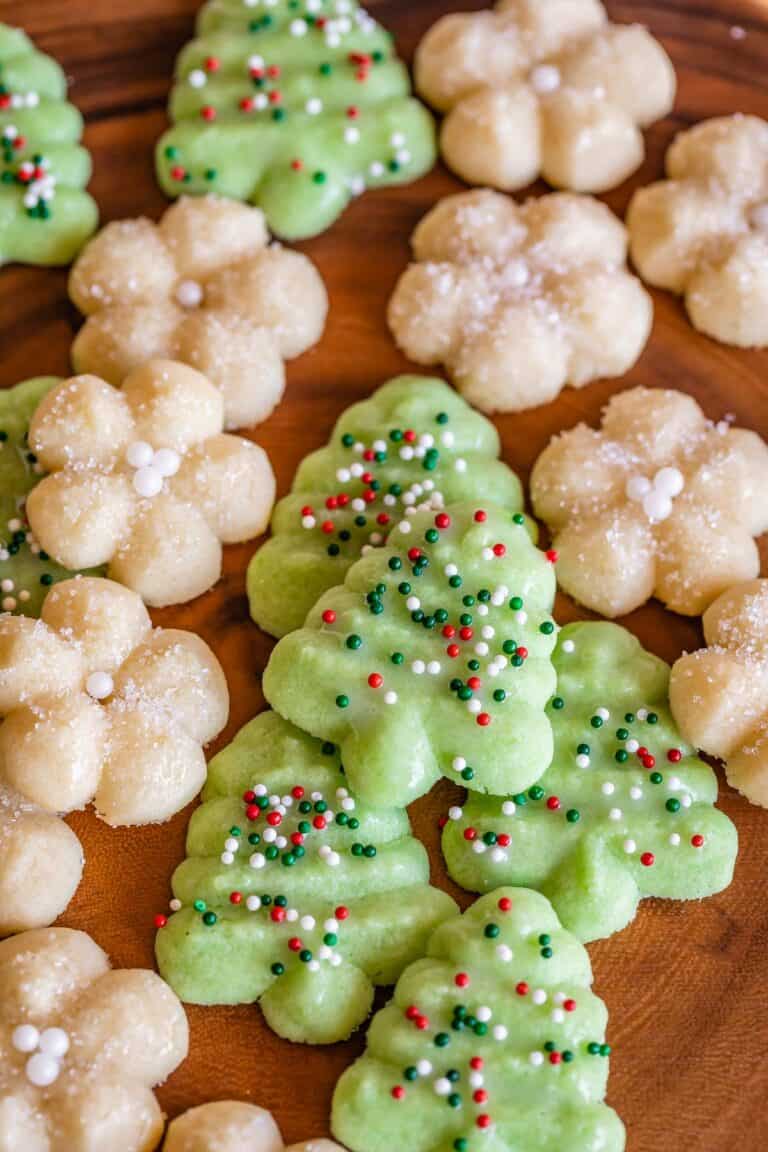 The other roommate didn't get it (and probably thought I was a total freak). But Sarah, of course, recognized at once that it was a play on the poem This is Just to Say by William Carlos Williams.
Friends who know you well enough to appreciate your weird Q-tip poems and make you Bono pillows are just the best thing ever, aren't they?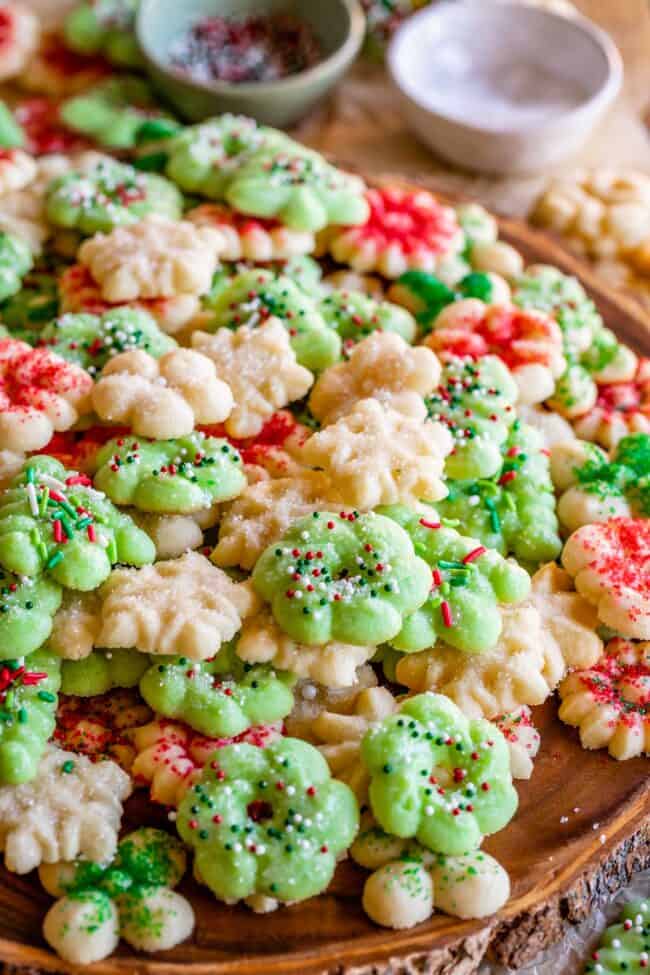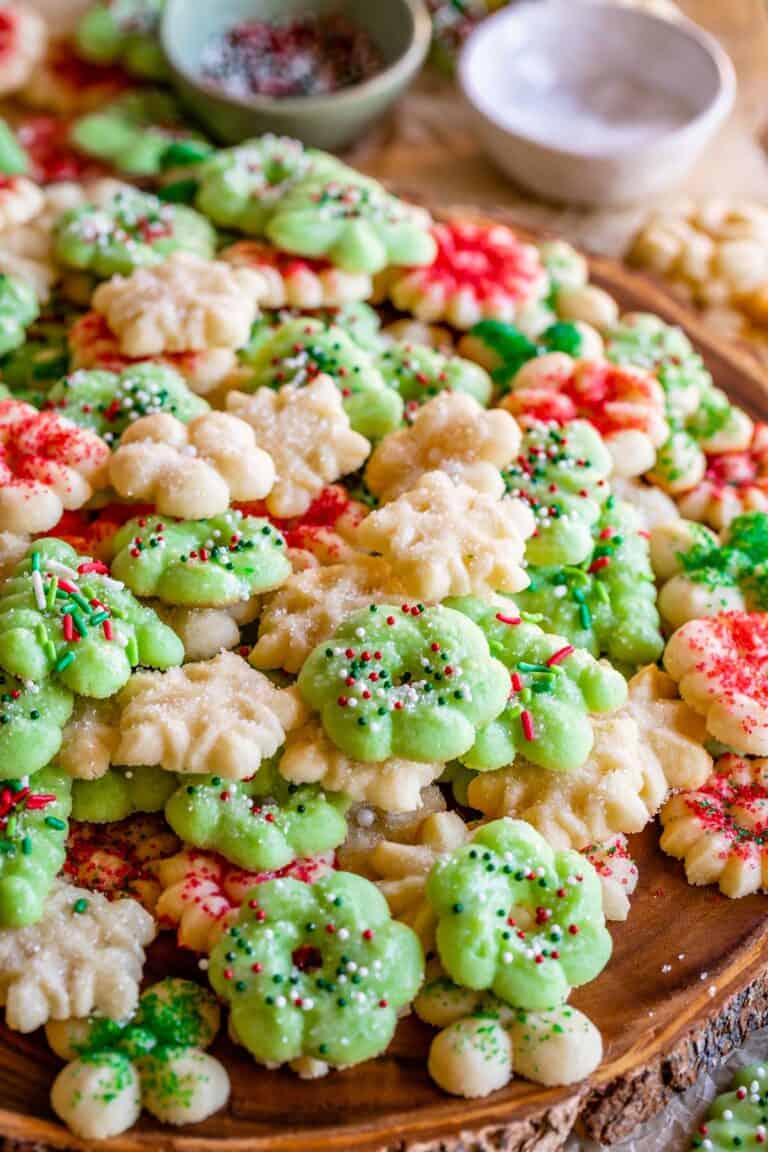 UPDATE 2020: Sarah and I, (15 years, 9 children, and too many moves to count later) are still best friends. You don't just drop somebody after they make you a pillow like that.
Grandma Prudy's Recipe for Spritz Cookies
This spritz cookie recipe is another one from Grandma Prudy. When Eric first described the spritz cookies that they make every Christmas at his house, I was thinking to myself They sound like those hard little shortbread cookies they sell in tin cans. Gross. But never fear. These are not even comparable to the tin can variety. Homemade cookies always win.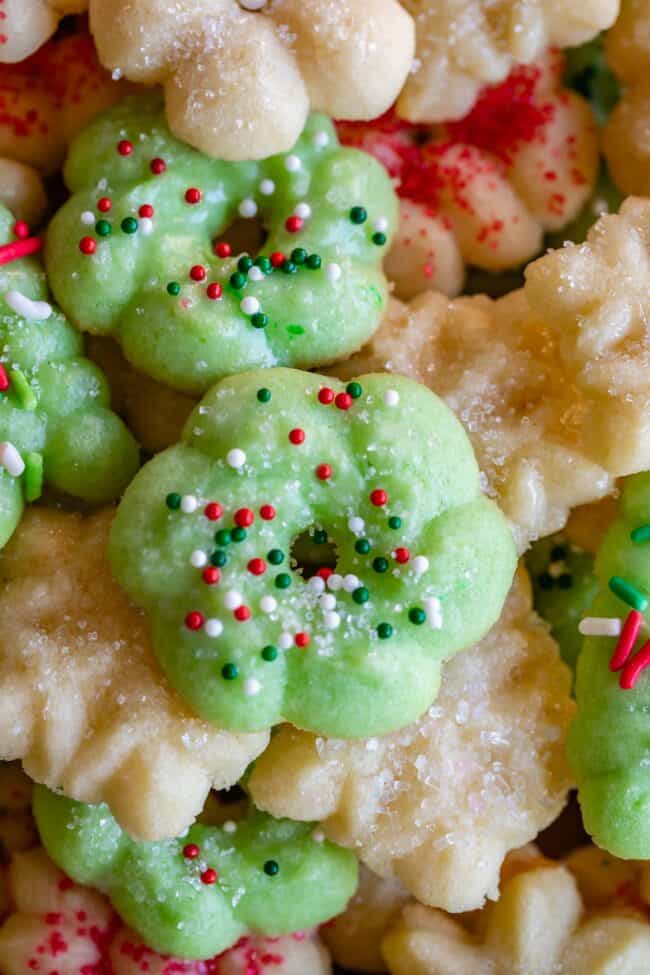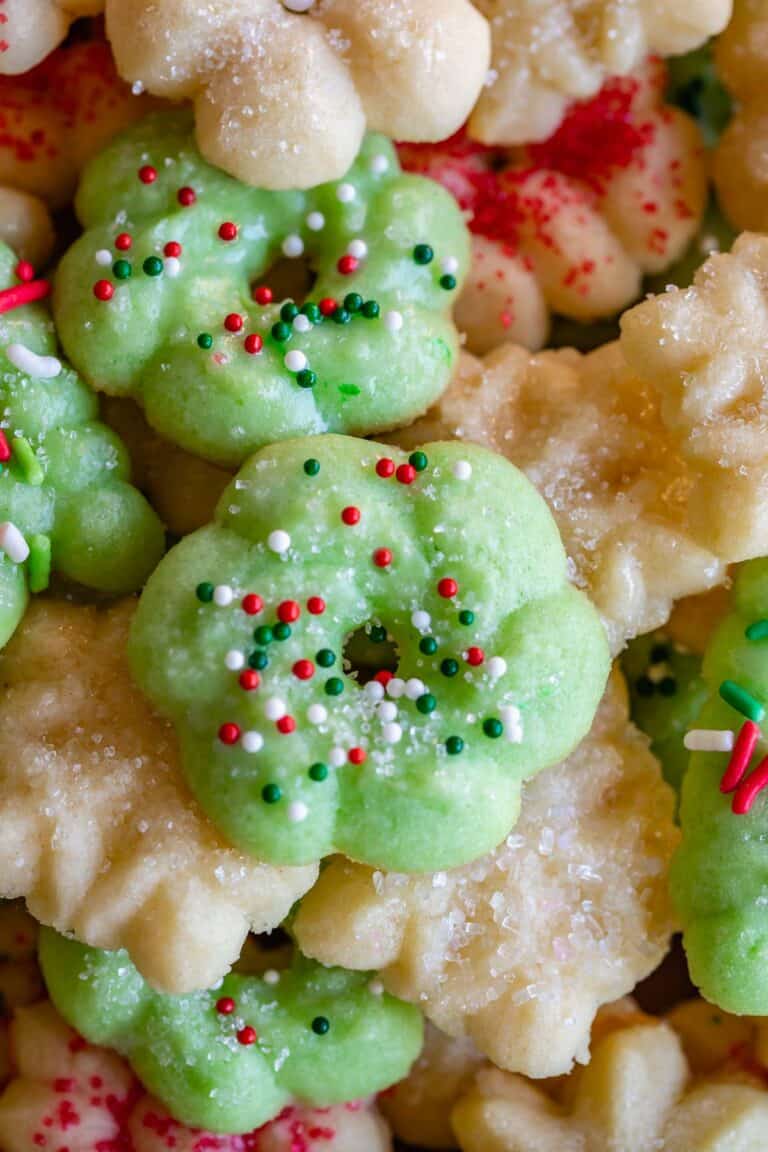 We call Spritz a traditional Swedish recipe because we got it from Eric's great grandmother Prudy, who was Swedish. But it also has German roots, and I suspect many other Scandinavian countries claim it as well. "Spritzen" in German means "to squirt," so spritz cookies literally means squirt cookies. Because you squirt them out of the cookie press onto the pan. Isn't that the most adorable thing you've ever heard??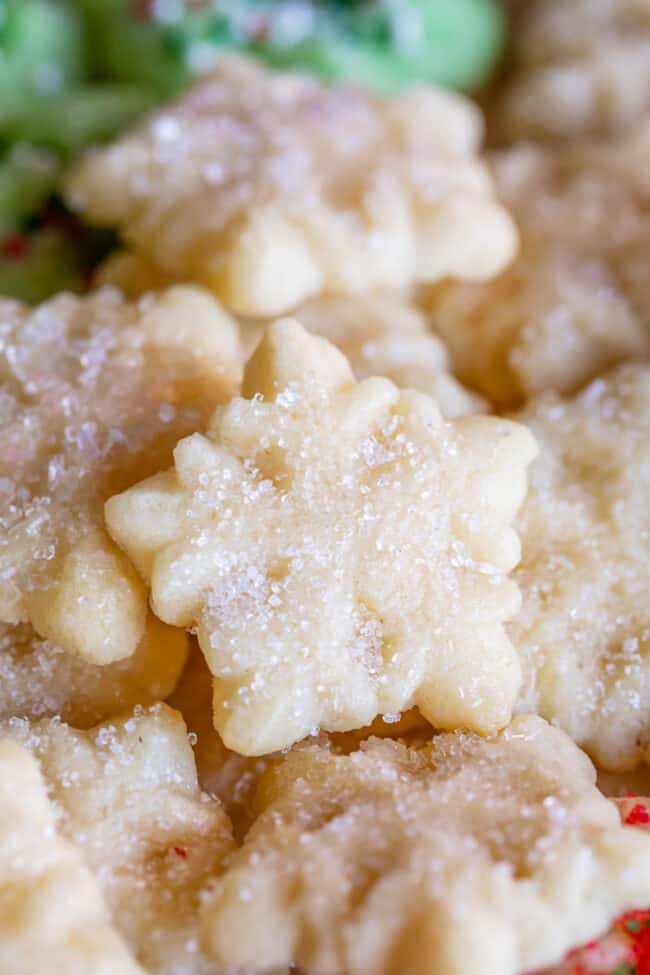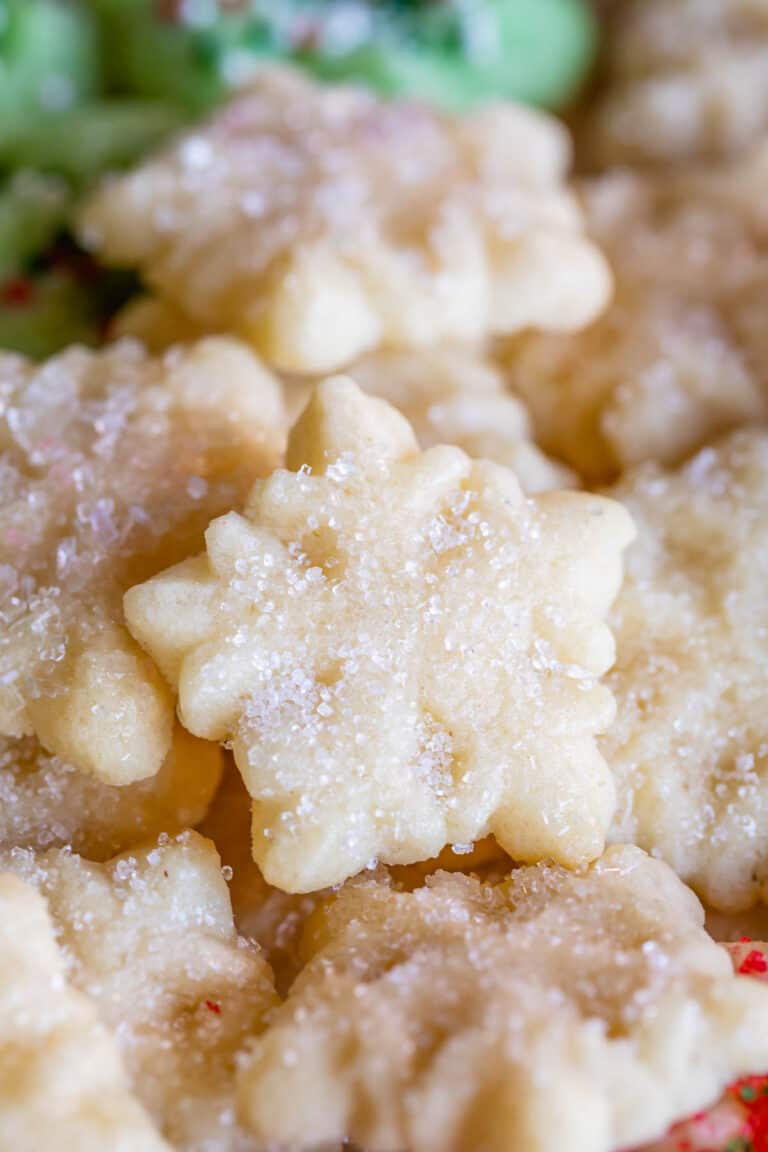 They are buttery. They are sweet. They have amazing almond flavor. They are tiny. And this means you can eat about 10 before you even know what happened. You have to try them!
What is a Spritz cookie?
Spritz are a buttery, sweet little almond-flavored cookie made with a cookie press. Spritz cookie presses have been around for hundreds of years, bringing delicious cookie joy to all.
What is the difference between a spritz cookie and a shortbread cookie?
Spritz and shortbread are both simple, buttery cookies, but there are a couple of differences. Spritz aren't chilled, and they're minimally handled since they are created with a spritz cookie press. They are super tender. Shortbread cookies are chilled and they need to be rolled or shaped, so they aren't quite as melt-in-your-mouth (though still delicious).
Can you make spritz cookies without a press?
Short answer? Well, yes. There is no other way to make the cute little shapes. I've heard of some people using a piping bag and a star tip to shape the dough. I tried it, the cookies baked flat as a pancake and they were just all wrong. Maybe I need some more technique and training on this, but if you're going to bother making spritz, I would just buy a cookie press!
Best Spritz Cookie Press to buy
My mother-in-law Kris has an electric cookie press that is AWESOME. It was the first press I ever used when I visited Eric's family the first time. Sadly, they don't make them anymore, and you can hear lots of complaints about this if you dig into the review section for basically any cookie press on the market. Come on, spritz gods, bring back the electric press!
Okay hold up. I literally just went to Amazon to check out their cookie press selection and there IS an electric press! I was researching just last week and couldn't find a single one. But look, here it is, labeled as a "Number 1 New Release" meaning it must be brand new. You guys, THE SPRITZ GODS HEARD ME!!! Ha! It has zero reviews as of this writing. If anyone buys it, chime in to let us know how it works!
When Eric and I got married, someone in the family gifted us our own bare-bones cookie press, very similar to this metal version ($16 bucks). It's a little clunky but it's fine. It's lasted us the last 12 years. This is a good option if you are on a budget. It gets the job done. I don't care what the label says, you hand wash all those metal parts if you don't want them warping on you.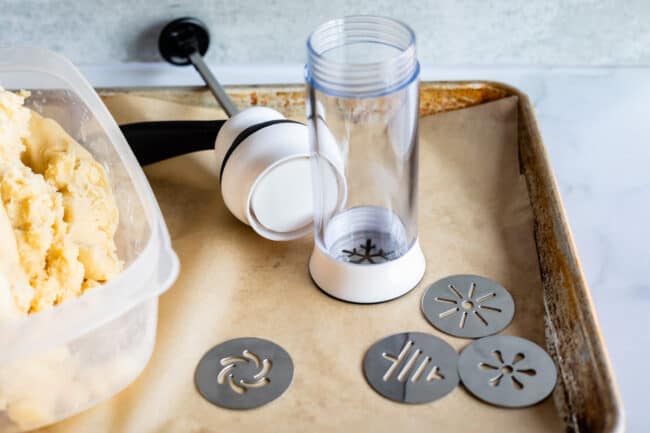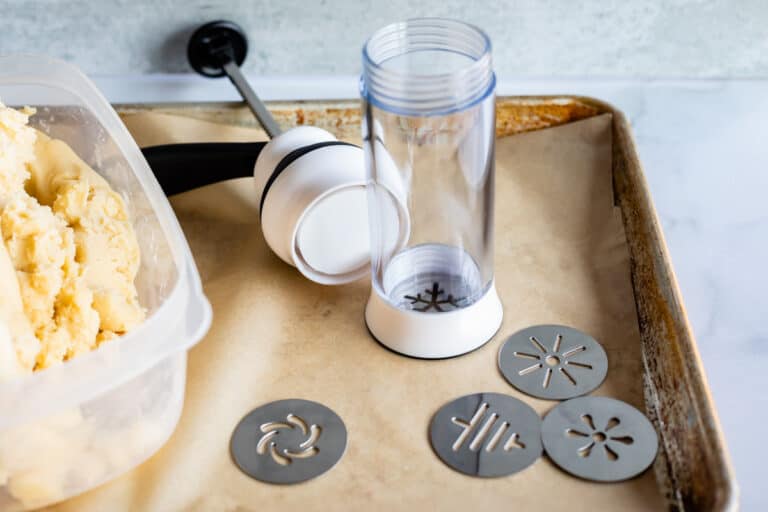 During my testing for this post, I decided I wanted to try a new cookie press to see if I could get one that better controls how much dough is released when you press. I bought this Oxo brand cookie press ($32) at Bed Bath and Beyond (pictured above) and am pleased with it. It's a little sleeker and easier to use than the metal one. It doesn't have quite the level of control I was hoping for, but it is easier to use than the metal one. I'm happy with it and recommend it. Good news, the plates (the discs that have the shapes on them) from the metal press fit the new Oxo press just fine! So now I have double the shapes.
If you are looking for the king of cookie presses that will stand the test of time (like if you plan to make it an heirloom), try the Marcato Cookie Press. It's pricey but has very high reviews. All metal parts means it's not going to snap in half anytime soon.
What is the easiest cookie press to use?
You can make spritz with an electric cookie press, a plastic cookie press, or a metal cookie press. They all work just fine, but the electric cookie press is definitely the easiest. I find a plastic cookie press a little sleeker and easier to use than the metal one I own. All of that being said, I used a metal cookie press for 12 years and loved the hundreds and hundreds of cookies I made with it.
How to make Spritz Cookies
Here's a brief overview of how to make spritz cookies (scroll down to the recipe card below for complete instructions!).
Preheat the oven.
Beat the butter until smooth, then beat in sugar and salt.
Beat in the egg and almond extract, and food coloring (if using).
Mix in the flour until just combined.
Press cookies onto chilled cookie sheets.
Bake and cool your spritz cookies.
Decorate with glaze and sprinkles as desired.
This is one of the most simple cookie doughs you will ever make. 6 ingredients and you don't even have to chill it (in fact, you shouldn't chill! The dough won't make it through the press if it's cold).
It's just like any other cookie dough: Beat the chilled butter til smooth. (I like to use chilled butter in my stand mixer. It makes for the perfect temperature dough. If you only have a hand mixer, you will need to soften your butter on the counter for a few minutes.)
Cream the butter and sugar together. (Don't add cream!! "To cream" means to beat, I have gotten this question so often lately!)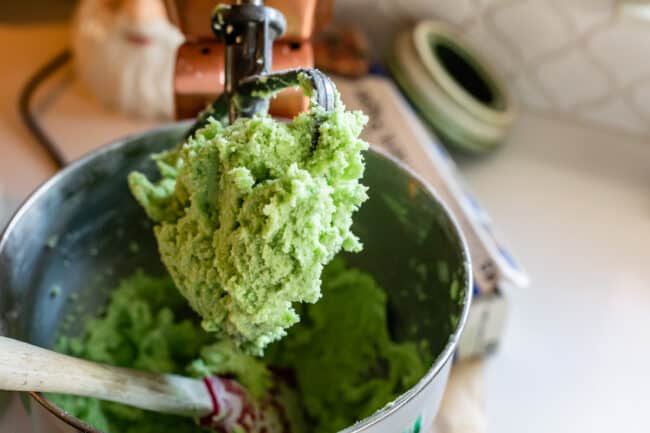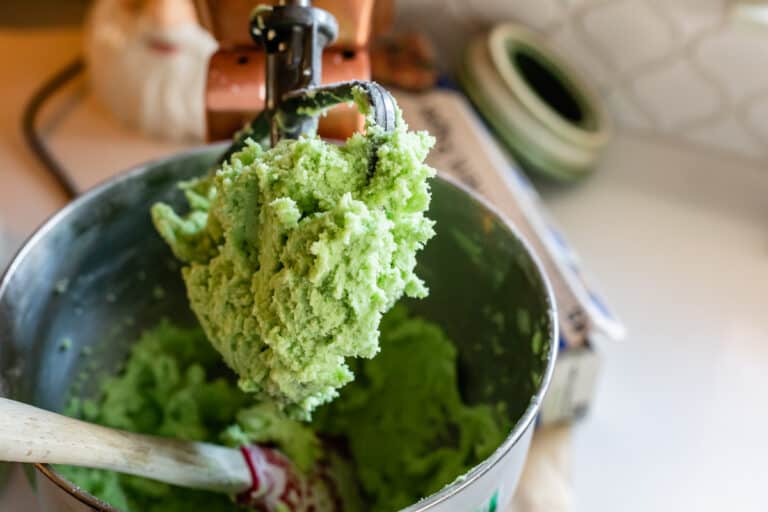 Add in the salt, eggs, and almond extract. At this point, you can add in some gel food coloring if you want! Don't use liquid food coloring. It will mess with the liquid ratio of the recipe. I usually only do green to make green trees and green wreaths. You can try red, but it might end up looking pink. The sky is the limit!
I like to add the gel food coloring before I add the flour, to make sure that I don't over beat the flour. Over mixing is how you get a tough dough and dense cookies. So when you are adding food coloring to the butter mixture, add enough so that when you add in the flour, the color won't be drowned out. I added at least 1/4 teaspoon gel to a full batch.
Next add in the flour. The dough is pretty sticky. That's okay!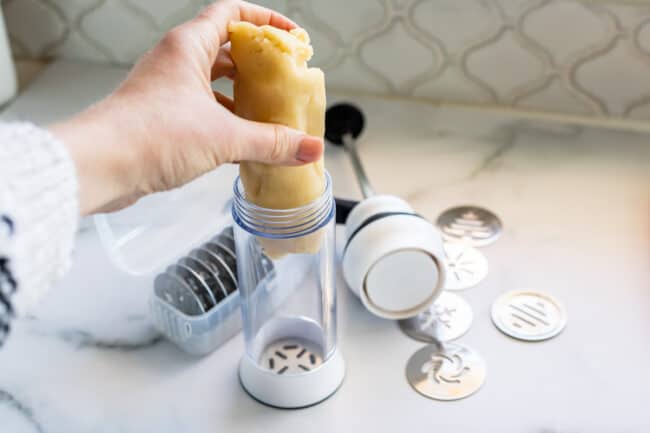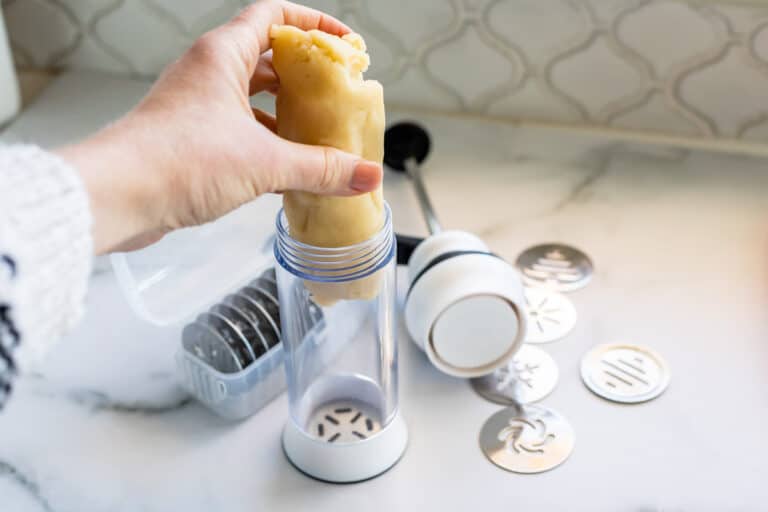 Use your hands to shape the dough into a cylinder and feed it into the tube of your cookie press.
How to use a Cookie Press
Here's how to press your spritz cookies perfectly every time.
Use your hands to shape the dough into a cylinder and feed it into the tube of your cookie press.
Press the cookies onto a chilled baking sheet. Chilled I say!! Don't use parchment paper, silicone mats, or anything else that would come between the baking sheet and the spritz dough.
Press as little dough through the cookie press as possible to create the spritz shape – they'll look much nicer after baking this way.
Why won't my spritz cookies come out of the press?
If you're having trouble getting your spritz cookie dough to come out of the press, you may have one of the following problems:
You added too much flour. I always use the "fluff and scoop" method: fluff up the flour in your bag or container, then use a spoon to scoop it into the measuring cup. Gently level it. It's amazing what a difference the right amount of flour makes.
You chilled the dough. Don't chill the dough! Don't do it! You'll only want to curse the heavens and die if you're trying to squeeze rock hard dough out of your cookie press.
Your baking sheets aren't chilled. If the dough is coming out of the press, but not creating a tidy little cookie on the baking sheet, you need to chill the pans. I know it's an extra step but it's worth it! (And remember – no parchment or silicone mats. Those cookies have plenty o' butter, they'll come off the baking sheet just fine.)
My spritz cookies won't stick to the pan!
Press the cookies onto a chilled baking sheet. Chilling the baking sheets helps the cookie dough stick to the pan. I promise, once baked, they come off the pan like a dream. There is so much butter in this dough you don't have to worry about the baked cookies sticking.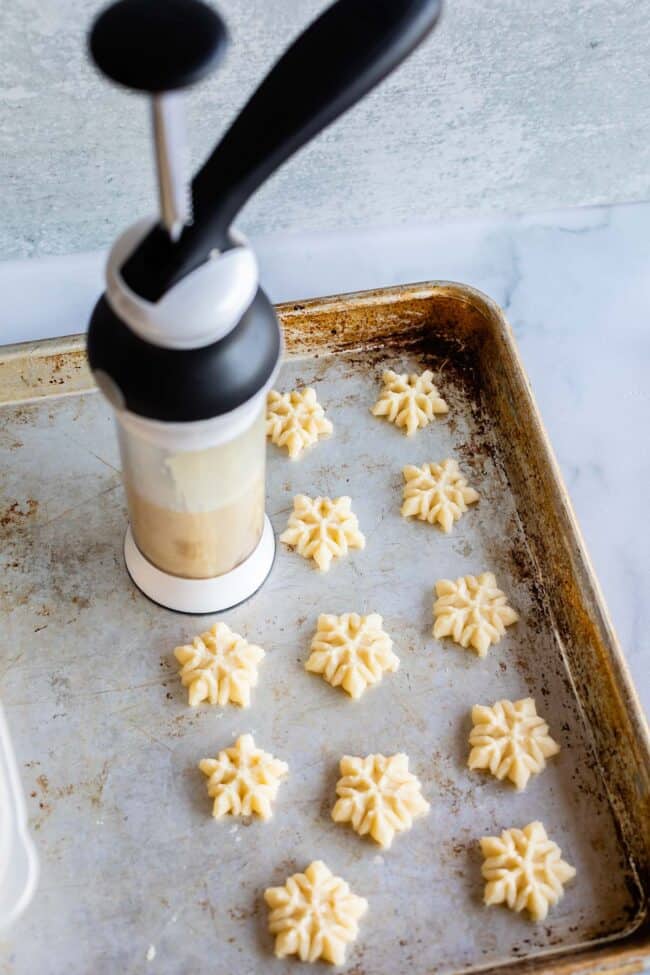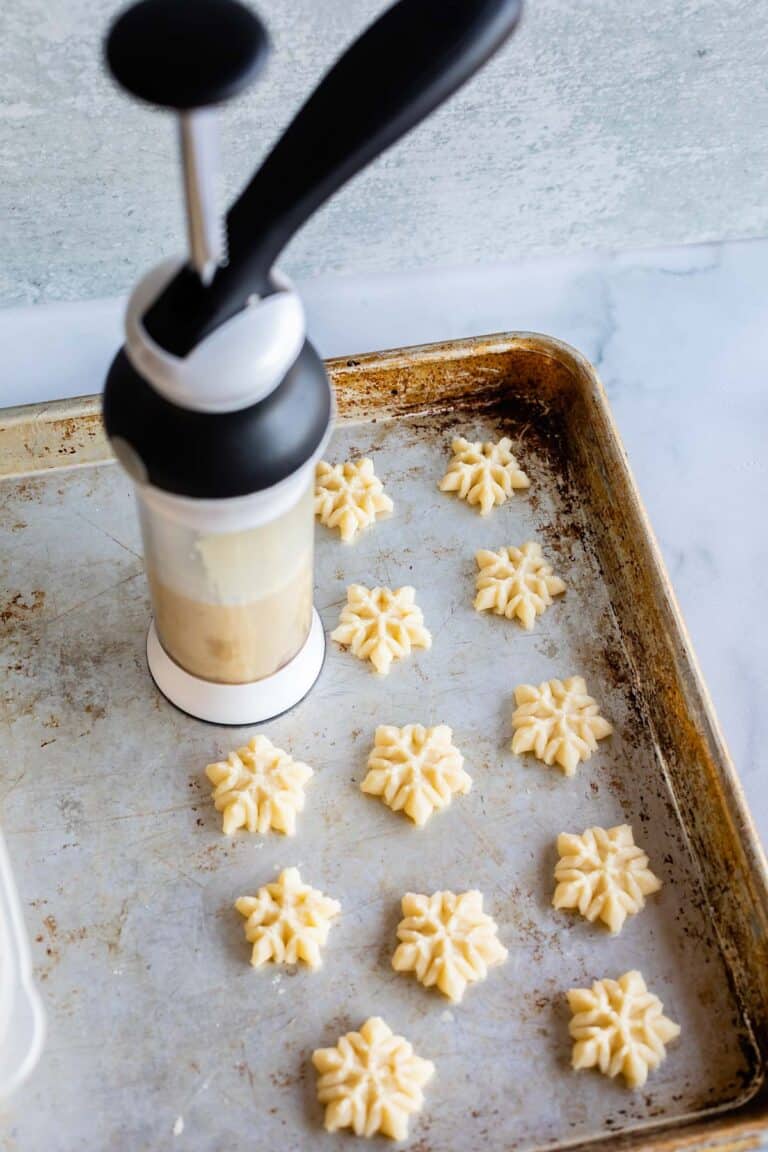 Do not use parchment paper! Do not use silicone baking mats! I hardly ever make cookies without lining my pans, but it's totally unnecessary for these Spritz cookies. The dough just will not stick to a lined pan.


And speaking of pans. It's best to use light colored pans for spritz making. Darker pans will make your spritz cookies brown very quickly, and they will turn out crispier than you want them.
If the dough gets too warm (you can tell because the dough will feel a little greasy and melty), the cookies will bake flatter than you want. Stick the dough in the fridge or freezer for a few minutes to firm it up. Not too long though! Chilled dough will not go through the press.
How to get nicely shaped Spritz cookies that aren't blobs
For very nicely shaped cookies, press as little dough through the cookie press as possible. I have an example here: the dough is in the left picture, the baked cookies are on the right hand picture. On the left cookie, you can see there is a lot less dough pressed.


They both look nice. But the cookie on the left is prettier.
This can be hard to control, and some cookie presses are better than others. I just wanted you to be aware of HOW to achieve the proper shape: press less dough.
Bake the cookies for 5-7 minutes. Do NOT let them brown! They should be firm on the edges but should not brown on the edges, or if they do it should be a very light golden. (My dear mother-in-law Kris loves crispy cookies and will fight me on this until her dying day.) Either way you bake them, they are going to be delicious!
Decorating Spritz cookies
After pressing the cookies on the pan, you can sprinkle colored sanding sugar on the cookies BEFORE baking. This is certainly the easiest method and the way that we usually do it with the kids. It's kind of a mess (a happy mess). The sprinkles tend to stick and melt on the outer edges of the cookies, forming a ring.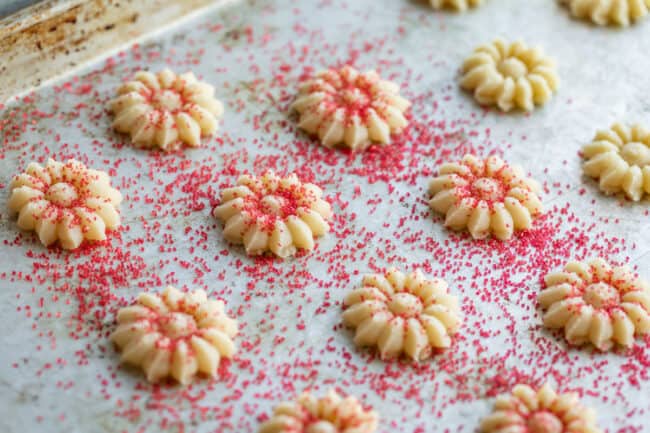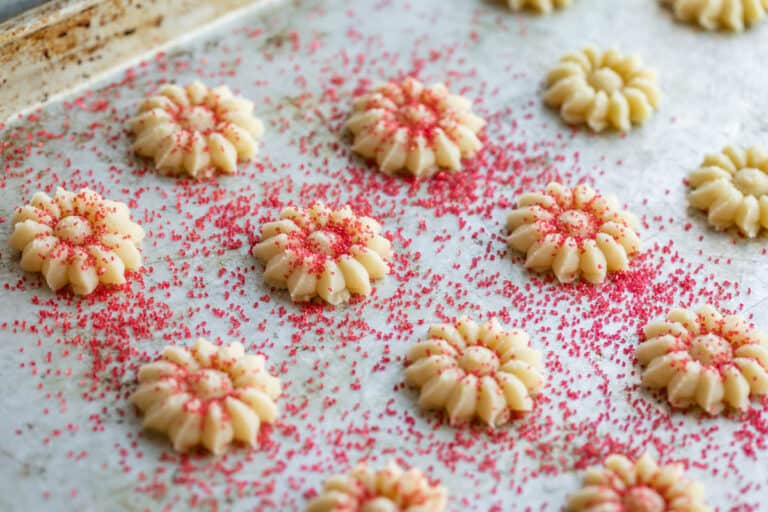 I prefer to add the sprinkles after baking, using a simple glaze to make them adhere. Just mix together powdered sugar with some corn syrup, almond extract, and milk. (You can omit the corn syrup; it just makes the glaze nice and shiny.) Whisk it all together and play around with the milk/powdered sugar levels until you get a glaze consistency you like. These are not sugar cookies; the glaze should not harden into a white frosting. We basically just want glue for the sprinkles. Here is what mine looked like:


Use a pastry brush to lightly brush the top of each cookie with the glaze, and then use your fingers to dust some sprinkles on top.

I tried dipping the cookies in sprinkles. Here's what it looks like. Kind of an intense sprinkle situation, but it has a nice effect if you do a few like this and disperse them on a larger plate of cookies.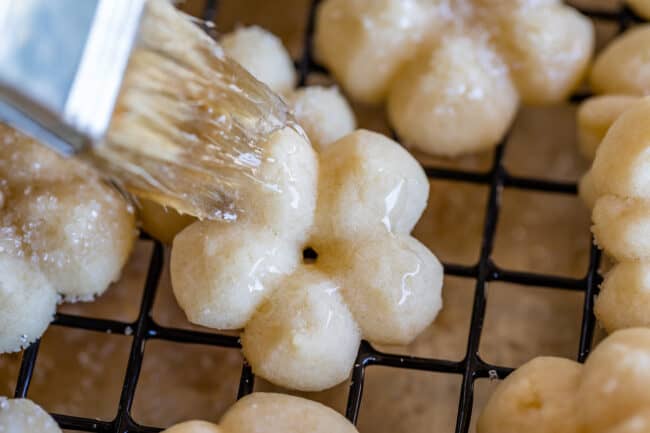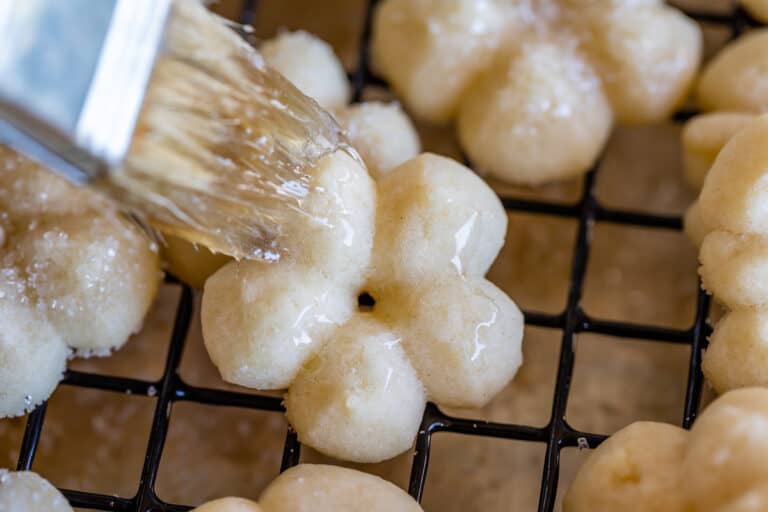 Another note on glaze: You don't have to make any glaze at all if you don't want to. You can brush the cookies very lightly with water and then dust with sprinkles. They will stick. You can also brush with straight up corn syrup (see above) and then add sprinkles. This is a really simple way to get a shinier look for your cookies without bothering with a glaze. (They take much longer to set though.)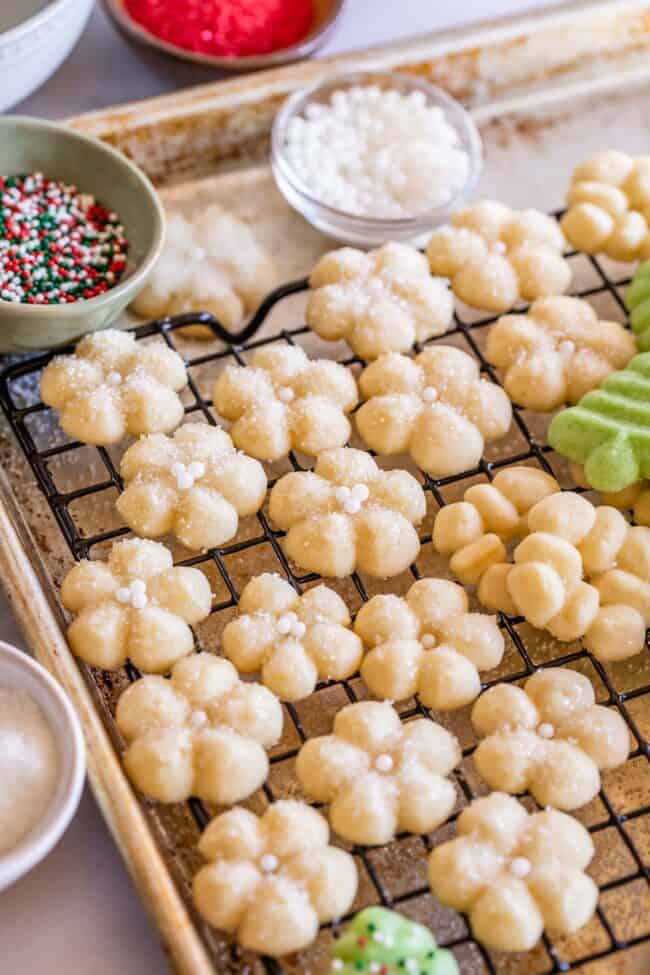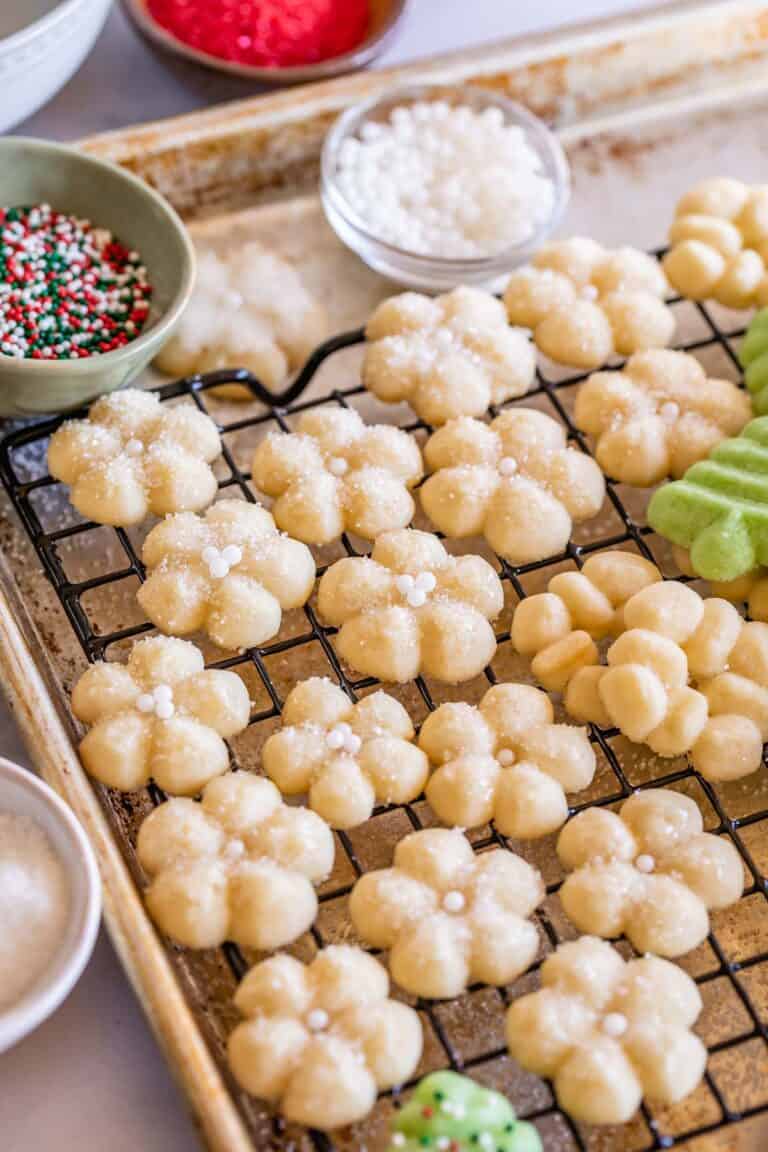 TL; DR: Tips for making the best Spritz cookies
use cold butter for the best dough temperature. If you are using elbow grease or a hand mixer, you might need to let it soften a bit. Don't chill the dough.
if you want to dye some or all of your dough, use gel food coloring
use light-colored pans to avoid browning your cookies
press the cookies directly on a cold pan
bake all the same shape cookies (and all the same color cookies) on the same pan, to avoid over/under baking.
try to press as little dough as possible for best-shaped cookies
you can add sprinkles before baking (it's faster) but it's prettier to lightly glaze and add sprinkles after.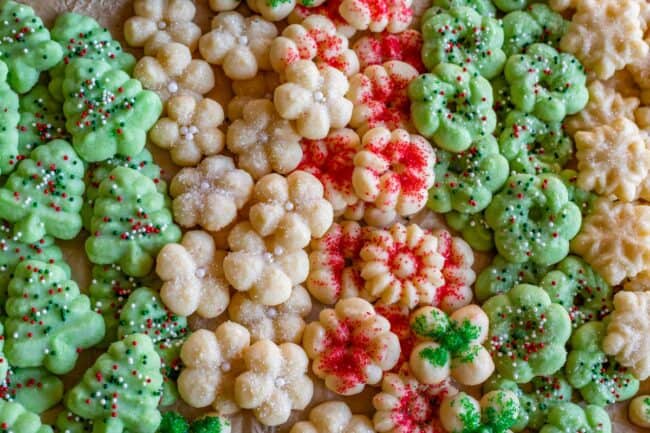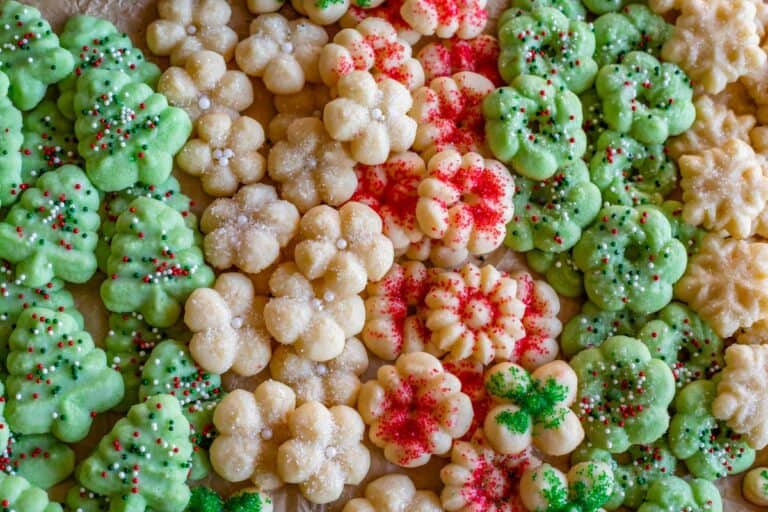 Storing Spritz Cookies
Spritz cookies should be stored, well-covered, on the counter, and will keep for 3-5 days. If you'd like to freeze them, put them in a sealed container and they'll last for MONTHS. I mean, theoretically. You'll definitely eat them before then (if you're anything like me).
Should spritz cookies be refrigerated?
No, spritz cookies don't need to be refrigerated – they'll do just fine on the counter for several days.
And that is everything you need to know to make the best Spritz cookies of your life! This is such a fond tradition in our family. I know Grandma Prudy is smiling down on us whenever we bust out the cookie press. Merry Christmas my friends, and merry spritz making too!
More of Grandma Prudy's Swedish Christmas cookies!
More Christmas cookies you will want to make!
Facebook | Pinterest | Instagram

Best Spritz Cookie Recipe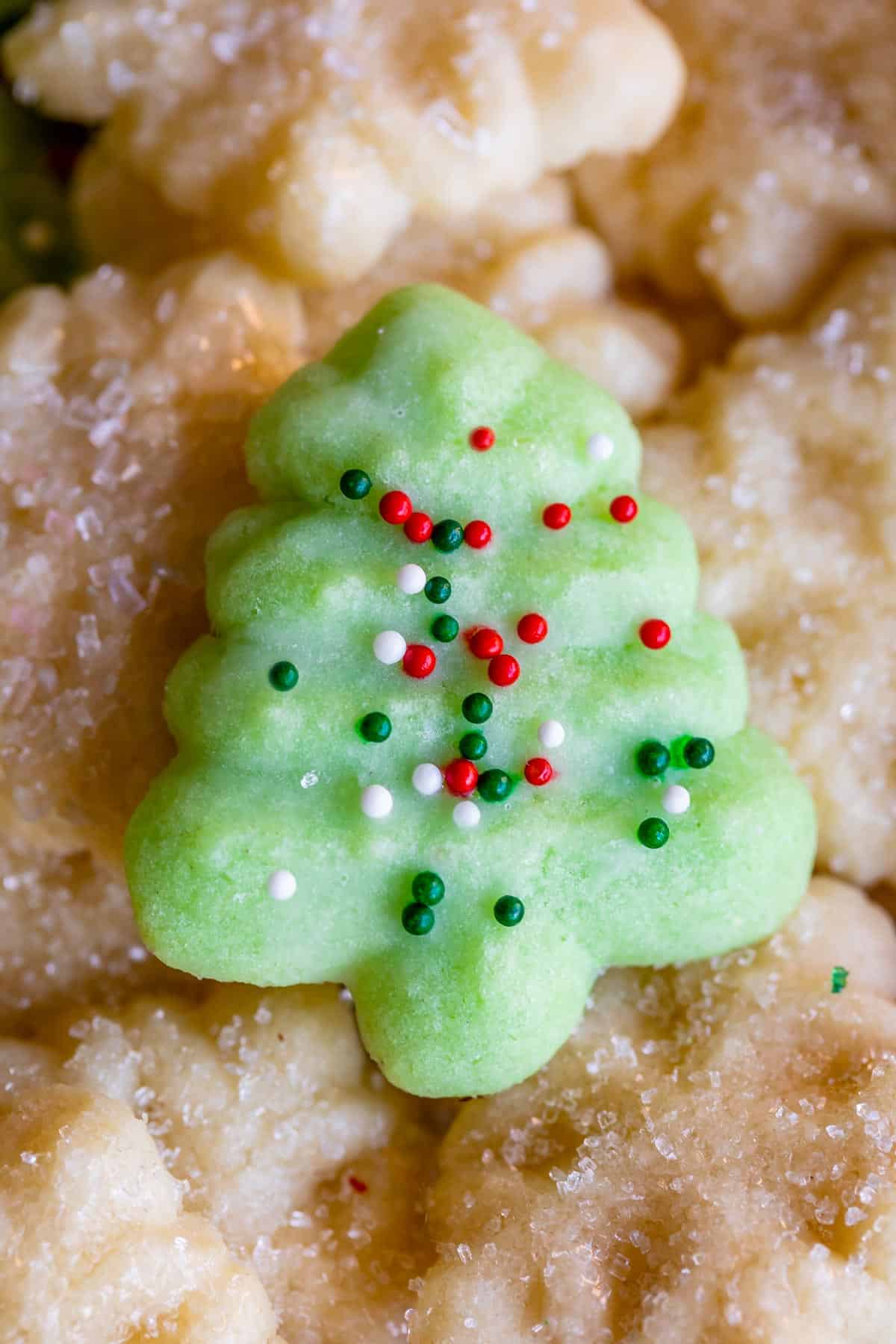 These are the BEST Spritz Cookies! This is our family's number one favorite Christmas cookie. It's a traditional Swedish recipe from great-grandma Prudy. Spritz cookies are sweet and buttery and use only 6 ingredients, including almond extract, which gives them their unique flavor. They are made into adorable little shapes using a cookie press. It is basically impossible to eat just one! (I know I can eat about 5,000.)
Ingredients
1

cup

butter

,

I use salted butter (2 sticks)

1

cup

granulated sugar

1/2

teaspoon

kosher salt

1

large

egg

1

teaspoon

almond extract

gel food coloring

2 & 1/2

cups

all-purpose flour

,

spooned and leveled

Colored sugar

,

optional

Sprinkles

,

optional
For the glaze
1

cup

powdered sugar

1

tablespoon

corn syrup

,

optional

1/4

teaspoon

almond extract

1-3

tablespoons

milk
Instructions
Preheat oven to 375. Place 2 light colored baking sheets in the fridge or freezer, if you have space.*

Make the dough. In a large bowl or stand mixer, beat 1 cup butter until completely smooth and there are no lumps. If you have a stand mixer, use cold butter. If you are using a hand mixer, you will have to let the butter soften for a few minutes before you start beating. Make sure to scrape down the sides and bottom of the bowl halfway through.

Add 1 cup sugar and 1/2 teaspoon kosher salt (use a little less if using table salt). Beat well for 1-2 minutes until light and fluffy, scraping the sides and bottom of the bowl.

Add 1 large egg and 1 teaspoon almond extract. Beat until incorporated.

Add gel food coloring to the dough at this point if you are planning to use it. Mix well. Remember that you are still adding flour after this, so add enough gel to make a bit of a deeper color than what you want for the final dough. Keep in mind also that gel food coloring intensifies with time.

Spoon and level 2 and 1/2 cups flour into the dough. Beat until JUST combined, scraping the sides and bottom as necessary. Once you get to the point that you don't see streaks of flour anymore, stop beating and leave it alone. You don't want to over mix the dough or your spritz cookies will turn out tough.

Press the cookies. Read the instructions on your cookie press to get it all set up. Put the metal disc in the bottom that is the shape that you want to press. Take a handful of room temperature dough, use your hands to shape it into a cylinder, and feed it into the cookie press. Add it all the way to the top. Screw in the top of the press.

Press the cookies onto the chilled light-colored baking sheets. These cookies do not spread hardly at all. Place your press as close as you can to the shaped cookie next to it. The space of the press itself is enough.

See photos for tips on how much dough to let out while you are pressing. Basically, the fatter you make your cookies, the more they will puff in the oven, and you risk not being able to recognize the shape as well. For really pretty, well-defined spritz cookies, press out the least amount of dough that you can per cookie.

At this point, you can choose to sprinkle the cookies with colored sanding sugar if you like. It's much easier doing it before baking than doing it after, but I don't love the way it looks. (You almost always get sprinkles pooled on the outer edges of your cookie.)

Bake the cookies at 375 for about 6 minutes. If you used a very dainty shape or don't trust your oven, start with 5 minutes. The larger cookies might take 7 minutes. The cookies are done when they are set (slightly firm) on the edges and no longer shiny. They should not be brown on the edges. If you see any browning or golden-ing, take them out immediately. (My mother-in-law Kris will argue with me about this until her dying day. But I said what I said. Spritz cookies should NOT be brown!) Bake all the same shape cookies on the same pan to avoid over/under baking. It's best to bake the same color dough all on the same pan too.

Let the cookies set on the pan for 2-3 minutes. Transfer to a cooling rack and let cool completely.

If you would like to add a glaze, in a medium bowl whisk together 1 cup powdered sugar, 1 tablespoon corn syrup, 1/4 teaspoon almond extract, and start with 1 tablespoon milk. Whisk it together and decide if you want to add more milk to get a thinner consistency. See photos. You want a fairly thin glaze.

Once the cookies are cool, use a pastry brush to lightly brush each cookie with the glaze. (You can also brush with water or straight corn syrup). Dust each cookie with sanding sugar or sprinkles. Let set up on the cooling rack.

These cookies should be stored well covered on the counter. They will keep for 3-5 days.

Freezing: Spritz cookies freeze very well! We do it every year so that we don't eat them all at once. Freeze in a sealed container and then let thaw in the sealed container at room temperature. Or dip frozen ones in hot chocolate. I mean I'm just guessing this is really good, I'm definitely not the one pilfering from the freezer stash.
Notes
*It's optional to chill your pans. It makes the cookie dough stick to the pan better when you are pressing. It will not stick to parchment paper or silicone baking mats (or at least I can't ever get them to!) They will come right off the pan, you don't have to worry about a mess. Light colored pans are optional because they won't brown your cookies as much. Spritz are not meant to brown on the edges.
Nutrition
Serving:
1
cookie
|
Calories:
83
kcal
|
Carbohydrates:
12
g
|
Protein:
1
g
|
Fat:
4
g
|
Saturated Fat:
2
g
|
Polyunsaturated Fat:
1
g
|
Monounsaturated Fat:
1
g
|
Trans Fat:
1
g
|
Cholesterol:
14
mg
|
Sodium:
58
mg
|
Potassium:
10
mg
|
Fiber:
1
g
|
Sugar:
7
g
|
Vitamin A:
119
IU
|
Calcium:
3
mg
|
Iron:
1
mg
And just for posterity's sake, here is the original photo I took of these Spritz cookies when I first made and shot them back in 2011! Good times. Bad camera.