I just ran out of minced garlic. You know, the kind in the jar that lasts forever. It's always there, dependable and ever-present at the back of my fridge. It's really strange not having it. I usually have real garlic on hand in case I want the flavor to really pop in a certain dish, but I am the queen of lazy and pre-minced garlic is so dang easy, so most of the time I use that.
For some reason I have always had a hard time parting with my garlic. Back when Eric and I were first married we had a Costco card, and on one trip I bought a huge (huge) jar of minced garlic. Then a few months later we made the decision to move to Indiana so Eric could go to grad school. You guessed right: no, I was not able to part with my garlic, even for a cross country move. But it is even worse than that my friends. We decided to do a foreign internship the summer before we moved. So we put all our stuff in storage and flew to the Dominican Republic.
No, I didn't take my giant jar of garlic with me. But I did make my poor sister keep it in her fridge for 4 months while I was gone. Then I came back, packed it in a cooler with our PB&J's for the 3 day car trip, and we headed for the great beyond. Eric may claim that our sandwiches tasted like garlic, but I maintain that it was only the sweet taste of frugality.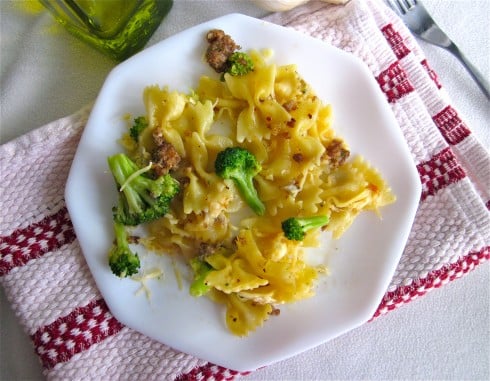 I love this pasta. And not just because you can use pre-minced garlic. It seems simple enough, but that is what's so fabulous about this dish: it takes about 20 minutes to put together and it tastes amazing. I bet I have already made this 4 or 5 times. It is so good. You can adjust the heat according to who you are serving. I made this for my sister's kids a few weeks ago and left out most of the red pepper, then sprinkled some on my own serving. Perfect!
Spicy Sausage and Broccoli Pasta

Source: Budget Bytes
2 tablespoons olive oil
4 cloves garlic
1/2 teaspoon crushed red pepper (or to taste)
1/2 pound Italian sausage
1 pound frozen broccoli florets, thawed
1 pound bow tie pasta
2 ounces (1/2 cup) smoked gouda
2 ounces (1/2 cup) shredded Italian cheese
salt and pepper to taste
Bring a large pot of water to a boil and cook the pasta according to the package directions (boil for 7-10 minutes or until al dente). Drain in a colander.
While the pasta is cooking, begin the rest of the dish. Mince the garlic. Heat 2 tablespoons of olive oil in a large skillet over medium heat. Add the minced garlic and saute for 1 minute. Add the red pepper flakes and saute for 1 minute more.
Squeeze the Italian sausage out of the casing into the skillet. (I used bulk sausage; whatever floats your boat.) Break it up with a spatula as it cooks. Saute until cooked through. Add the broccoli to the skillet and saute for 3-5 minutes or just until the broccoli is tender and still bright green. Turn off the burner to prevent the broccoli from over cooking (it will begin to turn an olive green color if it overcooks).
When the pasta is cooked and drained, add it to the skillet with the sausage and broccoli. Stir to coat it in the garlic and red pepper infused oil. Sprinkle with salt and freshly cracked pepper to taste. Sprinkle with shredded cheese, stir, and serve warm!