Happy St. Patrick's Day everyone! I hope you all are gettin your green on this weekend. St. Patrick's Day makes me love being American. I love that we just take other countries holidays, dumb them down, fatten-them-up, and call it good. And why not? It's fun. Who doesn't need more fun in their life??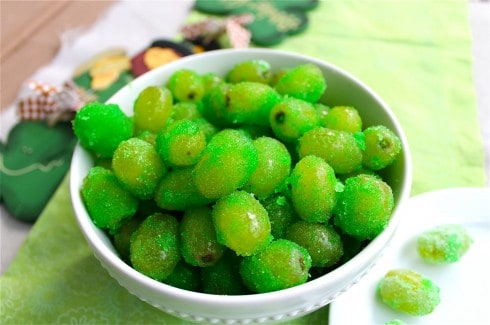 I've never been to Ireland and have no idea how they celebrate St. Patrick's Day over there, but I'm guessing it's different than how we do it. I'm pretty sure it involves less green. Probably less dyed-green-milk, dyed-green-pork-chops, and dyed-green-rivers, and probably a lot more beer-drinking. Do I have any Irish readers? Maybe you should educate us on what you folks do over there.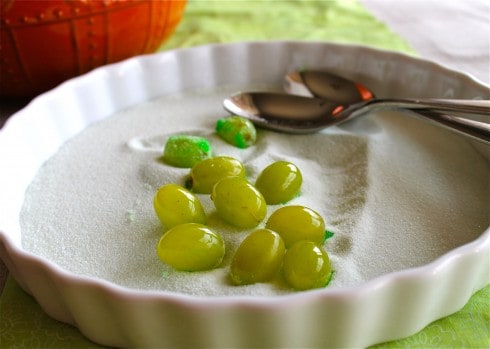 In the meantime, I am here to provide you with my New Favorite Thing. It just so happens to be green, but I am telling you this stuff is AMAZING. I wish there were a way to make it look more beautiful, since we eat with our eyes first. But trust me on this one. These Sour Patch Grapes taste like candy. I can honestly say that I prefer these to Sour Patch Kids. 2-year-old Charlotte absolutely loved these, and I can't wait until next year when she is a bit older. I will make them and tell her that a Leprechaun surprised us with some Leprechaun Candy. This is such a fun and easy treat for kids!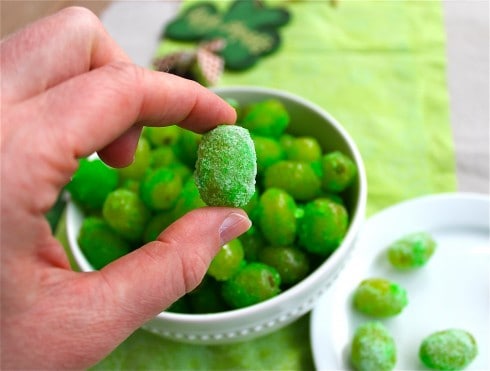 Sour Patch Grapes (Leprechaun Candy!)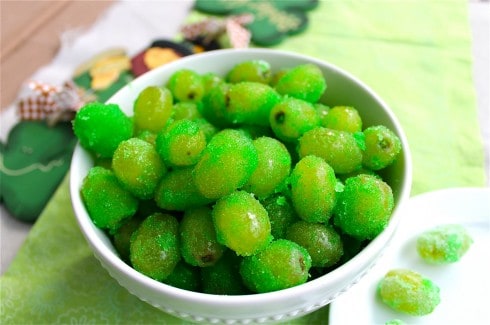 These Sour Patch Grapes taste like candy. They are super easy to make and such a fun treat for kids!
Ingredients
2

lbs

green grapes

,

1 bag

6

oz

package of lime Jello

,

1 box
Instructions
Remove the grapes from the vine stem-thingies and wash thoroughly. You want them nice and wet so the gelatin powder sticks to them.

If you want to do this the hard way, place the gelatin powder on a plate and use two spoons to roll grapes into the powder, completely covering. Or if you want to make your life easier just throw the powder in a zip lock bag, drop a handful of grapes in at a time, and shake until covered.

Refrigerate for several hours. I left mine in the bag to refrigerate them. If you do this, the sugar on the outside will never dry out and your grapes will stay wet. The best way to do it is to lay the grapes out on a baking sheet, uncovered. Try to keep the grapes from touching each other too much. This will make them nice and crunchy on the outside.
Notes
You can use any flavor of jello that you want, and red grapes would of course work fine. Let me know what other combos you come up with! Also, I don't like frozen grapes, but if you are into that I've heard these taste great frozen.
Source: Sweet Treats and More
Nutrition
Serving:
1
bowl
|
Calories:
159
kcal
|
Carbohydrates:
40
g
|
Protein:
2
g
|
Fat:
1
g
|
Saturated Fat:
1
g
|
Polyunsaturated Fat:
1
g
|
Monounsaturated Fat:
1
g
|
Sodium:
101
mg
|
Potassium:
218
mg
|
Fiber:
1
g
|
Sugar:
36
g
|
Vitamin A:
75
IU
|
Vitamin C:
4
mg
|
Calcium:
12
mg
|
Iron:
1
mg