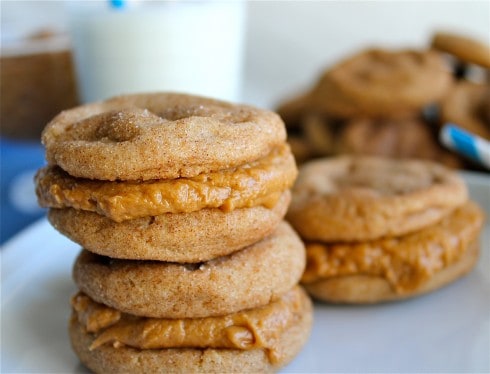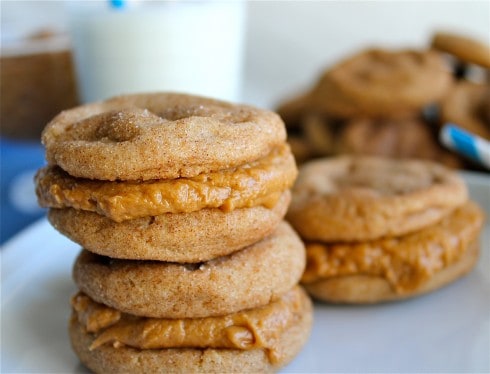 Did you make this recipe?
Leave a review »
Snickerdoodle Biscoff Sandwich Cookies
8-10 sandwich cookies
adjust servings
Ingredients
1/2

cup butter (1 stick), softened

1/2

cup granulated sugar

1/3

cup brown sugar

1

egg

1/2

teaspoon vanilla

2

cups flour, spooned carefully into the measuring cup

1/4

teaspoon salt

3/4

teaspoon baking soda

1/4

teaspoon cream of tartar

1

teaspoon cinnamon

2

tablespoons sugar

2

teaspoons cinnamon, or to taste
For the Filling
3

tablespoons butter, at room temperature

1/2

cup Biscoff Spread

1

cup powdered sugar, sifted

1/2

teaspoon cinnamon

3

tablespoons milk

sliced strawberries, optional
Instructions
In a large bowl, cream together the butter and sugars with an electric mixer on high speed. Beat for at least a couple minutes. Add the egg and vanilla and mix until smooth.
In another bowl, combine the flour, salt, baking soda, cream of tartar, and cinnamon. Pour the dry ingredients into the wet ingredients and mix until just combined, using a spatula to scrape the sides.
Preheat oven to 300 degrees (yes, 300!) while you let the dough rest for 30 to 60 minutes in the refrigerator. In a small bowl, combine the sugar and cinnamon for rolling.
Take about 2 1/2 tablespoons of the dough and roll it into a ball. (It should be about the size a large cookie scoop would be. In fact, using a large cookie scoop is a good idea, but you will still have to roll it into a ball in the cinnamon-sugar). Roll each ball into the cinnamon-sugar and place onto a cookie sheet lined with parchment paper or a silpat, about 2 inches apart. Repeat for the remaining cookies.
Bake the cookies for 12 to 15 minutes. They will puff up quite a bit in the oven, but once you take them out they will fall a little bit. The cookies should still look pretty soft in the middle, but the outside edges should be firm. They will continue to cook on the pan after you take them out. After 5 minutes or so, transfer the cookies to a cooling rack.
For the Filling:
Combine the butter, Biscoff Spread, powdered sugar, and cinnamon in the bowl of a stand mixer fitted with the paddle attachment (or an electric mixer). Beat on medium speed until smooth. Add the milk and beat until fluffy.
To assemble the cookies, find two cookies that are similar in size. Use a knife to spread about a tablespoon of the Biscoff filling on the inside of one cookie. Sandwich the cookies together.
Add thinly sliced strawberries to your sandwich if you want.
by The Food Charlatan