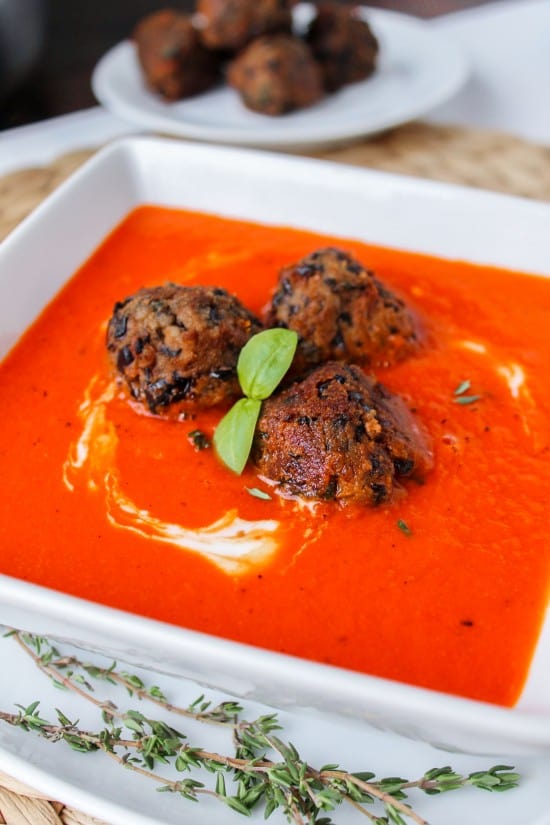 So the score at the end of the day looked a little something like this:
Children: 47
Mom: 0
15 points for throw up on the carpet, at least 20 for the "I HAVE TO POOP!" yell in church this morning, 25 for peeing on the couch, and 1000 points for the refused nap.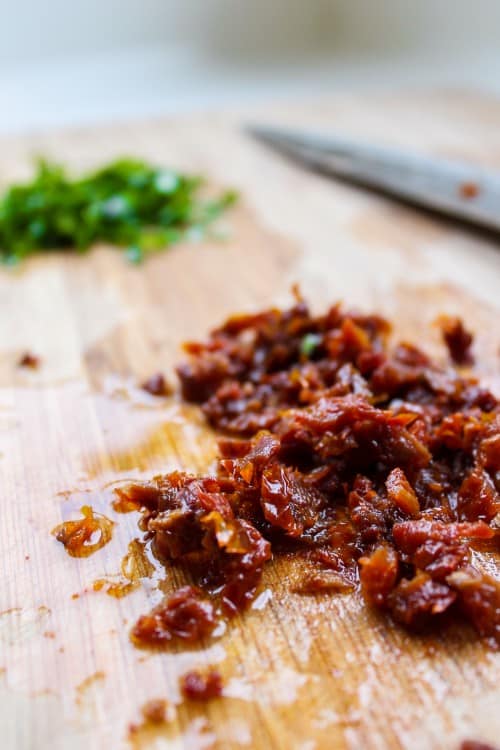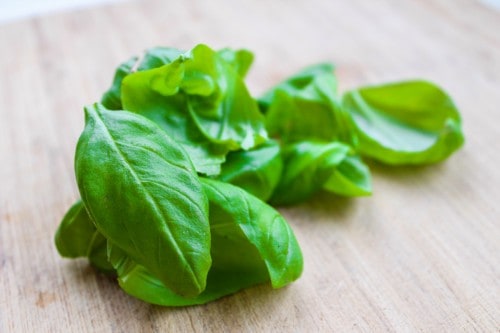 (And no, I won't be accepting any comments about my math skills. Just don't even go there.)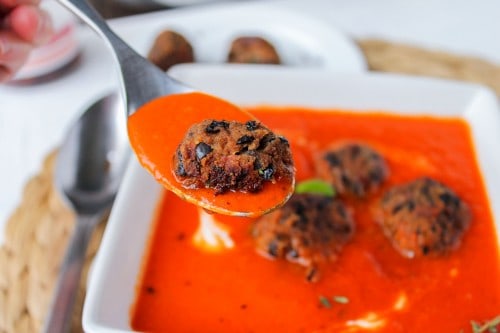 Oh, and this was a refused nap after Charlotte fell asleep looking all adorable on the couch. I was trying to transfer her still-sleeping to her bed but then realized she had betrayed me.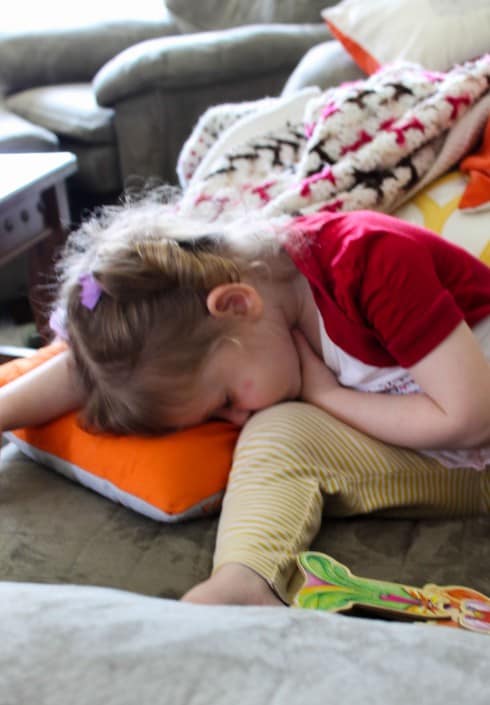 Here she is. This was before I discovered that she had wet herself, otherwise there would have been no nostalgic photographing. Just teeth clenching.
The worst part is that she TOLD me she had to go to the bathroom. It was the third time (3rd!!!) that she had gotten up from her "nap" to use the bathroom and I thought she was just trying to get out of her room. Now I have all kinds of mommy guilt.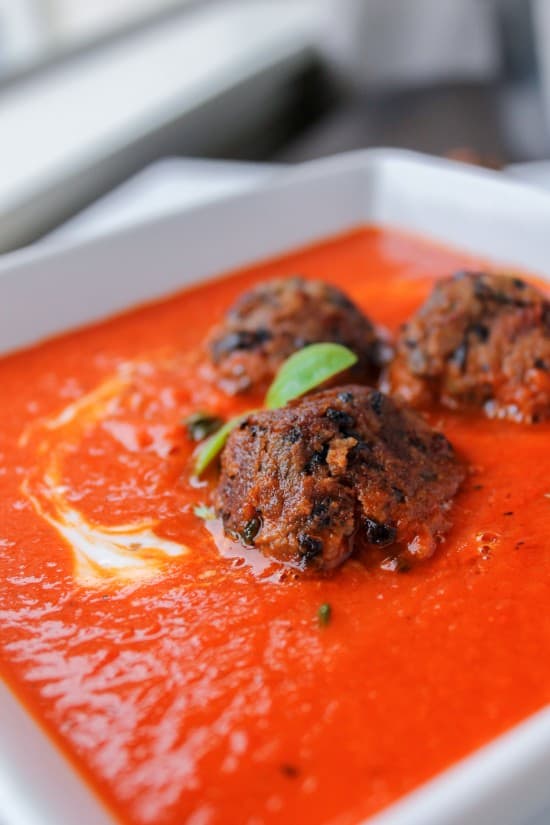 To top it off, a few minutes afterward she comes up with one of her totally-random-3-year-old-comments: "Sometimes mommy and daddy take care of me!" …aaaaaand sometimes they don't. Oops.
But guess what guys! It's been raining for days now! This is big news over here, California's in a huge drought. I curled my hair the other day, then shook my fist at the rain when my curls went flat within 2.5 seconds of walking outside. And then I slapped myself in disgust.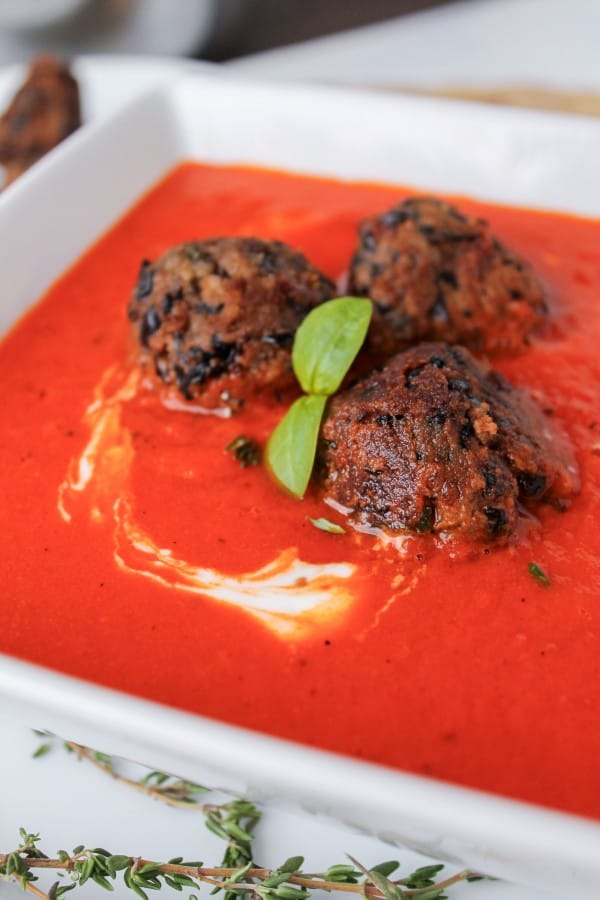 What's on the menu with you guys lately? We're having soup, soup, and more soup. Then we eat nothing else for days while I apologize to Eric for never cooking, then I finally break down and make more soup. There are worse ways to live I think.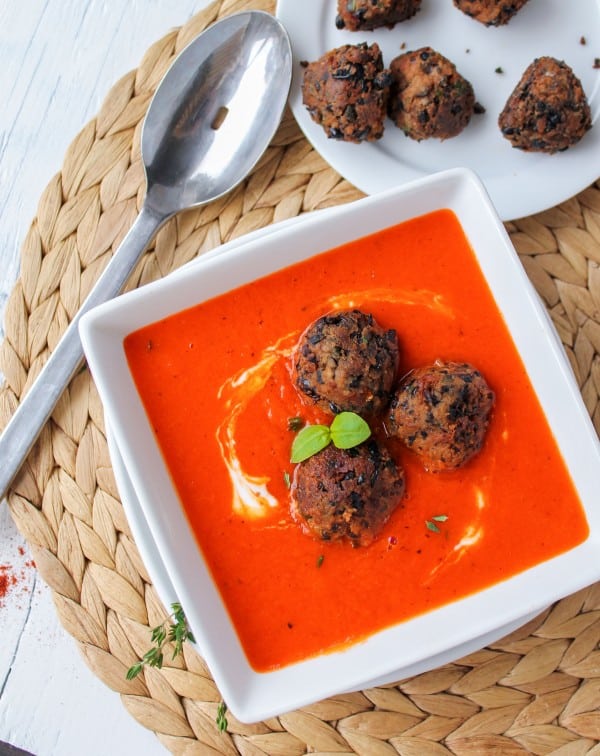 I'm in love this this Red Pepper Soup. And guess what guys, I took the easy way out. I used jarred roasted red peppers. And you know what? It tastes fabulous. Fresh-roasted would be amazing too, of course, but sometimes you just can't argue with being able to open a jar and dump. The soup has tons of flavor from the garlic and onion and a little kick from the hot sauce.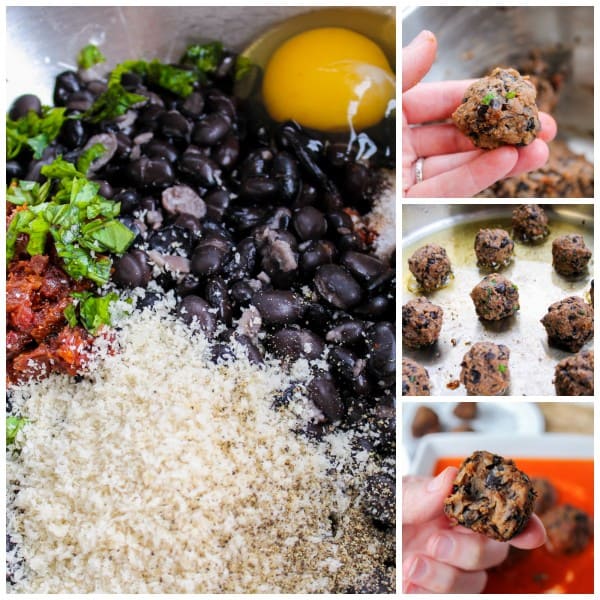 Don't skip the "meat"balls!!! They totally make it. I am so in love with this idea, and want to try it out with all different kinds of soup now. There's no meat in it, it's completely vegetarian, but it adds a little umph to an otherwise thin soup. I love the sun-dried-tomatoes, you won't believe how much flavor they add. The "meat"balls get all crispy and irresistible on the outside when you fry them, and it pairs perfectly with the red pepper. Love!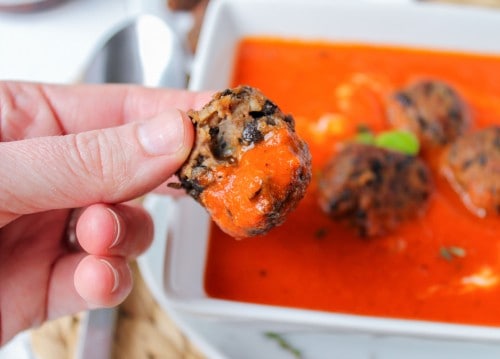 This would be a fun dish to make together for Valentine's Day. (Not with me, silly, with your man) It's easy, pretty fast (45 minutes, tops) and is even bright red if you're feeling festive.
Come back on Thursday for our #GalentinesDayParty! I'll be providing links so you can check out what some of my bloggy friends will be bringing to the party where we celebrate our gals :) I will be contributing a secret-ingredient dessert. Head over to my Facebook page to see the picture and guess what it is! (Hint: it's not Nutella!)

Red Pepper Soup with Black Bean "Meat"balls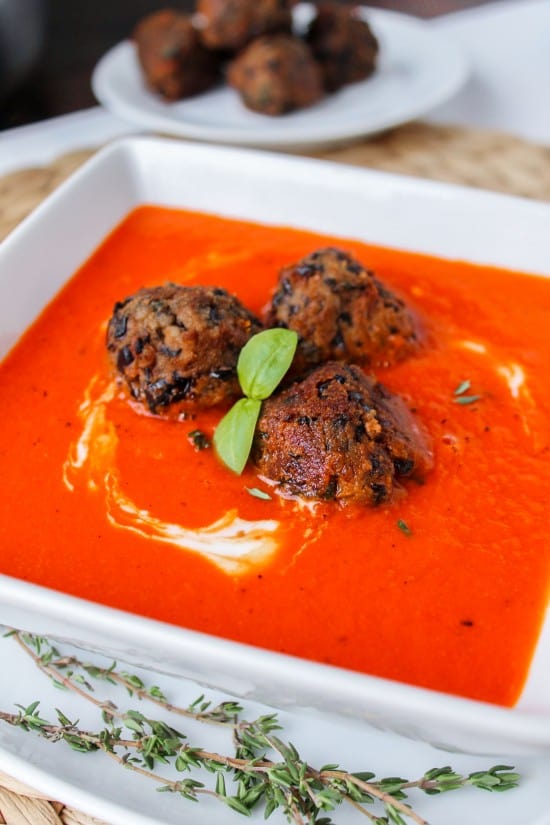 This easy to make Red Pepper Soup with Black Bean "Meat"balls is so delicious, and full of flavor!
Ingredients
For the soup:
1

tablespoon

olive oil

1

medium

onion

,

sliced

3

cloves

garlic

2

tablespoons

white wine

1

16-oz jar

roasted red peppers

,

undrained

2 & 1/2

cups

chicken broth

,

or vegetable

2

sprigs

thyme

,

or about a teaspoon dried

1/2

teaspoon

salt

1/4

teaspoon

pepper

dash

sriracha
For the "meat"balls:
1

15-oz cans

black beans

,

rinsed and drained

2

tablespoons

basil

,

fresh, chopped

3

oil-packed sun-dried tomatoes

,

chopped

1/4

cup

panko bread crumbs

1

egg

2

teaspoons

paprika

1/2

teaspoon

salt

pepper

,

to taste

2-4

tablespoons

oil from the jar of sun-dried tomatoes

sour cream

,

or Greek yogurt, to garnish
Instructions
In a wide-bottom pot, heat the olive oil over medium heat. Add the sliced onions when it is nice and hot. Cook until they are starting to get soft, about 5 minutes.

Crush the 3 cloves of garlic with the side of a knife. Add them whole to the onions and continue to cook until the onions and garlic are starting to brown, about another 5 minutes.

Add the 2 tablespoons of white wine (I used cooking wine) and cook until the liquid has mostly evaporated. It shouldn't take long, about a minute or so.

Add the entire jar of roasted red peppers, liquid and all. Don't worry about chopping them.

Add 2 1/2 cups of chicken broth and 2 sprigs of thyme, and bring the mixture to a boil. Reduce to a simmer and let cook for about 20 minutes.

Remove the soup from the heat and discard the thyme stems. Use an immersion blender to puree the soup very well.

If you don't have an immersion blender, let cool slightly then transfer the soup to a blender. Put the lid on, but leave the top spout open so that steam can escape. Hold a towel over the top with your hand and blend until smooth.Transfer the soup back to the pot and heat it up again.

Season with 1/2 teaspoon salt and 1/4 teaspoon pepper. Add a dash of hot sauce if you want (taste it first).

Meanwhile, in a large bowl combine the drained black beans, basil, sun-dried tomatoes, panko bread crumbs, egg, paprika, salt, and pepper. Use a potato masher to combine the mixture and smoosh the beans.

Form the bean mixture into 25-30 "meatballs." In a large saucepan, heat 2 tablespoons of oil from the jar of sun-dried tomatoes (or just use regular oil). Add the "meatballs" when it is hot, cooking in batches if necessary. Cook for a minute or two, until browned, then gently turn them with a spatula. Continue cooking and turning until all sides are browned. Repeat with the remaining "meatballs."

Ladle the soup into 4 bowls and top with meatballs. Garnish with fresh basil, thyme, sour cream, or Greek yogurt. It also tastes good with some fresh parmesan on top.
Notes
Source: The Food Charlatan, inspired by Don't Milk It.
Nutrition
Serving:
1
bowl
|
Calories:
105
kcal
|
Carbohydrates:
10
g
|
Protein:
4
g
|
Fat:
6
g
|
Saturated Fat:
1
g
|
Polyunsaturated Fat:
1
g
|
Monounsaturated Fat:
3
g
|
Trans Fat:
1
g
|
Cholesterol:
41
mg
|
Sodium:
1180
mg
|
Potassium:
347
mg
|
Fiber:
2
g
|
Sugar:
3
g
|
Vitamin A:
685
IU
|
Vitamin C:
17
mg
|
Calcium:
44
mg
|
Iron:
1
mg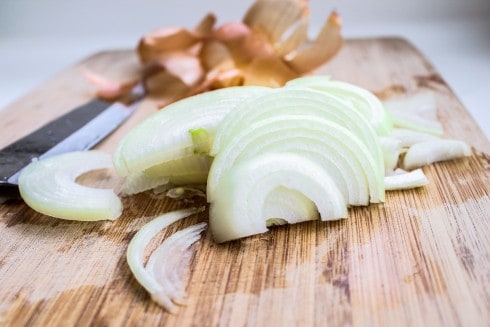 No need to chop the onions; you're going to puree it anyway. Just slicing is fine.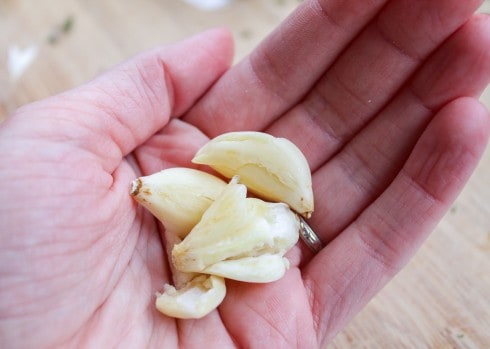 Mmmm garlic makes everything amazing.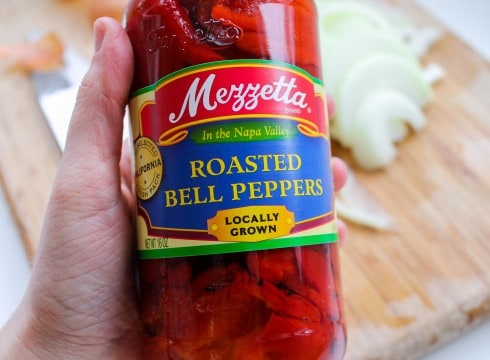 Grab a jar of roasted red bell peppers.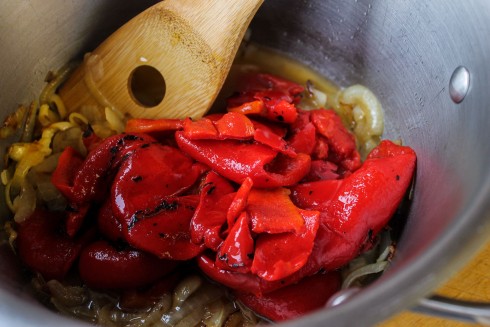 Throw em in. No need to chop.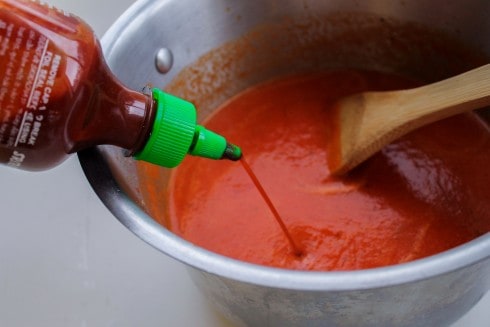 After you puree, don't forget the hot sauce! Best part! I love using sriracha but any kind will do.