Is anyone else getting really excited about fall?? I just can't wait for pumpkins and scarves and boots and hot chocolate and apples everywhere. Plus fall means one step closer to Christmas!! (No I am not insane for thinking about Christmas in August. I'm just really spiritual. Christmasly spiritual, that is.) Last year I became slightly obsessed with adding pumpkin to everything, so we'll see what this fall brings.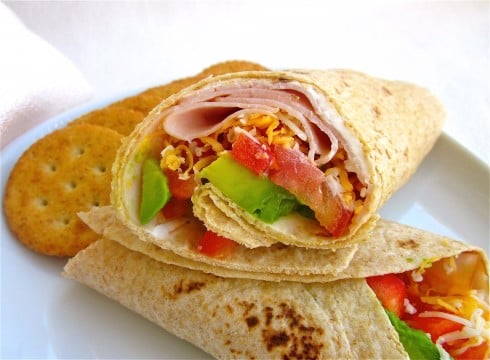 But before we actually get into September, the official start of fall in my book, here is one more light summer dish. These wraps make a quick lunch that is definitely healthier than peanut butter and jelly. (Please tell me I'm not the only one who eats my toddler's food after she rejects it??) It has veggies and everything, something I usually don't get during lunch. You can add or subtract pretty much anything you want–I've added beans, jalapeños, peperoncinis before, or you could even try halved grapes or pineapple chunks. It is versatile and delicious. Enjoy!
Quick Lunch Wraps with Cream Cheese and Avocado

Source: my friend Becca
Makes 1 wrap
1 tortilla (I like whole wheat)
1 tablespoon light cream cheese
2-4 slices ham or turkey
1/4-1/3 cup shredded cheese (cheddar, mozzarella, pepper jack is good too)
1-3 tablespoons chopped tomato
1-3 tablespoons chopped red bell pepper
3-4 slices of avocado
Spread the cream cheese down the middle of the tortilla. Top with the rest of the ingredients in whatever order you want. Roll up and enjoy!