Pumpkin Chocolate Chip Cookies with Brown Sugar Icing
Do you see this meal?  It was meant for 14 people.
In case you are not understanding what is ridiculous yet, let me explain that this picture was taken after 14 people had had seconds and thirds. Do you see how each dish has maybe a quarter of it gone? Do you see the second huge red bowl of mashed potatoes at the top?  Do you see the platter of Puerto Rican pork roast that we made in addition to the 20 pound turkey?  Are we insane?  I think I will still be eating this stuff in February.
Such a fun weekend.  Eric and Charlotte and I drove out to California to see my parents and my oldest brother and his family.
Here's Eric and Char on the salt flats.  Can you believe he drove the whole way, there and back?  He is a saint. (He also gets sick reading in the car).
I think the best part of the trip was watching my 14 month old nephew play the drums on Charlotte's head.  She honestly didn't mind.  This weekend was probably more fun for her than the rest of her life combined.  How can you compete with cousins, who are like giant moving toys that chatter and whistle and squeal and give you constant attention?
Or maybe the best part was the newts that my 7 year old nephew brought home from his backpacking trip with his parents.  (That's right.  A 7 year old on a 17 mile backpacking trip.  Hardcore.)
He also brought 6 fuzzy caterpillars.  If I ever have a boy, I hope I am as cool as my brother and his wife, who bend over backwards to make sure their boys get to do awesome boy stuff like collect bugs and amphibians.  It is kind of like watching Calvin and Hobbes' adventures come to life.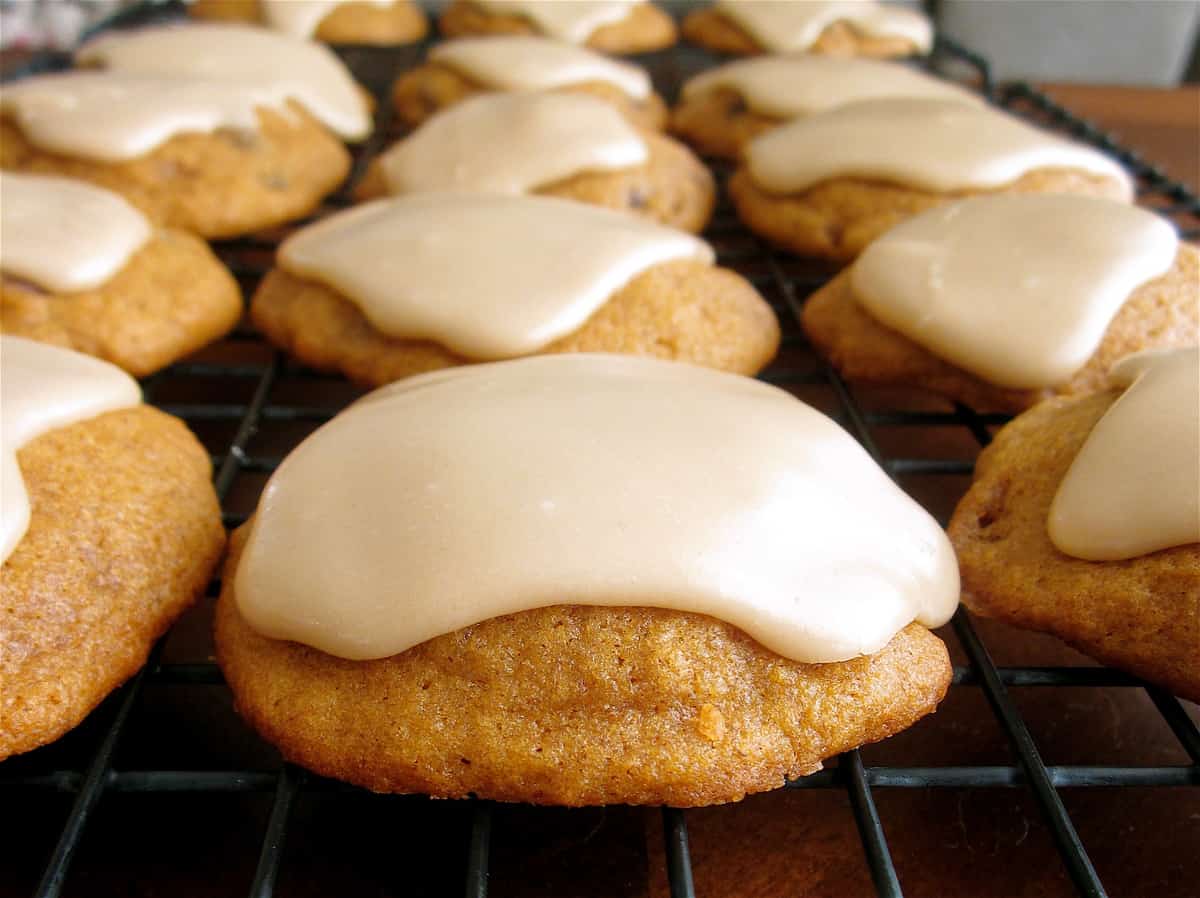 I was not excited to make these cookies.  I'm not the hugest pumpkin-chocolate fan.  It's okay, just not my favorite.  Eric however, loves it. I thought I had taken care of his pumpkin-chocolate needs earlier in the season when I made these guys, which I liked way more than I thought I would.  I guess that should have been an indication that I actually do like pumpkin and chocolate together.  These cookies taste like an extremely rich and dense maple doughnut, sans the maple flavor.  I ate way more than Eric did.
This is the last pumpkin recipe of the season, I promise.  Believe me when I say I restrained myself from posting several other recipes that were awesome, but I figured I would start getting boycotted for lack of variety.  Either that or everyone would start assuming I was pregnant and having cravings.  Instead let's just accept my love affair with the pumpkin and move on.
To bigger and better things. To Christmas! Yeah!  Bring it on!
Pumpkin Chocolate Chip Cookies with Brown Sugar Icing
Source: The Girl Who Ate Everything
Cream together:
1/2 cup white sugar
1 cup brown sugar
1 cup butter, softened
Then add:
1 cup pumpkin
1 teaspoon vanilla
1 egg
Sift together dry ingredients then add to above wet mixture.
2 cups flour
1 teaspoon baking powder
1 teaspoon baking soda
1 teaspoon cinnamon
1 teaspoon pumpkin pie spice
1/4 teaspoon salt
Add 1 cup milk chocolate chips. (I used semi sweet.  I think it would be over the top with milk chocolate.)
The dough will be very wet still. Bake cookies at 350 degrees for 10-12 minutes depending how large your cookies are. (Warning: make these cookies very small.  They explode and die if they are too big.  We're talking like a little more than a teaspoon or two of dough here.)  Allow to cool then frost.
Icing:
3 T butter
1/2 c. brown sugar
1/4 c. milk
2 c. powdered sugar
In saucepan, heat butter and brown sugar over medium to med-high heat until bubbling and thick. Cool 10 minutes. Stir in 1/4 cup milk. Add powdered sugar and beat until smooth.
We are a participant in the Amazon Services LLC Associates Program, an affiliate advertising program designed to provide a means for us to earn fees by linking to Amazon.com and affiliated sites.