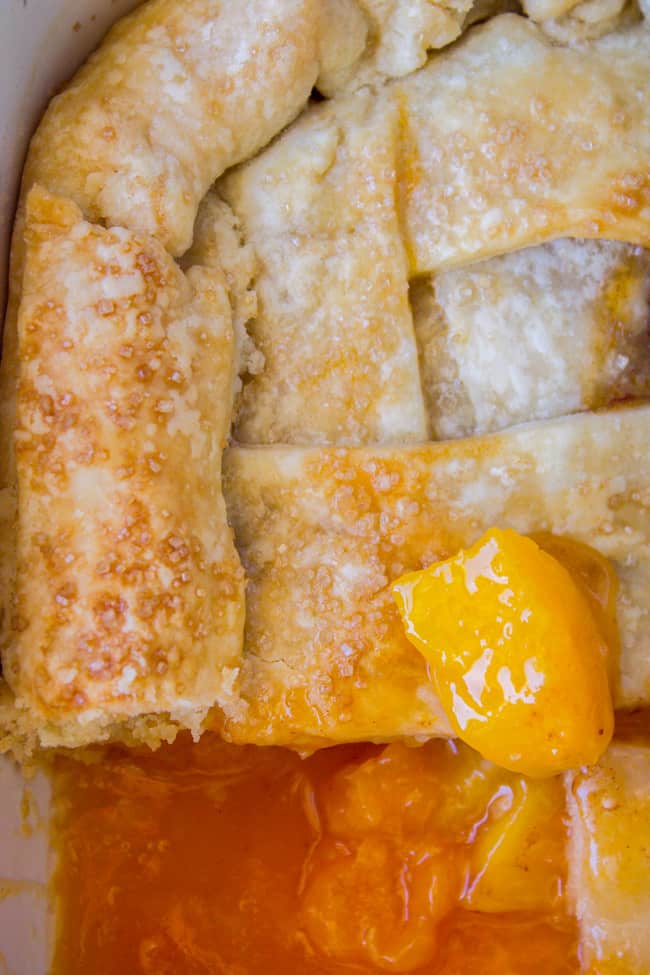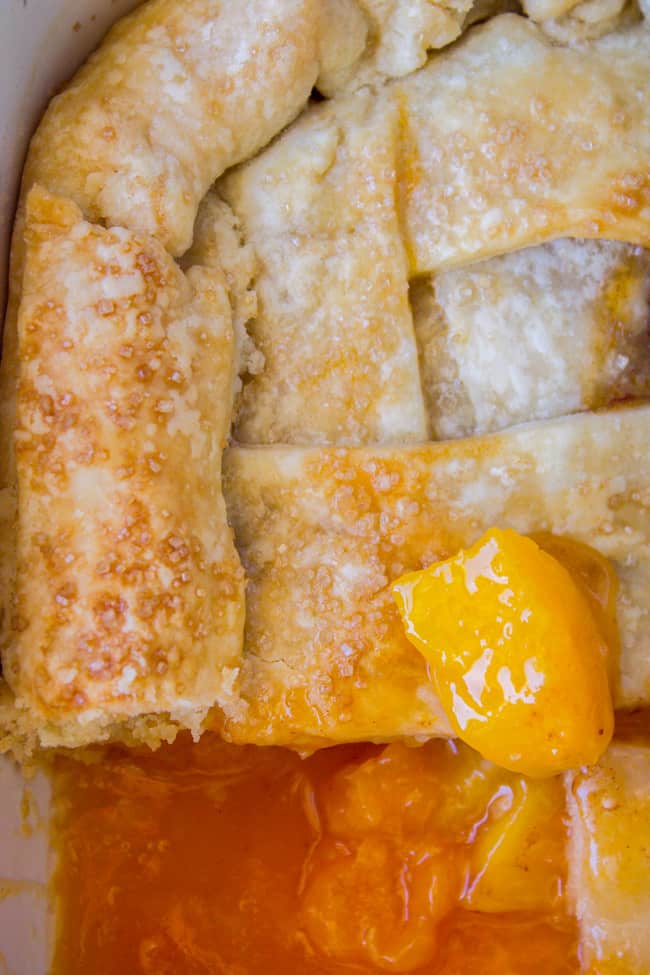 Did you make this recipe?
Leave a review »
Peach Apricot Slab Pie
Serves 9-12
adjust servings
Ingredients
For the filling
7

cups peeled and sliced ripe apricots*

1

and 1/2 to 2 cups sugar

1/4

cup flour

1

tablespoon sugar

1

tablespoon flour

dash cinnamon

dash nutmeg

1/4

cup (1/2 stick) salted butter, cut into chunks
For the crust
3

cups flour, spooned and leveled

1

and 1/2 teaspoons salt

1/2

cup (1 stick) cold salted butter, cut into chunks

1/2

cup + 1 tablespoon butter-flavored Crisco

1/2

cup ice cold water

1

tablespoon milk

1-2

tablespoons coarse sugar

heavy cream, for serving
Instructions
Peel the fruit. If it is not quite ripe and you are having trouble, blanch it: bring a pot of water to a rolling boil, add the apricots and/or peaches (make sure they are submerged), and boil for 30 seconds to 1 minute. Immediately remove to a bowl of cold water, and then peel after they have cooled a minute. The skins should slide right off.
Slice the fruit and add to a medium bowl.
Add 1 and 1/2 to 2 cups sugar. The original recipe says 1 and 1/2 cups, but when I made it, half of my apricots were pretty under ripe, so I upped the sugar to 2 cups. The next time I used 1 and 3/4 cup, because some were unripe but not as many. If your apricots are very ripe and ready to eat, then use 1 and 1/2 cups sugar.
Add 1/4 cup flour and stir all the fruit together.
Preheat your oven to 375 degrees F.
Measure out 1/2 cup of cold water (for the crust) and stick it in the freezer.
In a large bowl, combine the flour and salt.
Use a pastry cutter to cut in the stick of butter and the Crisco. You want pea-size pieces of butter.
Add half of the water from the freezer. Use a wooden spoon or your hands to moisten the dough. Add the rest of the water and use your hands (dust them in flour first) to knead the dough just a few times to make it come together in a ball. Don't knead more than necessary.
Dust a work surface with plenty of flour. (I love to use my pastry cloth for rolling out any kind of dough.)
Divide the dough in half. Use a rolling pin to roll out half of the dough into a large rectangle, about 13 inches by 17 inches (or enough to cover the bottom and go up the sides of a 9x13 inch dish.) Use the rolling pin to transfer the dough to the dish. (see photos)
Sprinkle the bottom of the crust with 1 tablespoon flour and 1 tablespoon sugar.
Add the fruit filling to the crust.
Sprinkle with cinnamon and nutmeg.
Sprinkle 1/4 cup of butter over the top of the filling,
Roll out the other half of the dough. You can either do a simple rectangle (about 9x13 inches) or you could divide the remaining dough in half and roll each into a rectangle for a lattice crust. Use a pizza cutter to slice the dough into strips (Half into long strips, half into short strips), then place the strips over the filling, interlocking them, hopefully better than I did. (Lattice newbie here.)
Fold the bottom crust that went up the sides of the dish over the top crust on the edges, and gently press to seal with your fingers.
If you don't do a lattice, be sure to use a fork or knife to poke holes in the top for venting.
Use a pastry brush to coat the top of the crust with milk.
Sprinkle the crust with sugar.
Bake at 375 for about 45-50 minutes, until nice and golden brown on top.
Let stand for at least 20 minutes before serving.
Serve in a bowl with a generous amount of cream. Don't be stingy!
by The Food Charlatan