Peaches + Nutella + puff pastry = all you need for summery heaven. You really can't get easier than this. Bonus: it's done in like 15 minutes flat. You have to try this one!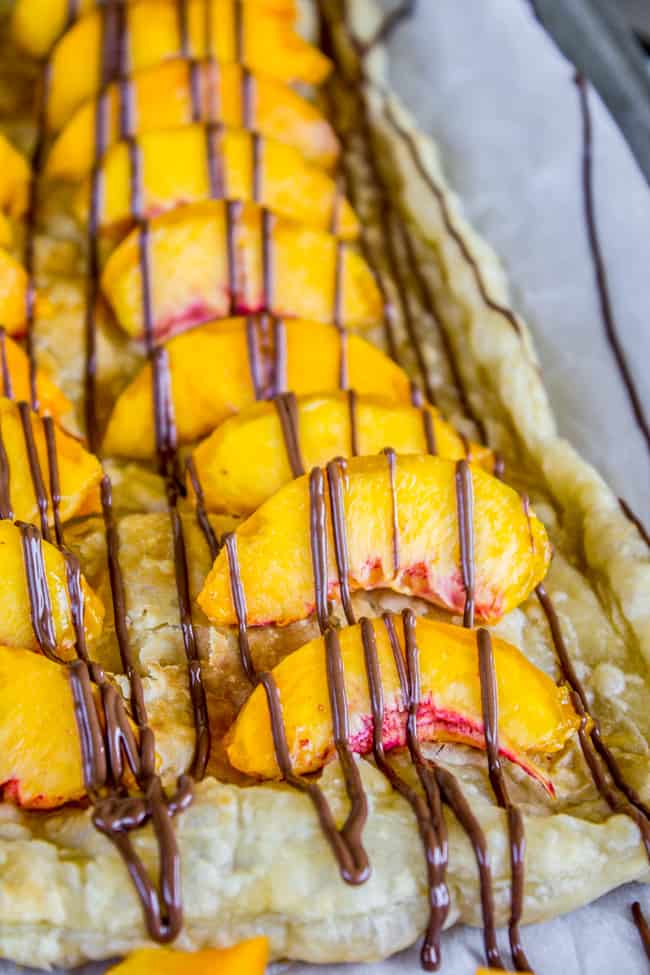 I've been hanging out with my sisters Nikki and Laura and our families these past couple weeks. Here's some stuff that went down:
We went to the Jelly Belly Factory. At the end of the tour they give you a sample, so of course there is a trail of Jelly Bellys that kids have dropped at the exit of the tour. Truman picks one up and eats it. My brother-in-law Adam says, "Truman, don't eat Jelly Bellys off the floor." So Truman takes it out of his mouth and puts it back where he found it.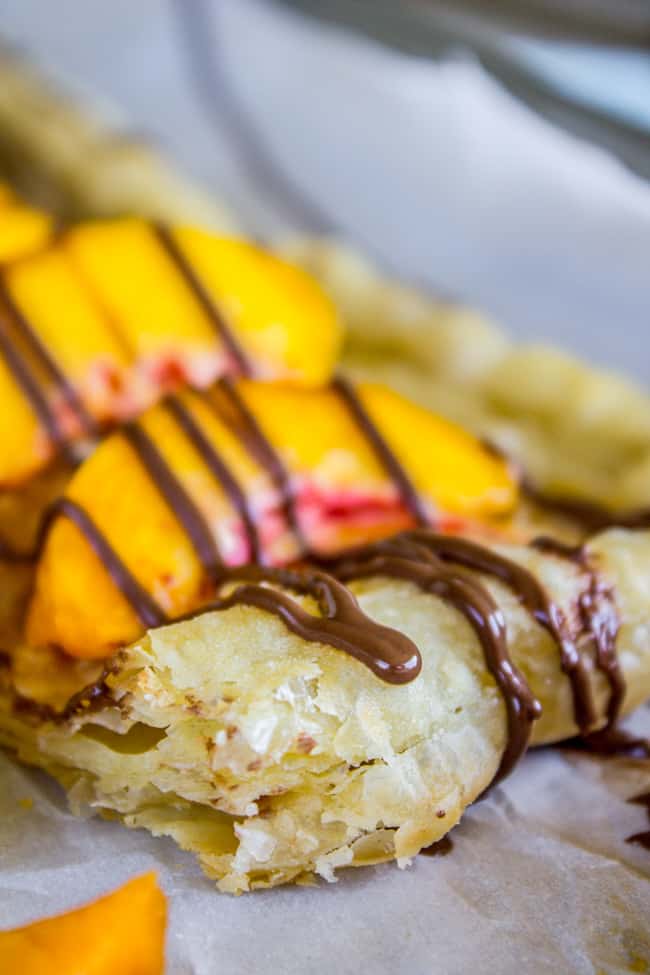 Laura's daughter screaming at her, "I'm never going to be your daughter again!!!"
I made pancakes for everyone one morning. Nikki told me about how when she announces pancakes for dinner to her 5 children, they warily ask, "Pancakes with or without plates, Mom?" Without plates means a quick smear of peanut butter and head out the door. When they actually get to use plates and syrup, they cheer.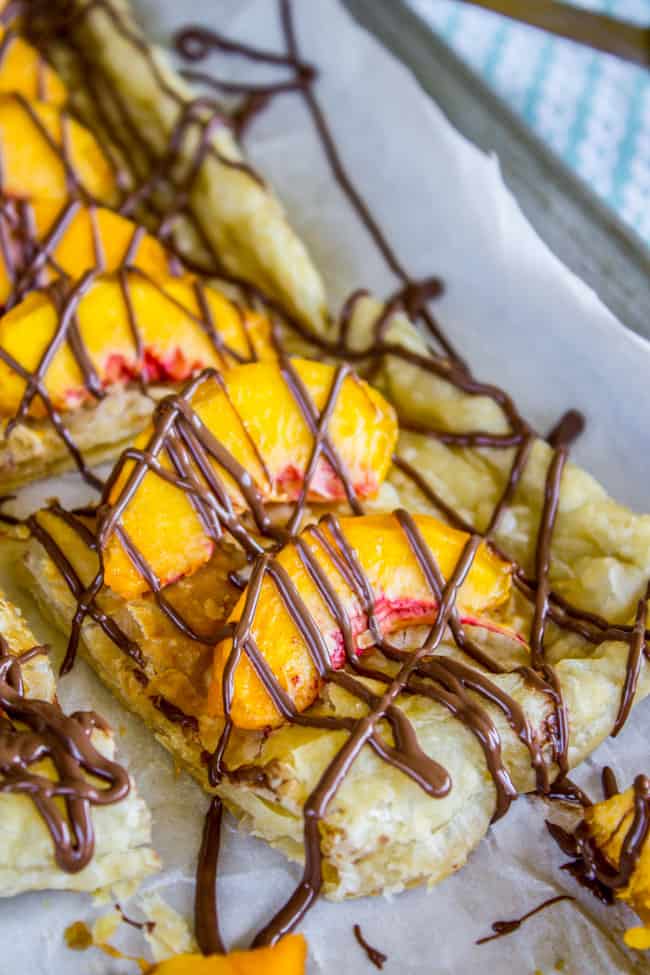 My parents have a peach tree in the backyard and there are literally hundreds of peaches ripe, like yesterday. So we are eating a lot of peaches right now, which I have NO complaints about. (We already made this famous Peach Custard Pie and demolished it in a day.) Tonight we made peach ice cream that was insanely good.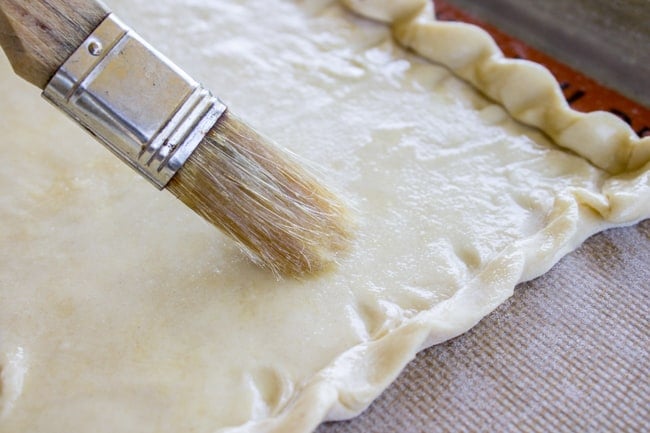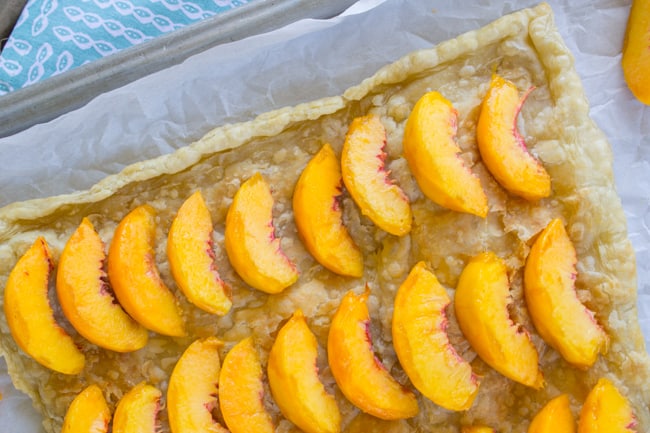 Last night though, we busted out the Nutella. I added 4 peach halves to my bowl and an embarrassing amount of Nutella on top. Halfway through I showed it to my sister Laura and said, how do I blog-ify this. So she came up with the idea of putting it on puff pastry. Genius! The only way to make peaches + Nutella better is to add a buttery crust, amiright?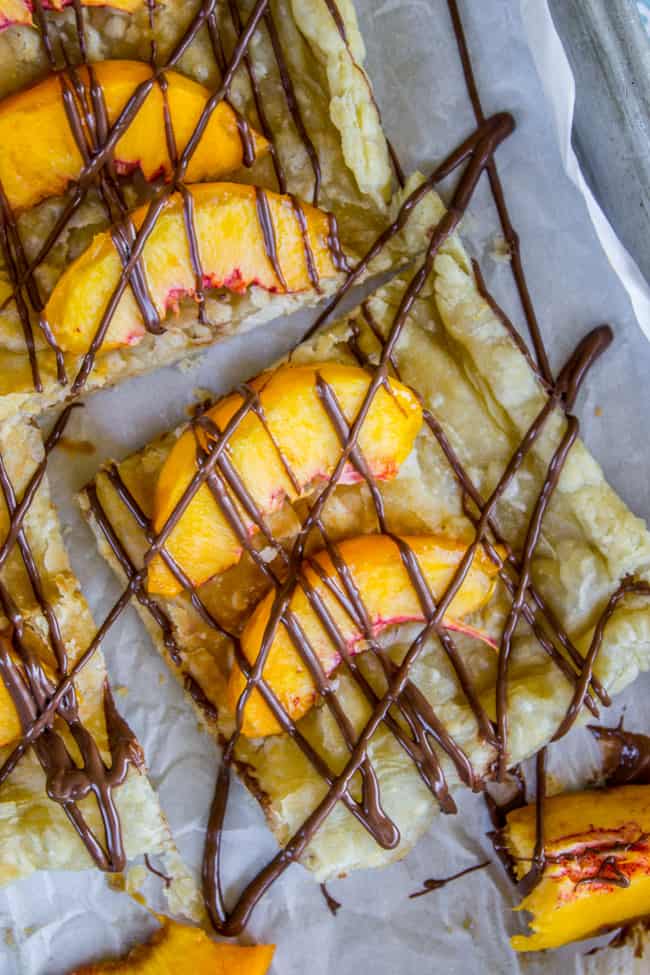 6 of us demolished this is one sitting. After it was gone we had leftover peaches and Nutella, and I was helping myself, getting it all over my face in the process. Later I was washing up, and asked my mom if I still had Nutella around my mouth. "I do? Where?" And she just motioned her hand all over her face. "Right around here."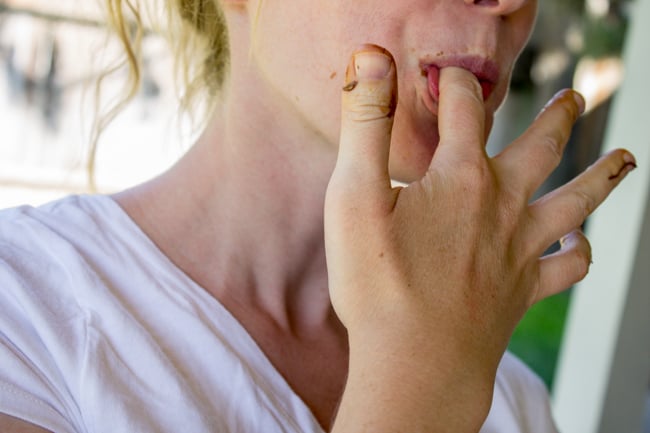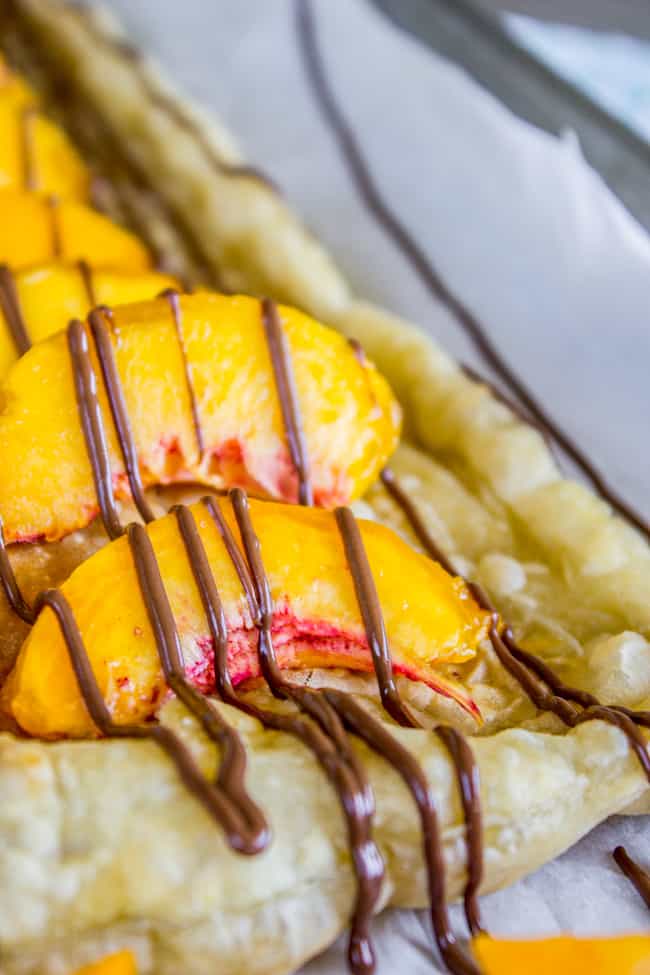 I love this recipe because the peaches really get to shine. I love peach cobbler as much as the next girl, but there is something incomparable about a fresh peach. But then you add Nutella…boom.
Happy Fourth of July everyone!!
Facebook | Pinterest | Instagram | Twitter

Peach and Nutella Pastry Puffs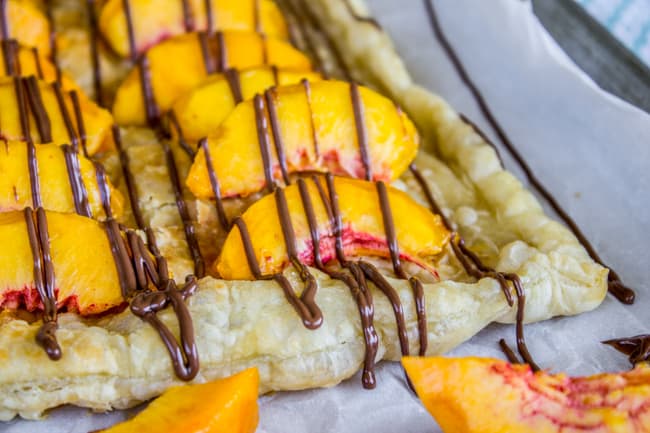 Peaches + Nutella + puff pastry = all you need for summery heaven. You really can't get easier than this. Bonus: it's done in like 15 minutes flat. You have to try this one!
Ingredients
1

sheet

puff pastry

,

half a package

1

tablespoon

butter

,

melted

4-5

ripe peaches

,

peeled and sliced

1/4 to 1/3

cup

Nutella

,

warmed
Instructions
Thaw the puff pastry according to package directions.

Preheat the oven to 400 degrees F.

Sprinkle some flour on a work surface. Unfold the pastry and use a rolling pin to roll it out once or twice in each direction, just to smooth it out.

Use your fingers to fold over the very edge of each side, then crimp with your hands however you like, just like a pie crust.

Use a pastry brush to spread melted butter all over the center and edges.

Bake at 400 for about 10 minutes, until it is golden brown. Cool completely, or don't.

Arrange peach slices on the pastry.

Drizzle with warmed Nutella. (I warmed mine in the microwave, but be careful, it can scorch. Heat in short increments.)

Devour.
Notes
This is a last-minute kind of dessert. Once the peaches go on the baked puff pastry, the juice will start to make it soggy. It's best to eat it within 30 minutes or less. I honestly wouldn't know how much longer it would last, because we ate it within 30 minutes for sure!
Nutrition
Serving:
1
g
|
Calories:
261
kcal
|
Carbohydrates:
27
g
|
Protein:
3
g
|
Fat:
16
g
|
Saturated Fat:
7
g
|
Polyunsaturated Fat:
2
g
|
Monounsaturated Fat:
7
g
|
Trans Fat:
1
g
|
Cholesterol:
4
mg
|
Sodium:
93
mg
|
Potassium:
200
mg
|
Fiber:
2
g
|
Sugar:
12
g
|
Vitamin A:
289
IU
|
Vitamin C:
5
mg
|
Calcium:
18
mg
|
Iron:
1
mg
More peach recipes you will love!
No Bake Dulce de Leche Cheesecake with Caramelized Peaches << this is a huge favorite of mine!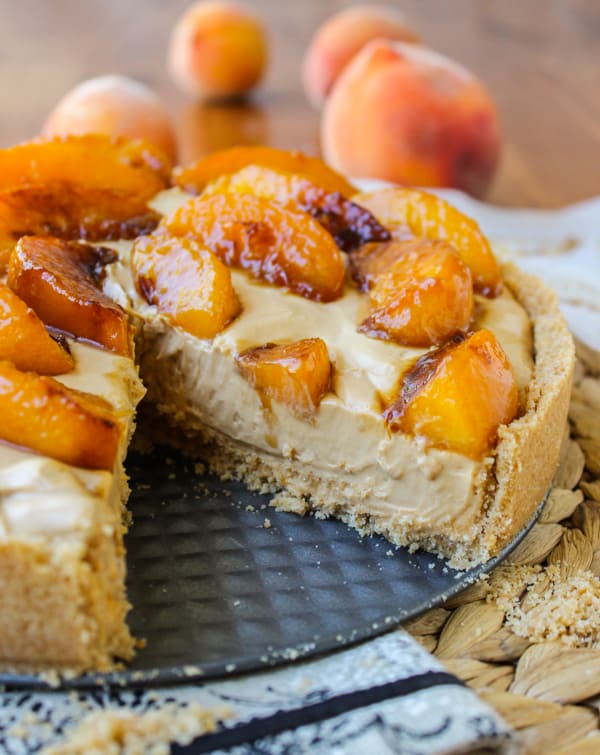 Peach Pull-Apart Bread with Caramel Sauce: <<sooooo worth it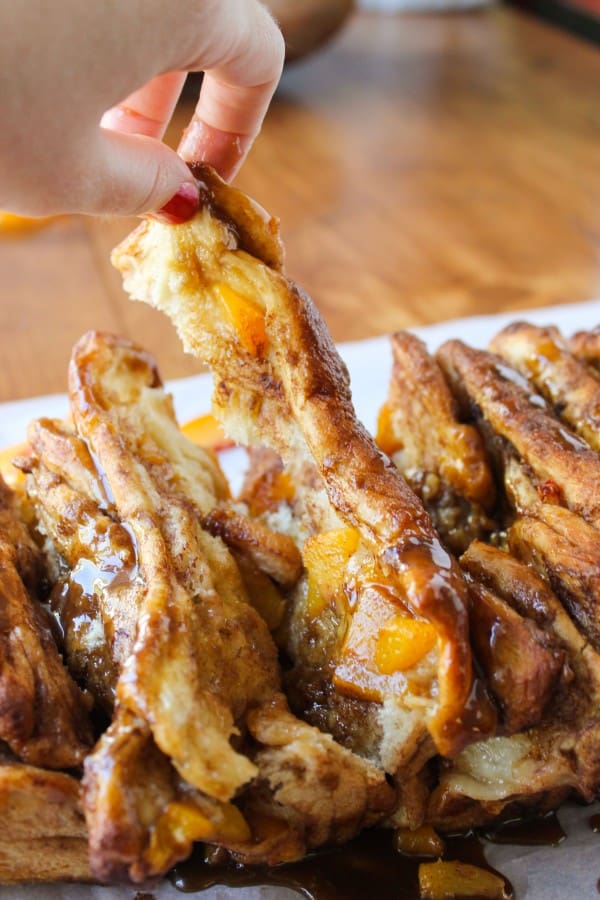 Here's the Peach Custard Pie I mentioned above. We make it every year!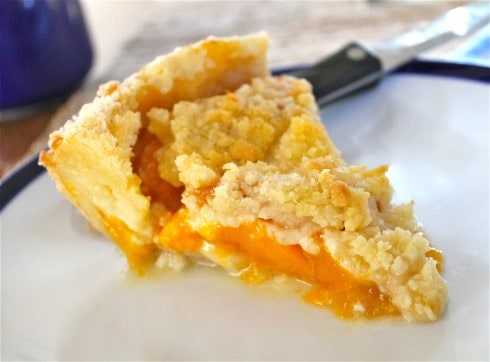 Other peach recipes you will love!
Peaches and Cream French Toast Bake from Lovely Little Kitchen
Bruleed Peach and Nutella Tarts from Anyonita Nibbles
Peach Roses with Nutella and Hazlenuts from Cooking with Manuela