Oreo Pudding Cookies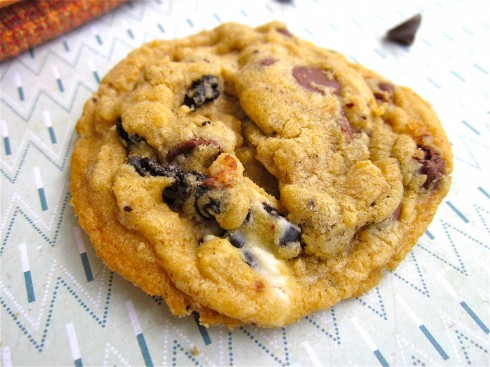 I love cookies. Who doesn't, right? I feel so sorry for people who live in places where they don't have decent cookies. I lived in Peru one summer during college and became locally famous for making chocolate chip cookies. Everyone loved them, even though they were sub-par due to foreign ingredients like "blonde" sugar (not quite brown…) and truly horrible chocolate. Oh, and the oven cooked so uneven that we had to flip them when they were half-baked. Who wants two cookie bottoms? It was really fun watching people take their first bite ever of a chocolate chip cookie, double-bottom or no.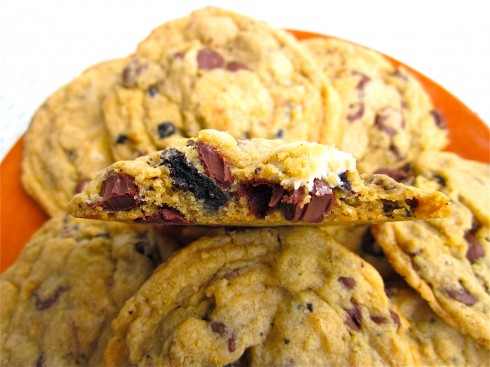 These cookies are extra fun. I can never get enough chocolate chip cookies to begin with, but adding the Oreos makes them even more irresistible. Plus the pudding mix makes them extra soft and delicious (it acts as a preservative.) Yum.
Oreo Pudding Cookies

Source: adapted from Sweet Treats and More
1 cup (2 sticks) butter, room temperature
3/4 cup brown sugar
1/4 cup sugar
1 (4oz) package instant Oreo Pudding mix*, just dump in the dry powder
2 1/4 cups flour
1 teaspoon baking soda
2 eggs
1 teaspoon vanilla
2 Hershey's Cookies N Cream candy bars broken into small pieces
2 cups semi sweet chocolate chips
Preheat oven to 350 degrees.
Combine flour and soda in a small bowl and set aside.  Cream together butter and sugar.  Beat in pudding mix until blended, then add eggs and vanilla.  Add flour and soda mixture. Stir in cookies n cream pieces and chocolate chips (And Oreos, if using).  Using a cookie dough scooper, place dough on a baking sheet lined with parchment paper.  Bake at 350 degrees for 8 minutes.  Let cookies cool for 5 minutes on baking sheet before moving to a cooking rack.  Store in air-tight container.  Makes two dozen.
*If you can't find Oreo Pudding mix, just use a vanilla mix. Then chop up 3 or 4 Oreos and mix that with your dough. Easy!
We are a participant in the Amazon Services LLC Associates Program, an affiliate advertising program designed to provide a means for us to earn fees by linking to Amazon.com and affiliated sites.