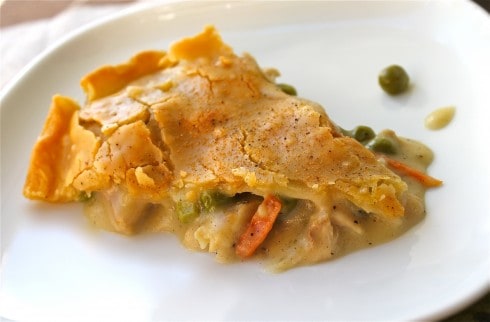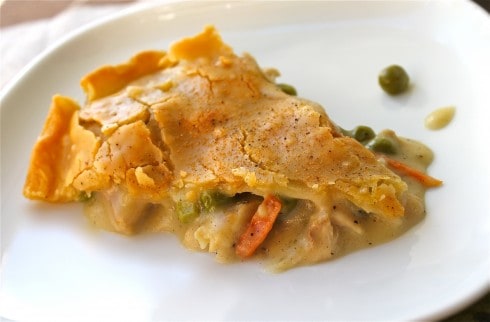 Did you make this recipe?
Leave a review »
One-Skillet Chicken Pot Pie
Serves 6
adjust servings
Ingredients
1/2

cup butter

1/2

cup chopped onion

1

cup chopped carrots

1/2

cup chopped celery

2/3

cup all-purpose flour

3/4

teaspoon salt

1/4

+1/8 teaspoon black pepper

1/4

+1/8 teaspoon celery seed

1 14-ounce

can chicken broth

1

cup milk

1 1/2

or 2 cups cooked chicken

1

cup frozen green peas

1

(9 inch) unbaked pie crust
Instructions
Preheat oven to 350. In a 9 or 10 inch cast iron skillet, melt the butter over medium heat. When the butter is hot, add the onions, carrots, and celery. Saute until the carrots are crisp-tender, about 8 minutes.
In a small bowl combine flour, salt, pepper, and celery seed.
When the vegetables are soft, tilt the skillet to one side so that the butter pools at the bottom. Use a whisk to stir in the flour mixture. Combine until a thick paste forms, then slowly add the chicken broth and the milk. You don't need to keep the skillet tilted for this part, but try to mix together the flour/butter with the liquid as much as you can before stirring in the veggies. Cook the mixture until it thickens, just a couple minutes.
Add the chicken and the peas, then turn off the heat.
Lay the pie crust over the skillet, pinch the edges or just squish them down a bit, and sprinkle the top with a little salt and pepper. Promptly place it in the oven. (You don't want your crust to get soggy.) Bake in the preheated oven for 40-45 minutes, or until the crust is golden brown. Let set for 10 minutes before serving.
by The Food Charlatan