This delicious yeasty French bread recipe has only one 20-minute rise before going into a screaming hot oven for another 20 minutes. At the end you have golden crusty goodness just waiting to be slathered in butter or dipped in oil and balsamic! One hour, I promise!! Originally posted February 23, 2017.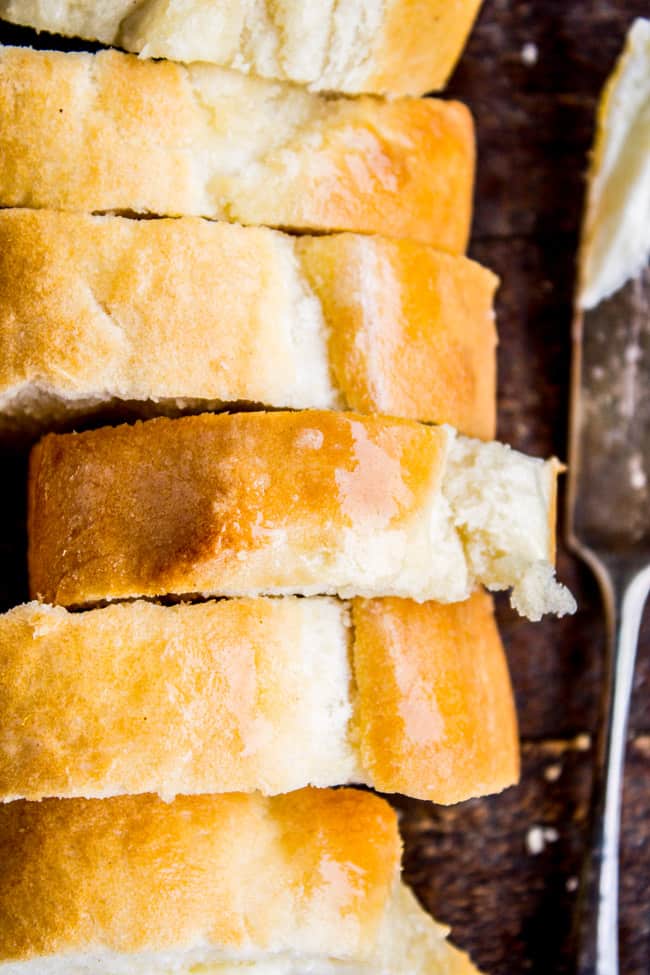 Table of Contents
Eric got home from work today and came into the kitchen (where else would I be) to say hello. After we hugged, I was stirring something on the stove when I heard him counting under his breath. 1…2…3…4…and on 5, he shut the fifth cupboard door that I had left open while making dinner. (He even dinged as a reinforcing tactic.)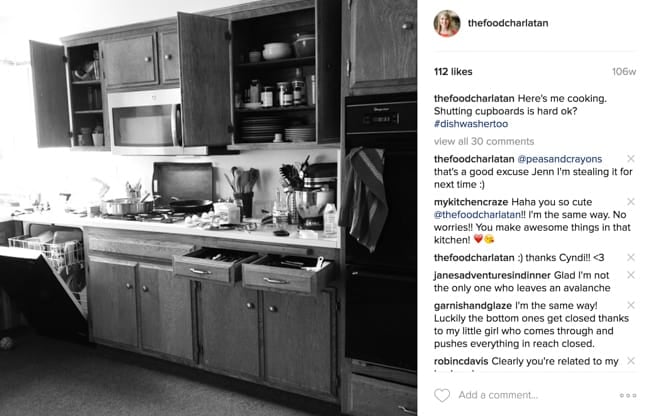 I took this photo over a year ago. You would think I would learn (because I smack my head all the time) but usually when I'm cooking I'm in a hurry. My brain subconsciously thinks to itself, "you don't have time to shut that drawer right now. You gotta get this cumin in the taco meat STAT." Or whatever it is I need to do next.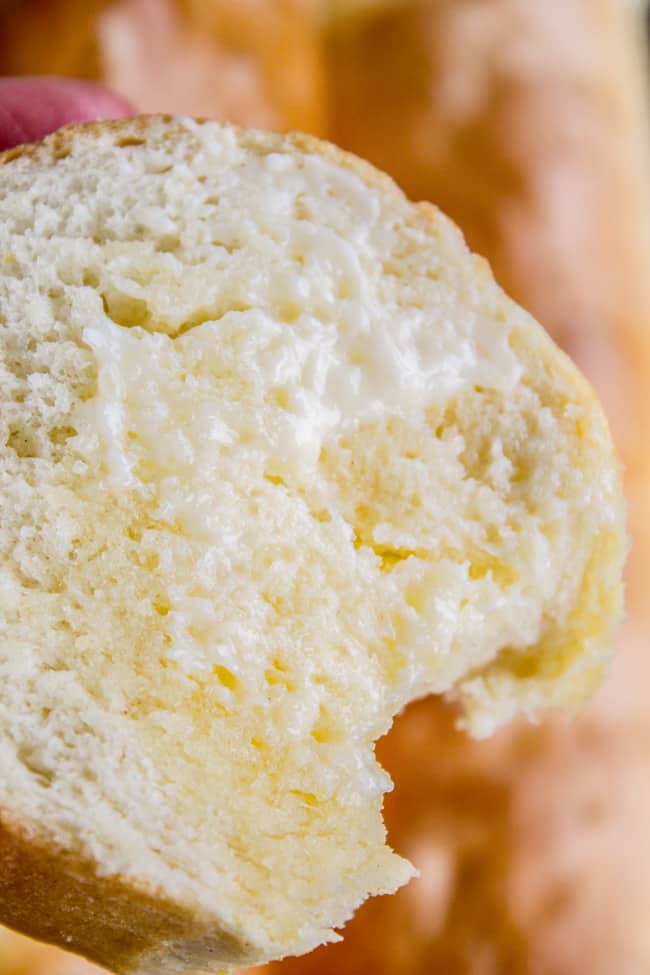 It's gotten to the point that whenever I bend over in my kitchen to put something away, I try to remember to come up slowly and check around for rogue cupboards. We got a new fridge a few months ago and it starts beeping at me when I leave it open. This happens approximately 12,000 times a day.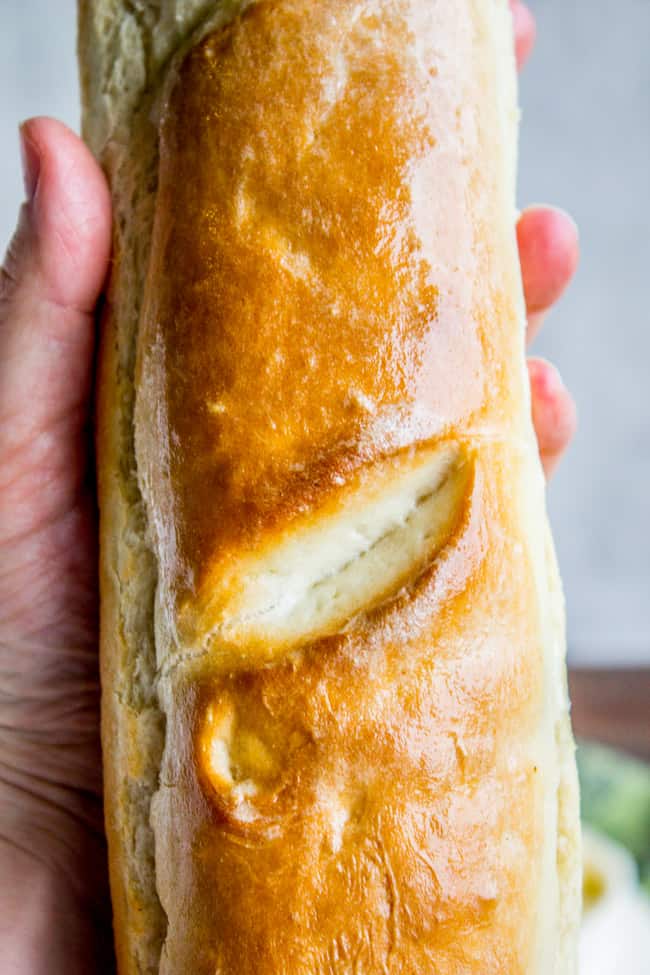 After he counted the open cupboards, Eric probably turned around and started counting children. 1…2…3…4…5…6…7. I have 7 children under the age of 7 in my house right now. (Ages 6, 6, 5, 4, 3, 1, and 3 months. I think.) My best friend and her husband are on a trip to Sweden (!!) and I volunteered to take her 4 kids for a week. No one is dead yet, thank you very much. Pray for me, my friends. Pray no one dies, and that if they do, that it wasn't by my hand.
How to make French Bread (in one hour!)
So who's got 3+ hours to make French bread for dinner tonight? Not this girl. (Hello, just start counting the kids in my house.) But I think I could handle 1 hour bread. This stuff is SO good. I'm not sure that I'll ever go back to my trusty double rise French bread. I mean, that recipe is delicious, but so is this one, and ONE HOUR!
"How is this possible? you ask yourself, twirling your imaginary little French mustache. "How can it only take one hour?"
Well mon ami, we are going to use the power of yeast to our advantage. Using a little more than usual helps this French bread rise super fast so we can pop it in a hot oven and get to shoving it in our faces faster than you can say "Bonjour!" (No, my knowledge of French does not extend beyond the opening scene of Disney's animated Beauty and Beast and I am FINE with that). Before you know it you'll be digging into the crusty-on-the-outside, soft and fluffy on the inside French loaf of your wildest dreams.
What is French Bread?
That depends on whether you're buying it from a boulangerie in Paris or picking up a $2 loaf at your grocery store. In France, it is actually against the law to sell French bread with any added oil or fat! In the US, that loaf you're grabbing on your 5PM Walmart run has no such special rules. Basically, French bread is like a wide baguette; it's made of flour, salt, yeast, and water, and in the US it may also have a small amount of added fat and sugar. It's endlessly versatile for serving with a meal, spreading with butter and jam or cheese, or making French toast, strata, croutons, garlic bread, pizza…you get the idea. The French bread we're making today is made of the basic four ingredients and also includes a small amount of fat and sugar. We're going for delicious, easy, and fast here, not trying to meet strict French bakery standards.
French Bread vs Baguette
French bread is wide; a baguette is skinny. French bread is crusty, but it doesn't have the truly chewy thick crust of a baguette. Baguettes need a special pan to rise in, but French bread can be made on a baking sheet. Both are delicious, but French bread is better suited to repurposing to make garlic bread or French toast.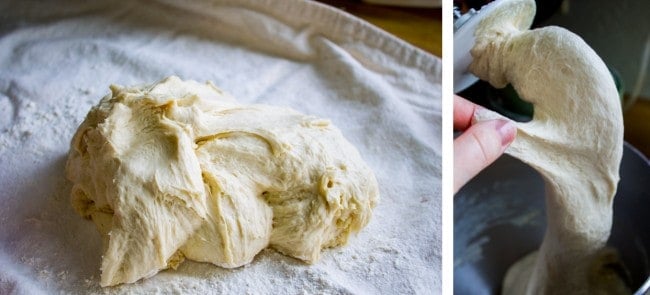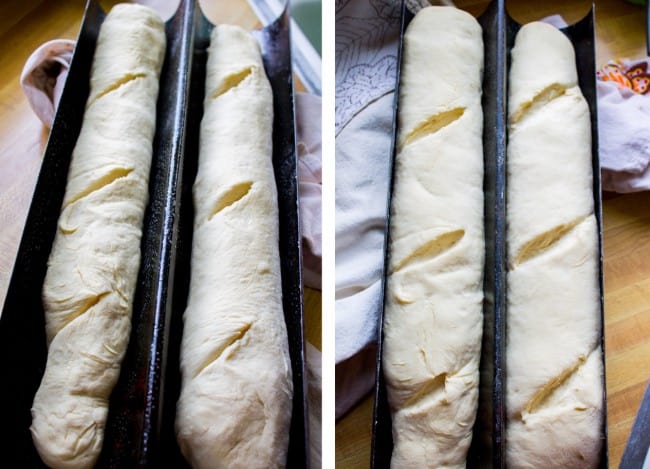 This French bread recipe has got the most gorgeous crust, and yes, part of that is because of the baguette pan that I used. (It's not the one I linked too, that's just a similar one.) Eric's grandma (Nana) gifted me her old baguette pan and I get excited every time I use it. I love the crispy crust it makes all over the bottom. But you can totally shape the loaf on a regular old baking sheet, no fancy pans required. It will still be delicious bread in the end. Soft and tender in the middle, crispy crust on the outside. Yes please! Pass the butter.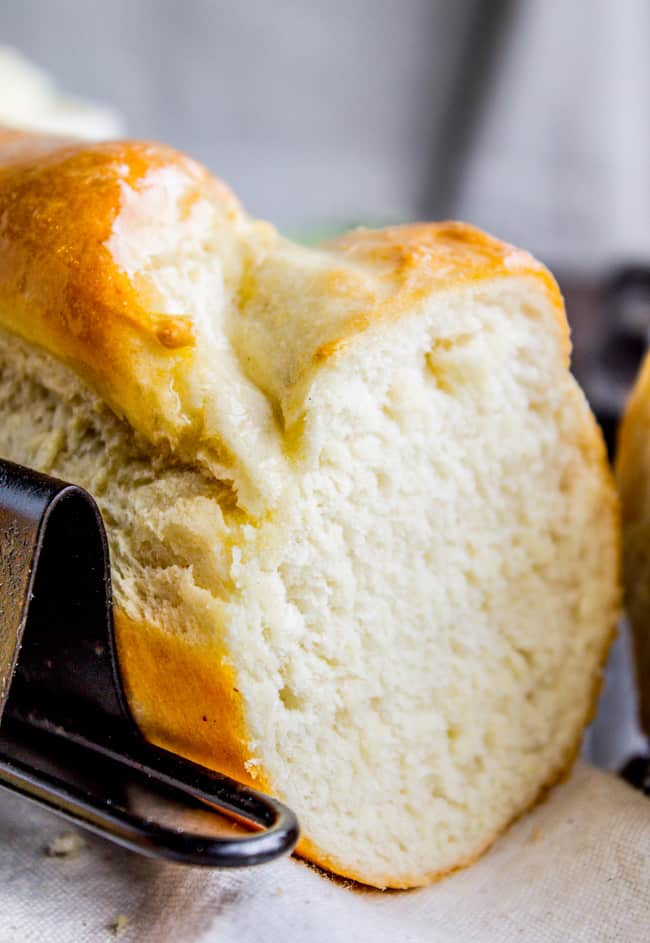 Easy French Bread Recipe Ingredients
Here's a quick shopping list to help you gather your ingredients. See the recipe card below for the full ingredients and instructions!
Sugar
Active dry yeast
Butter
Flour
Egg white (optional)
Best French Bread Recipe Variations and Substitutions
French bread is a classic recipe. While the basic ingredients should remain the same, you can switch up the way you use it! Here are some ideas:
What to eat with Easy French Bread
Um…is this a trick question? The answer is a generous amount of soft butter and my bare hands, right?
If you're not planning on taking the loaf down like a starving peasant (guilty), here are some of my favorite meals to serve French bread with.
Easy Broccoli Cheese Soup (30 Minutes) << is there anything better than dipping warm bread in warm cheese sauce? And there's broccoli, so it's HEALTHY.
Best Beef Bourguignon Recipe << while we're pretending to be in Paris, let's go full French and make this. Not nearly as easy but the payoff is soooo worth it.
Zuppa Toscana Recipe << this creamy, slightly spicy broth is just begging for you to dip some warm crusty bread in it.
Best Chicken Alfredo Recipe << creamy Alfredo sauce + French bread = true love.
30 Minute Pesto Penne with Chicken and Cherry Tomatoes << one of those perfectly simple, super flavorful meals that everyone loves.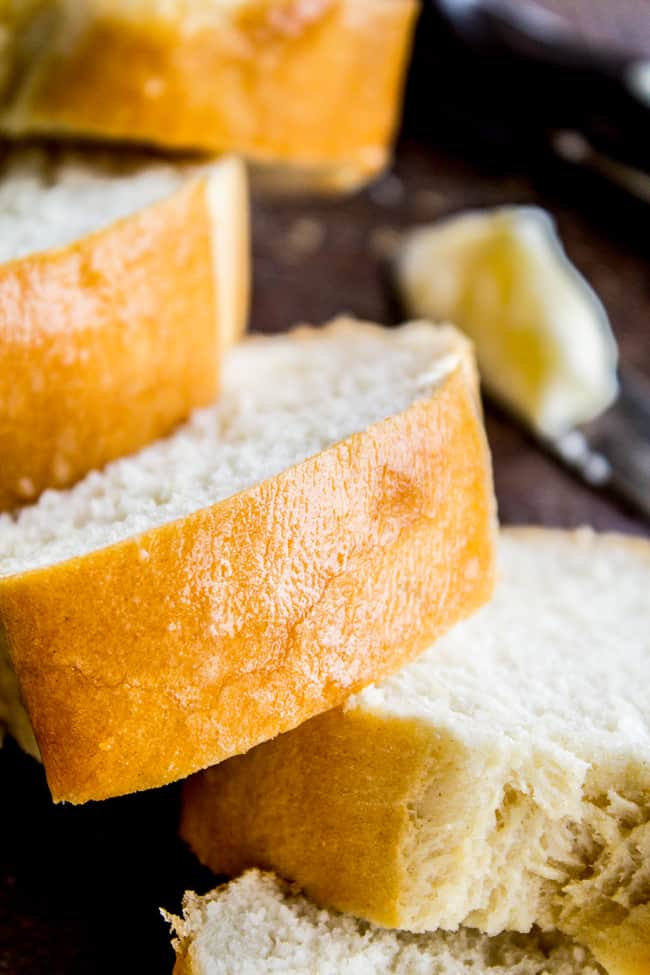 French Bread Recipe Storage
How to keep French Bread fresh
French bread can be stored on the countertop for up to 3 days, or in the fridge for up to a week. But I don't recommend that you do either! After you serve it the first time, slice the rest of the loaf and put the slices in a ziplock bag. Keep them in the freezer and pull out the exact number of slices you want, anytime you want, and warm or toast them to your liking. They'll stay much fresher this way.
Can you freeze French Bread?
Yes! French bread can be frozen as an entire loaf or in slices. If you freeze the entire loaf you should first wrap it tightly in plastic wrap, then in tin foil. If you slice it first, you can simply pop them into a ziplock bag and pull it out anytime.
Quick French Bread Recipe FAQs
How is French bread different than regular bread?
Traditional French bread is made with only four ingredients: flour, water, salt, and yeast. American white bread, in loaf form or as dinner rolls, tends to include sugar and fat (like butter, oil, or shortening). They tend not to have a crisp crust, but instead are soft inside and out. This French bread recipe includes a small amount of butter and sugar but still has that delicious, beautifully golden-brown crust. French bread is also shaped by hand rather than being baked into a loaf of an exact size and shape.
What gives French bread its flavor?
The French bread you actually get in France is made with different flour than we use here in US. It has a higher grain content and fewer minerals from the milling process. Also, there's a special rule for bakeries in France that the dough for bread MUST be made at the same location where it is baked. Many bakeries around the world bake their rolls, bread, and pastries from dough that was made at a different location, then shipped to that bakery in a refrigerated or frozen state. This means that a lot of French bread is fresher than what you'd get elsewhere.
What flour do French bakers use?
French bakers use different flours depending on the type of bread they're making. For example, they use different flours for baguettes and croissants. For baguettes, many French bakers use Type 55, or T55 flour, which you can purchase online. One thing to know is that much of the flour we buy in the US comes from wheat made in Canada, and it has a higher gluten content than the flour used in France. That means that French bread is softer. For the French bread we're making today, all purpose flour is what we want, rather than bread flour, which has a higher gluten content.
Can you over knead French bread?
Yes, you definitely can. If you over knead bread, it will be dense and tough (gross). If your dough is starting to get difficult to stretch, or it feels stiff or dense, you've gone too far. Kneading with your stand mixer (or your hands) for 6-7 minutes, as recommended in this recipe, should be just the right amount.
Why is my French bread not crusty?
When French bread doesn't come out with that nice, crispy crust we know and love, it's truly disappointing. Starting with a nice, hot 450 degree oven that's been preheated for at least 20 minutes ensures you'll get crusty French bread. You'll also want to make sure that you've baked it long enough. If you're making one big loaf instead of two smaller ones, your bread may need more time. Don't be afraid to let it get nice and golden brown on top!
What makes bread lighter and fluffier?
You want your French bread light and fluffy on the inside with a nice crispy crust. Here's how to make sure it happens:
Don't kill your yeast. The water in which you prove your yeast should be warm, NOT hot. And don't use old yeast! Once you've opened it, it's only good in the fridge for 4 months and the freezer for 6.
Let your bread rise. This is one-hour bread, but we're still going to let it rise for 20 minutes. The extra yeast in this recipe will get the job done.
Give your oven time to preheat. When you put your bread into a super hot oven, it actually keeps rising! During the first few minutes that your French bread is in there, it's going to get even bigger than it already did on the counter. Bigger bread = lighter, fluffier inside.
By the way, you should totally take an extra 5 minutes and make this Restaurant-Style Olive Oil and Balsamic Bread Dip. HEAVENLY! If you make any of my recipes, be sure to share them on Instagram using the hashtag #TheFoodCharlatan so I can see it! I love that.
Other bread recipes to try!
Facebook | Pinterest | Instagram

One Hour French Bread Recipe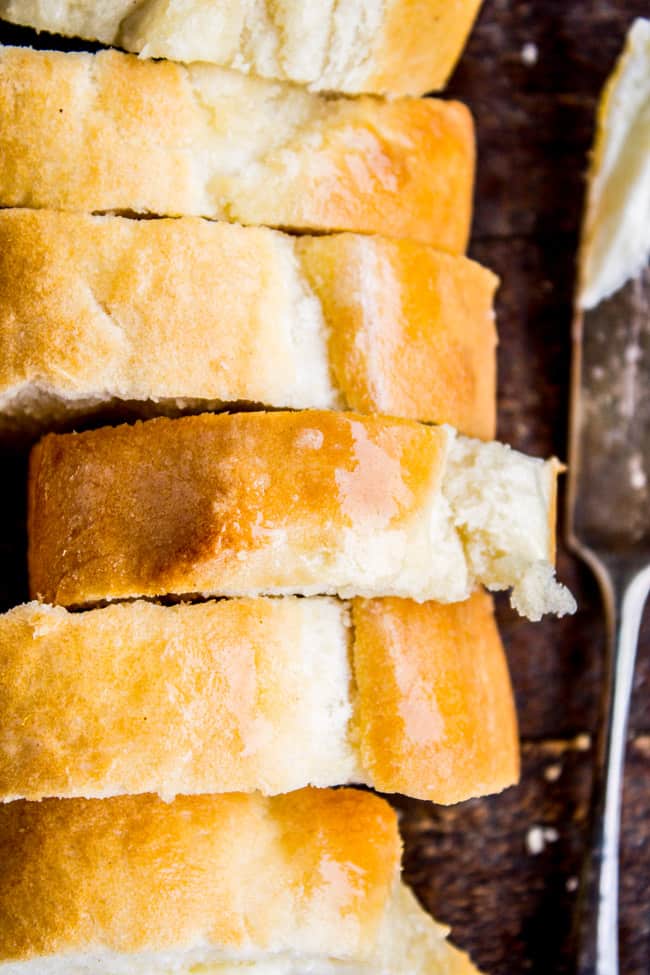 This delicious yeasty French bread recipe has only one 20-minute rise before going into a screaming hot oven for another 20 minutes. At the end you have golden crusty goodness! One hour, I promise!!
Ingredients
1 & 1/2

cups

warm water

1

tablespoon

white sugar

1 & 1/2

tablespoons

dry yeast*

1 & 1/2

teaspoons

salt

1 & 1/2

tablespoons

butter

,

softened

3-4

cups

all purpose flour

,

spooned and leveled

1

egg white

,

optional (for brushing)
Instructions
Preheat your oven to 450 degrees. Do it now so that your oven is nice and hot when you put the bread in.

In a large bowl or stand mixer, combine warm water, sugar, yeast, and salt. You want the water to be like a nice warm bath water. Feel it with your wrist.

Set your bowl on the preheating oven and wait a couple minutes. If you see bubbles from the yeast reacting, move forward. If not, you may have killed your yeast with too hot water. Dump it and start over!

Add the softened butter and 1 cup of flour, and stir together with a wooden spoon.

Use the dough hook (or continue with the wooden spoon) to stir in the rest of the flour. Start with 3 cups total in the recipe (including the cup you added in step 4). Then add the last cup 1/4 cup at a time to see how much you need. The dough should be pulling away from the sides of the bowl but still sticky. (see photos) I usually add most of the fourth cup.

Knead for 6-7 minutes, until the dough is smooth and elastic.

At this point you can either shape the dough into one large loaf that is about 12-14 inches, or you can make 2 smaller loaves. (I made two smaller loaves to fit in my baguette pan.)

Use a sharp serrated knife to make 3-4 half-inch slits on top.

Cover with a tea towel and let rise for 20 minutes.

When the loaf or loaves have roughly doubled in size, remove the towel.

In a small bowl, use a fork to whisk up 1 egg white. Make it nice and frothy. Use a pastry brush to coat the tops and sides of the bread. You can use all or most of the egg white.

Transfer the bread to the oven.

Bake for about 20 minutes. You will know it is done when the top is shiny and golden, and the bottom of the loaf is browned. The longer you leave it in, the crispier your crust will be.

Let cool for a bit and then devour hot with butter!
Notes
*That's about 1 and 1/2 packages. I buy Red Star yeast in bulk.
**I baked my bread in a baguette pan that Eric's grandmother used to use. She gave it to me recently and I wanted to try it out. But I've made this recipe on a regular old baking sheet and it works just fine, it will just be a different shape. Here is a baguette pan that would make a similar shape to the pictures shown here, or here is a regular French bread pan if you prefer larger loaves. Just remember the larger your loaves, the longer you will have to leave it in the oven.
For a great accompaniment, make my Restaurant-Style Olive Oil and Balsamic Bread Dip. It takes all of five minutes – you won't regret it!
Source: I adapted this recipe from a recipe card I got at a church activity. One of the ladies shared it with the group.
Nutrition
Serving:
1
serving
|
Calories:
200
kcal
|
Carbohydrates:
38
g
|
Protein:
6
g
|
Fat:
3
g
|
Saturated Fat:
1
g
|
Polyunsaturated Fat:
1
g
|
Monounsaturated Fat:
1
g
|
Trans Fat:
1
g
|
Cholesterol:
6
mg
|
Sodium:
465
mg
|
Potassium:
65
mg
|
Fiber:
1
g
|
Sugar:
2
g
|
Vitamin A:
66
IU
|
Vitamin C:
1
mg
|
Calcium:
10
mg
|
Iron:
2
mg
This post contains affiliate links. Thanks for your support!