Mud Hen Bars (Chocolate Chip Marshmallow Meringue Bars)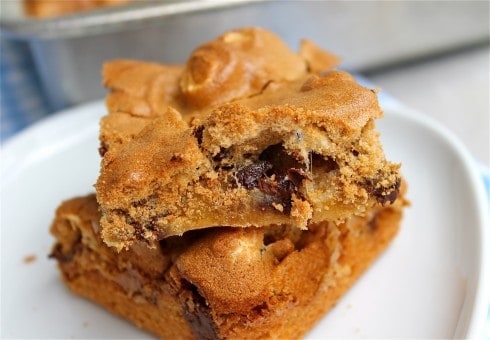 So apparently it used to be a saying that something ugly could be called "uglier than a mud hen." And I guess that's why these are called Mud Hen Bars, because somebody thought they were ugly. Which I don't get. Can we have another look?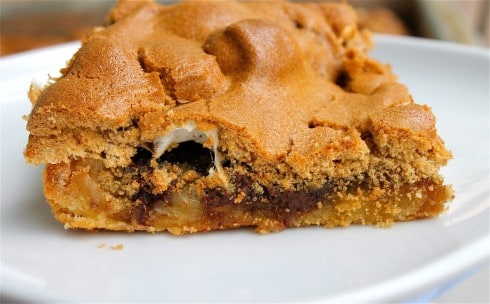 A delicious cookie-like crust, sprinkled with chocolate and marshmallows, then topped with a brown sugar meringue. I've never had anything like this before. They are sooo good. I brought these to share at a barbeque, and my friend asked if they were S'mores bars, which I hadn't thought of but I suppose they are kind of similar. Chocolate, marshmallow, and if you don't know what the brown sugar meringue is it can taste kind of graham cracker-y I guess.
Well, I'm off. Off to prepare for a 14 hour car trip tomorrow with a 2-year-old and a nursing 2-month-old. I'll let you know if we make it without bashing our heads in. If you don't hear from me soon, assume the worst. (We're going to visit Eric's parents. Again with the denial about moving out of state. We will have about 5 days to wrap up our lives here when we get back.) Wish us luck!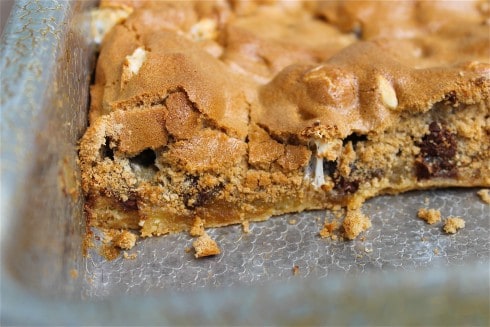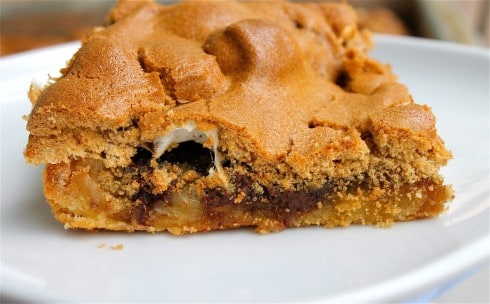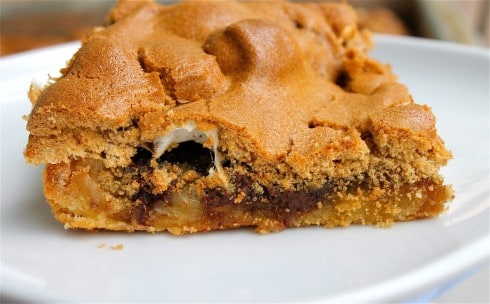 print
Did you make this recipe?
Leave a review »
Mud Hen Bars (Chocolate Chip Marshmallow Meringue Bars)
Serves about 16
adjust servings
Ingredients
1/4

cup shortening

4

tablespoons butter, softened

1

cup granulated sugar

1

teaspoon vanilla

1

whole egg + 2 eggs, separated

1 1/2

cups flour

1

teaspoon baking powder

1/2

teaspoon salt

1

cup mini marshmallows

1

cup semi-sweet chocolate chips

1

cup light brown sugar, packed
Instructions
Preheat your oven to 350°.
Spray a 9x13 baking pan lightly with nonstick spray.
In a large bowl or mixer, beat together shortening, butter, granulated sugar, 1 whole egg, 2 egg

yolks

(save the whites!), and vanilla until smooth.
Add in flour, baking powder and salt and mix until just combined. Spread in prepared pan. This can be tricky. It helps to get your fingers a little wet so that the dough doesn't stick to them.
Sprinkle evenly with chocolate chips and mini marshmallows.
In a clean and dry mixing bowl with whisk attachment on your mixer, beat the 2 remaining egg whites until stiff peaks form, about 2 minutes on high.
Fold in 1 cup of light brown sugar with a rubber spatula. Stir gently until combined and there are no lumps.
Spread on top of chocolate chips and marshmallows.This is also tricky. Don't stress, it doesn't have to be perfect.
Bake 25-35 minutes until top is golden brown. I baked mine for about 30.
Allow to cool completely before cutting into squares. Good luck with this step.
by The Food Charlatan

If you make this recipe,
share it on Instagram
 using the hashtag
#TheFoodCharlatan
so I can see it!
Source:
Cookies and Cups
We are a participant in the Amazon Services LLC Associates Program, an affiliate advertising program designed to provide a means for us to earn fees by linking to Amazon.com and affiliated sites.