Moroccan Spiced Salmon with Sriracha Yogurt Sauce
I spent my weekend making an elaborate trap to catch a leprechaun. What did you do?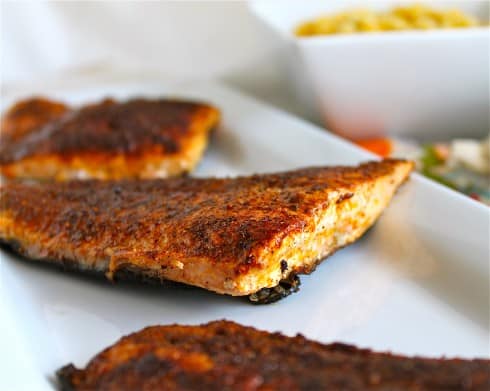 Then I decided I wanted a Maple Bar and 5 hours later after mixing and rolling and rising and frying 15 of them, I got to eat one (or 3). Because sometimes late-night doughnut cravings just won't go away. But then you feel like an idiot when your sister-in-law tells you that when she gets those cravings, she runs to the grocery store because day-old doughnuts are only 25 cents anyway. Seriously, why don't I simplify my life? Even if I argue with myself that it's cheaper to make doughnuts at home, (is it really? 25 cents!) is it worth the cost of standing up to fry doughnuts at 10:30pm on swollen 37-weeks-pregnant-legs? (I just re-read that last sentence. The answer is still yes. At least in the case of these Maple Bars.)
And all this is happening while my mile-long-list-of-things-to-do-before-the-baby-comes-and-sucks-my-life-away-in-the-form-of-nursing sits quietly on the counter, contentedly uncrossed-off.
But at least I got to enjoy some salmon. See? Aren't you enjoying this?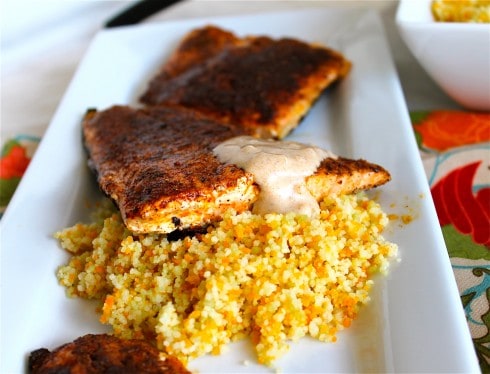 Yuuuuuummmmm. Salmon is so beautifully fast and delicious. Plus it's good for you, or something like that. This Moroccan version does not disappoint. Throw it on some couscous and you've got a 30 minute meal. (Definitely better than 5 hours.)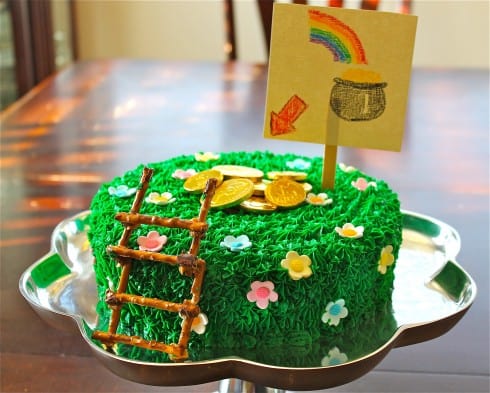 Here's my leprechaun trap. Yeah, it's a cake. There's a hole underneath those gold coins, and we did indeed catch one in there…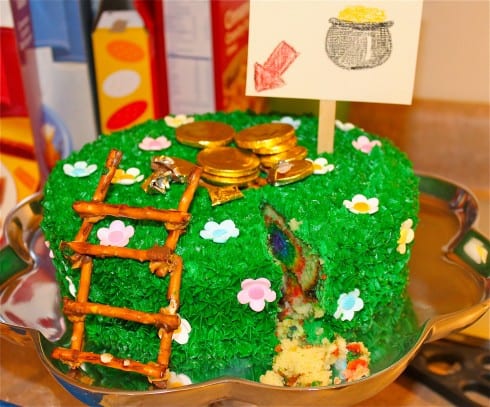 …but he ate his way out of the rainbow cake before we caught a glimpse of him. Sneaky little trickster! (I won't be posting the tutorial for this because the original is already so awesome and thorough, and because maybe you have better things to do than spend hours and hours dying cake batter ROYGBIV and adding MORE and MORE green dye to your frosting.)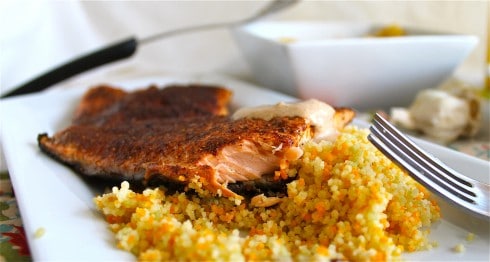 Make this salmon instead. 30 minutes. Seriously.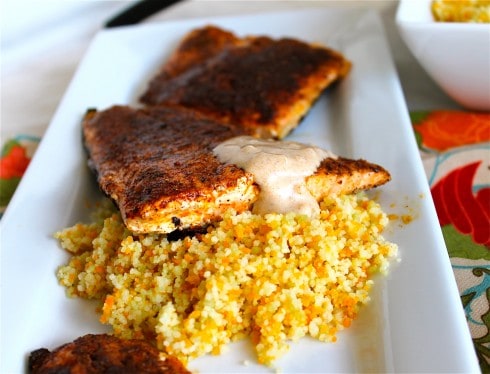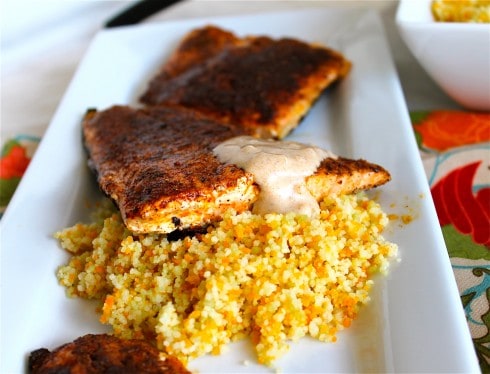 print
Did you make this recipe?
Leave a review »
Moroccan Spiced Salmon with Sriracha Yogurt Sauce
Ingredients
For the Salmon
1

teaspoon paprika

1/2

teaspoon ginger

1/2

teaspoon cinnamon

1/4

teaspoon ground cardamom

1/4

teaspoon ground black pepper

1/4

teaspoon sea salt

2

teaspoons olive oil

4

(4-oz) wild salmon fillets, skin on
For the Sauce
1/2

cup plain or honey Greek yogurt (obviously the honey kind will make your sauce sweeter, so keep that in mind)

1

tablespoon lemon juice

1

tablespoon olive oil

1

teaspoon sriracha, or to taste (you can sub any hot sauce that you like)

2

to 3 cloves garlic, smashed and minced

1 1/2

teaspoons ground coriander

1 1/2

teaspoons ground cumin

Kosher salt and freshly ground pepper to taste
Instructions
In a small bowl, combine paprika, ginger, cinnamon, cardamom, black pepper, and sea salt. Rub the mixture evenly on the tops of the salmon fillets, gently pressing mixture in to make sure it sticks. I usually have a little extra that I rub onto the bottom side too.
Heat a grill pan or skillet on medium-high heat and add olive oil. When oil begins to shimmer, add salmon, skin side up, and cook for 2 minutes. Turn and cook skin side down, until salmon is opaque throughout, about another 5 minutes. You can gently remove skin by using a spatula if you want..I never thought I'd say this but I like to leave it on.
For the Sauce:
Combine all sauce ingredients in a small bowl. Serve over salmon.
by The Food Charlatan

If you make this recipe,
share it on Instagram
 using the hashtag
#TheFoodCharlatan
so I can see it!
Source: Salmon lightly adapted from Multiply Delicious; sauce adapted from the Food Network.
We are a participant in the Amazon Services LLC Associates Program, an affiliate advertising program designed to provide a means for us to earn fees by linking to Amazon.com and affiliated sites.