Soft and Chewy Molasses Cookies are one of those treats I could probably eat every day for the rest of my life and never get tired of it. They are just SO perfectly spicy, chewy, soft and flavorful. It's basically a Christmas cookie dream come true! You can also use them to make these Ginger Molasses Sandwich Cookies! Originally published September 28, 2018.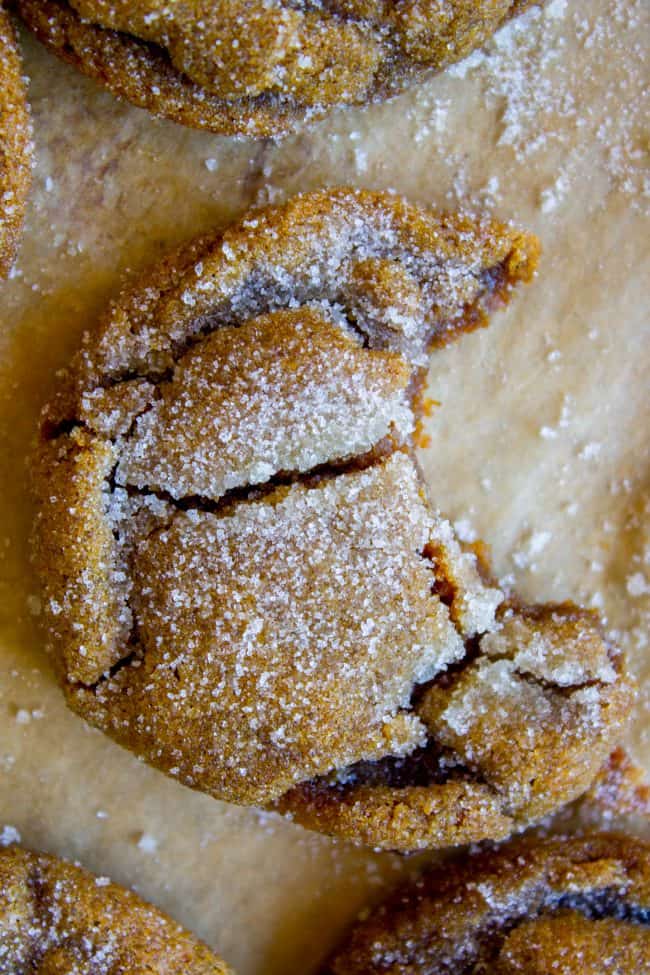 Table of Contents
Parent fail of the day (year?): I just realized this morning that my kids don't even bother waiting for me to yell "WE'RE LATE, RUN!!" anymore when they jump out of the car in the morning at school drop off. They just hit the ground sprinting as fast as they can, high-tailing it to class like that's totally normal and expected. And for them, it is normal, because I couldn't make it early to school drop off if my life depended on it.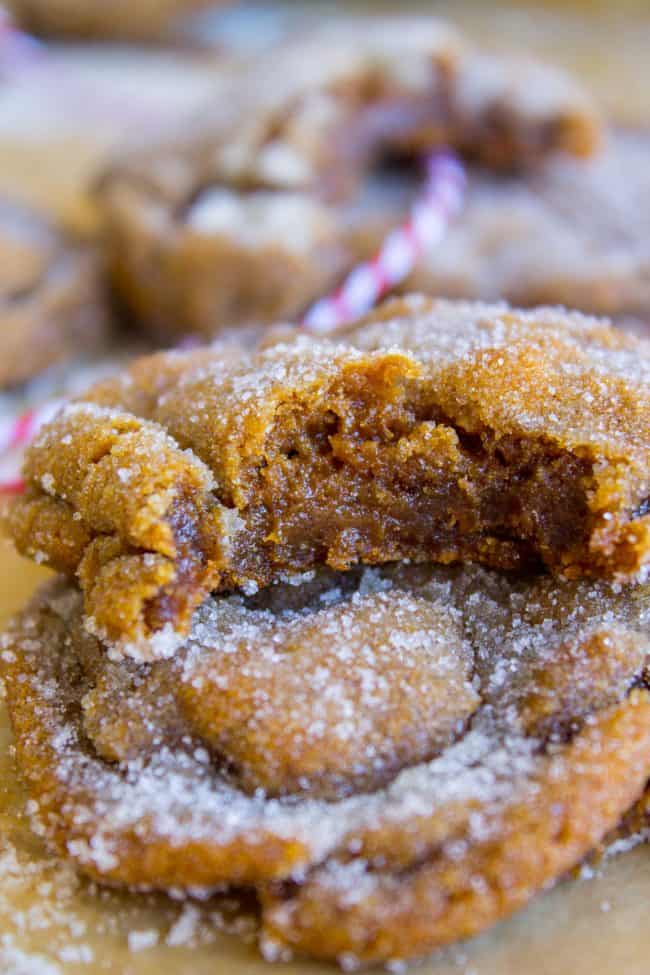 My friend Emily over at One Lovely Life asked on Instagram the other day about what you're GOOD at as a mom. I know that I'm a total failure when it comes to being punctual, doing awesome hairdos for the girls, and making sure my kids are not wearing plaids and florals together. But I am pretty good at making sure there are always freshly baked cookies around. We all have our talents, right?? What are you best at when it comes to parenting?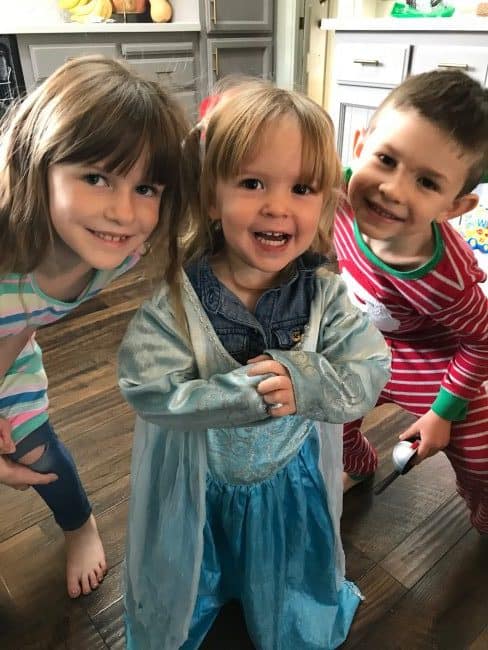 Look, see? Alive, clothed, and full of cookies. (They must be, why else would they look so happy?) What more could you possibly need?
New Go-To Molasses Ginger Cookies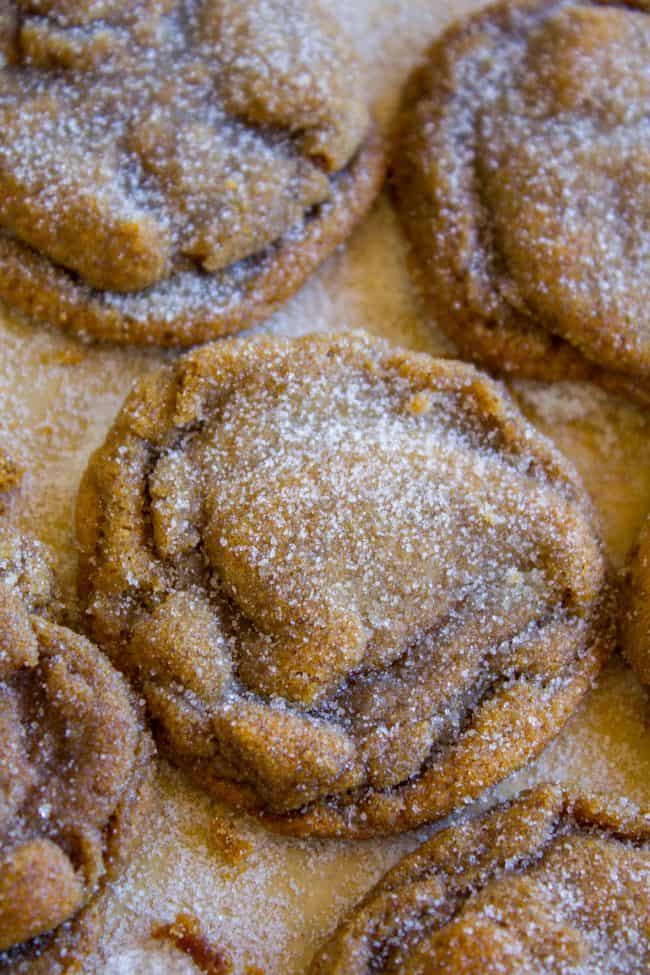 Today's recipe for Soft and Chewy Ginger Molasses Cookies is from my brother-in-law Spencer, whose family calls them Molasses Crinkles. In my mind, crinkle cookies are distinguished by rolling in powdered sugar (like the classic Chocolate Crinkle cookies, which I'm posting a recipe for coming up later this month!) Molasses cookies, on the other hand, are rolled in granulated sugar before baking to get that perfect sugary CRUNCH when you bite into it, so molasses cookies it is.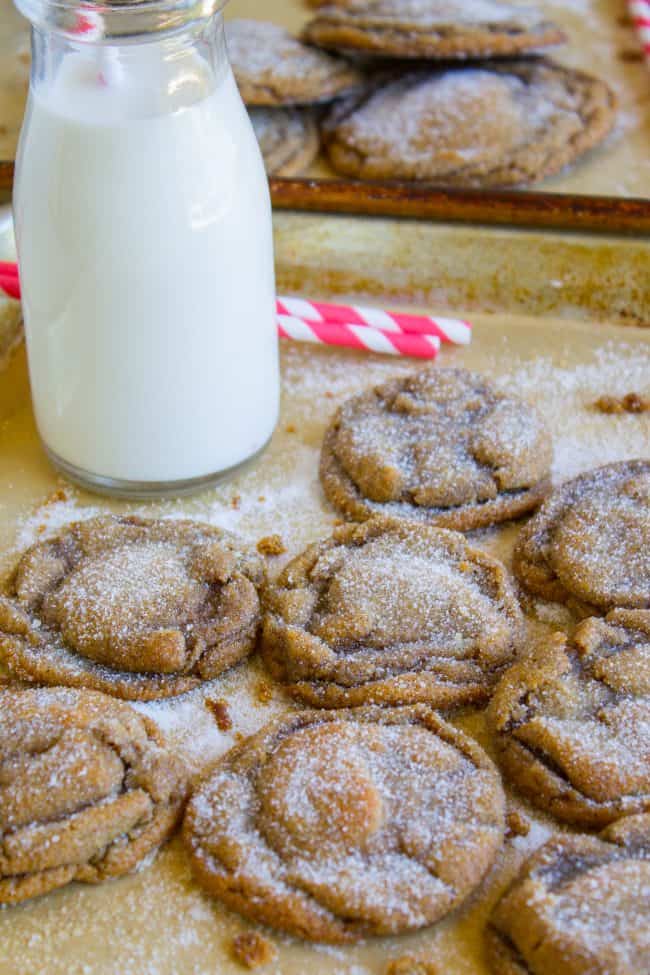 There are lots of different recipes for Molasses Cookies out there, and many of them are alike. I posted this recipe for Soft Ginger Cookies back in 2012, which is pretty similar, but I think today's Molasses cookies will be my go-to from now on.
What is the difference between molasses cookies and gingersnaps?
As I was researching the recipe and looking up similar ones, I realized that these Molasses cookies are nearly identical to Gramma Prudy's Classic Gingersnaps, which is a legendary cookie in my husband Eric's family. The differences? Butter vs. shortening, white sugar vs. brown sugar, and the amount of baking soda. And of course, the bake time.
Ginger Molasses Cookies Ingredients
Here's a quick shopping list to help you gather your ingredients. See the recipe card below for the full ingredients and instructions!
Butter-flavored Crisco
Brown sugar
Egg
Molasses
All-purpose flour
Kosher salt
Baking soda
Powdered cinnamon
Powdered ginger
Powdered cloves
Granulated sugar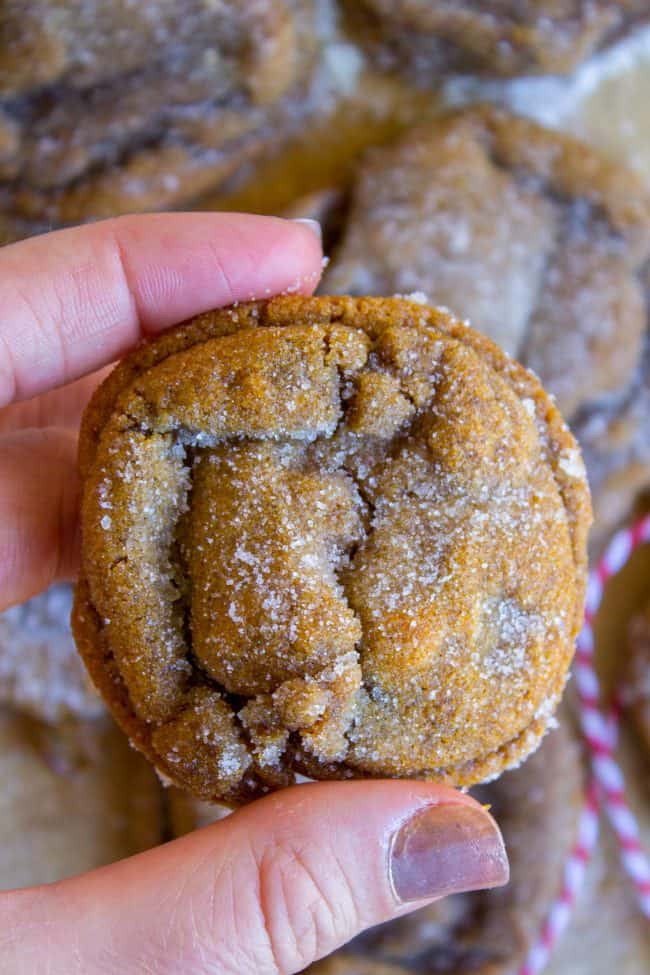 How to Make Chewy Molasses Cookies
These delicious, soft molasses cookies take just 15 minutes to prep! Here's a quick overview – don't forget, the full recipe is down below.
Combine Crisco and brown sugar until smooth. Beat in the egg and molasses.
Mix 2 ¼ cups of flour into the sugar/butter mix, then add in salt, baking soda, cinnamon, ginger, and cloves. Beat until combined.
Cover and chill in the fridge for 2-3 hours.
Shape the chilled dough into 1 ½" balls. Roll the balls of dough in granulated sugar and place them on a lined baking sheet.
Bake just until the tops start to crack.
Molasses Cookies Recipe Notes
Today's tried-and-true recipe for Molasses cookies calls for all butter-flavored shortening and no butter. Now hold on, hold on, cool your jets, put away your pitchforks, all you butter-philes. Although I'm definitely not in the "shortening will kill you" category, I'm firmly entrenched in the "butter tastes better" category, so I use it in all of my cookies.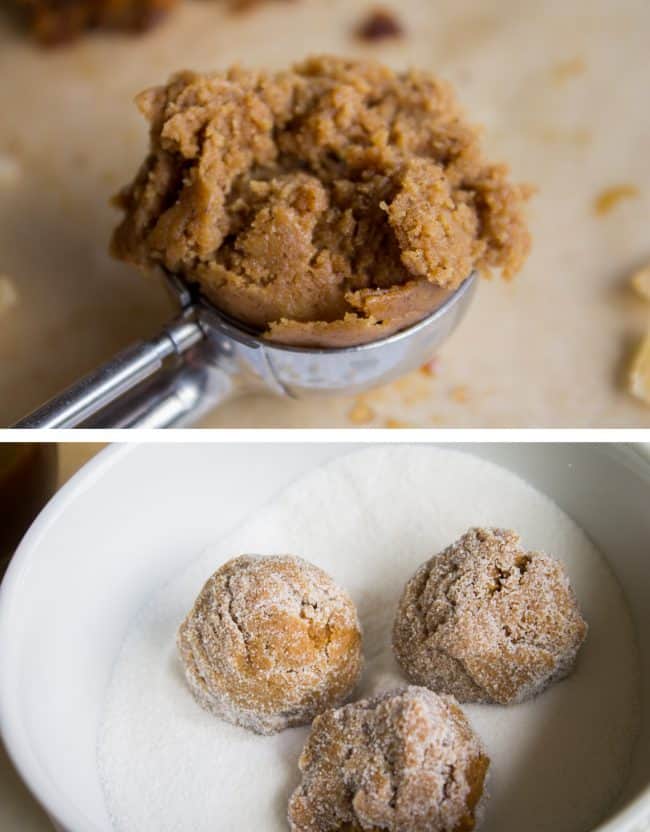 But there are two reasons I use all shortening in these cookies: 1) the cookies are spicy enough from the ginger and cinnamon that the butter flavor doesn't have as important of a role as it does in, say, chocolate chip cookies. And 2) we want these cookies to PUFF. To get an effortlessly tall cookie, use shortening. It will never fail you!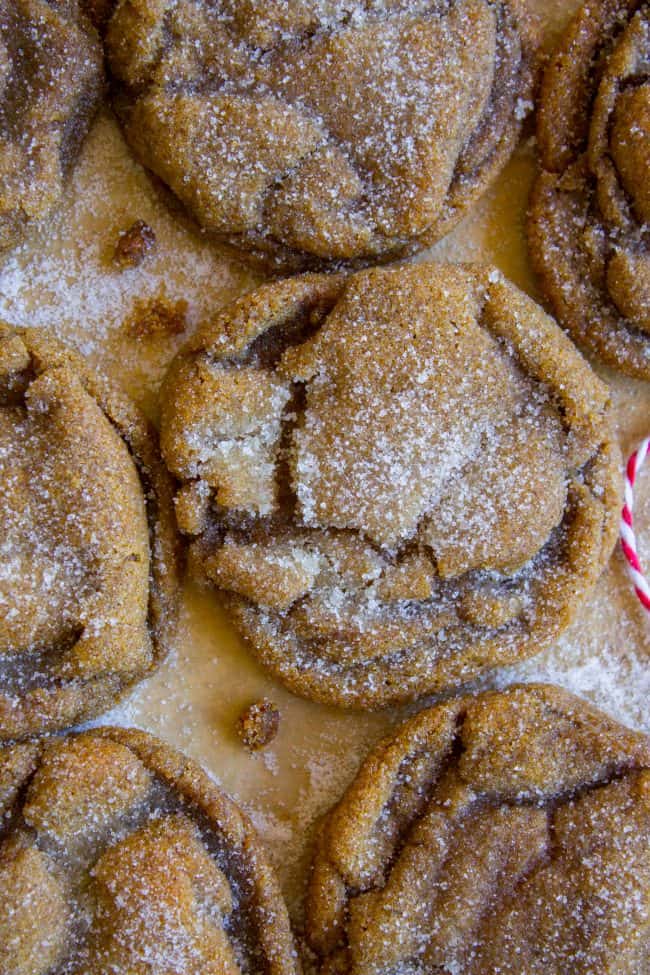 If you want to swap the shortening for all or partial butter in this recipe, go for it! They will still bake up great! They just will be a little bit more like gingersnaps: flatter and more crisp. Molasses cookies are meant to be tall and puffy and soft dreamily thick in the center. That's exactly what today's recipe (as written) will give you.
The other big difference between molasses cookies and gingersnaps is the bake time. Molasses cookies rolled about the size of a walnut should not be baked much past 8-9 minutes. The minute that you see cracks forming on top of the cookies, take them out and let cool.
I am posting this recipe as the first half of another Christmas cookie coming your way soon. It involves these cookies and BUTTERCREAM FROSTING and I could not be more excited, because they are basically my favorite Christmas cookie of all time, and I finally perfected them. It really is the most wonderful time of the year!! (Christmas cookie time!) UPDATE! Here is the recipe for Ginger Molasses Sandwich Cookies with Buttercream Frosting. It takes these cookies to a whoooole nother level guys.
How to Store Soft Molasses Cookies
Leftover molasses cookies will last in covered at room temperature for up to 1 week, in the fridge for up to 2 weeks, or in the freezer for up to 3 months.
When you're ready to serve, thaw them in the fridge if frozen, then enjoy at room temperature, or warm them in the microwave.
Ginger Molasses Cookie Recipe FAQ
Why are my ginger molasses cookies not cracking?
One of the classic characteristics of molasses cookies is the cracked top. What if there aren't any cracks?? Here are some potential issues:
The oven is too cool. Make sure you preheat the oven before you add the cookies. It needs to be nice and hot for the cookies to rise quickly and then deflate.
Your baking soda is too old. The baking soda helps the dough rise high so that it deflates in the center and cracks. If the baking soda is expired, then it won't serve its intended purpose. If it's older than six months (or you can't remember how old it is!), toss it and buy a new box.
You forgot to roll the cookies in sugar. The sugar on the cookie's surface crystallizes in the oven and gives off heat, causing the water on the cookie's exterior to evaporate. This dry surface is perfect for creating those signature cracks.
Why did my molasses cookies go flat?
There's nothing sadder than flat cookies. Here are some things you can do to prevent the spread.
Use fresh baking soda. While fresh baking soda is key for that crackle cookie top, it's also imperative to the structure of the cookie. If it's expired, the dough will spread.
Chill the dough. Don't forget to let the dough chill in the fridge for 2-3 hours. It needs to be completely cold before you bake it. Otherwise, you'll end up with flat, sad cookies.
Use cool baking sheets. It's a good idea to have two baking sheets so you can let the first one cool while the second one is in the oven. You can also let a baking sheet cool down for a couple minutes and then rinse it under cool water if you don't have two.
If the cookies spread a little bit too much, when you pull them out of the oven you can use a butter knife or two spoons to gently push them back in towards the center. Be sure to do this while they're still hot!
What's the best molasses for cookies?
If you really, really love molasses flavor (and since you're here making these cookies, I'm going to assume you do), you can use dark molasses. Light molasses (really common to find in your grocery store, and what I used here) is also great and still imparts plenty of flavor. What you DON'T want is blackstrap molasses. It has a strong, bitter flavor and doesn't belong in cookies.
What is the secret to chewy cookies?
The secret to chewy molasses cookies? The brown sugar! Brown sugar not only sweetens the dough, but the moisture helps create a super chewy texture that just won't be achieved with regular granulated sugar.
Facebook | Pinterest | Instagram

Chewy Molasses Ginger Cookies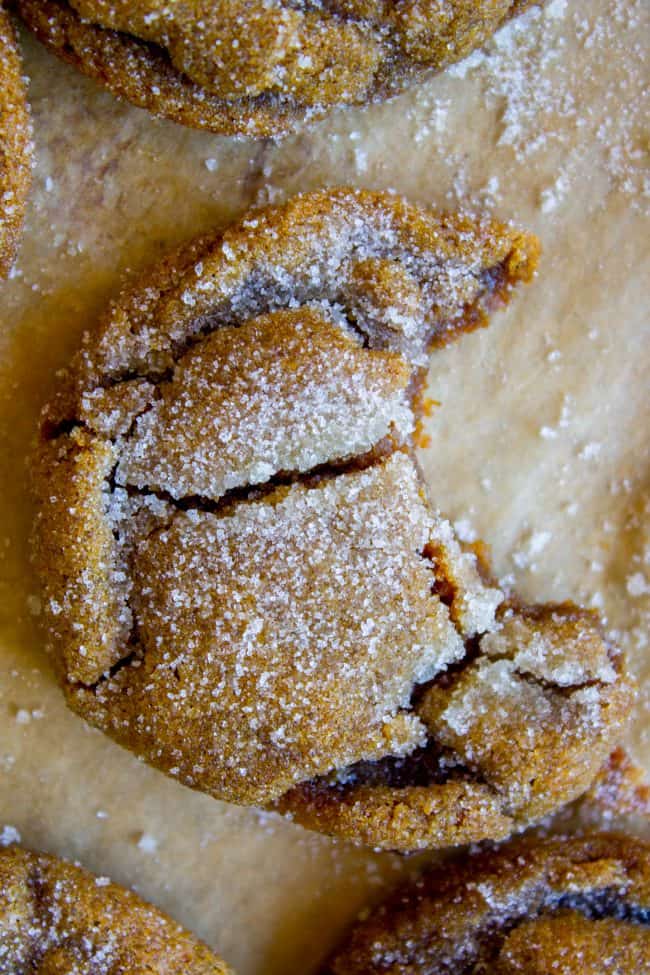 Soft and Chewy Ginger Molasses Cookies are one of those treats I could probably eat every day for the rest of my life and never get tired of it. They are just SO perfectly spicy, chewy, soft and flavorful. It's basically a Christmas cookie dream come true!

Ingredients
3/4

cup

butter-flavored Crisco*

,

room temperature

1

cup

brown sugar

,

packed

1

large

egg

1/4

cup

molasses

2 & 1/4

cups

all purpose flour

,

spooned and leveled

1/2

teaspoon

kosher salt

2

teaspoons

baking soda

1 & 1/2

teaspoons

powdered cinnamon

1 & 1/2

teaspoons

powdered ginger

1/2

teaspoon

powdered cloves

1/2

cup

granulated sugar

,

for rolling
Instructions
In a large bowl or stand mixer, add 3/4 cup

butter flavored Crisco

and 1 cup brown sugar. Beat well until smooth, about 1 or 2 minutes. Scrape the sides and bottom of the bowl.

Add 1 egg and 1/4 cup molasses. Beat well, scraping sides, until fully incorporated.

Add 2 and 1/4 cups flour, but don't stir yet. Make sure you spoon the flour into the measuring cup so that it doesn't get packed.

On top of the flour, add 1/2 teaspoon salt, 2 teaspoons baking soda, 1 and 1/2 teaspoons cinnamon and ginger, and 1/2 teaspoon cloves. Use a small spoon to stir all the dry ingredients into the flour.

Beat well until just barely combined. Scrape the sides and bottom of the bowl and make sure that all the flour is incorporated, but do not over mix. (or you will get tough cookies.)

Cover the bowl and chill in the fridge for about 2-3 hours, until it is completely cold. Do not skip this step or you will get flat cookies!

Add about a 1/2 cup sugar to a small bowl.

Shape the dough into walnut-sized balls, about 1 and 1/2 inches across. Roll the dough in the sugar to coat completely, then place on a lined baking sheet with about 2 inches of space between each one.

Bake at 350 for 8-9 minutes, just until the tops start to crack. As soon as you see cracks, take them out! Keep an eye on them, because every oven is different. If you let them bake too long, they will fall flat after you take them out of the oven.

Sprinkle with additional granulated sugar if you want, for extra sparkle.

Let cool on the pan for about 5 minutes, then transfer to a cooling rack. You have to eat at least one of these while they are warm, it's mandatory.
Notes
*Some people are anti-shortening. I'm obviously not! And shortening really does make for the SOFTEST cookies. If you would like to use all butter (or half butter half shortening) go for it! They will taste great, they will just crisp up a bit more once they cool.
Nutrition
Serving:
1
cookie
|
Calories:
131
kcal
|
Carbohydrates:
20
g
|
Protein:
1
g
|
Fat:
5
g
|
Saturated Fat:
1
g
|
Polyunsaturated Fat:
2
g
|
Monounsaturated Fat:
2
g
|
Trans Fat:
1
g
|
Cholesterol:
6
mg
|
Sodium:
118
mg
|
Potassium:
65
mg
|
Fiber:
1
g
|
Sugar:
13
g
|
Vitamin A:
9
IU
|
Vitamin C:
1
mg
|
Calcium:
16
mg
|
Iron:
1
mg