Does anyone else have a problem keeping celebrities straight? I can usually recognize famous faces, but connecting names with them seems like a whole lot of work. And there's really no need, since I have a husband who knows every celebrity on the planet (because he has a true passion for film and music, not because he reads those trashy magazines at the supermarket checkout.)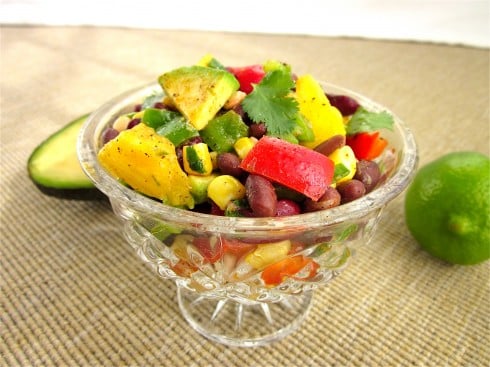 You know that terrible nagging you feel when you are watching a movie and you know you have seen one of the actors in another film, but you can't place them? Story of my life. It's so nice having Eric around in these situations:
Karen: Daaaah who is that lady I know her I know her! Ooooh who is she Eric who is she??
Eric: Marion Cotillard.
Karen: [blank stare]
Eric: She plays Mal, the wife on Inception.
Karen: OOOOOOHHH yeah you are so right!!!
It's opposite for musicians. I know their names but I bet I couldn't pick my favorite ones out of a lineup. Eric is always shocked when I hesitate to watch music videos; I fear ruining the image I have of them in my mind. (Most of the time, this image is a vision of the tiny people who played their tiny instruments behind the speakers of the stereo when I was little. Where else could the music have come from??)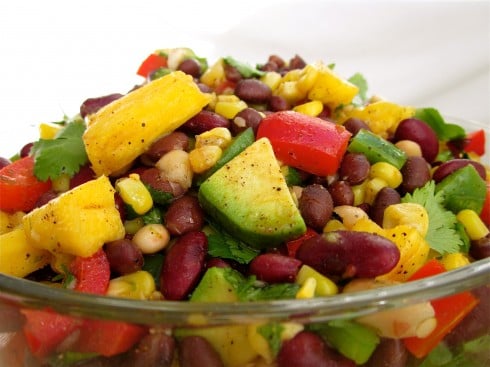 Welcome to this Mexican Bean Salad. The picture kind of speaks for itself, but just remember that drizzled all over those amazing looking veggies and legumes is a tangy dressing that I would gladly bathe in. This salad is great because it is very easy to adapt to your personal taste. I added pineapple and avocado. You could substitute or add anything you like. Yum!
Mexican Bean Salad
Source: adapted from Allrecipes.com
1/4 cup olive oil
1/4 cup red wine vinegar
2 tablespoons fresh lime juice
1 tablespoon lemon juice
2 tablespoons sugar
1 tablespoon salt
1 clove crushed garlic
1/2 tablespoon ground cumin
1/2 tablespoon black pepper
1 dash hot pepper sauce (or 5)
1/2 teaspoon chili powder
1 (15 ounce) can black beans, rinsed and drained
1 (15 ounce) can kidney beans, rinsed and drained
1 (15 ounce) can cannellini beans, rinsed and drained
1 green bell pepper, chopped
1 red bell pepper, chopped
1 (10 ounce) package frozen corn kernels
1/2 cup green onions, chopped
1/4 cup chopped fresh cilantro
1 cup fresh pineapple, chopped
1/2 of an avocado, chopped
In a very large bowl, whisk together olive oil, red wine vinegar, lime juice, lemon juice, sugar, salt, garlic, cumin, and black pepper. Season to taste with hot sauce and chili powder. Stir in the beans, bell peppers, frozen corn, green onions, cilantro, and pineapple. Gently stir in avocado.
Chill thoroughly and serve cold.