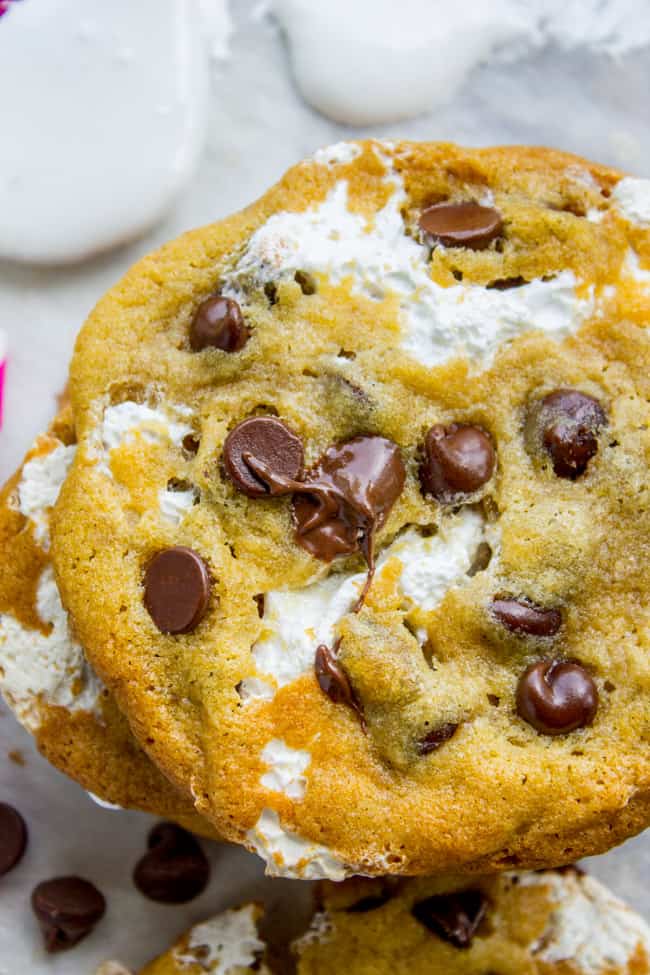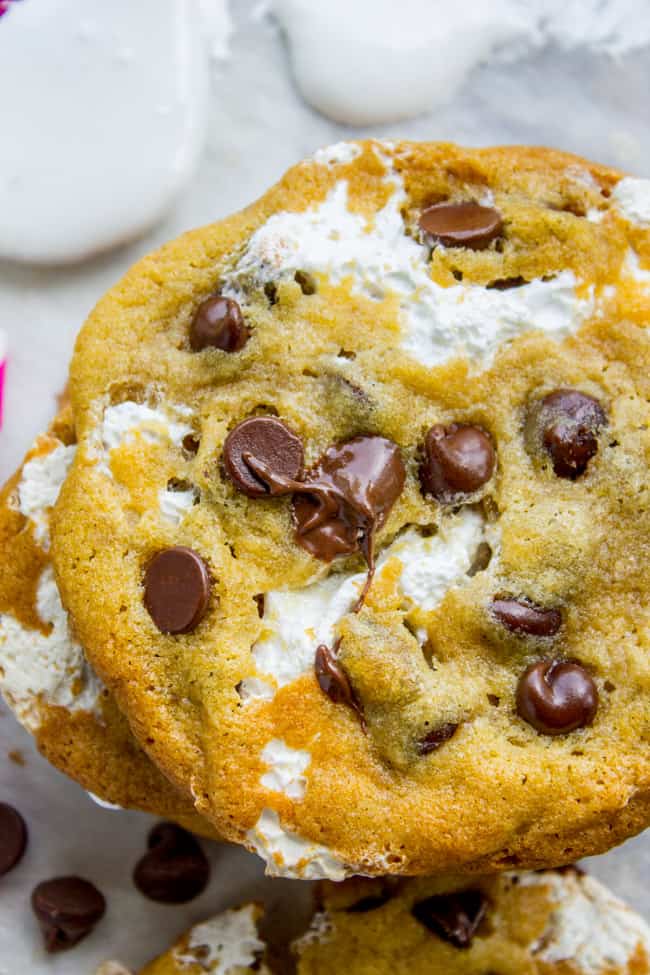 Did you make this recipe?
Leave a review »
Marshmallow Creme Stuffed Chocolate Chip Cookies
Makes 2-3 dozen large cookies
adjust servings
Ingredients
1

cup (2 sticks) butter, softened

1/2

cup butter-flavored shortening

1

and 1/4 cups granulated sugar

1

and 1/4 cups brown sugar

3

large eggs

1

tablespoon vanilla

4

and 3/4 cups all purpose flour, spooned and leveled

2

teaspoons baking soda

1

and 1/2 teaspoons kosher salt

2

and 1/2 cups semi-sweet chocolate chips

1

(7 ounce) jar marshmallow creme, chilled in the fridge for about an hour

more chocolate chips to press into the dough
Instructions
In a large bowl or stand mixer, cream the butter until it is light and fluffy. Add the shortening and beat well for 1 minute.
Add the granulated sugar and the brown sugar, beat for 1 minute.
Add 3 eggs and 1 tablespoon vanilla. Beat until well incorporated, scraping the bottom and sides.
Add 4 and 3/4 cup flour that has been spooned into the measuring cup (not packed or scooped). Don't stir.
Use a small spoon to stir the baking soda and salt into the flour, then stir the flour in.
When there are still streaks of flour in the mixture, add 2 and 1/2 cups chocolate chips. You may need to switch to a wooden spoon at this point if you have a wussy mixer. Don't over mix!!! Stir until just combined.
Cover and refrigerate the dough for at least 2 hours, until completely chilled. Put the jar of marshmallow creme in the fridge too. (Peel off the foil under the lid first! Way easier when it's not cold.)
Preheat the oven to 350 degrees F. Line a baking sheet with a silpat or parchment paper
Use a tablespoon to make 2 balls of dough. Flatten them out with your hands to form a disc.
Use a small spoon to scoop a generous teaspoon of the cold marshmallow creme onto one of the discs. See photos.
Place the other disk on top and use your fingers to pinch the edges and seal the marshmallow inside. Use more dough to "patch" it if there is a leak! Make sure all the marshmallow is covered or you will have marshmallow lava all over your baking sheets.
Place the dough on the cookie sheet. Make sure there are at least 2 inches of space in between each cookie.
Press a few more chocolate chips on the top of each ball of dough BEFORE it goes in the oven. (I usually press them in just after baking, but it made them even flatter and I wanted them to keep some of their puff.)
Bake at 350 for about 10-12 minutes, until they are golden on the edges and still a little shiny on top.
Let cool on the pan for about 5 minutes, then remove to a wire rack to cool. (I mean, if you're into that. I eat them as soon as the marshmallow has cooled to a not-tongue-burning level.)
Drink with milk!
by The Food Charlatan