I had a dream the other night that me and an old friend of mine made peanut butter and frosting sandwiches. They were incredible. They were also in my dreams, so who knows what kind of lies my brain might have been feeding me. What do you guys think?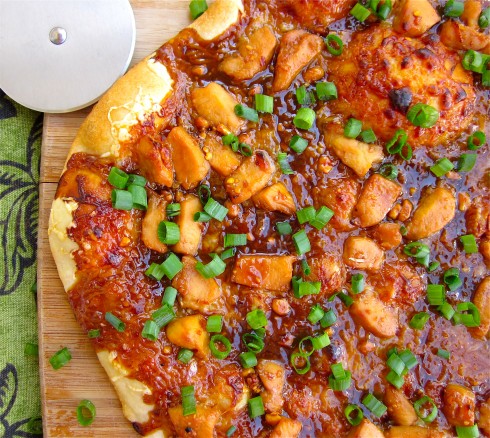 Let me introduce you to the most amazing Malaysian pizza you will ever eat. (If I'm going to use such a blatant hyperbole, I have to throw in a qualifier like "Malaysian." Because sometimes nothing beats good ol' pepperoni and I don't want you coming at me with pitchforks. But I guarantee you will never find a better Malaysian-inspired pizza.)
This really is one of my favorite pizza recipes though. It is spicy and Asian and I love it, even though Asian food and I are not always on the best of terms.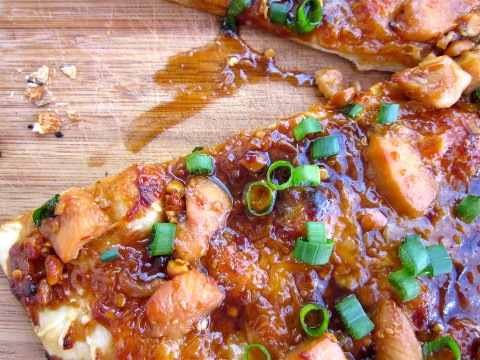 As I kneaded the dough for the crust (and by "kneaded" I mean "flipped my Kitchenaid switch on") I was reminded of the classic family legend of The Dough Hook. My mom used to have a stand mixer straight from the 80s, with the classic spiral dough hooks. Just a convenient way to combine food, right? Wrong. Never underestimate the ingenuity/stupidity of adolescent boys, who are 85% hormones and 15% hair,* and who can turn most regular household items into implements of death.
I don't remember the details, I just know that in the end one of my brother's friends threw the dough hook, intending to spear someone across the room. Fortunately he missed, and instead punctured the wall, where it quivered horizontally, knife-like. If that's not inspiration to buy a stand mixer/take javelin lessons, I don't know what is. Those dough hooks could save your life someday.
Today I'm listening to Anna (El Negro Zumbon) by Pink Martini. It is such a fun song!
Malaysian Chicken Pizza
Source: Cooking Light
3/4 cup rice vinegar
1/4 cup firmly packed brown sugar
1/4 cup low-sodium soy sauce
3 tablespoons water
1 tablespoon minced peeled fresh ginger
2 tablespoons chunky peanut butter
1/2 to 3/4 teaspoon crushed red pepper
4 garlic cloves, minced
cooking spray
1/2 pound skinless, boneless chicken breasts, cut into bite-sized pieces (about one breast)
1/2 cup (2 ounces) shredded reduced-fat, reduced-sodium Swiss cheese
1/4 cup (1 ounce) shredded part-skim mozzarella cheese
1 12-inch pizza crust (I used my basic recipe and froze half of the dough.)1/4 cup chopped green onions
Preheat oven to 500°.
Combine first 8 ingredients (through garlic) in a bowl; stir well with a whisk.
Heat a nonstick skillet coated with cooking spray over medium heat. Add chicken, and sauté 2 minutes. Remove chicken from pan.
Pour rice vinegar mixture into pan, and bring to a boil over medium-high heat. Cook mixture 6 minutes or until slightly thickened. (mine took longer than this. It should be boiling the whole time, so stick around and stir.) Return chicken to pan; cook 1 minute or until chicken is done. (Mixture will be consistency of thick syrup.)
Sprinkle cheeses over prepared crust**, leaving a 1/2-inch border, and top with chicken mixture. Bake at 500° for 9-12 minutes on bottom rack in oven. Sprinkle with green onions. Place pizza on a cutting board; let stand 5 minutes.
*You get 1,000 awesome points if you recognize this quote from the classic teenage novel Dating: No Guts, No Glory by Joni Hilton.
**Whenever I make pizza, I roll out the dough onto parchment paper, rub the whole thing with olive oil, and use a baking sheet to transfer the dough to the pizza stone (still on the paper). I let it cook in the heated oven for one minute, then I take it out (still on the paper) and proceed with my recipe. This helps the crust keep it's shape. I started doing this after one too many perfect circles of dough that got destroyed en route to the pizza stone.