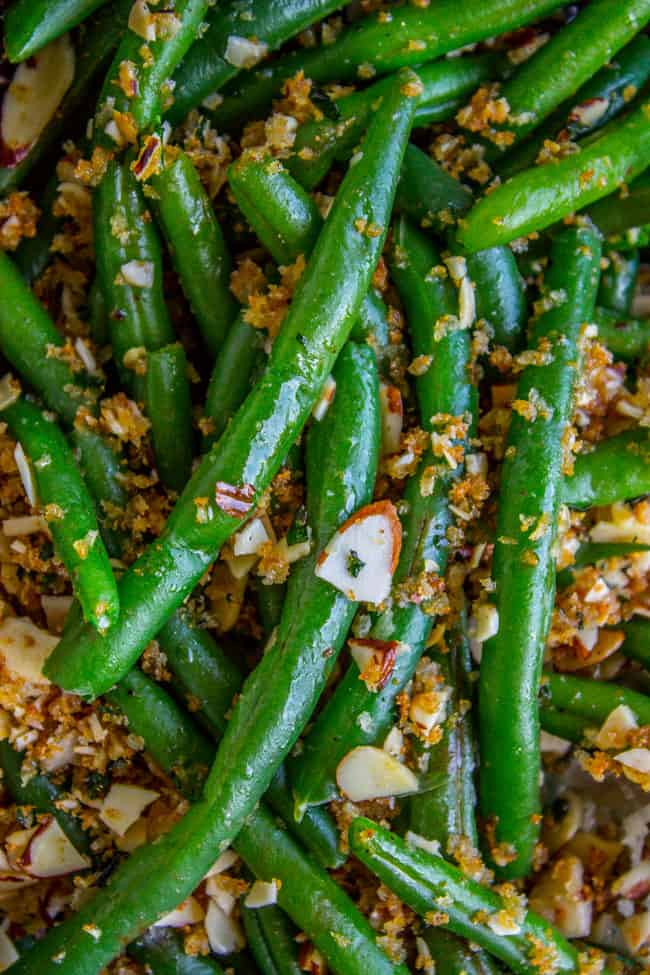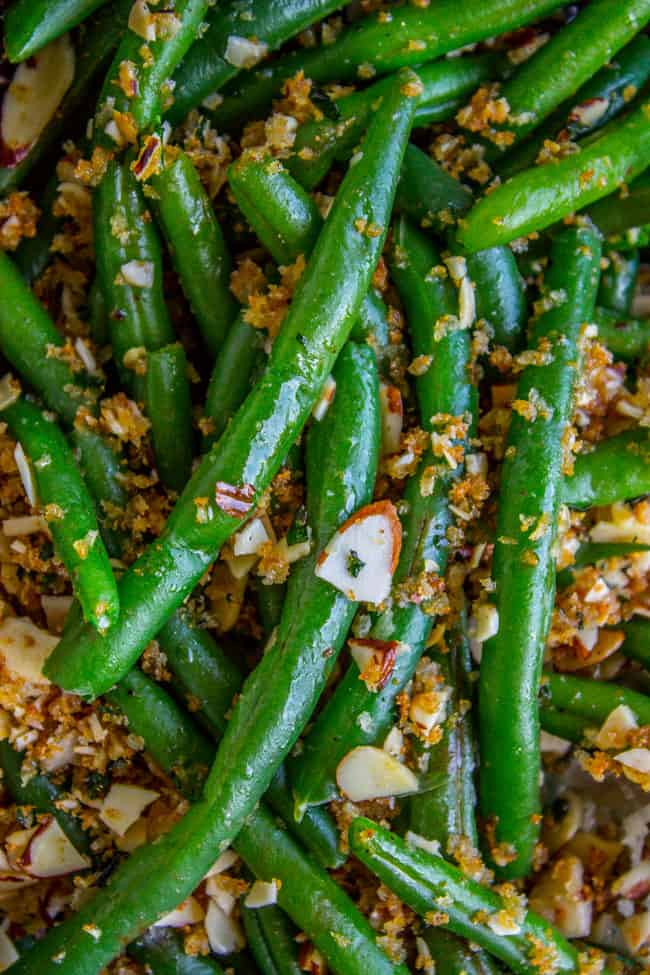 Did you make this recipe?
Leave a review »
Make Ahead Green Beans with Garlic Bread Crumbs and Almonds
Serves 4-6
adjust servings
Ingredients
1

pound green beans, ends trimmed

2

teaspoons salt, for the boiling water

water and ice

2

garlic cloves, minced

2-3

teaspoons fresh tarragon, minced

1/4

cup sliced almonds

1/3

cup panko bread crumbs

1/4

teaspoon salt, or more

pepper to taste

1/4

cup (1/2 stick) butter
Instructions
Heat a large pot of at least 2 quarts of water over high heat. Add 2 teaspoons salt (Taste it. It should taste like seawater.)
Wash and trim green beans. When the water is at a rolling boil, add the green beans and cover with a lid.
If you are making these ahead of time: boil for 3 to 4 minutes, until crisp tender. While it boils, fill a large bowl with ice water. Drain the beans and transfer to the ice bath. When the green beans are no longer warm to the touch, drain them again. Lay out the beans on paper towels and pat dry. Wrap the beans in dry paper towels, place in a large tupperware or ziplock, and store in the fridge for up to 2 days.
If you intend to serve the beans right away: boil covered for 5-6 minutes, until crisp tender. Don't bother with an ice bath. Drain them and put them on a platter. Salt and pepper to taste, then keep warm (I set mine in the microwave. Not on.)
Mince the garlic and chop the tarragon. Set aside.
In a large dry skillet, add the sliced almonds and stir over medium heat for about 1 minute. Add the panko bread crumbs and stir for 1 more minute, until toasted and fragrant. (Don't walk away! This goes from toasty to burned pretty quick. Keep stirring.)
Remove from heat and transfer to a bowl. Add the garlic and tarragon, 1/4 teaspoon salt (or more), pepper, and set aside.
(To reheat refrigerated green beans: Add 1/4 cup water and the cold green beans to the same skillet and stir over HIGH heat until hot. Salt and pepper to taste. Transfer to a platter, discard any liquid.)
In the same skillet: melt 1/4 cup butter over medium-high heat. Add the almond mixture and stir frequently until fragrant, about 1 to 2 minutes.
Top the green beans with the almonds and serve immediately.
by The Food Charlatan