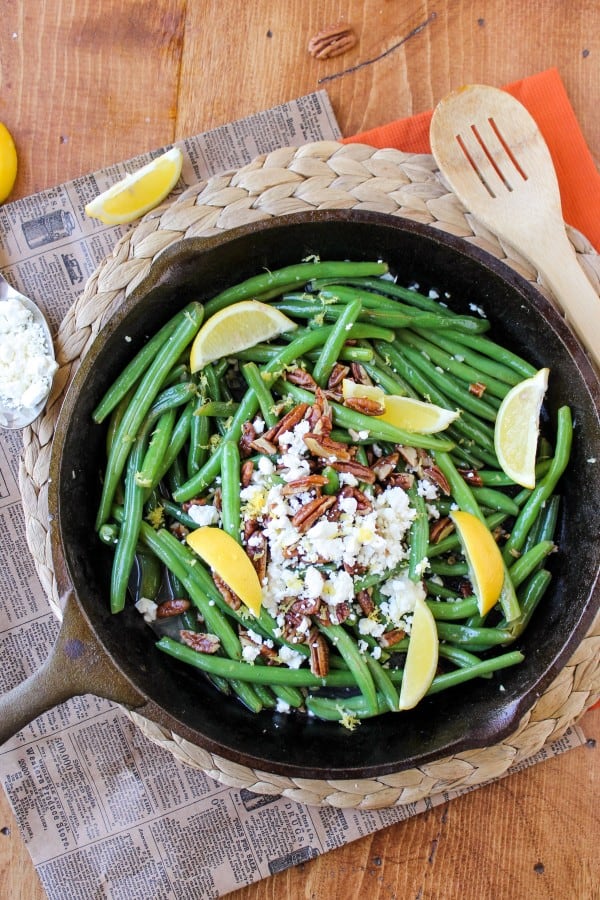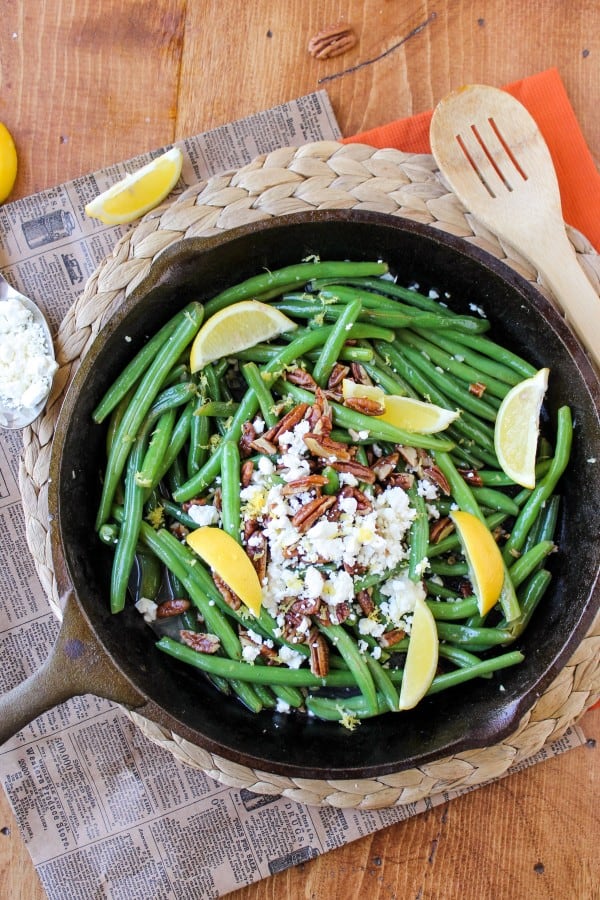 Did you make this recipe?
Leave a review »
Lemon Green Beans with Feta and Fried Pecans
Serves 6-8
adjust servings
Ingredients
2

large cloves garlic

1/4

teaspoon salt

3

tablespoons fresh lemon juice

1

tablespoon olive oil

1/2

cup pecans, very roughly chopped

7

cups water

1

tablespoon salt

1

pound green beans, trimmed and washed

2

tablespoons olive oil

1

tablespoon butter

black pepper to taste

1/2

cup feta

lemon wedges, to garnish

lemon zest, to garnish
Instructions
Use the side of a chef's knife to crush the garlic. Mince it finely, then crush it again with the side of the knife. (If you have a mortar and pestle, you could use that.) Place the garlic in a small bowl and add 1/4 teaspoon salt. Mash it together with a fork. Add 3 tablespoons fresh lemon juice and set aside.
In a small skillet heat 1 tablespoon olive oil over medium heat. When hot, add the pecans. Cook for 5-6 minutes, or until they are nutty and fragrant. Remove to a paper towel lined plate, sprinkle with a little salt, and set aside.
In a large pot, add about 7 cups of water and 1 tablespoon salt. Bring to a rolling boil over high heat. Add the green beans, cover, and set a timer for 3 minutes. Drain the green beans into a colander and rinse with cold water.
Meanwhile, heat 2 tablespoons olive oil and 1 tablespoon butter over medium heat in a large skillet. When it is hot, add the rinsed green beans. Saute for 5-6 minutes, or until the green beans reach the crisp-tender level that you want.
Remove from heat and add the lemon-garlic mixture. Season with freshly ground pepper to taste. Toss in the pecans and the 1/2 cup feta. Serve with extra lemon wedges and lemon zest to garnish.
by The Food Charlatan