This giveaway is now closed! Congrats to Kristi, who said:
100th blog post…Congrats! Look at you go. The new blog looks great. So my favorite oreo recipe has to be homemade mint oreo ice cream. Mmmmm.
Welcome to my 100th blog post! It is time to par-tay!!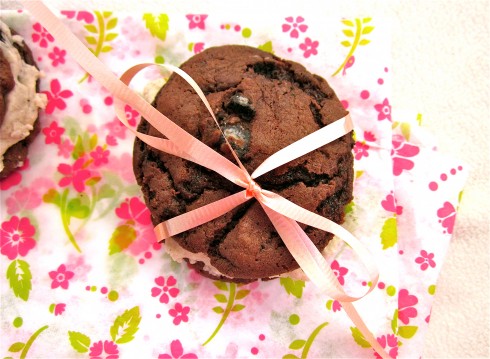 To celebrate, I've changed up the look of my blog. Isn't it awesome? I'm in love! Many thanks to Clairice over at NiftySwank for the amazing design. (You really need to check out her stuff. She is one of those people who everything they touch turns to beautiful.)
And what's a party without the food? If these cookies aren't making you drool then I don't know what will. I was having a huge Oreo craving the other day, but all the treats that sounded good would have taken too long to make (it was of course late at night). I finally decided to skip the actual Oreos and make homemade ones instead, since those are super quick. And then I had the best idea ever.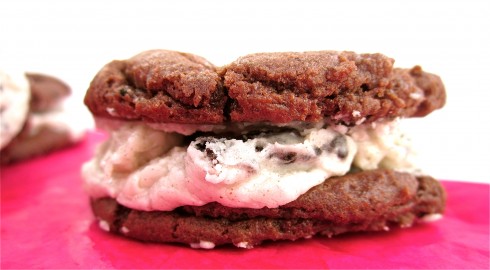 Homemade Oreos taste fabulous and I have no complaints, besides the fact that they don't really taste anything like Oreos. Just a dark chocolate cookie with cream cheese frosting. They lack that special Oreo flavor. (I think that flavor might be heroin.) And hello, Oreo filling tastes nothing like cream cheese. So I decided to chop Oreos and mix them with the cookie batter….as well as the frosting. YES!!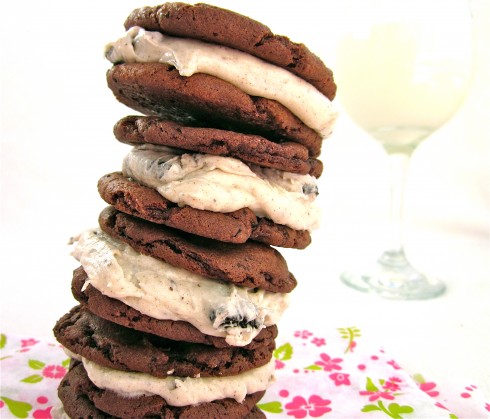 Don't these look divine? They really are. It's like a cookie sandwich with cookies n' cream filling. And the best part? They are done in a half hour. Perfect for late night cravings.
And last but lost least, parties would be lame without presents. The fact that you read this blog makes writing it way more fun, so thanks for hanging out with me, virtually. I've had some good times and I hope you have too. To thank you for being your awesome self, I'm doing my first giveaway today!!
I've gushed about my Microplane Grater before, and now you might get to experience this awesomeness yourself. It is great for zesting citrus, grating hard cheese like Parmesan, and slicing off little bits of your skin. (That's only if you're not careful. I'm telling you this thing is sharp.) I will be giving away a Microplane Grater to one of you foodie-kindred-spirits.
All you have to do to enter the giveaway is leave a comment telling me what your favorite Oreo dessert is. The giveaway is open until Friday, June 22, 2012, at 5pm MST. Only one comment per person please. If you are not asked to give your email as a requirement for leaving a comment, be sure to include it in the text of your comment so that I can contact you if you win. US entrants only. The winner will be selected by random.org.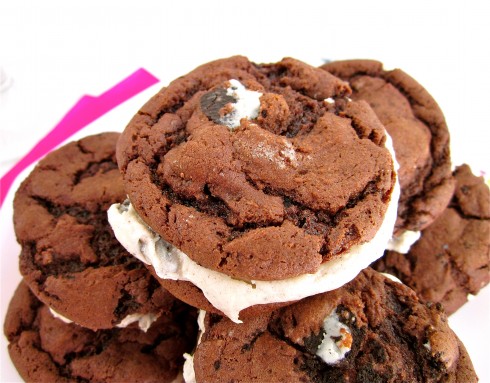 Good luck everyone! Thanks for making my blog so much fun!
Homemade Oreos Cookies…with Oreos

Source: This recipe is everywhere. I'm pretty sure Eve made it up.
For the cookies:
1 box devil's food cake mix
2 eggs
1/3 cup oil
4-5 Oreos, coarsely chopped
For the frosting:
4 ounces cream cheese (I use neufchatel), softened
4 tablespoons (half stick) butter, softened
1 1/2 cups powdered sugar
1/4 teaspoon vanilla
4-5 Oreos, coarsely chopped
Preheat oven to 350. Line cookie sheets with parchment paper or a silpat. Beat together the cake mix, eggs, and oil. The batter will be stiff. Fold in 4 or 5 chopped Oreos. Roll the dough (I did rounded teaspoons) into balls and place on cookie sheets. Press them down so they are a little flattened. Bake for 8-10 minutes. Allow to set up on the pan for a couple minutes, then transfer to a wire rack to cool.
While the cookies are baking, beat together the cream cheese and butter. Add in the powdered sugar and vanilla. Beat until smooth, then fold in 4 or 5 chopped Oreos.
To assemble, spread about a tablespoon of frosting on half the cookies, then top with the remaining cookies. Store in a sealed container in the fridge. Unless you are planning on eating all of them right away. Don't worry. No one is judging you.
Makes about a dozen sandwiches.