My mom always said that in order to really get to know somebody, you have to put up some wallpaper with them. She must have told me a hundred times to make this project a priority before choosing a spouse. (I think she may have some repressed wallpaper memories she needs to work through…)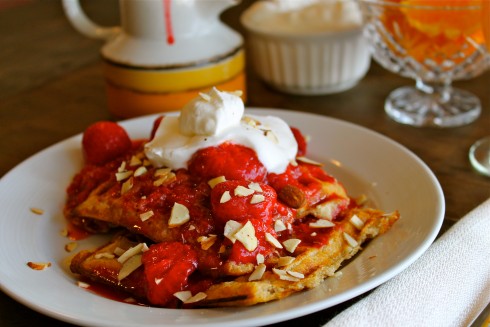 I thought I was in the clear because wallpaper was not really in style when she told me this back in high school. Little did I know that really it has nothing to do with wallpaper, but rather attempting a difficult project with someone you love, in spite of the fact that they have horrible stapling skills and can't outline the continent of Australia to save their lives.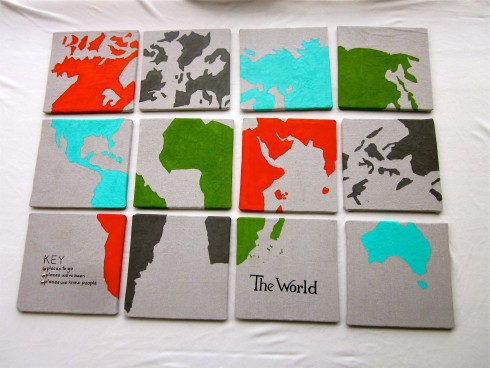 It really wasn't that bad. In his defense, Eric has outstanding glue-spraying and ironing skills. And I got pretty good at making up islands that don't exist. (Like all those little green ones above where it says, "The World"? Yeah Charlotte got a hold of a paintbrush and went to town. Extra islands off the coast of Madagascar was the only solution.) And Eric didn't even complain that China is totally sideways in this picture.
This may not look like much to you, but Eric and I are very proud of our little world map we made from this tutorial. (Okay it's not little, each of those squares is 12×12 inches.) We sent this to our friends Sarah and Brian for Christmas. We were trying to think of something creative to do in response to the awesome pillows they sent us last year. (It's great having friends that you can have craft one-upping contests with). It ended up being really fun, and tonight when we (finally) got around to setting our goals for this year we even put down that we want to attempt another project this year. Wallpaper is coming back into style, after all.
Check out these waffles I made. I woke up Saturday morning ready to eat some awesome breakfast, but was struggling to find something that wasn't bacon or smothered in syrup. Now don't get me wrong, I know these waffles are not exactly fat free (hello whipped cream) but I do proclaim them healthiER than my go-to waffle recipe. They use some white wheat flour, applesauce, and almonds, and are seriously awesome for a January morning.
Almond Waffles with Strawberry-Orange Compote

Source: this one's a Food Charlatan original, for once!
Serves 3-4
For the Waffles:
1 cup all-purpose flour
3/4 cup white wheat flour
1 tablespoon baking powder
1/2 teaspoon salt
3/4 cup chopped or slivered almonds
1 3/4 cup milk
1/4 cup applesauce
1/4 cup vegetable oil
3/4 teaspoon almond extract
2 egg yolks
2 egg whites, beaten
For the Compote:
3 cups fresh or frozen strawberries, divided
juice of one small orange
1 teaspoon orange zest
6 tablespoons sugar
1/4 cup water
1 1/2 teaspoons cornstarch
whipped cream, optional
more chopped or slivered almonds, optional
In a large bowl, whisk together dry ingredients (flour through almonds). In a medium bowl, whisk together milk, applesauce, oil, almond extract, and egg yolks. In another medium bowl (or in a stand mixer) beat the 2 egg whites with an electric mixer until soft peaks form.
Add the milk mixture to the flour mixture and stir 5 or 6 times. Carefully fold in the egg whites. (Lumps are a good thing. Don't over mix it.) Pour into a hot waffle iron (don't forget to spray!) and cook according to waffle iron instructions.
For the compote, place 2 cups strawberries and orange juice into a small saucepan and turn the heat to medium-high. Stir in the zest and sugar. Mash the strawberries when they are soft enough. In a small bowl whisk together water and cornstarch. When the strawberries start to boil, add the water mixture, turn the heat down to medium, and stir until thickened. Add the remaining one cup of strawberries and cook until heated through.