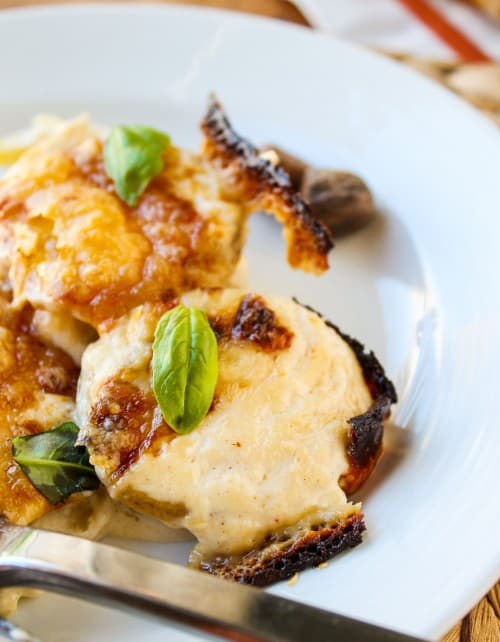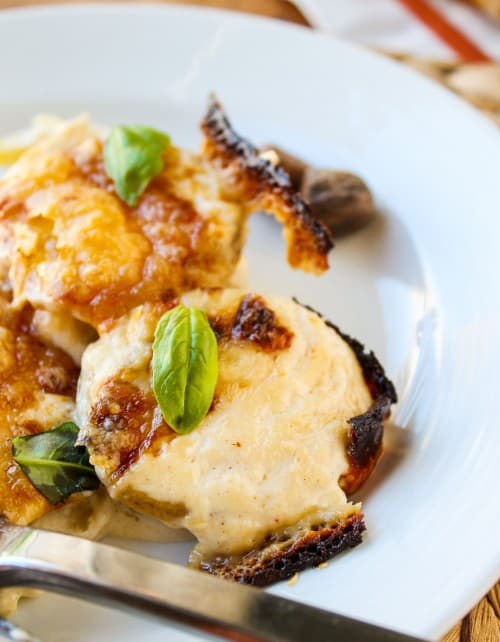 Did you make this recipe?
Leave a review »
Gruyère-Crisped Potatoes Au Gratin
Serves 8
adjust servings
Ingredients
2

pounds Yukon Gold potatoes

3

cups heavy cream

1

teaspoon kosher salt

1/8

teaspoon freshly ground black pepper

Generous pinch of freshly grated nutmeg

1/4

teaspoon cayenne pepper

2

cloves garlic, smashed and minced

3/4

cup finely shredded Gruyère cheese

fresh basil, to garnish
Instructions
Heat the oven to 400°F. Wash and scrub your potatoes. Fix the slicer blade onto your food processor. Feed the potatoes in 1 or 2 at a time until they are all sliced. If you don't have a food processor, just use a very sharp knife to slice them into 1/8 inch slices. (A mandoline works great too.)
In a large pot add the sliced potatoes, cream, salt, pepper, nutmeg, cayenne pepper, and minced garlic. Set the heat to medium high and cook, stirring occasionally until the cream boils. (Stir gently so that you don't break up the potatoes.)
Pour the mixture into a 2.5 or 3 quart baking dish. Shake it around to settle the potatoes, then sprinkle with the shredded cheese.
Bake in the oven at 400 F for about 40 minutes, or until they are extremely fork-tender. You will know it is done when the cream is thickened and the top is dark brown. The sauce will continue to thicken as it cools, so don't worry if you think it looks overly-liquidy.
Let the potatoes stand for about 15 minutes before serving with fresh chopped basil.
by The Food Charlatan