Grilled Corn, Tomato, and Mozzarella Salad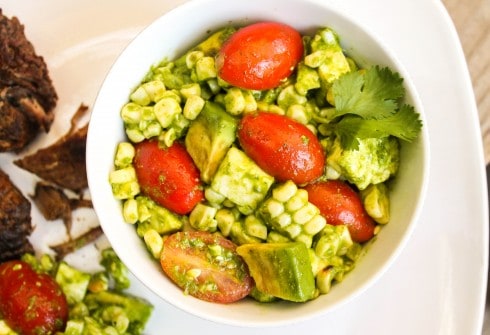 Does anyone else have an unhealthy habit of assuming that any tickling that you feel on your skin (from a stray hair, piece of lint, or your imagination) is in reality a giant spider that must be swept away immediately? It's kind of ridiculous how I get myself so worked up. I will feel a faint something somewhere on my body and vaguely think "probably that's my hair brushing my arm" but then lightning fast the irrational part of my brain takes over and shrieks "But Karen what if it really IS a spider this time?!?" And then the swatting begins.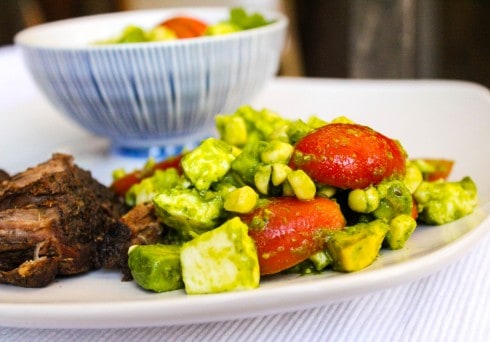 It's not helpful that our new house is full of bugs, and I don't just mean the dead snails in the fireplace. It's an old house. There are lots of holes in it. (No really, holes. I was wiping down the wall in our living room the other day so that I could paint it, and my fist punched through it. For real. I think we are going to become very familiar with out local Home Depot living here…but I don't care. A quaint old house is still a thousand times better than a machine made apartment.)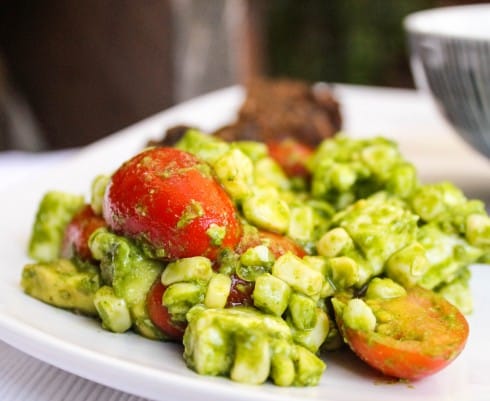 We moved all our stuff in this weekend but are still sleeping at my brother's house because the internet technician can't make it over there for an entire week. I can't go a week without the internet. I could, of course I could. I would just die a little every 3 minutes all day long when I went to look something up and couldn't. Good thing we only live 5 minutes away.
Grilled corn. (I mean, do we even need to keep going?) Cherry tomatoes, fresh mozzarella, and avocado.
Oh, and liquified cilantro. Mmmm. I don't know if this salad could get any more perfect for me. Add some tasty meat on the side and this is perfection. I paired this with some Barbacoa Beef. It was a perfect match, definitely try it. If you don't feel like grilling your corn, I think it would still be awesome with either raw corn or corn that has been sautéed at a high temperature for a few minutes.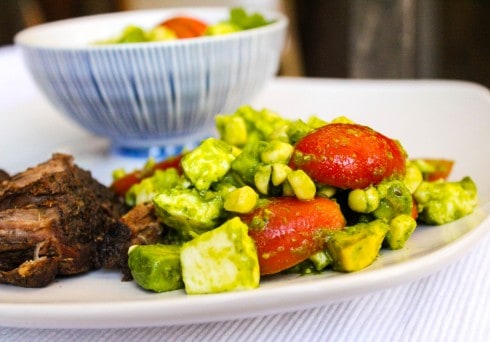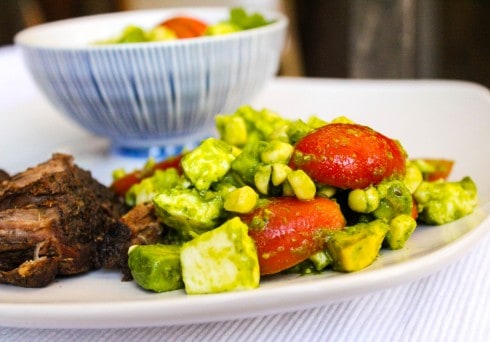 print
Did you make this recipe?
Leave a review »
Grilled Corn, Tomato, and Mozzarella Salad
Makes about 8 side dishes.
adjust servings
Ingredients
Dressing;

1 1/2

cups packed fresh cilantro

1/2

cup extra virgin olive oil

2

tablespoons fresh lime juice

1/2

to 3/4 teaspoon kosher salt

freshly ground black pepper
Salad
Olive oil, for brushing

4

ears of corn, silks and husks removed

16

ounces of grape or cherry tomatoes, halved

1

pound fresh mozzarella, diced

2

ripe avocados, diced
Instructions
Preheat grill to medium high heat. Coat corn with olive oil and grill to desired degree of doneness. (Go here if you have never grilled corn). Allow corn to cool and cut kernels from cobs.
Add cilantro, olive oil, and lime juice to a blender and puree until dressing is smooth. Add salt (up to 3/4 teaspoon) and pepper to taste and pulse until combined. Add salt until it tastes delicious. Add more lime juice if you need to. Set aside. You could easily make this ahead of time and keep it in the fridge.
Combine corn, tomatoes, and mozzarella in a large bowl. Drizzle with enough dressing to coat (you may have extra) and gently stir to combine. Add avocado and stir even more gently. Chill salad for at least 15 minutes and up to 4 hours before serving.
by The Food Charlatan

If you make this recipe,
share it on Instagram
 using the hashtag
#TheFoodCharlatan
so I can see it!
Source: the lovely ladies over at
Garnish with Lemon
We are a participant in the Amazon Services LLC Associates Program, an affiliate advertising program designed to provide a means for us to earn fees by linking to Amazon.com and affiliated sites.