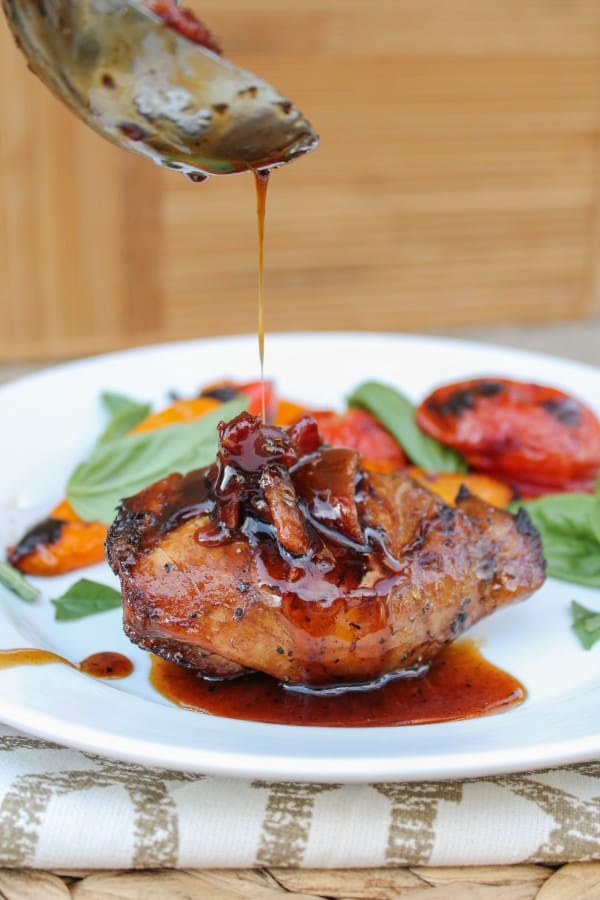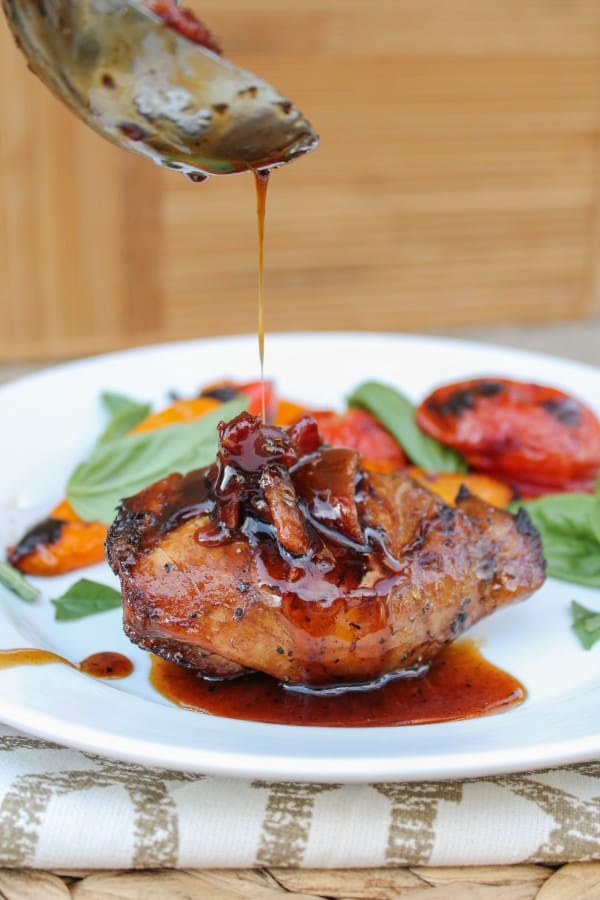 Did you make this recipe?
Leave a review »
Balsamic Grilled Chicken with Spicy Honey Bacon Glaze
Serves 4-6
adjust servings
Ingredients
4

chicken breasts*, left whole or cut into thick strips diagonally

1/3

cup balsamic vinegar

3/4

cup olive oil or vegetable oil

3

tablespoons brown sugar

2

tablespoons steak seasoning
For the glaze
6

slices bacon, chopped

3/4

cup honey

3

tablespoons worcestershire sauce

1

tablespoon hot sauce (I used Frank's)
Instructions
In a large ziplock bag, squish together 1/3 cup balsamic vinegar, 3/4 cup oil, 3 tablespoons brown sugar, and 2 tablespoons steak seasoning. Add the chicken breast, thighs, or salmon filets. Seal and refrigerate for a few hours. (If you are marinading salmon, grill them after 1-2 hours at the longest or it will get mushy. If you are doing chicken, you can do it 2-3 days in advance if you want.)
Preheat your grill to medium-high heat.
Make the glaze. In a large pan, cook the bacon until it is crisp, then remove to a paper-towel-lined plate and let cool. If you didn't chop it, crumble it now. Set aside.
Drain the grease from the pan, but don't clean it. Add the honey, worcestershire sauce, and hot sauce. Let bubble over medium heat. Once it is bubbly, add in the chopped bacon. Stir and cook for 1-2 minutes until it has thickened lightly, then remove from heat. The glaze will continue to thicken as it cools down.
Grill the chicken or salmon over medium-high heat. Discard the marinade, or use it to brush the fresh veggies you should be grilling. Don't forget to brush the grill with oil first or it will stick. Cook 2-4 minutes per side, until it is no longer pink for the chicken, or until it flakes tenderly with a fork for the salmon.
Serve topped with the bacon glaze. I like to serve this with grilled veggies on the side, like tomatoes and baby bell peppers. It would also be good with baked beans.
by The Food Charlatan