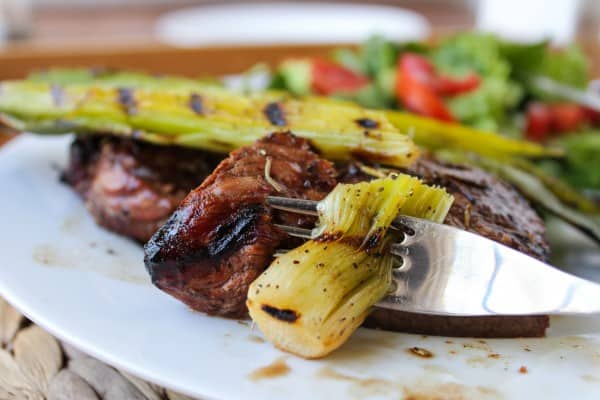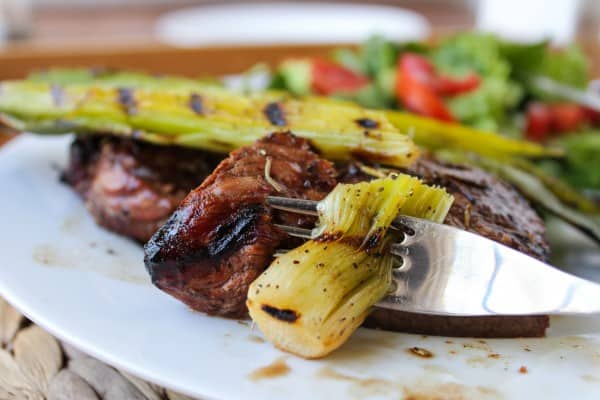 Did you make this recipe?
Leave a review »
How to Grill Leeks
Ingredients
fresh leeks

olive oil

salt and pepper
Instructions
Bring a large pot of water to a boil. (about 3-4 inches of water)
Begin by chopping off the upper portion of the leek. Keep the white and pale green portion at the bottom. If in doubt, chop high. You can always peel or cut off tough layers later on.
Next chop off the roots. Get as close to them as you can.
Peel off the tough outer layers.
Chop the leek down the center, but leave the root end intact (see photos).
Wash the leek thoroughly, carefully peeling back the layers to clean the inside.
Boil the leek in the pot for 4 minutes. Remove to a towel and let cool. When cool enough to handle, finish cutting them in half. (Chop the root end that you kept intact earlier)
Preheat your grill to medium-high heat.
Transfer the leeks to a plate or platter and drizzle with olive oil. Sprinkle with salt and freshly cracked pepper.
When your grill is hot, add the halved leeks. If you didn't use much olive oil on the leeks, be sure to brush the grill with oil.
Grill over medium-high heat for 2 minutes, then flip and grill for another 2 minutes.
Serve with steak, chicken, fish, or pretty much anything that can be grilled.
by The Food Charlatan