An easy, 2-ingredient, healthier blueberry candy to serve as an appetizer or snack. Fun to make if you are throwing a Frozen party. It's just blueberries rolled in jello powder. Don't knock it til you try it, my friend. SO GOOD. Seriously, stop looking at me like that.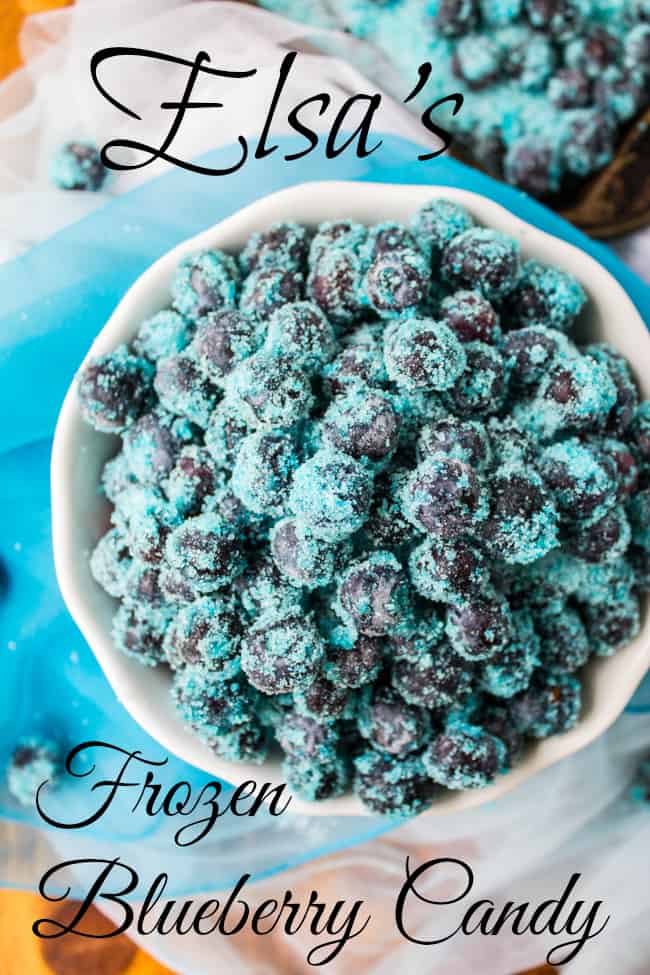 It's happened. I have officially entered the "Keepin' up with the Jones' Kid's Birthday Parties" stage of life. I never thought it would happen. When did I reach this level of Pinterest?
(Go ahead, type "Frozen Party" into Pinterest. Prepare to get walloped with ridiculousness.)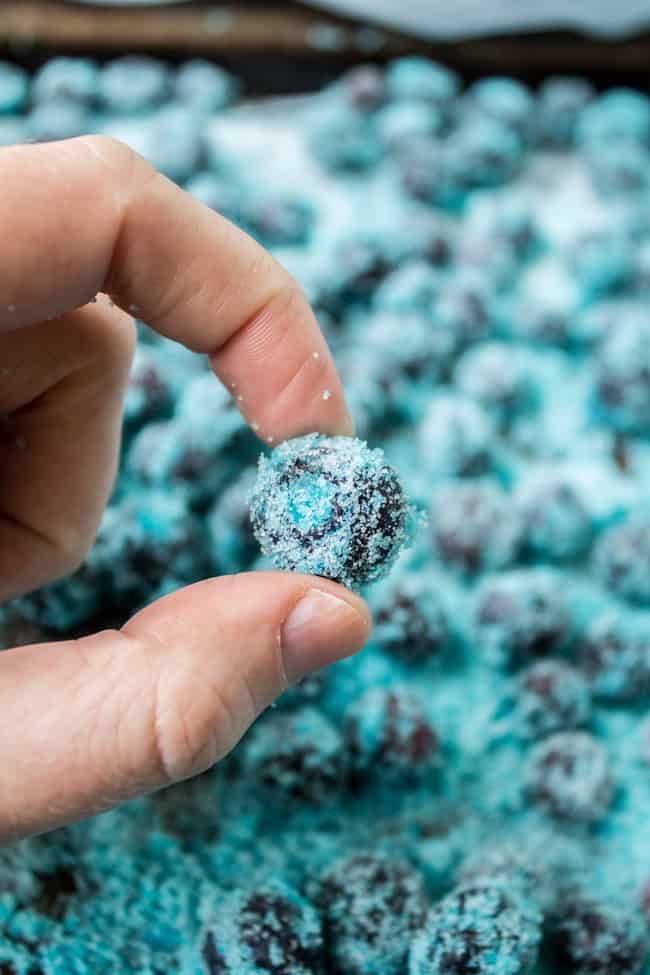 One of Char's friends just had an "Art Party." How cool is that? One of the activities at her cousin's recent party was "Catch the Chicken," in which they released all the chickens from the coop, and the first kid to catch one got candy. I mean how do you top that kind of entertainment (for both kids and adults)? You don't.
I honestly was considering using my motherly ways to "persuade" Charlotte into choosing a different party theme (by the way, since when do we have themes? Last year I was brainstorming birthday themes for Char, and Eric looked at me and said, "Birthday, Karen, the theme is BIRTHDAY, that's all.")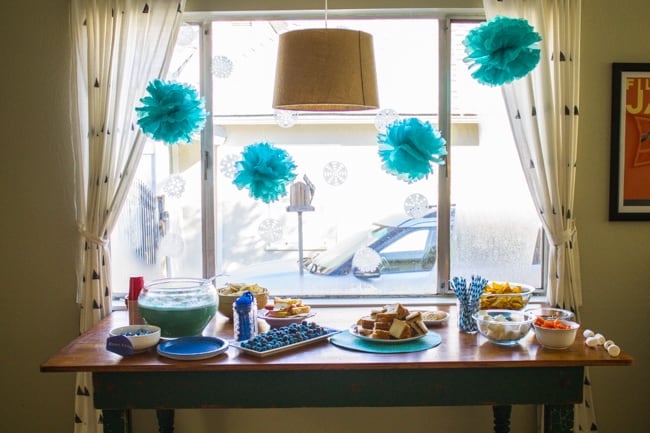 But Charlotte just loves Frozen so much. And a little tiny part of me loves party planning…shhh.
I was trying to think of blue food, and for some reason I thought of these Sour Patch Grapes that I made a few years ago. You just roll grapes around in jello powder and then let them dry out. Why not use blueberries? And thus Elsa Candy was born.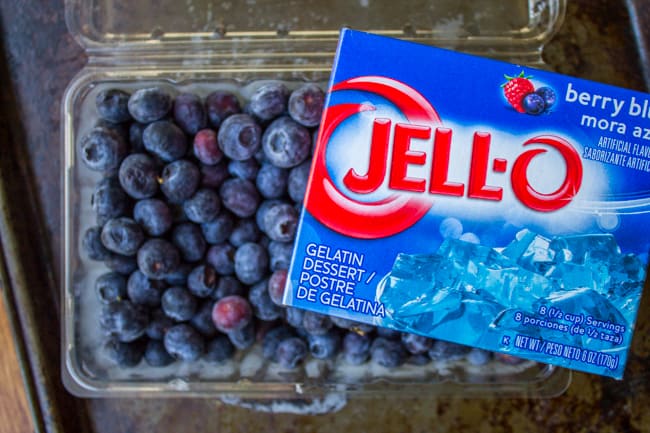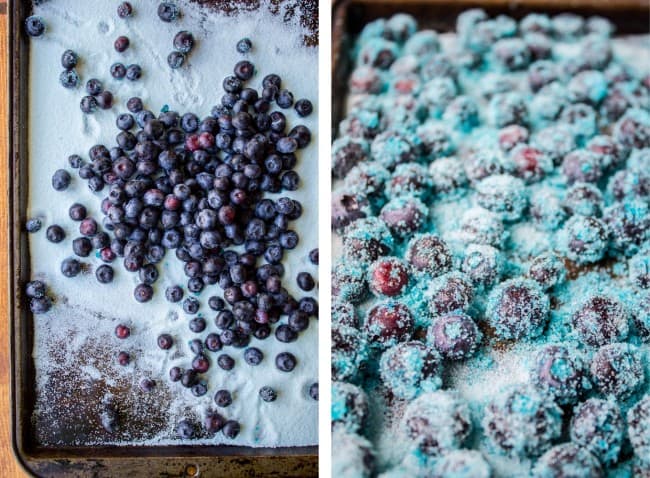 Eric tried these the first time I made them and said, "This is how blueberries should always taste." I guess he's not a big blueberry fan. (He's crazy.) I ate almost an entire pint of sugar crusted blueberries the first time I made this. It really does taste like sour candy. Totally addictive.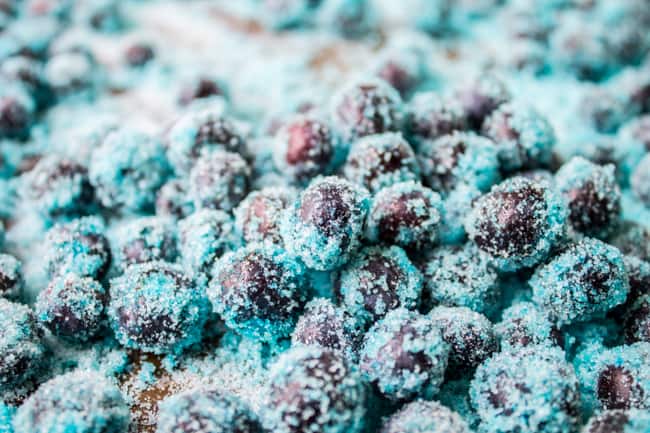 I included a list of activities and food below this recipe (and pictures, because my daughter is adorable. No shame.) You know, in case you also have a Frozen-obsessed child whose love you need to win. I didn't spend much at all. I'm all about Keepin' Up With the Jone's on the cheaps.
Do you guys give up? Or are you thirsty for more?
Facebook | Pinterest | Instagram | Twitter


print
Did you make this recipe?
Leave a review »
Elsa's Frozen Blueberry Candy
Ingredients
Fresh blueberries, the firmer the better

1

package blue Jello powder, not made (Berry Blue is what I used)
Instructions
Wash the blueberries in a colander and remove all stems.
Open the jello powder and sprinkle it over a rimmed baking sheet.
Rinse the blueberries one more time (you want them wet) and then add the blueberries to the jello powder.
Use a spoon to coat the blueberries in powder. Spread the blueberries out so that they are touching each other as little as possible. If they are touching, they will stay soggy and not get crunchy.
Freeze or refrigerate the blueberries uncovered on the baking sheet for at least an hour. (You can serve these frozen or just very cold.)
Serve immediately. If you put these in a bowl or in an dish where the berries are heaped together, they will get soggy. Still yummy, but not the same. It's best to serve them on a large platter or baking sheet.
by The Food Charlatan

If you make this recipe,
share it on Instagram
 using the hashtag
#TheFoodCharlatan
so I can see it!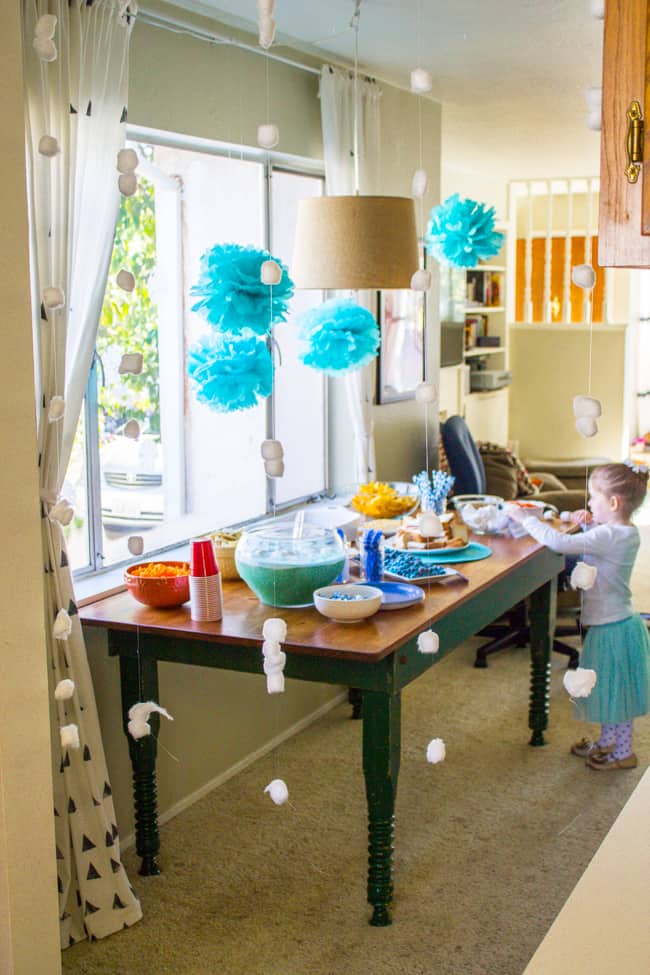 Can you see our cotton ball snow? We just used a needle to thread cotton balls onto fishing line, then pinned it to the ceiling. Idea from Magically Made.
If you have a Frozen-obsessed-child (also known as FOC…wait.) then you will know what this line means. I had my talented sister-in-law Reesy write the sign, but she accidentally spelled "Sandwiches" wrong. She started to do it over, and I had to remind her that NO ONE AT THIS PARTY CAN READ.
I also had a bowl of blue-wrapped Hershey's Kisses (Cookies and Cream), and I wanted to put a sign that said "I wanna stuff some chocolate in my face" but couldn't find a printable so in a moment of sanity I let it go. Let it go, let it GO…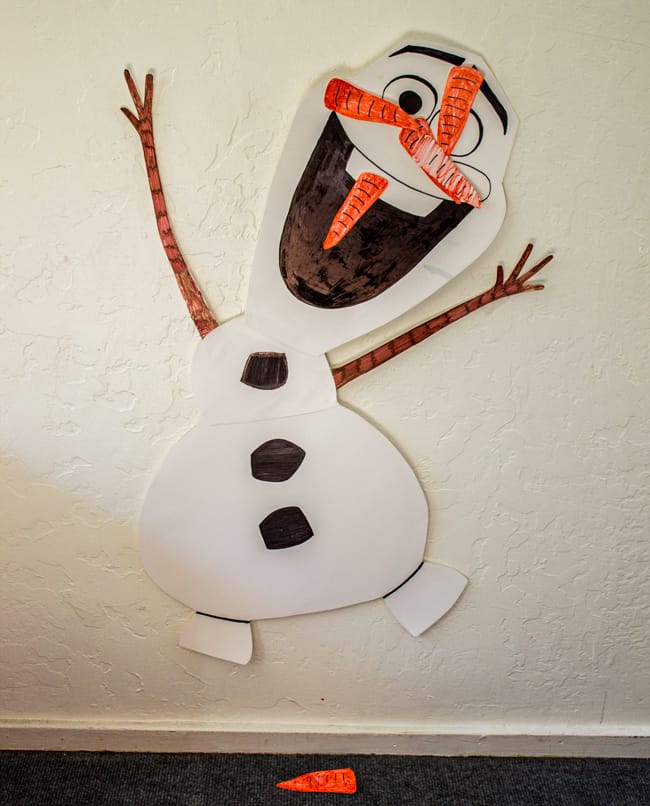 Here's Pin the Nose on Olaf. I have no recommendations for drawing this other than getting an artsy friend to do it for you. I'm hopeless when it comes to sketching. Mine would have ended up looking like the masochist snowmen in Calvin and Hobbes.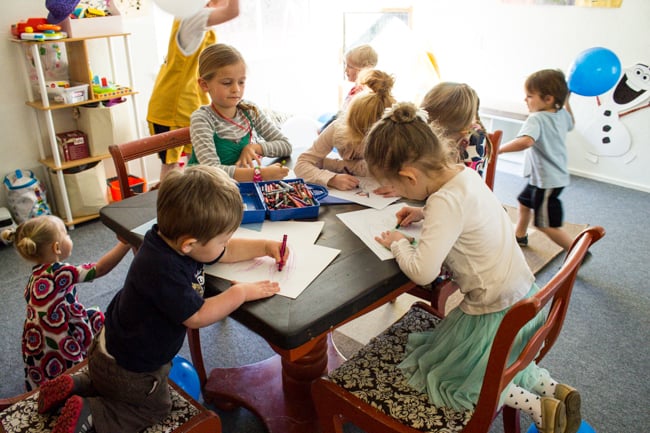 Coloring. Keep it simple.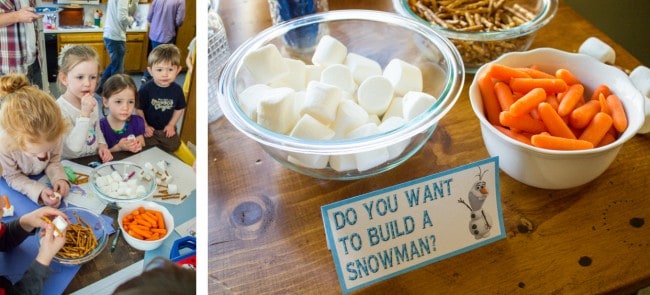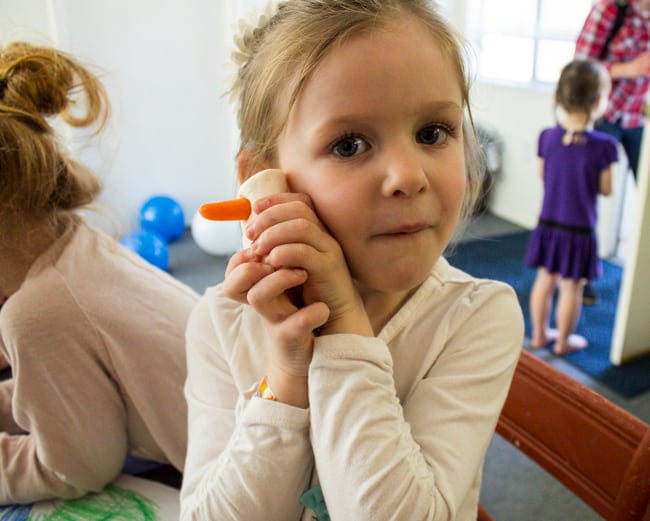 "Do you want to build a snowman" using marshmallows, pretzels, and carrots. They loved this. At the end I put most of the carrots back in the fridge but there were no marshmallows left. Go figure. (Printable here)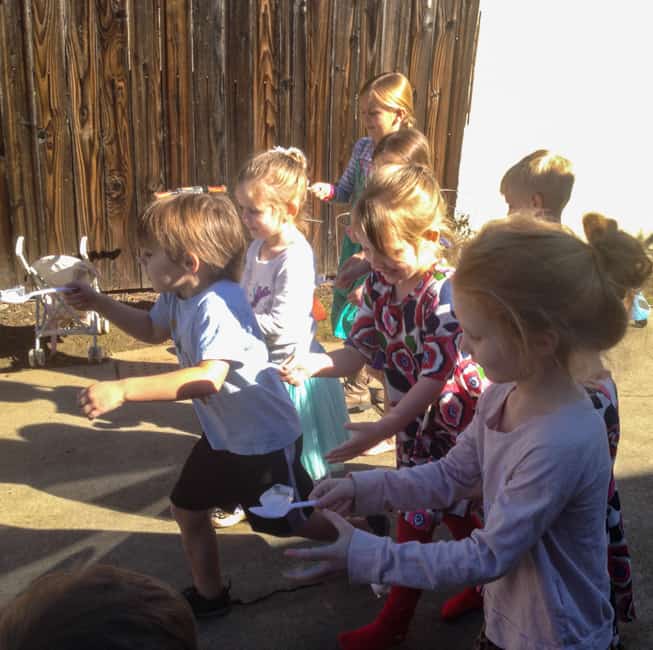 Ice cube race. I put ice on each of their spoons and they had to walk from point A to point B. This was fun to watch :) Thanks Beth Being Crafty for the idea!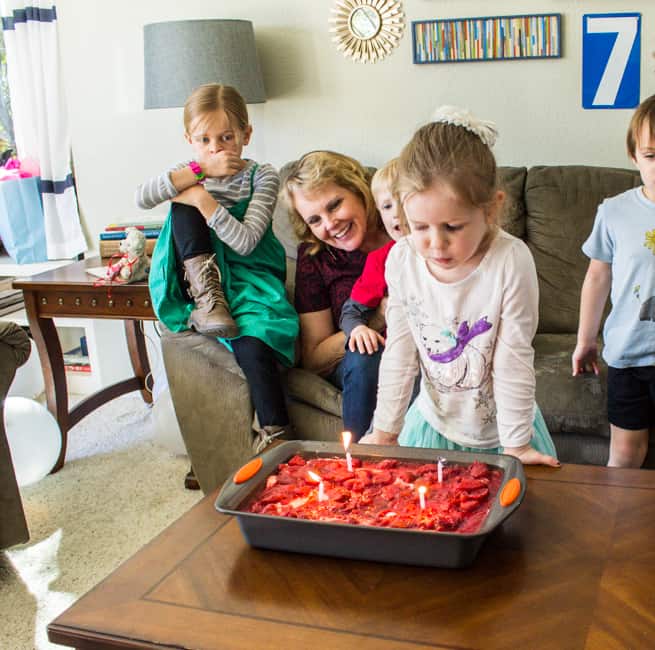 Strawberry Cake by request. Has nothing to do with Frozen, and thank goodness because who wants to eat blue cake. The recipe for this Strawberry Wet Cake is from Diary of a Recipe Collector and it's delicious! But apparently 4-year-olds don't actually want strawberries in their strawberry cake. Charlotte took one bite, couldn't find the frosting, and then left to blow bubbles.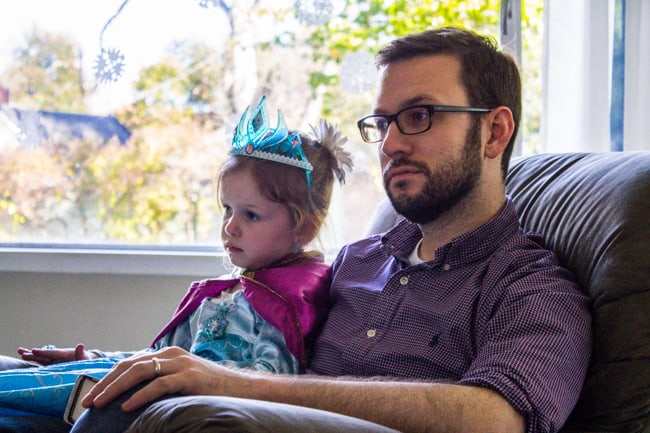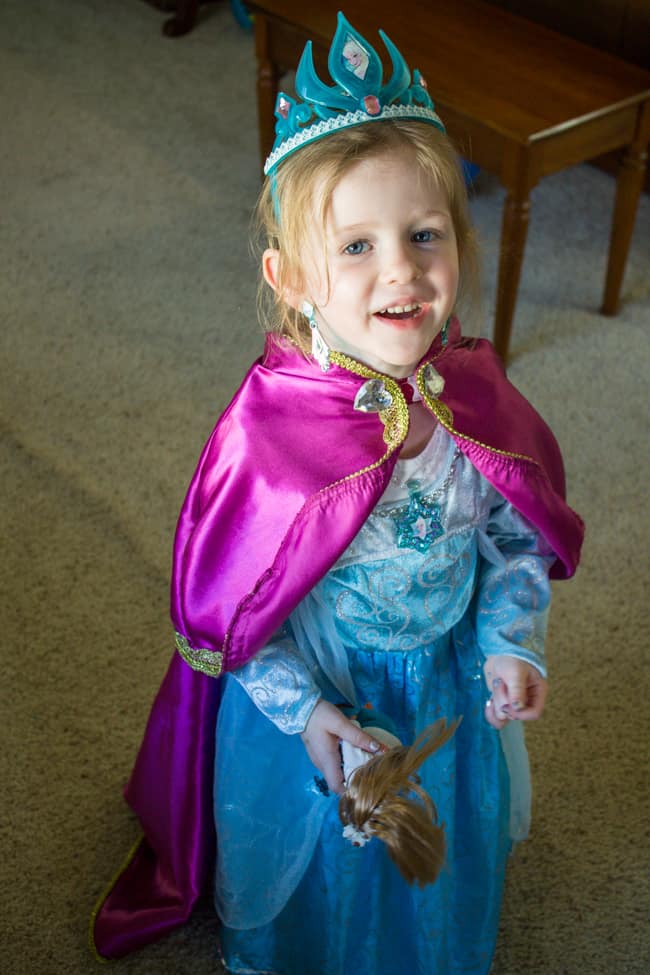 Happy birthday Charlotte Elsa!
Decorations:
homemade snowflakes made from cheap cupcake liners
blue pom poms
Cotton ball snow (cotton threaded onto fishing line and hung from the ceiling)
Olaf (pin the nose)
Happy birthday banner (not on theme) that I already had
Activites:
Pin the Nose on Olaf
Ice cube Race
Do you want to Build a Snowman? (Marshmallows, pretzels, carrots)
Coloring
Keep your snowball (balloon) off the ground
bubbles
Things I bought (almost all of it at the Dollar Store):
cotton balls $1
loot bags $1
Hugs $8 (For favors-"I just want to give you a hug," found here)
Kisses, $4 (For this idea, and to use for kids who won games)
ballons, blue/white $2
Pom poms $2
Blue & white paper straws-I already had them
large blue plates $1
small blue plates $1
blue silverware $1
cupcake liners (to make snowflakes) – I already had some
2 white poster boards $2 (to make 'Pin the nose on Olaf')
Those tiny wedding bubbles, 16 bottles for $2
Food:
Blue Ducky punch, I left out the ducks obviously (this was delicious, btw)
tortilla chips (for dip^)
Ritz crackers (for dip)
Elsa's Frozen Blueberry Candy
cheetos (could double as "Olaf noses")
Cookies and Cream Kisses (blue wrappers)
sliced apples
Peanut butter and jelly sandwiches
marshmallows
carrots
pretzels (straight)
Strawberry Cake
Hugs (for the party favors)
If Blueberry Candy sounds good to you, definitely try the grape version: Sour Patch Grapes (Leprechaun Candy/Glitter Grapes):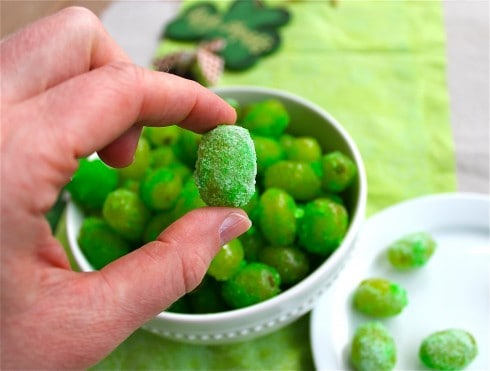 I made this Cheesy Buffalo Chicken Dip for the party-I doubled it and it was gone so fast (the adults ate it, not kids):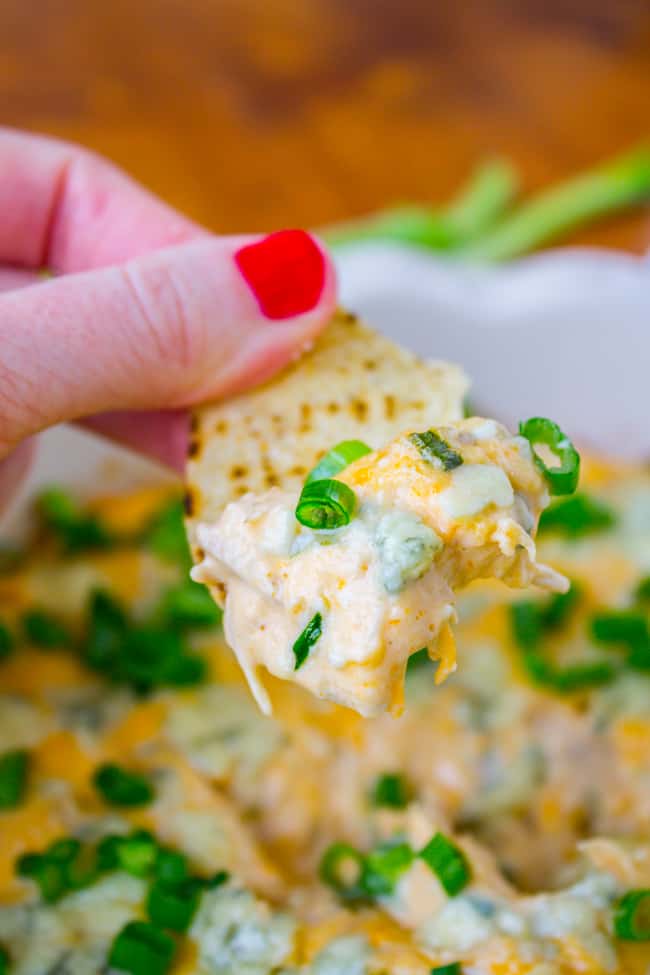 Check out these other easy appetizer ideas for your party: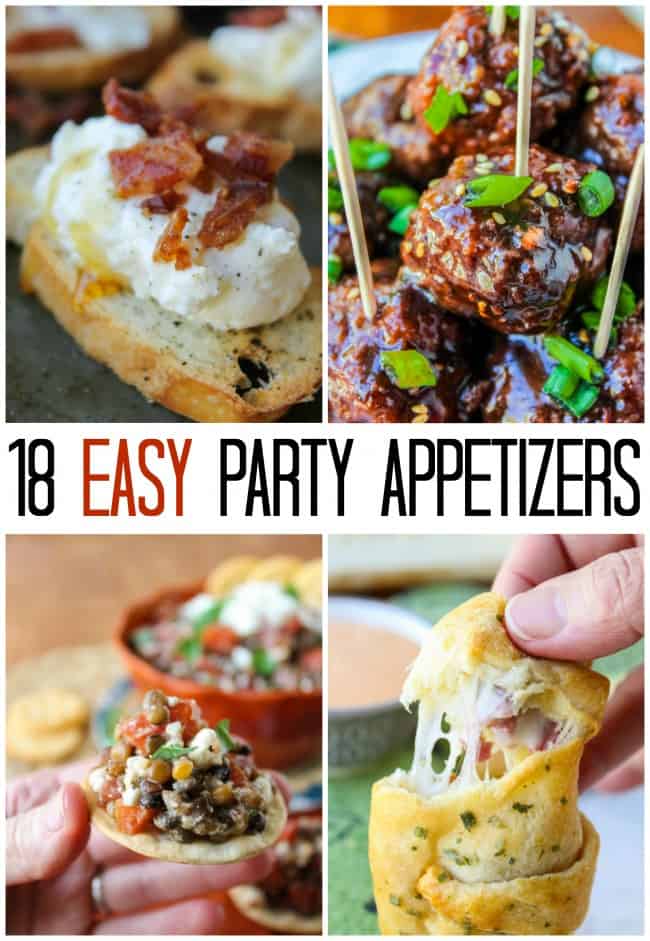 More blueberry appetizer ideas:
Easy Blueberry Cheesecake Bites from Gimme Some Oven
Blueberry Breakfast Oatmeal Bars from Delightful-E Made
Blueberry Cornbread Muffins from Damn Delicious
Comments
comments