I know I'm a day late, but you guys should bookmark these cookies for next Halloween.  I made them last minute so I didn't have time to write about them yesterday.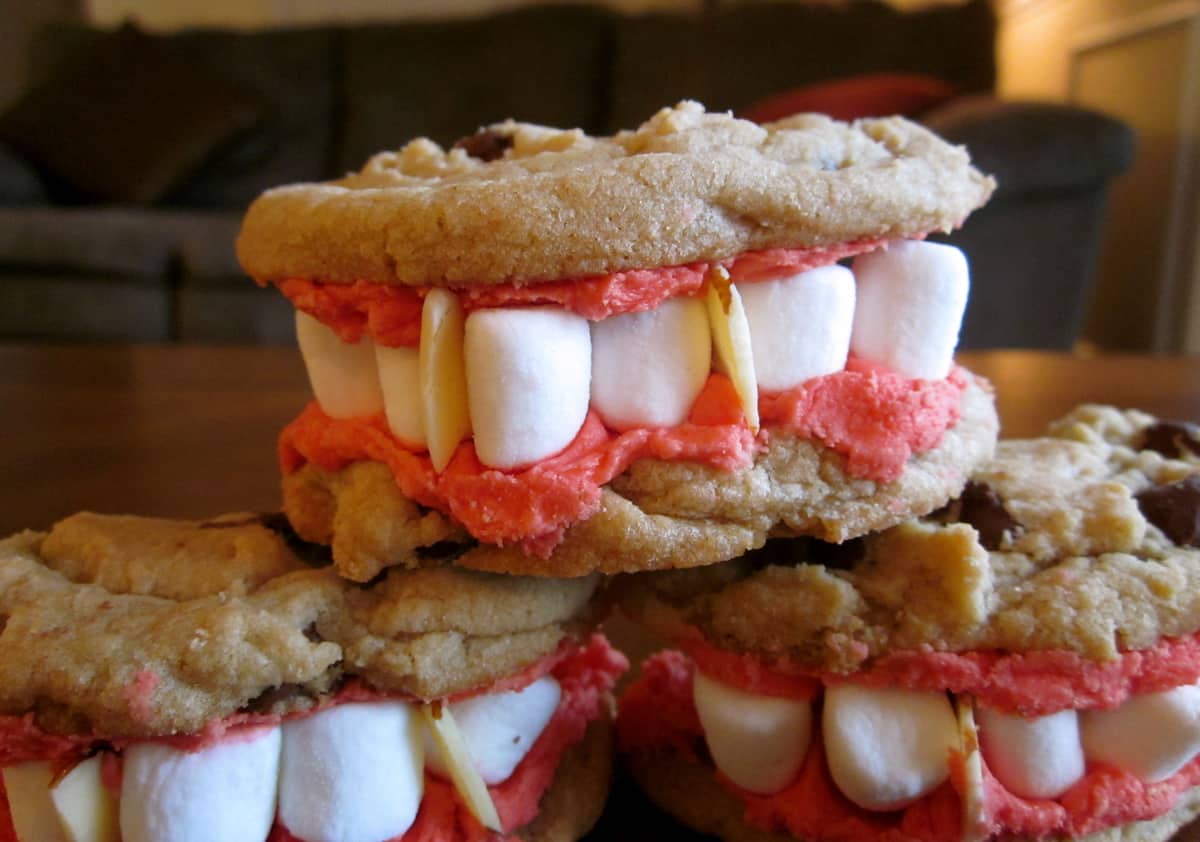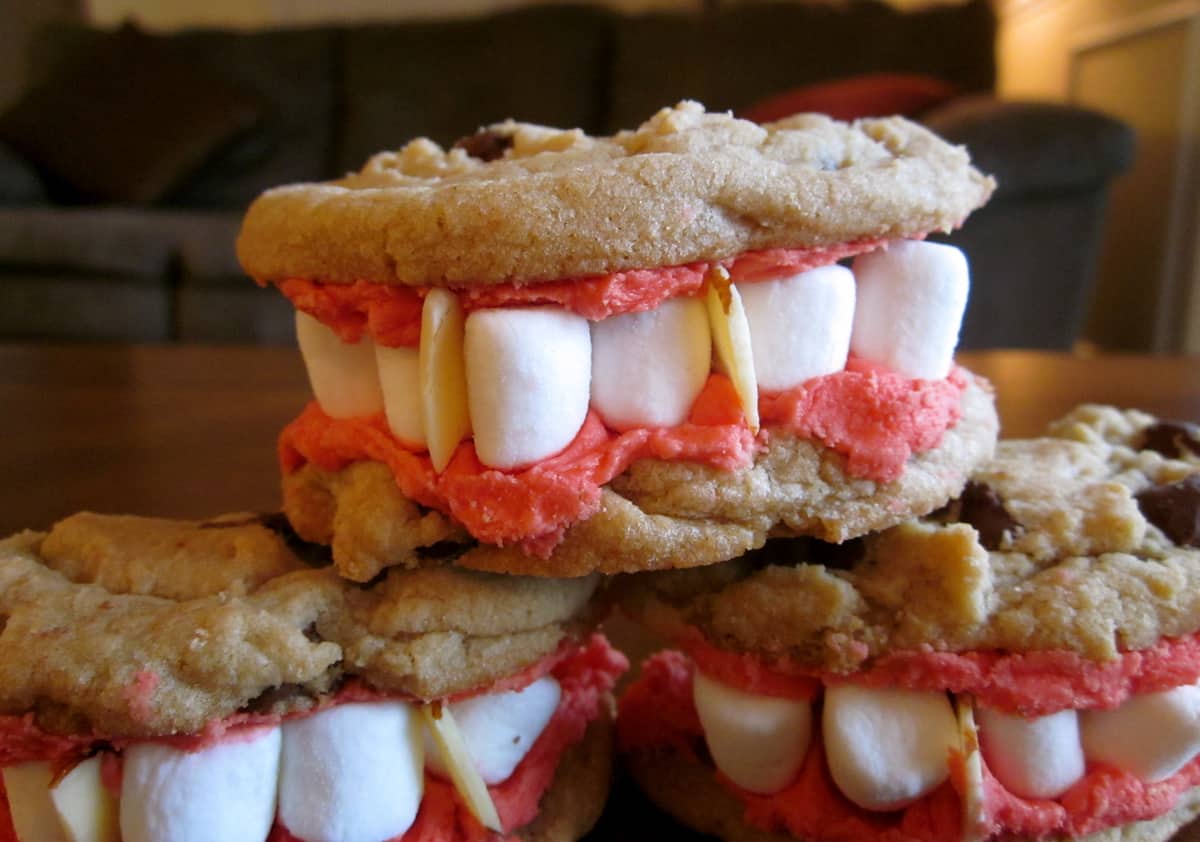 Dracula's Dentures!  Aren't these fabulous?  They are so easy.
Eric and Charlotte and I had a fun Halloween.  Grandma bought her a princess costume last year when she was in utero, (Grandma was just a little excited for grandchild number one) so she was all ready to go.  Eric and I decided last minute to complete the theme–he went as the gallant knight and I was the sinister dragon.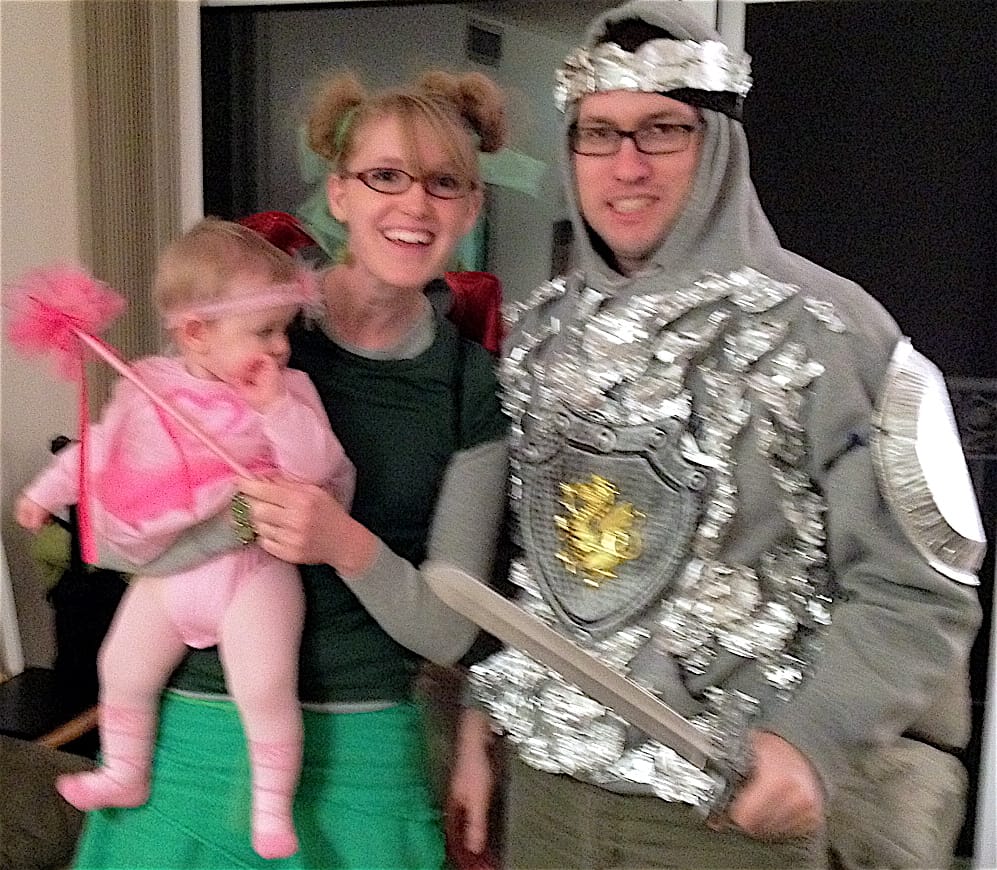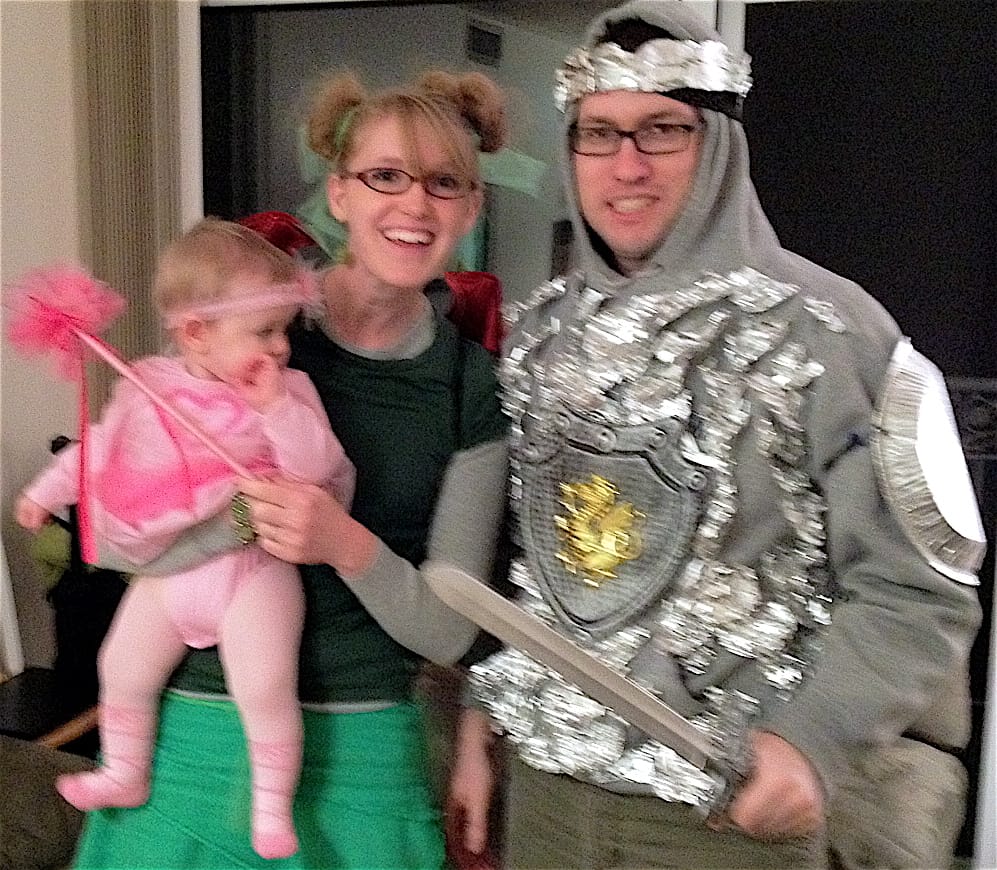 I mentioned these were last minute, right?  In my defense, you can't see my wings or awesome tail with wicked foil-covered spikes.  And although I spent over an hour painstakingly cutting out circles of aluminum for Eric's armor, sadly he just looks like he's wearing a sweatshirt covered with gum wrappers.  Oh well. Points for effort right?
The cookies were a hit, especially with my 3 nieces. Although I'm pretty sure they just licked off the frosting and ate the marshmallows (after carefully picking off the tiny slivers of almonds, with disgusted looks on their faces).  Though why anyone would ever pass up these to-die-for chocolate chip cookies is beyond me.
(P.S. Can I get a shout out for finally posting a dessert that does not include pumpkin?)
Dracula's Dentures
Source: The Girl Who Ate Everything
1 package (18.25 ounces) refrigerated chocolate chip cookie dough, or your favorite cookie recipe (my cookie recipe is a recent find from my sister in law Reesy, and are good enough to deserve their own post, so you will just have to wait.)
1/2 cup prepared vanilla frosting, tinted red* (I'm pretty sure I used waaay more than a half cup)
1 3/4 cups miniature marshmallows
48 slivered almonds
Directions:
Prepare cookies as directed on package or according to your favorite recipe. Cool on baking sheets for 2 minutes; remove to wire rack to cool completely. Cut each cookie in half for a total of 48 halves.
Frost the bottoms of all cookie halves with frosting. Place 6 marshmallow teeth around curved perimeter of 24 halves. For additional support, an additional marshmallow can be placed behind the teeth. Top with remaining 24 halves.  Insert two almond slivers in between teeth for fangs. If fangs do not adhere, dip tips into frosting.
*I used my favorite sugar cookie frosting recipe.  I use this buttercream for everything.  It is so good.  Because it has about twice the butter.  I halved this recipe once for Dracula's Dentures, and decreased the milk because I had to use so much liquid food coloring.