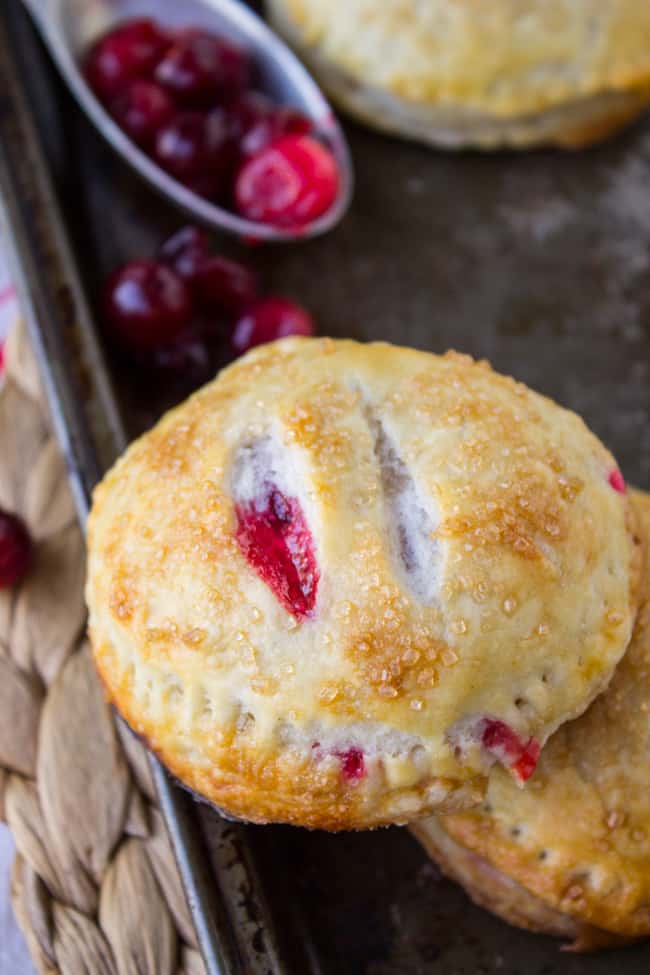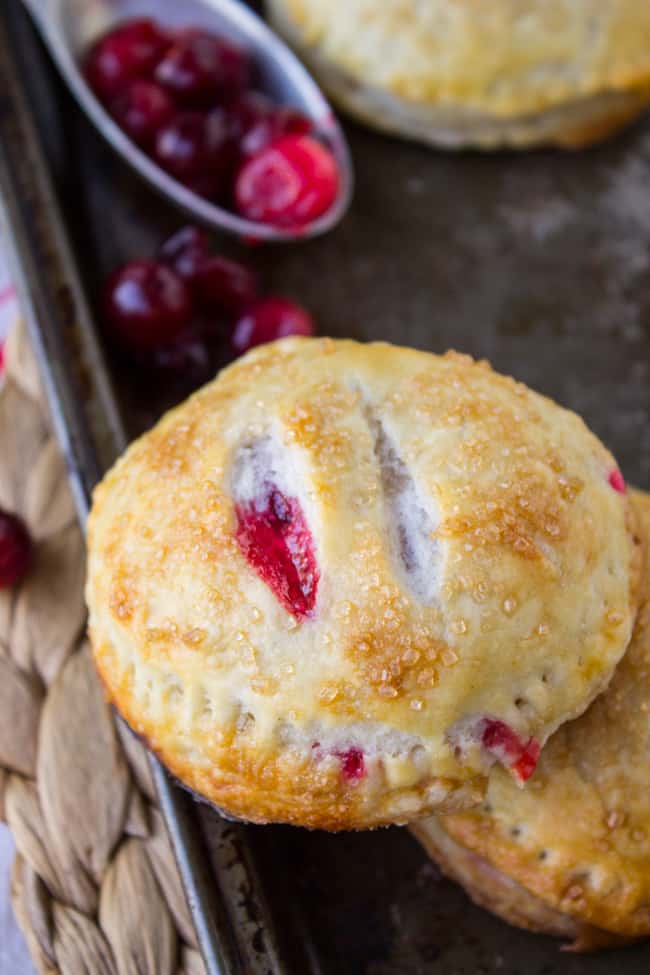 Did you make this recipe?
Leave a review »
Cranberry Dulce de Leche Hand Pies
Makes 12-14 (3-inch) hand pies
adjust servings
Ingredients
For the cranberry filling
For the dough
2

cup flour, spooned and leveled

1/2

teaspoon salt

1/2

teaspoon baking powder

1

cup (2 sticks) unsalted butter, cut into pieces

1/2

cup sour cream

1

(13 oz) can Dulce de Leche* (Here's How to Make Dulce de Leche at home)

1

large egg

1

tablespoon water

Any kind of coarse sugar, for sprinkling
Instructions
Add the cranberries, sugar, and 3 tablespoons water to a medium saucepan. Set to medium-high heat until it comes to a simmer. Simmer for another 2-4 minutes, or until most of the cranberries have split.
Meanwhile, in a small bowl whisk together 1 tablespoon cornstarch with 1 tablespoon cold water. When there are no lumps, add to the cranberries and stir. Lower the heat to medium-low and cook for another minute or two, until the sauce thickens. Scrape the mixture into a bowl and let come to room temperature (stick it in the fridge if you want).
Make the dough. In a large bowl, combine 2 cups of flour with salt and baking powder. Use your hands or a pastry cutter (or pulse in a food processor) to cut the butter into the flour. You want it to be crumbled but still have pea-size pieces of butter.
Add the sour cream and stir. It won't come together. Use your hands to knead the dough together a few times until it forms a ball. (I do this right in the bowl.)
Flatten out the dough and place onto a well-floured work surface. Sprinkle the top with flour. Roll the dough into an 8x10 inch rectangle.
Grab both of the short ends and fold it over like a business letter (see photos).
Rotate the dough 90 degrees. Roll the dough into another 8x10 inch rectangle. Fold it again like a business letter. Wrap tightly in plastic wrap and refrigerate for 30 minutes at least.
Preheat your oven to 425 degrees F.
Roll out the dough into a 14x14 inch square. (let sit out of the fridge for a few minutes if it's too hard to roll out.)
Use a 3-inch biscuit cutter or similar sized glass to cut as many circles as you can out of the dough. Re-roll and cut as necessary until the dough is gone.
Line 2 large baking sheets with silpats or parchment paper. Line up 6 or 8 circles on each sheet (however many you can fit).
Use 2 spoons to add about 1 1/2-2 teaspoons Dulce de Leche (Here's How to Make Dulce de Leche at home) to the center of each circle.
Use 2 spoons to add 1-2 tablespoons of the cranberry filling on top of the Dulce de Leche. Keep the edges of the circle clean.
Top each pie with another circle of dough. Pinch together with your fingers (pick it up if that makes it easier.) Crimp the edges with a fork.
In a bowl, whisk together the egg and 1 tablespoon water. Brush the top of each pie with the egg wash.
Use a sharp knife to cut slits in the top of each pie. Sprinkle with sparkling sugar or raw sugar.
Bake at 425 for about 13 minutes, or until they are brown on top.
Let cool for 10-20 minutes before stuffing your face.
by The Food Charlatan