It's like sugar cookies and cinnamon rolls got together and had the most glorious of all babies: Cinnamon Roll Cookies! I took my extra-soft sugar cookie dough and rolled it up with some brown sugar and cinnamon, then glazed until perfection. Does this mean we can officially eat cookies for breakfast?? I'm down.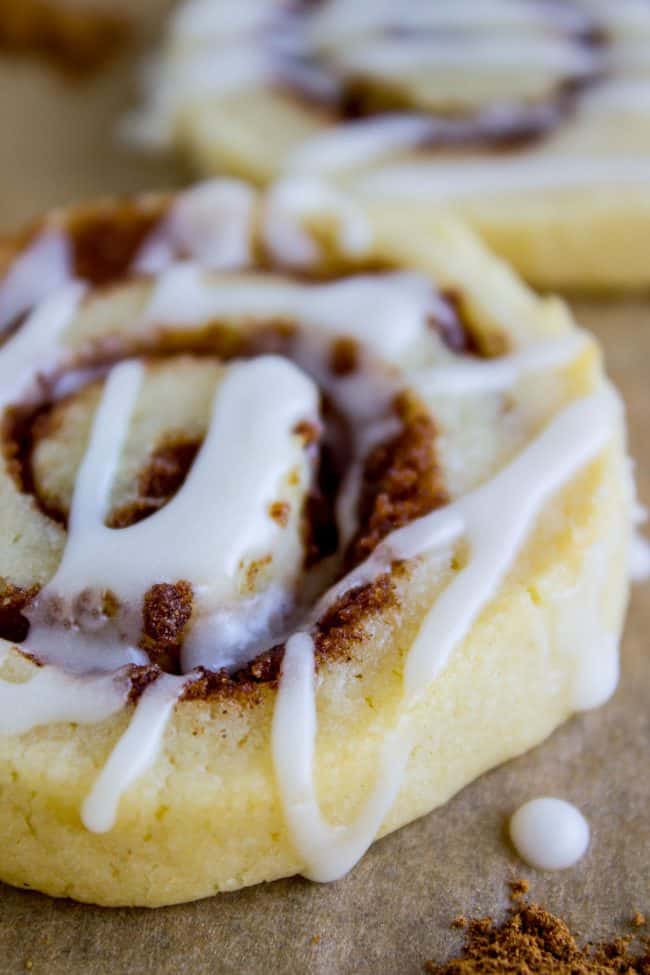 I started a diet. (UGH! How dare I start a post about Cinnamon Roll Cookies with such heresy?)
So this diet…I mean it's not really a diet. It's the whole 30. Have you heard of it? It's basically just eating "whole" foods for 30 days, like veggies and fruits and meat. No grains, no dairy…no sugar.
*Cue the laughter and several shots of Cinnamon Roll Cookies*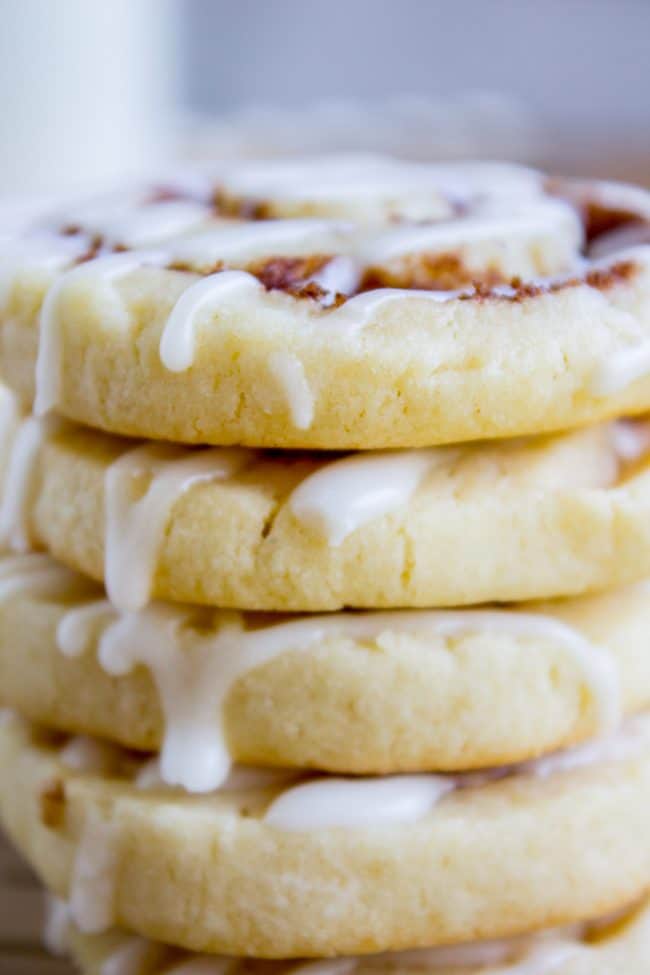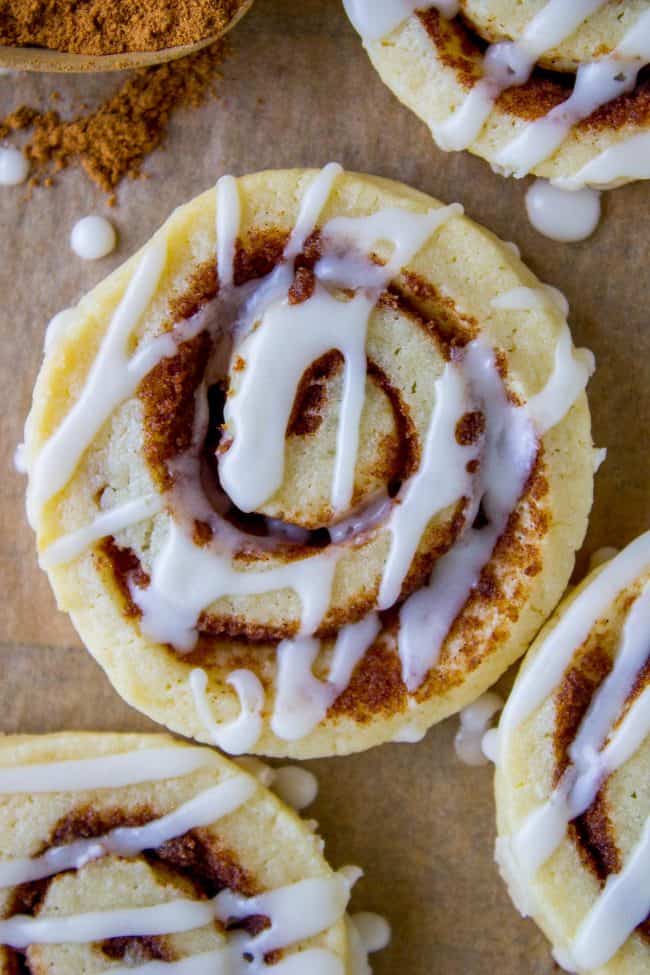 When my sister Laura heard I was starting a kinda-whole-30, she said she would do it with me. Mostly. Her daughter's birthday is coming up and she wasn't going to spoil the fun by not eating the cupcakes. I mean what kind of mom does that?
She asked me how the whole 30 was going today and I said great! I've eaten all whole foods so far…except for lunch today, which was 100% stuffing my face with these Cinnamon Roll Cookies as I shot them. Did you really think I could go a whole 30 days without posting a dessert recipe??
See what thoughtful dieters we are? Laura doesn't want to disappoint her daughter, and I don't want to disappoint all of you lovely readers. How could I deprive you of these cinnamony delights??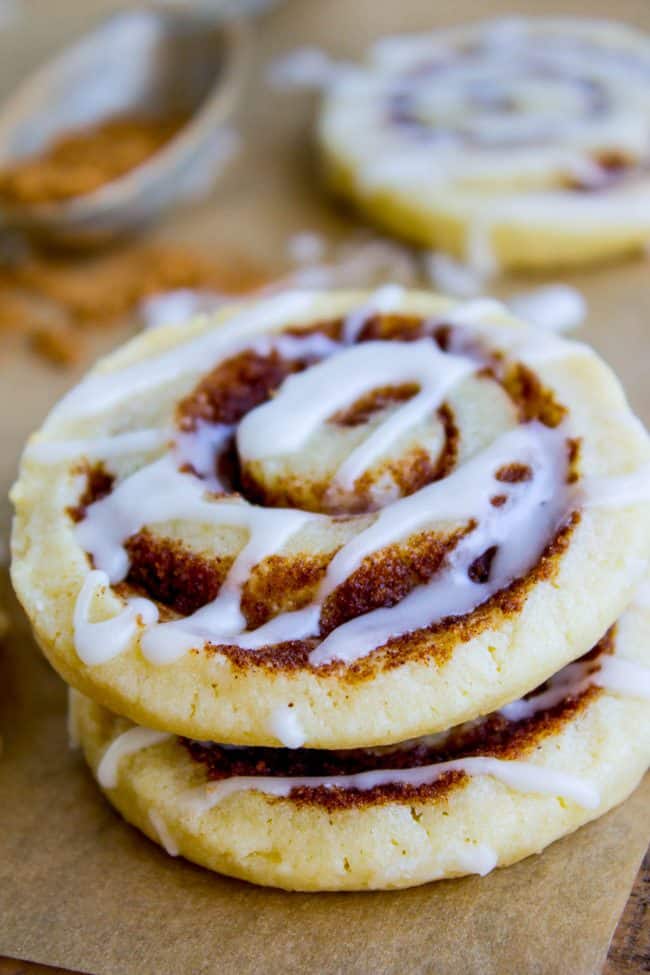 The idea literally fell into my head. I was just about to get into bed 2 nights ago, when for some strange reason a cinnamon roll cookie drizzled with glaze popped into my head (could it be a sugar craving because I had only eaten blasted whole foods that whole day? Surely not…) So I wrote it down and the next morning got to testing.
I'm so happy with how they turned out! This was my first try, too. I didn't even have to change the sugar cookie recipe. Well…not much anyway. Everything is better when it's rolled up with cinnamon sugar, I say! Put that on my tombstone.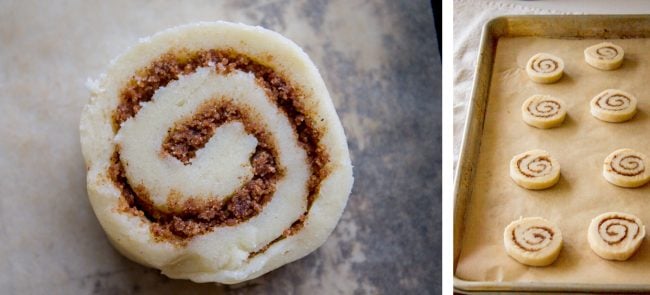 Have you tried The SOFTEST Sugar Cookies of Your Life (That Hold Their Shape) yet? They are the best sugar cookies I've ever had. The secret ingredient is the cream cheese in the dough. They have tons of buttery flavor, and stay SUPER soft. I hate crunchy sugar cookies. And they are oh so thick. I cut these Cinnamon Roll Cookies just as thick as I roll the sugar cookies, so they are  the same as far as soft-and-thick-and-flavorful goes. And then there's the cinnamon sugar. And the glaze! And the cute little swirly! Ah!
Make these this weekend! If you're on a diet, do the right thing. Make them anyway.
P.S. I asked on an Instagram story whether or not I should glaze these cookies, and 6% said no glaze. Who are you people???
Facebook | Pinterest | Instagram | Twitter
One year ago: 10 Minute Sauteed Zucchini and Squash Side Dish
Three years ago: Almond Crusted Honey Dijon Tilapia
Six years ago: Oatmeal Buttermilk Pancakes < these are so good.

Cinnamon Roll Sugar Cookies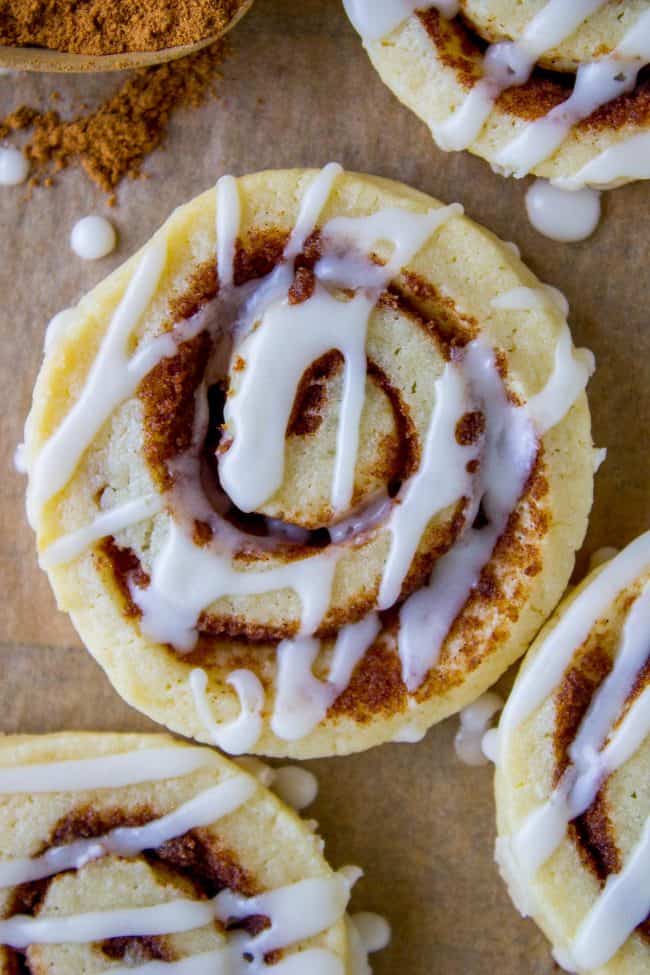 It's like sugar cookies and cinnamon rolls got together and had the most glorious of all babies: Cinnamon Roll Cookies! I took my extra-soft sugar cookie dough and rolled it up with some brown sugar and cinnamon, then glazed until perfection.
Ingredients
For the cookies
3/4

cup

salted butter

,

softened (1 & 1/2 sticks)

4

ounces

cream cheese

,

softened

1 & 1/2

cups

granulated sugar

1

egg

2

teaspoons

vanilla

3/4

teaspoon

almond extract

1

teaspoon

salt

3

cups

all purpose flour

,

spooned and leveled
For the cinnamon filling
2

tablespoons

melted butter

1/2

cup

brown sugar

1 & 1/2

tablespoons

cinnamon
For the glaze
1

teaspoon

softened butter

,

optional

1

cup

powdered sugar

1/2

teaspoon

vanilla

1-3

tablespoons

milk
Instructions
In a large bowl or stand mixer, beat the butter on medium speed until it is soft and fluffy, 1-2 minutes.

Add the softened cream cheese* and continue to beat for 1 minute, until well incorporated.

Add the sugar and beat well, 1-2 minutes, until fluffy.

Add the egg, vanilla, and almond extract. Beat well. Scrape the sides and bottom of the bowl with a spatula.

This is my spatula

that I love and use for every baking project.

Add salt and flour and beat until just barely combined, scraping the sides and bottom again. Do not stir too much or you will make your dough tough. The dough is pretty sticky!

Scrape the dough out onto a sheet of plastic wrap (or into a ziplock or tupperware). Cover or wrap tightly and put it in the fridge for 2 hours (or overnight) or in the freezer for 1-2 hours. (If I am in a hurry I will split the dough in half and wrap separately so that it will chill faster.)

Meanwhile, make the cinnamon filling. Melt 2 tablespoons of butter in a small bowl. Add brown sugar and cinnamon and stir together. Set aside.

When the dough is completely chilled, prepare a work surface with a light dusting of flour or powdered sugar.

If you have not already split the dough in half, do so now. Put half in the fridge, wrapped.

Use floured hands to flatten out the dough a bit, then use a rolling pin to roll it and smooth it out into a rectangle. Keep rolling until you have a 12x9 inch rectangle. Turn the dough over a couple times so that you make sure it's not sticking to your work surface!

Spread HALF of the cinnamon filling over the dough, leaving at least a half inch of dough clean at each edge.

Now it's time to roll the dough, starting with the long edge. Take care when you first roll to tuck it in really tight, this will be the center of your cookie. Continue rolling as tightly as you can.

Put some water in a bowl and wet your fingers. Use your fingers to completely seal the long edge of the dough (see photos). You don't need to seal the ends. Pat the wet edge with flour. You should have a sealed tube of dough.

Wrap tightly with plastic wrap and refrigerate for 30 minutes.

Preheat oven to 350 degrees F.

When you are ready to bake, remove the dough from the plastic wrap and use a very sharp serrated knife to cut the dough into half inch slices. (Or somewhere between a 1/4 in and 1/2 inch). Work quickly so that the dough stays chilled, you need it to go into the oven very cold. Don't push down on the knife, use a sawing motion. Be on the conservative side of a half inch when slicing, if these cookies are too tall, they will look funny when you bake them. When I am baking regular sugar cookies, I cut the dough about 3/8 inch thick.

Place the slices onto the baking sheet with at least 2 inches between each cookie. I fit 12 onto a sheet.

If you have space in your fridge, chill the whole baking sheet for another 5 minutes. The colder your dough is, the better it will hold it's shape. If you don't have space or time, then just get them into the oven as fast as possible.

Bake at 350 for about 8-10 minutes. The cookies are going to look under baked (shiny) because of the butter in the filling. Take them out and check the bottom of a cookie with a spatula. You want to aim for a VERY light golden brown color. Stick them back in for another minute or two if necessary.

Remove from the oven and let cool on the pan for 5 minutes. Transfer to a cooling rack and let cool completely.

Continue with the rest of the dough, chilling the dough when not in use.

Make the glaze: in a small bowl, stir together 1 teaspoon softened butter (you can skip this if you want) with powdered sugar, 1/2 teaspoon vanilla, and 1 tablespoon milk. Stir together until a glaze forms. Add milk in 1 teaspoon increments until it has reached a consistency you like.

When the cookies have cooled, drizzle them with the glaze. You can use a spoon, or put the glaze in a small ziplock bag and snip a corner.

Let the glaze harden (or don't) and then stuff your face!
Notes
*You can soften cream cheese in the microwave. Put it on a plate and set your microwave for power level 2, then microwave for 1 minute.
Nutrition
Serving:
1
g
|
Calories:
120
kcal
|
Carbohydrates:
18
g
|
Protein:
1
g
|
Fat:
5
g
|
Saturated Fat:
3
g
|
Polyunsaturated Fat:
1
g
|
Monounsaturated Fat:
1
g
|
Trans Fat:
1
g
|
Cholesterol:
16
mg
|
Sodium:
95
mg
|
Potassium:
20
mg
|
Fiber:
1
g
|
Sugar:
12
g
|
Vitamin A:
153
IU
|
Vitamin C:
1
mg
|
Calcium:
11
mg
|
Iron:
1
mg
You will love these other cookie recipes!
The SOFTEST Sugar Cookies of Your Life (That Hold Their Shape) << these really are the best sugar cookies. Hundreds of people have tried them and I have yet to receive a negative review!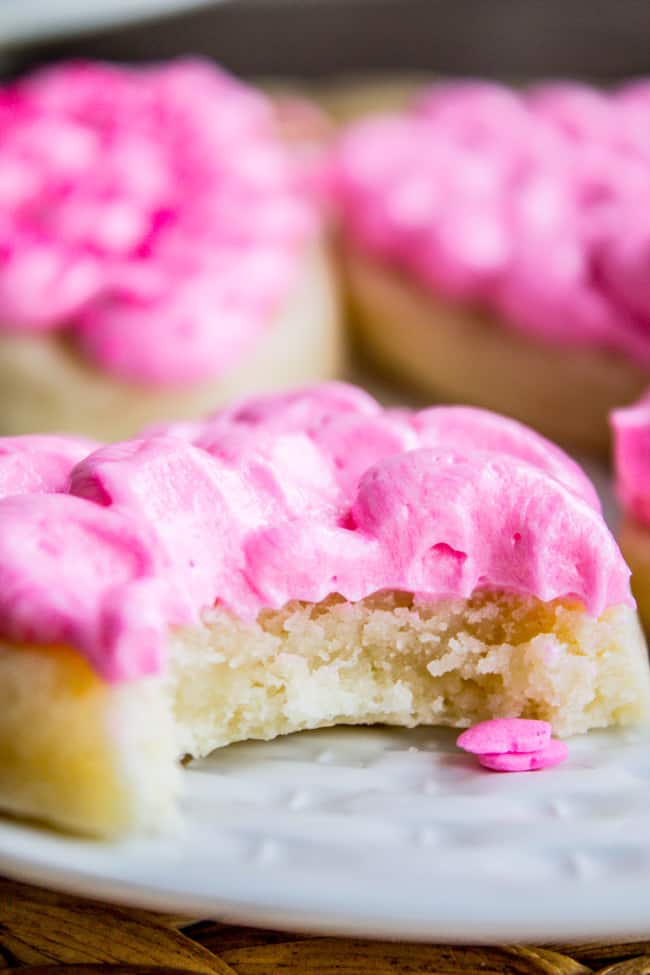 Snickerdoodle Biscoff Sandwich Cookies << soooo good!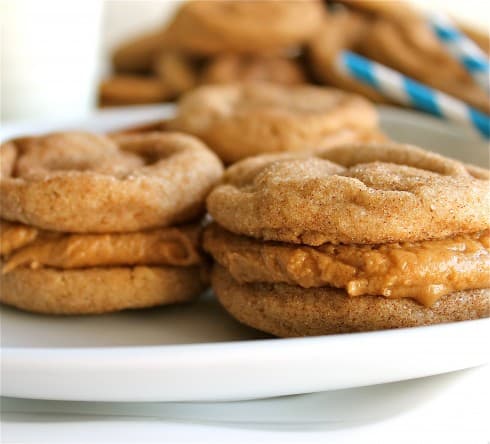 Soft Cinnamon Cookies with Maple Pecan Frosting << EPIC.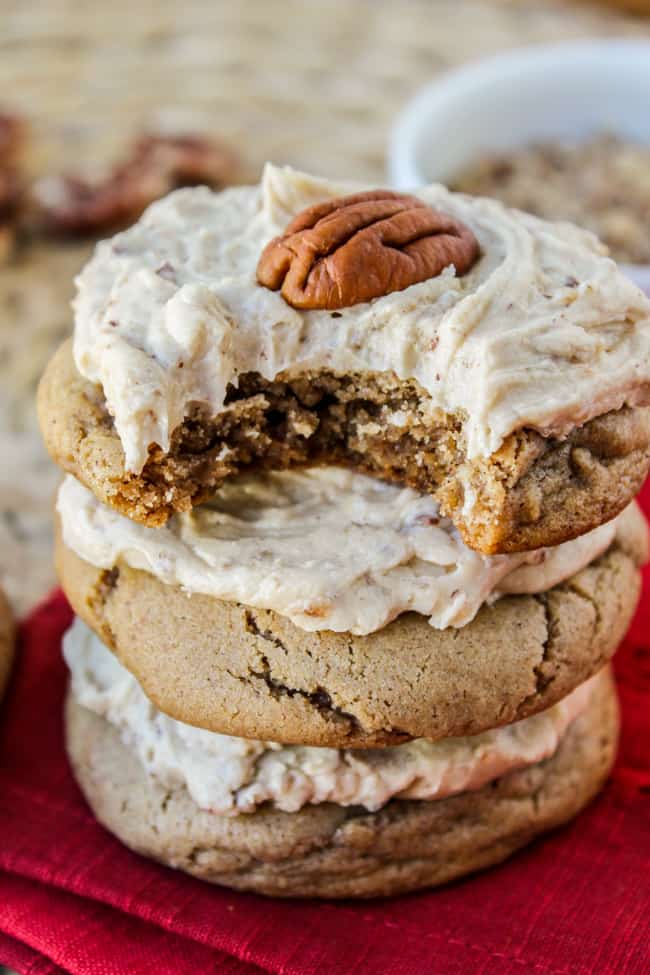 Other Cinnamon Rolls Cookies from other bloggers that you will love!
Cinnamon Roll Cookies from Oh Sweet Basil
Cinnamon Roll Cookies from In Katrina's Kitchen
Strawberry Cinnamon Rolls Cookies from The Cookie Rookie