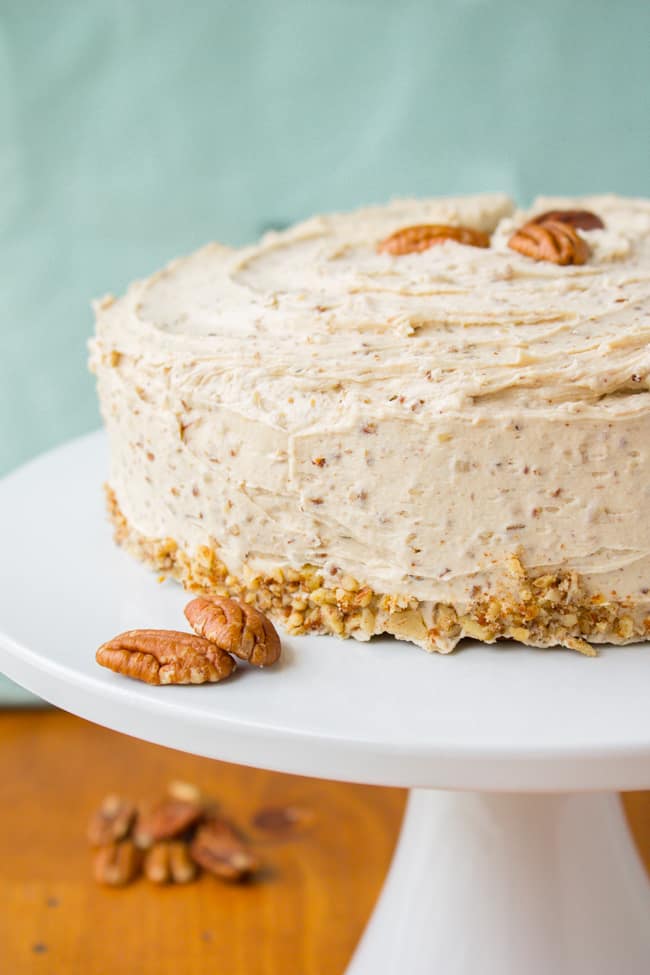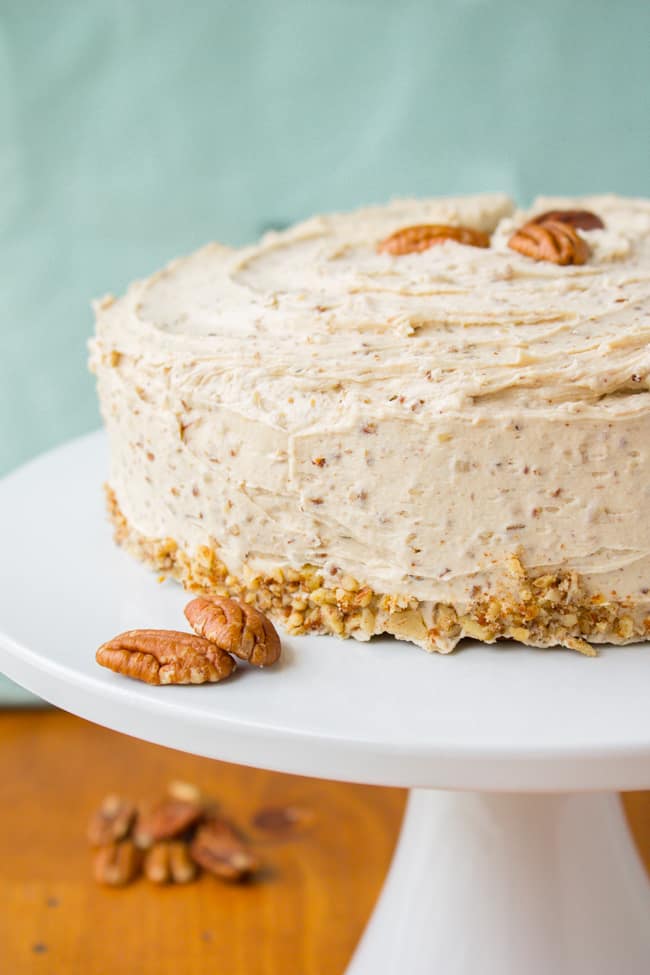 Did you make this recipe?
Leave a review »
Cinnamon-Cardamom Cake with Maple Pecan Frosting
One 2-layer cake, serves 10-15
adjust servings
Ingredients
1

(15 or 16 ounce) yellow cake mix

1

(3.4 ounce) vanilla pudding mix (dry, don't make pudding!)

1/2

cup water

1/2

cup oil

1

cup sour cream

3

large eggs, room temperature

7

teaspoons cinnamon

1

teaspoon cardamom

1/2

cup toasted pecans, finely chopped*

whole toasted pecans, for garnish
Instructions
Preheat oven to 300 degrees F.
In a large bowl or stand mixer, beat together all cake ingredients (cake mix through cardamom). Scrape down the sides and bottom with a rubber spatula. Beat for another 3 minutes.
Pull out enough parchment paper so that both your cake pans fit on it. Fold the paper in half. Use a pencil to trace the bottom of one cake pan onto the paper. Then cut out the folded paper so you get 2 circles. Place the 2 circles in the cake pans. Spray the sides of the cake pans with nonstick spray.
Divide the batter between the pans. Drop each pan onto your counter from a few inches up, so that some of the air bubbles pop.
Bake the cakes at 300 degrees for about 27-30 minutes, or until a toothpick comes out clean, and the center springs back immediately when you touch it.
Let cakes cool 10 minutes in the pan, then run a plastic knife around the edges and invert onto a cooling rack. Let cool completely.
Wrap each cake in plastic wrap and place on a flat surface (I use a cutting board) in your freezer. Freeze overnight or at least 2-3 hours. This makes it so much easier to frost.
Remove one cake from the freezer and place on a cake plate. Add strips of parchment paper to the edges of the cake (see photos).
Spoon about one cup of frosting onto the top of the cake and spread to the edges.
Take the other cake out of the freezer and place on top of the frosted first layer. Use a sharp serrated knife to trim the top of the cake to make sure it's even.
Frost the top and sides of the cake with the remaining frosting.
Carefully spoon a small amount of chopped pecans to the side of the cake, on top of the parchment paper. Gently press the pecans into the bottom of the cake on the bottom edge, all the way around the cake. (see photos)
Remove parchment paper, pushing against the chopped pecans so that you don't pull the frosting off the cake.
Garnish with whole pecans. Serve and enjoy! Start with small slices. This cake is pretty rich.
by The Food Charlatan