The other night I was on a late-night run to the grocery store with my mom. I was feeling particularly hungry-without-actually-being-hungry (anyone else? Please tell me I'm not the only one who wants to just keep eating sometimes, regardless of how vehemently your body is telling you that you are full…)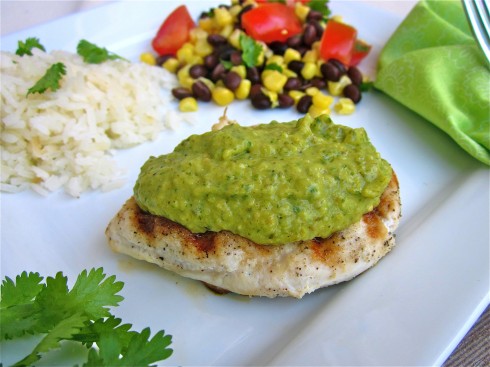 So needless to say I was staring at the candy bars in the check-out line. I asked my mom what her favorite candy bar is. She took a long hard look at the shelves, then pointed at one. I really love these Lindor chocolates on the top row…and for my favorite on the second row I'm going to have to go with Kit Kat…my favorite on the third row would be M&M's…fourth row Butterfinger…
And people wonder why I bake all the time. Do you see what I come from??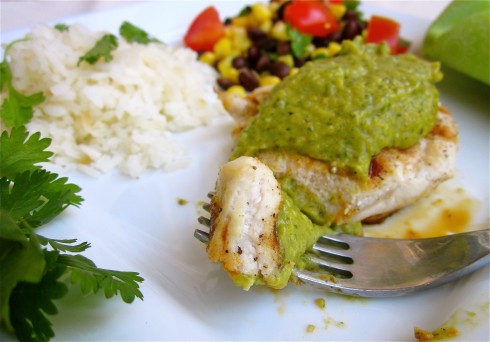 This sauce is soooooo good. It's very quick and healthy to boot. I had this on the table in a half hour. I like it best when served with Cilantro Lime Rice or Coconut Jasmine Rice. Also, you can see in the background the little salad I made to go with it. There's no recipe really; just throw together some frozen corn, a can of black beans, some chopped tomato, and some chopped cilantro. It's really good with the green sauce on it.
Chicken with Creamy Poblano, Tomatillo, and Avocado Sauce

Source: Elly Says Opa
1 very small onion, peeled and quartered (I used 1/3 of a large)
1 jalapeno, stemmed, seeded, and halved
1 poblano pepper, stemmed, seeded, and quartered
2 medium or 3 small tomatillos, husked, cored, and quartered
1 clove garlic, peeled
1-2 Tbsp. Canola oil, divided
1 avocado, peeled
1 Tbsp. cilantro (or more)
2 Tbsp. lime juice (about 1 lime)
1/4 cup half and half
4 small chicken breasts/chicken breast halves (about 5 oz. each)
For garnish:
1 can black beans, drained and rinsed
a proportionate amount of frozen corn, slightly thawed
1 or 2 tomatoes, chopped
as much chopped cilantro as you like
Preheat the broiler (or grill). Place the onion, jalapeno, poblano, tomatillos, and garlic in a broiler-safe pan. Drizzle with about 2 tsp. canola oil and broil for a few minutes, until vegetables begin to soften and char. Remove and place in a food processor; allow to cool as you cook the chicken. Add the avocado, cilantro, and lime juice to the food processor. Process until well-combined, and then stream in the half and half until the desired consistency. Season to taste with salt.
Meanwhile, cook the chicken on the grill or on a stove. To cook on the stove, place a large skillet over medium heat; add about 1 Tbsp. canola oil. Rub the chicken with salt, pepper, and whatever other spices you want. (I used garlic powder and onion powder.) Once the oil is hot, add the chicken and cook for 4-5 minutes per side or until cooked through. I cooked this for about 5-7 minutes on my George Foreman grill and it worked great.
Serve the chicken topped with the sauce. Refrigerate any leftover sauce in an airtight container for up to 2 days.
This is really good with rice and a simple salad of black beans, corn, tomatoes, and cilantro.