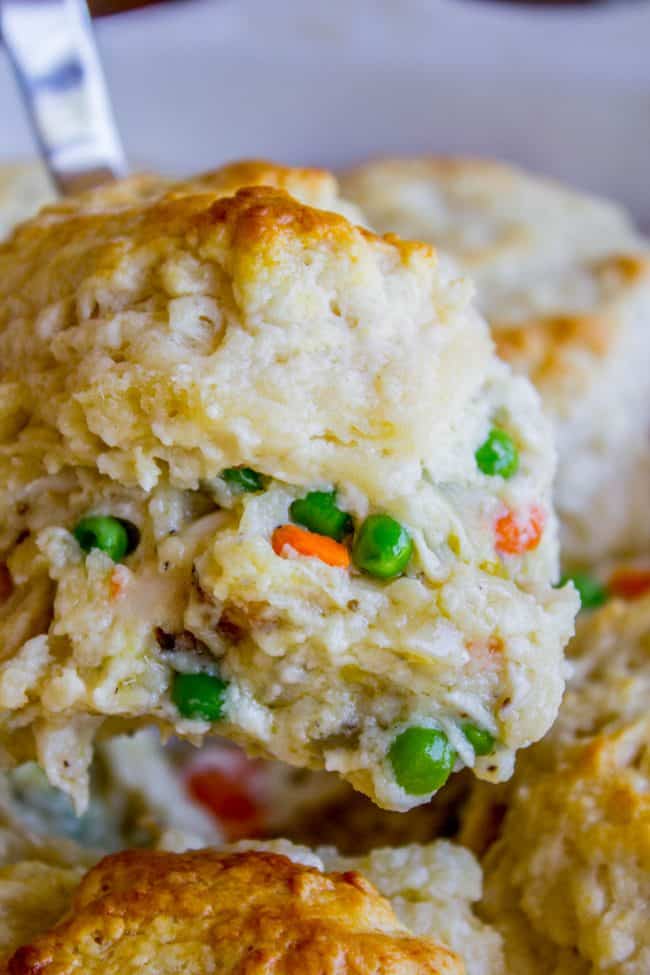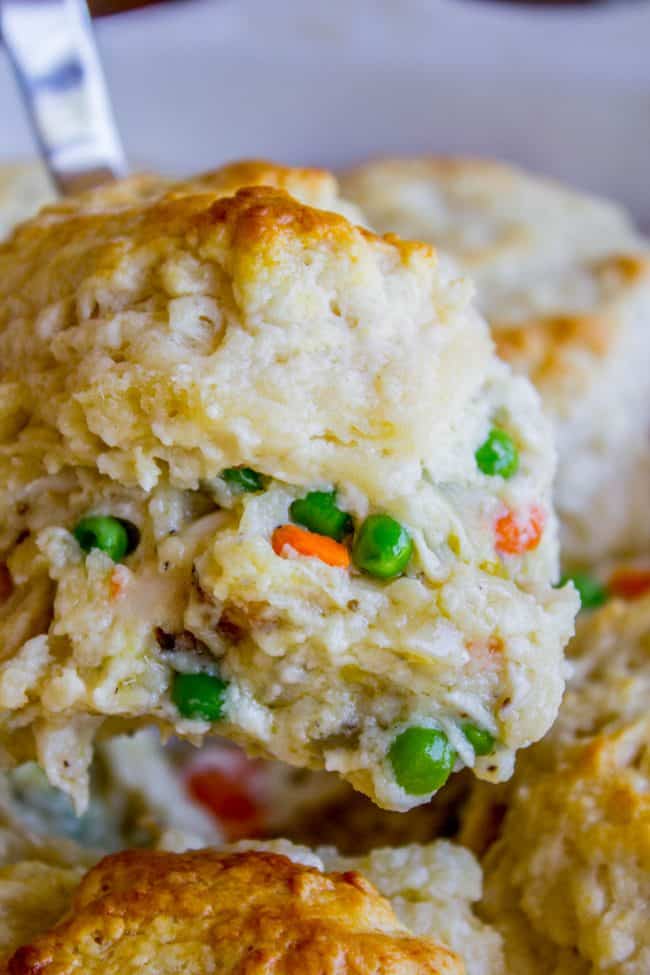 Did you make this recipe?
Leave a review »
Chicken Pot Pie with Flaky Biscuit Topping
12
adjust servings
Ingredients
1/2

cup butter (1 stick)

1/4

cup olive oil

1

large onion, chopped

4

large carrots, chopped

1

and 1/2 cups celery, chopped

3/4

cup flour

3

cups chicken broth*

1

and 1/2 cups milk

1

and 1/2 teaspoons kosher salt

1

teaspoon pepper

1/2

teaspoon celery seed

1

pound rotisserie chicken, shredded

1

and 1/2 cups frozen peas

1

recipe for Buttermilk Biscuits**

buttermilk or milk, for brushing
Instructions
In a large skillet, melt the butter with the olive oil over medium heat.
When it is hot, add the onions, carrots, and celery. Saute for about 7-10 minutes, until the carrots are tender. Sprinkle with a little salt and pepper.
Now we're going to make a roux. At this point you can either remove the vegetables from the pan with a slotted spoon (reserving in a bowl) or you could try my work-around. Tilt the pan to the side so that all the butter and fat is at the bottom. Push the veggies up (see photos).
Add the flour to the butter in the pan. Whisk together and cook for about 1 minute to cook out the flour taste.
Pour the chicken broth VERY slowly into the flour, keeping the pan tilted. Pour a little bit, then whisk so that the liquid is absorbed, then stir some more. Take your time, you don't want lumpy sauce.
Once you have added all the broth and have a nice white sauce, you can stir the vegetables together it.
Slowly stir in the milk.
Season with 1 and 1/2 teaspoons salt, 1 teaspoon pepper, and 1/2 teaspoon celery seed.
Cook, stirring occasionally for 3-4 minutes, or until it has reached a thicker consistency.
Stir in the chicken and frozen peas. Turn off the heat.
Pour the mixture into a 9x13 inch casserole dish.
Preheat the oven to 400 degrees F.
Make the dough for these homemade Buttermilk Biscuits, skipping all the rolling steps. Once you have kneaded the dough together, proceed here:
Separate the dough into 12 pieces and flatten them a little bit with your hands into a rough disc. It doesn't need to be perfect, and don't go too crazy, you want them kind of thick. (But not dome-y.) See photos.
Place each biscuit on top of the chicken mixture in the 9x13 pan.
Brush each biscuit with buttermilk or milk.
Bake at 400 for 25-30 minutes. The tops of the biscuits should be golden brown and the casserole should be bubbly.
by The Food Charlatan