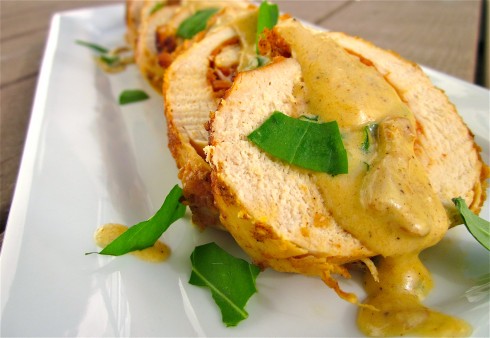 I was at a church activity the other day, helping some kids do crafts for Mother's Day. One little girl, who is about 5 years old, decided to make a Mother's Day card for Charlotte. This is how she spelled Charlotte's name on the envelope: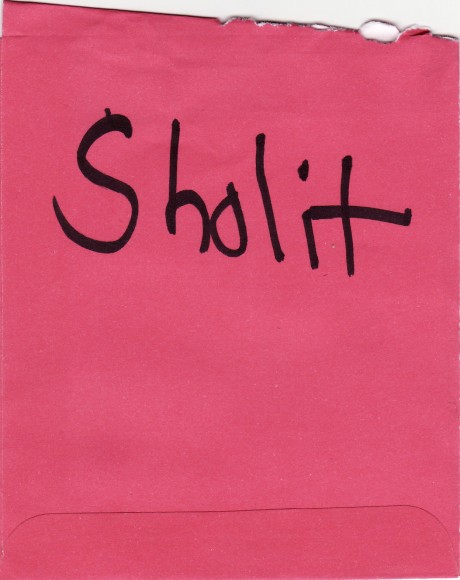 How awesome is that? I guess I'm a fool for never realizing Charlotte's name is practically a swear word.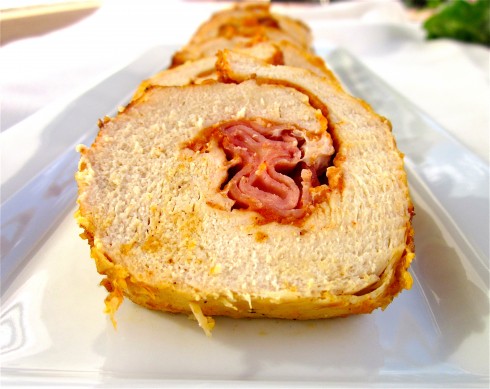 This is the only Chicken Cordon Bleu recipe I will ever use. I've made it quite a few times and it never disappoints. The sauce is what makes it. I am constantly dipping my finger in the pan when I make this. It is so good.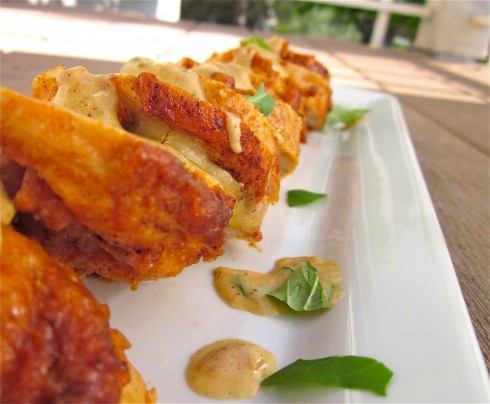 Chicken Cordon Bleu in Creamy Wine Sauce
Source: adapted from Allrecipes.com


4 skinless, boneless chicken breast halves
4 slices of Swiss cheese
4-8 slices smoked ham (or however much you need to wrap the cheese)
3 tablespoons flour
1 teaspoon paprika
6 tablespoons butter
1/2 cup dry white wine (I used cooking wine. You may substitute chicken broth if you want)
1 teaspoon chicken bouillon granules
1 tablespoon cornstarch
1 cup heavy whipping cream
1/4 cup fresh basil, chopped, plus more for garnish (this ingredient is optional. But it certainly makes you feel better having something green there to counterbalance your cream and butter mixture.)
Pound chicken breasts if they are too thick. Mix the flour and paprika in a shallow bowl, and coat the chicken pieces. Place a cheese and ham slice on each breast within 1/2 inch of the edges. Fold the edges of the chicken over the filling, and secure with toothpicks. (It helps if you wrap the cheese inside the ham, that way it won't ooze out. Instead of slices, I cut pieces of cheese that were about half the length of a cheese stick, wrapped them in ham, then rolled them up in the chicken breast, securing with toothpicks.)
Heat the butter in a large skillet over medium heat, and cook the chicken until browned on all sides. Add the wine and bouillon. Reduce heat to low, cover, and simmer for 30 minutes, turning occasionally until chicken is no longer pink and juices run clear.
Transfer the chicken to a warm platter, and remove the toothpicks. Whisk the cornstarch with the cream in a small bowl, and whisk slowly into the skillet. Cook, stirring until thickened. Remove from heat and add fresh basil. Slice the chicken, if desired. Pour the sauce over the chicken and serve warm. (This makes enough sauce to serve over a side dish, like mashed potatoes.)