You never fully appreciate something until you no longer have it. Growing up in California, my parents had a huge garden: blackberries, apricots, oranges, limes, lemons, grapefruit, raspberries, peaches, plums, grapes, apples…the list goes on. We also had a Bing cherry tree, which was awesome. I have many fond memories of cherry-pit-spitting contests. My whole family would  line up in a row and see who could spit their pit the farthest.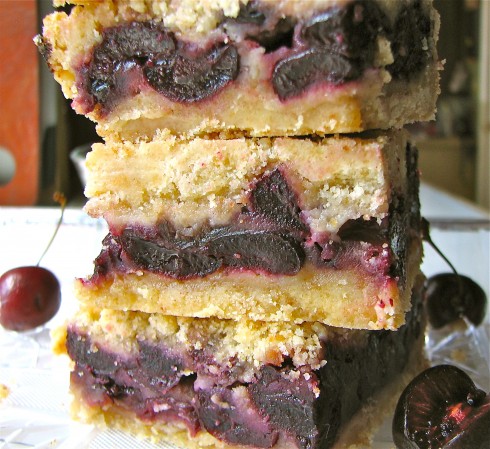 For some reason this often progressed into a Kix-blowing contest, wherein the family would line up, plug one nostril, shove a Kix up the other nostril, and see who could blow it out of their nose the farthest. (I always lost. I guess flinging projectiles from my facial orifices is just not one of my skills?)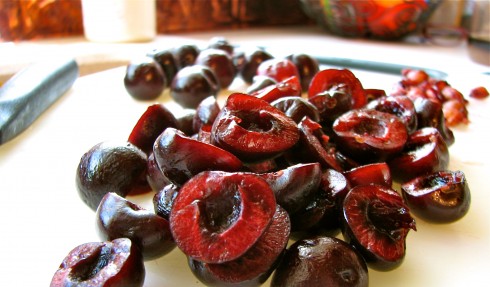 We usually didn't bake with the Bing cherries because we had what we called a "sour" cherry tree that was better for baking. So although I usually ate about half a tree's worth of Bing cherries every summer when I was a kid, this is the first dessert I've ever made with them. These bars are soooo good. Bing cherries are already pretty sweet, which is why these bars are so rich. The crumbly crust is just right on. I love it. I think this recipe would work with other fruit, too.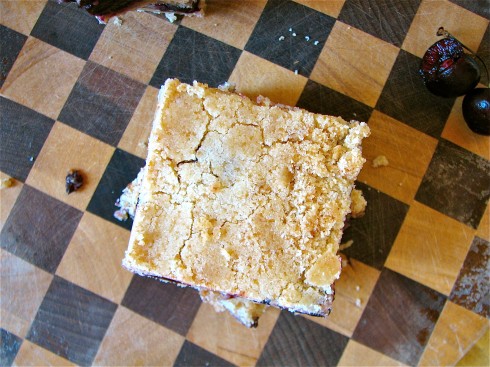 Cherry Pie Crumble Bars

Source: Crepes of Wrath
2 pounds Bing cherries, stems and pits removed
4 cups all-purpose flour
1 1/2 cups granulated sugar
1/2 cup brown sugar
1/2 teaspoon salt
1 1/2 cups (3 sticks) unsalted butter, chilled and cubed
1/4 cup brown sugar
2 teaspoons fresh orange juice
1/2 teaspoon cinnamon
Pit your cherries, slice them in half, and place in bowl. Set aside.
Preheat the oven to 350 degrees F. In a large bowl, combine the flour, granulated sugar, 1/2 cup brown sugar, and salt. Cube the chilled butter, then use your hands, a fork, or a pastry cutter to cut it into the dry ingredients. Work somewhat quickly, especially if you are using your hands, so that the butter doesn't get too warm and melt. Keep working until the mixture forms pea-sized crumbs. (I used a food processor. Just dump it all in and pulse until you get a crumbly mixture.)
Place 1 cup of the crumb mixture in with the cherries and mix to combine. Add in the 1/4 cup of brown sugar, orange juice, and cinnamon and set aside.
Grease and/or line a 9×13-inch pan with foil or parchment paper. Take half of your remaining crumb mixture and press it into the bottom of the pan as evenly as you can (it is best to use your hands for this). Bake the crust for 10-12 minutes, until golden and set, then allow to cool slightly. (Or…don't.)
Place the cherries on top of the crust, followed by the remaining crumb mixture. Pat the crumbs down gently on top of the cherries, and bake for another 40-45 minutes, until golden and set. Remove from the oven and allow to cool completely before cutting into bars.
These will keep well in an airtight container at room temperature or in the fridge for up to 4 days, or in the freezer for up to 3 months. Once removed from the freezer, you can put them back in the oven to crisp the crust up a bit at 400 degrees F for 8-10 minutes or so, or just enjoy them as they are.Note: I successfully halved this recipe. Just use an 8×8 pan. I didn't change the bake times.