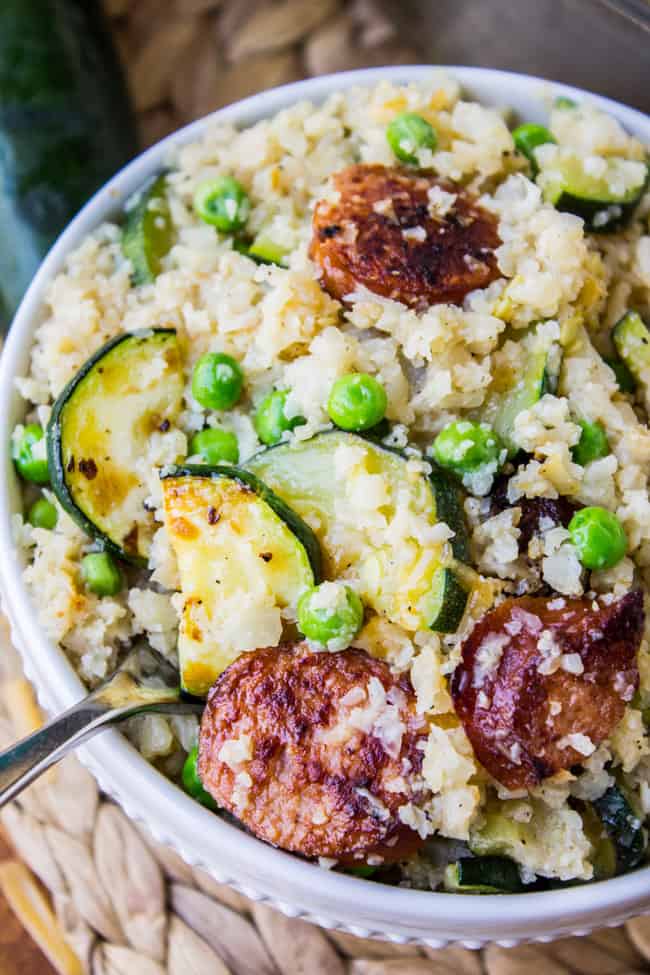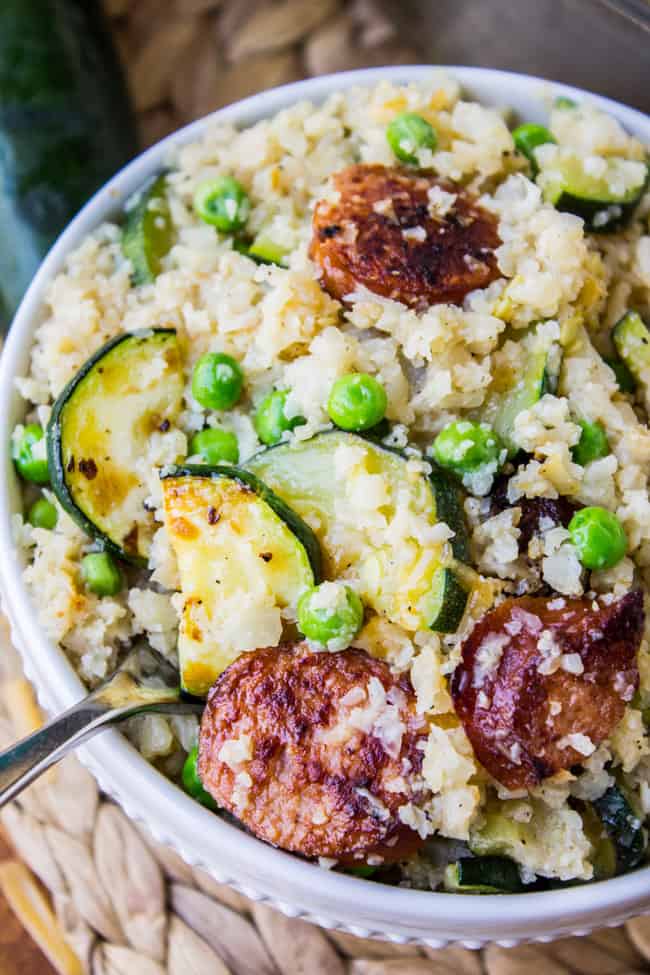 Did you make this recipe?
Leave a review »
Cauliflower Rice Skillet with Zucchini and Kielbasa
Serves 6-8
adjust servings
Ingredients
2

medium heads cauliflower

1

tablespoon olive oil

1

pound kielbasa sausage, sliced into bite-size pieces

1/4

cup butter (half stick)*

juice from half a lemon

2

teaspoons salt

1/2

teaspoon pepper

1/4

teaspoon cayenne pepper

1

tablespoon dijon mustard

2

medium zucchini, sliced lengthwise and chopped

1

and 1/2 cups frozen peas

1/2

or 1 cup cheddar cheese, shredded
Instructions
Begin by preparing your cauliflower. Chop each head in half, then into quarters, then separate the florets from the stem in one slice. (see photos)
Chop the cauliflower into 1 or 2 inch pieces. Don't worry about keeping the florets pretty-looking, your pulverizing them anyway.
Pulse the cauliflower in a food processor in batches. I usually do 3 batches per head of cauliflower. This sounds like a lot, but it only takes about 4-5 one-second pulses for each batch, so it doesn't take too long. Pulse only until the cauliflower looks like rice.
Transfer all the cauliflower rice to a bowl and set aside.
In a large, wide-bottomed skillet, heat 1 tablespoon olive oil over medium high heat. When it is shimmering, add the sliced kielbasa and spread it out into one layer. Let cook for about 3 minutes, then stir occasionally until browned on all sides, another 2-3 minutes.
Remove the sausage with a slotted spoon to a plate and set aside.
Add a half stick of butter to the rendered sausage fat, keeping the heat a little over medium. When it is hot, add all of the cauliflower rice. Stir occasionally for about 10 minutes uncovered.
Add the lemon juice, salt, pepper, cayenne pepper, and dijon mustard.
Add the chopped zucchini and stir. Cook for another 5 minutes uncovered.
Continue cooking until the cauliflower rice and zucchini are tender.
Add the peas and kielbasa and stir until warmed.
Turn off the heat, even out the top, and sprinkle with cheese. At this point you can either put a lid on and wait a few minutes to melt the cheese, or you can transfer to a broiler for a minute or so.
You could serve this with bread, green salad, fresh fruit, etc.
by The Food Charlatan