Cauliflower Pizza Crust (Gluten-Free)
Who's ready for more pizza? I know I just posted another pizza-themed recipe last week, but honestly, is there ever too much pizza? Not possible. I think that was one of Charlotte's first words. Eric cheered loudest on Sunday after he realized he guessed right on the coin-toss at the Super Bowl and won a free pizza from Papa Johns.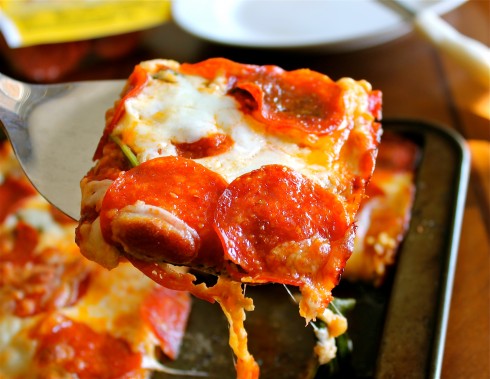 Also this makes 2 recipes in a row I've posted that are actually healthy but masquerade as comfort food. (Banana ice cream anyone?) Don't worry, I'm not trying to trick you. I only eat things that taste good. I'm picky like that. I can't be held responsible if sometimes those recipes also happen to be healthy.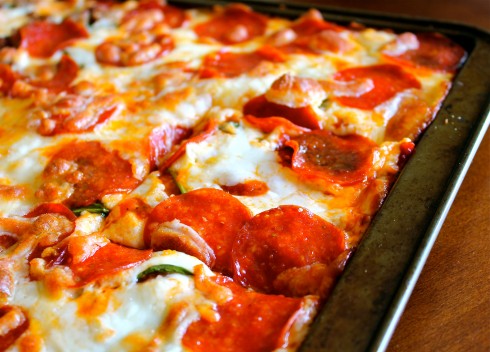 Raise your hand if you have gluten-free friends. Seems like everybody is going gluten-free these days (or being diagnosed). So it's good to have some tasty grain-free recipes up your sleeve. I have never seen anyone so happy about something I made for them. I thought my friend Gia was going to cry when I told her I made her flour-free pizza.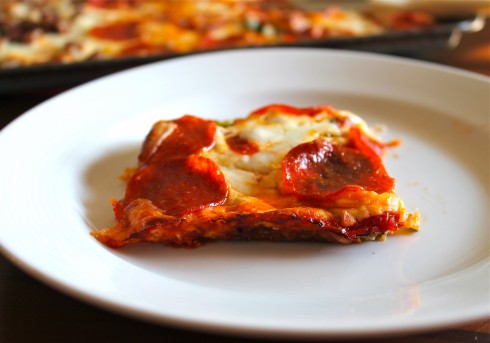 I've been stalking Natalie over at Perry's Plate recently. She has some really amazing grain-free recipes on her site. I just realized that this is the second pizza recipe of hers I have made. She knows how to do pizza, what can I say.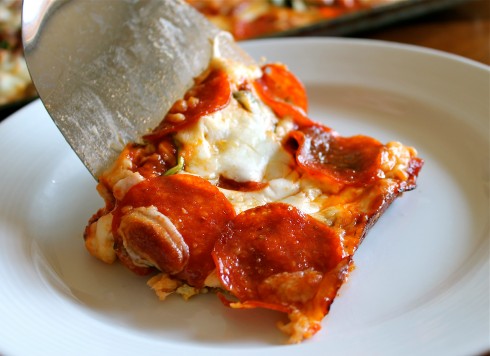 This crust is not bread, and isn't trying to be bread. It's cauliflower. So don't expect anything yeasty. Natalie says it tastes like quiche, and I think that's a pretty good description. But quiche that tastes like pizza. How can this be a bad thing?
Cauliflower Pizza Crust (Gluten-Free)

Source: Perry's Plate
1 head cauliflower, stems removed and cut into 2-inch florets
3 eggs
2 cups mozzarella cheese
1 1/2 tsp Italian seasoning or whatever combo you like of oregano, thyme, basil, etc.
a few big pinches of salt (maybe 1/2-3/4 teaspoon)
Your favorite sauce, cheese, and toppings
Preheat oven to 450 degrees F. Prepare a rimmed baking pan with nonstick spray or silicone liner. I used an 11×17 inch pan.
Boil or steam the cauliflower until it is fork-tender, about 10 minutes. Drain well, transfer to a food processor and process until smooth. Transfer cauliflower puree to a large bowl and add the eggs, 2 cups of mozzarella cheese, dried herbs and salt. Mix well.
Spread mixture in an even layer on the prepared baking sheet. Bake for about 16-20 minutes or until the crust begins to turn a darker golden brown around the edges with spots on top.
Remove from the oven. Add desired sauce, toppings, and cheese. Return to oven for 10-12 minutes or until toppings are heated through and cheese is melted and golden.
We are a participant in the Amazon Services LLC Associates Program, an affiliate advertising program designed to provide a means for us to earn fees by linking to Amazon.com and affiliated sites.