Carrot Cake Cookie Sandwiches with Cream Cheese Frosting
What a fun weekend! Did anyone else have the best Memorial Day ever? We had so much fun hanging out with friends and family and pretending like we aren't moving away from them all in 3 weeks. Sigh. We joked at the end of the day that we should have stayed home all weekend and watched TV so that we would be like, dang, this is lame, let's move to California. Instead we went on a beautiful hike in the mountains, had an awesome barbeque with awesome food (I brought this) and awesome friends, then ate amazing macarons with Eric's sister at a cute local gelato shop.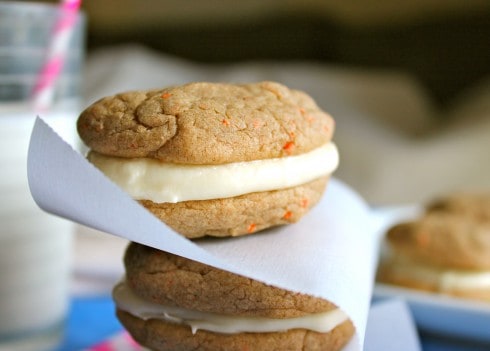 (This is totally off subject, but speaking of Eric's sister Clairice, she is an amazing graphic designer who just made it as a semifinalist in a contest over at Spoonflower.com. Hers is the one called Retro Tech. How awesome is she? To win the contest she will need votes starting in about a week for 3 other designs she is submitting. I'll let you know when it happens so that you can all show her some love. She designed my blog, too. She is the best!)
At our barbeque yesterday we all shared stories about any relatives of ours who have served in the armed forces. It was really fun hearing everyone's stories. My grandpa served in World War II, but I was sad to realize that I couldn't even come up with one story about him. He's passed away now, so I'll have to ask my dad. All I know is that we still have the bedrolls he slept on, and we also have a hammer that my grandma used working on airplanes for the war. I don't know if she was helping build them or fixing them or what.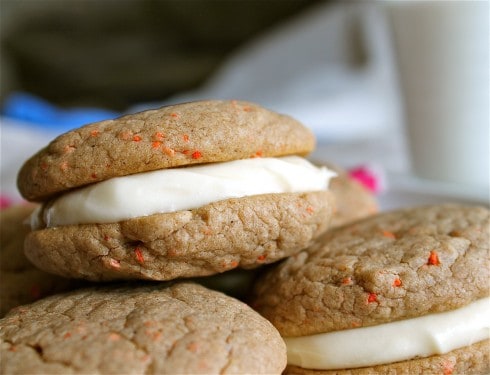 Now that we are moving we are trying to clean out our pantry and freezer. I found a box of carrot cake mix that I bought a while ago, intending to make it for Eric since he likes carrot cake. I'm not the hugest fan, so I never got around to it. (What can I say, chocolate always beats carrot cake.) But then I got the genius idea for carrot cake cookies…and these sandwiches were born. I must say they are pretty amazing. I prefer them to carrot cake. And they are definitely waaaaay faster!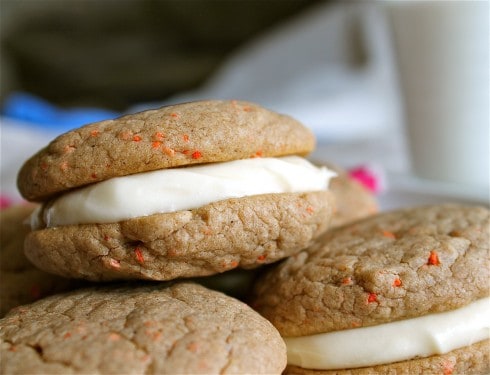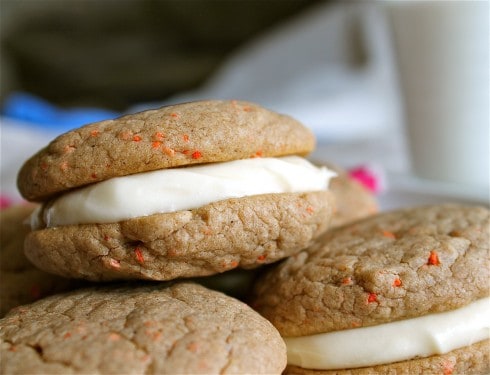 print
Did you make this recipe?
Leave a review »
Carrot Cake Cookie Sandwiches with Cream Cheese Frosting
Makes about a dozen sandwiches
adjust servings
Ingredients
1

box carrot cake mix

2

eggs

1/3

cup oil
For the frosting
Instructions
Preheat oven to 350. Line cookie sheets with parchment paper or a silpat. Beat together the cake mix, eggs, and oil. The batter will be stiff.
Take rounded teaspoons of the dough, roll into balls, and place on cookie sheets. Press them down with your palm or the bottom of a glass so they are a little flattened.
Bake for 8-10 minutes. Allow to set up on the pan for a couple minutes, then transfer to a wire rack to cool.
While the cookies are baking, make a HALF batch of this Cream Cheese Frosting, click the link for details. Beat until smooth.
To assemble, spread about a tablespoon of frosting on half the cookies, then top with the remaining cookies. Store in a sealed container in the fridge. Unless you are planning on eating all of them right away. Don't worry. No one is judging you.
by The Food Charlatan

If you make this recipe,
share it on Instagram
 using the hashtag
#TheFoodCharlatan
so I can see it!
Source: The Food Charlatan
We are a participant in the Amazon Services LLC Associates Program, an affiliate advertising program designed to provide a means for us to earn fees by linking to Amazon.com and affiliated sites.