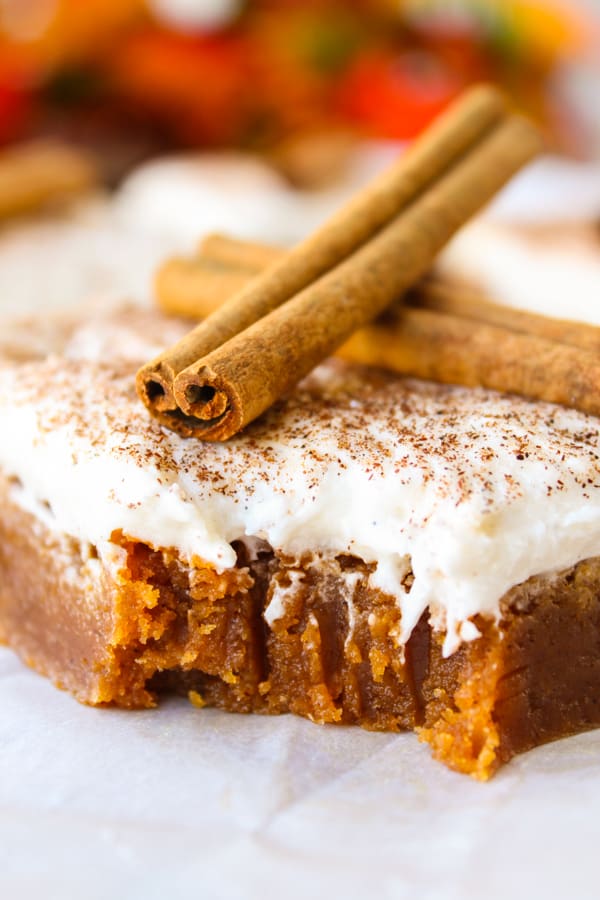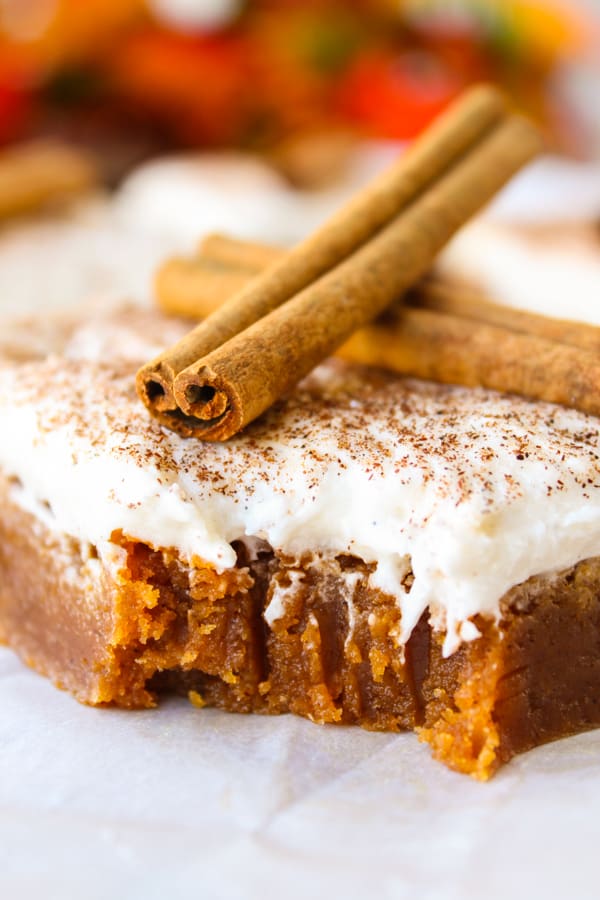 Did you make this recipe?
Leave a review »
Butterscotch Pumpkin Cake
9 servings
adjust servings
Ingredients
For the cake
3/4

cup butterscotch chips

1/2

cup (1 stick) salted butter

1

cup sugar

6

tablespoons plain pumpkin puree

1

and 3/4 cup flour, spooned and leveled

1

teaspoon cinnamon

1

and 1/2 teaspoons pumpkin pie spice

1/4

teaspoon salt
For the frosting
1/2

cup (1 stick) salted butter

1 3/4

cup powdered sugar

1

teaspoon vanilla bean paste (or regular vanilla)

about 5 teaspoons milk

dash salt, if you want
Instructions
Preheat your oven to 350 degrees F. Line an 8x8 inch square pan with parchment paper, or grease well. Set aside.
In a large microwaveable mixing bowl, add butterscotch chips and butter. Melt in the microwave in 30 second increments until the mixture is smooth. (It may take a bit of stirring; see photos below. I used a whisk toward the end.)
Use a wooden spoon to stir in the sugar and pumpkin puree.
Add the flour to the bowl, but don't mix it in yet. Add the cinnamon, pumpkin pie spice, and salt, and stir that into the flour with a dry spoon. Then stir the flour into the rest of the mixture. Don't overmix, just stir until it's combined.
Spread the batter into the prepared pan. Bake in the preheated oven for 27-29 minutes, or until a toothpick comes out clean. Let the cake cool completely.
Meanwhile, make the frosting. In a mixing bowl, beat the butter for about 1 minute until it is fluffy. (If you haven't softened it, make it 2-3 minutes.)
Add 1 cup of the powdered sugar and combine. Add the vanilla and 3 teaspoons of milk.
Beat in the remaining powdered sugar. Add a little more milk if it is stiff. Add a dash of salt if it is too sweet for you.
Beat well, scraping down the sides, before spreading it on the top of the cooled cake.
Sprinkle with additional pumpkin pie spice, if desired.
by The Food Charlatan