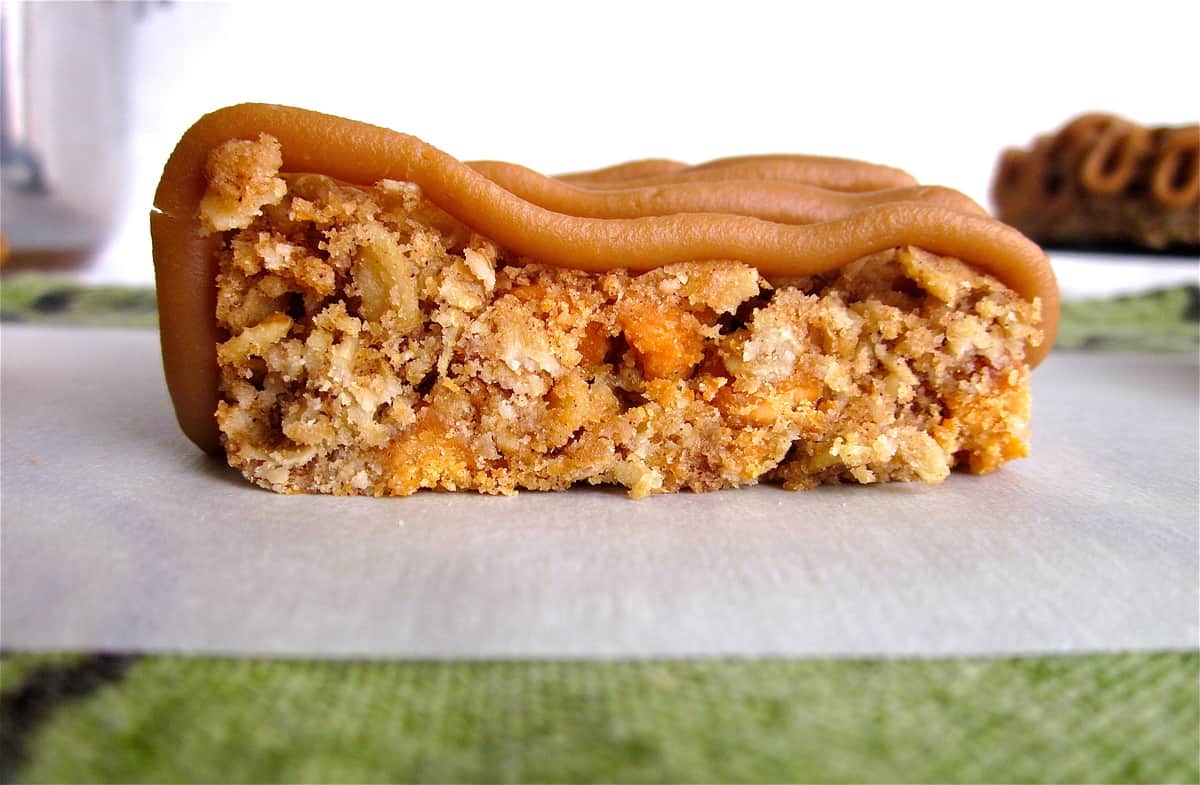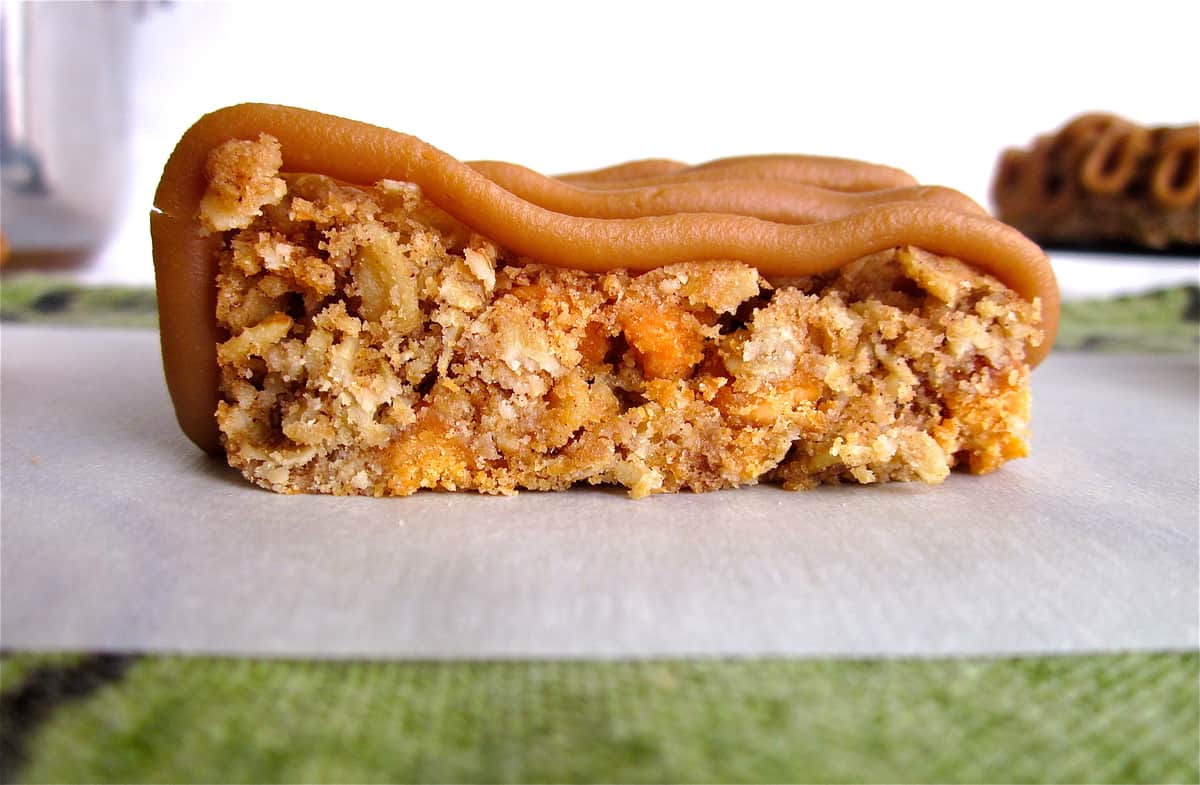 Facts:
I never have the patience to fold a fitted sheet correctly. I also don't know how, but I'm pretty sure that even if I did I never would.
I am horrible at cracking eggs, but I still never do it into a separate bowl. Total rebel.
Drinking through straws is always more fun.
The day I crave a tall glass of chocolate milk is usually the day I realize I am running low on milk.
When I am leaving the house, I always idiotically turn the lights off before digging in my purse for the keys. This makes an arduous task even worse, since my purse is a labyrinth to begin with.
I'm the jerk who cuts her brownies or bars from the middle of the pan, leaving the crusty edges for someone else to deal with.
I ate Cheetos for dinner tonight, and am feeling slightly orange.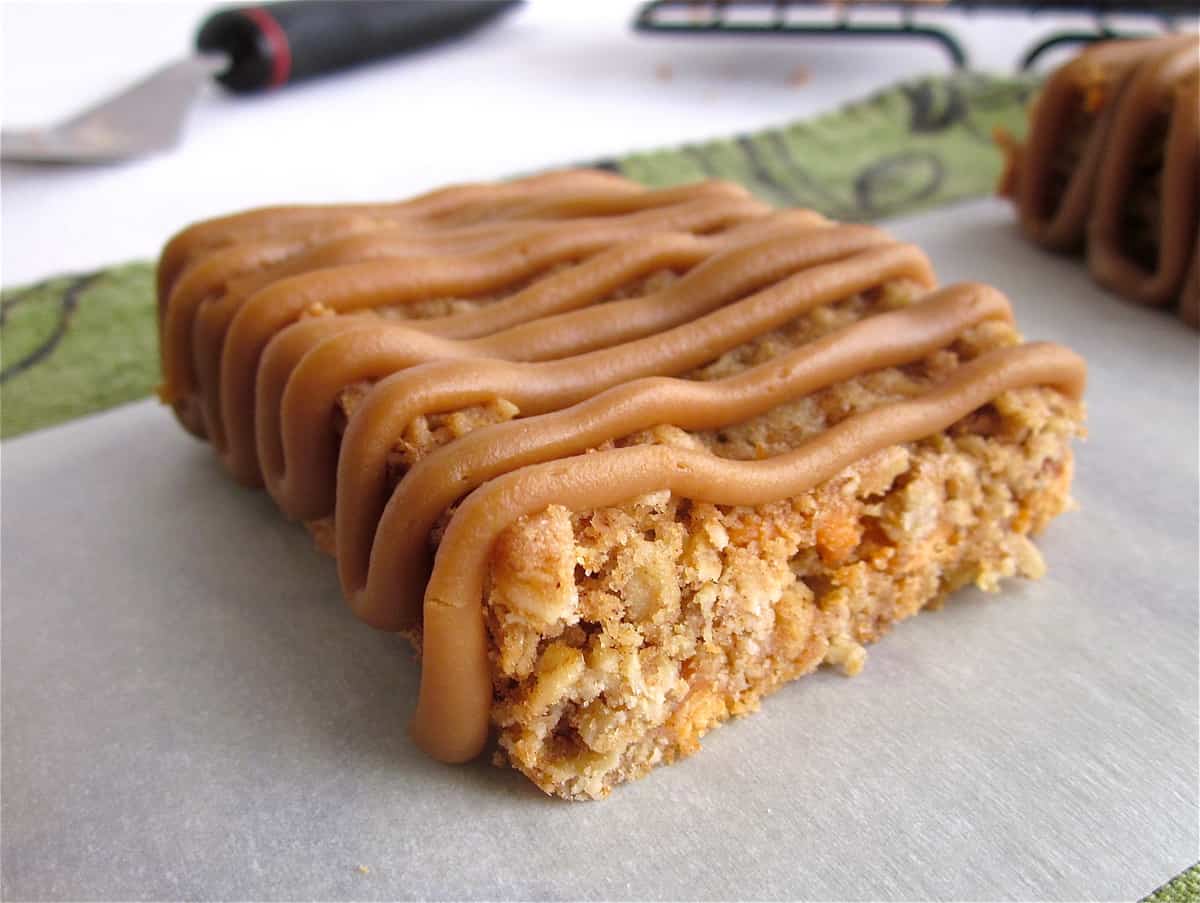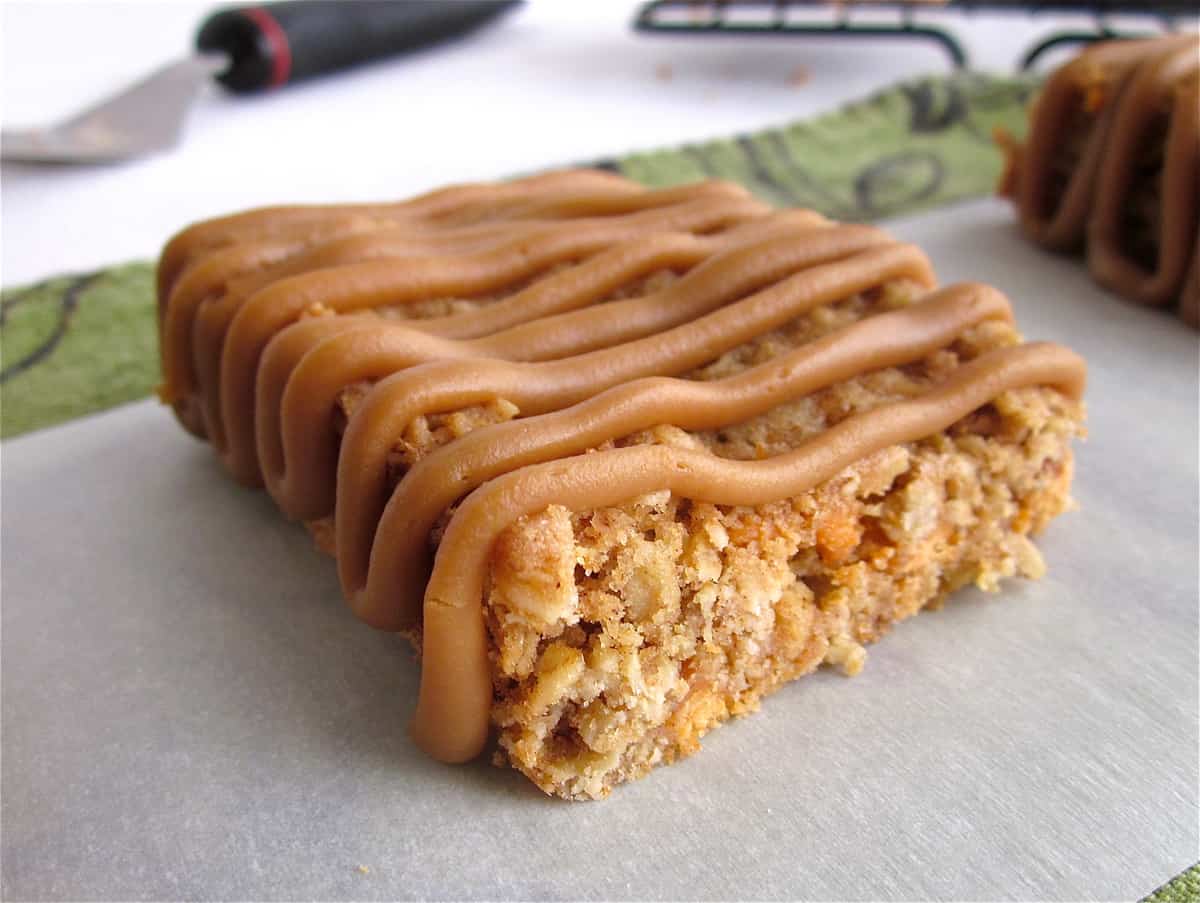 I think these Oatmeal Butterscotch Bars are fabulous by themselves, but I will never say no to Brown Sugar Glaze. Or any glaze, for that matter. (Once my old roommate referred to me in an email as "Lady Karen of the Bright Eyed-Glazed Doughnut Stare.")
And who can say no to butterscotch? These bars were so tempting that I started making them at 11 o'clock at night. Who doesn't want a butterscotch oatmeal midnight snack? Yum.
Butterscotch Oatmeal Bars with Brown Sugar Glaze
Source: Sweet Treats and More
1 cup flour
1 teaspoon baking soda
1/2 teaspoon salt
3/4 teaspoon cinnamon
1 cup butter, softened
3/4 cup sugar
2 eggs
1 teaspoon vanilla
3 cups oats
1 (12 oz) package of Butterscotch Chips
Preheat oven to 350. Grease a 9×13 inch pan and set aside.
In a small bowl combine flour, soda, salt and cinnamon and set aside.
In another large bowl, beat butter then add sugar and beat until fluffy.  Add eggs and vanilla and beat until smooth.
Gradually add the flour mixture.  Stir in oatmeal, then butterscotch chips.
Spread batter into the greased pan.  Bake at 350 for 22-25 minutes. If the edges seem to be browning but is still gooey in the middle, reduce the temperature to 325 for last 5-10 minutes. Once cool, frost with brown sugar glaze.
Brown Sugar Glaze
1/4 cup butter
1/2 cup brown sugar
1/8 cup milk
1/2 cup sifted powdered sugar
In a saucepan melt butter.  Stir in brown sugar and bring to a boil.  Lower heat to medium and continue to beat for two minutes, stirring constantly.  Add the milk and return to boil (continually stirring).
Remove from heat and let cool to luke-warm temperature.  Gradually stir in powdered sugar and beat until smooth.  Add more powdered sugar if needed.  If it seems too thick you can add a little bit of warm water until you reach the desired consistency. (I probably should have done this, since you can see in my pictures that the glaze was a bit thick. But it still tasted divine.)