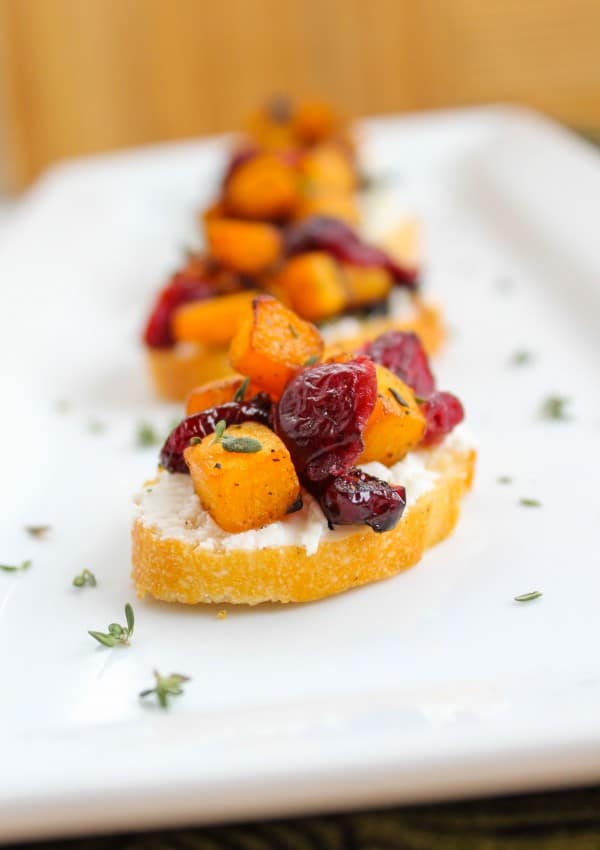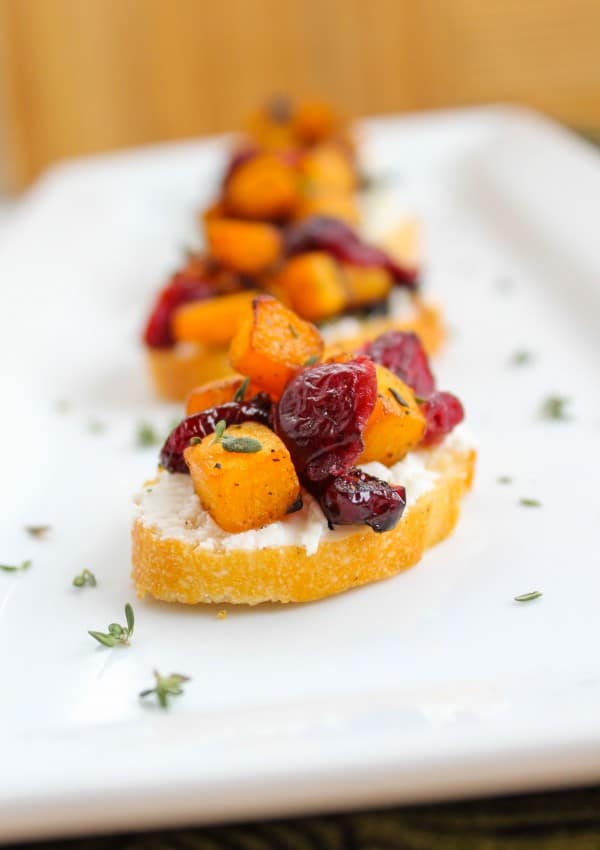 Did you make this recipe?
Leave a review »
Butternut Squash, Cranberry, and Goat Cheese Crostini
Serve 8-10
adjust servings
Ingredients
2 1/2

tablespoons extra virgin olive oil

1

(12") sourdough baguette, thinly sliced (1/4" pieces)

3

to 4 ounces goat cheese, softened
For the topping
1 1/2

tablespoons extra virgin olive oil

1

shallot, minced

1 1/2

cups peeled and diced butternut squash (3/4 inch cubes)

2

garlic cloves, minced

1/2

cup dried cranberries, roughly chopped

2 1/2

tablespoons minced thyme

salt and pepper to taste
Instructions
Start by chopping the butternut squash. See tutorial below.
Preheat oven to 375 F. Set out the goat cheese to soften. Slice the baguette thinly. (Quick tip: if you're baguette is stale, wrap it in a damp tea towel and microwave for 5-15 seconds. Works like a charm.)
Use a pastry brush to coat each side of the sliced baguette pieces with the 2 1/2 tablespoons of olive oil. Sprinkle with salt and pepper.
Bake in the preheated oven for 5 minutes, flip each sourdough, and continue to bake for an additional 3 to 4 minutes. Don't worry if they have not browned. Remove from oven and set aside.
For topping: Pour 1 1/2 tablespoons oil into a large, heavy bottom skillet, and place over medium-high heat. Add shallots and sauté for 2 minutes, stirring frequently.
Add squash and continue to sauté for 4 minutes. Reduce heat to medium, add garlic and 2 tablespoons of thyme and stir together.
Cook mixture for 5 minutes, then add cranberries. Season to taste with salt and pepper.
Cook for another 4 to 10 minutes, or until squash is fork tender. (If the squash is chopped large, it will take longer.)
To assemble: Spread some goat cheese onto each crostini and top with a spoonful or two of the squash mixture, pressing it in slightly to make it stick. Sprinkle with remaining thyme and serve!
by The Food Charlatan