Happy 4th of July everyone! I hope you all enjoy your fireworks and glowsticks today. Just try not to ignite the bushes. I'm pretty sure the entire Western half of the United States is already on fire.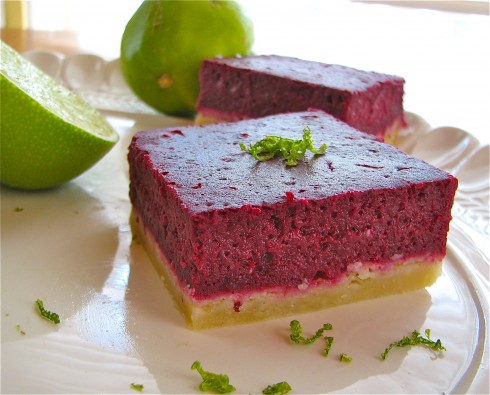 Yesterday we had a long afternoon, and Charlotte was grumpy because she was late for her nap. I didn't realize just how irritated she was with us until I turned around in the car to see this: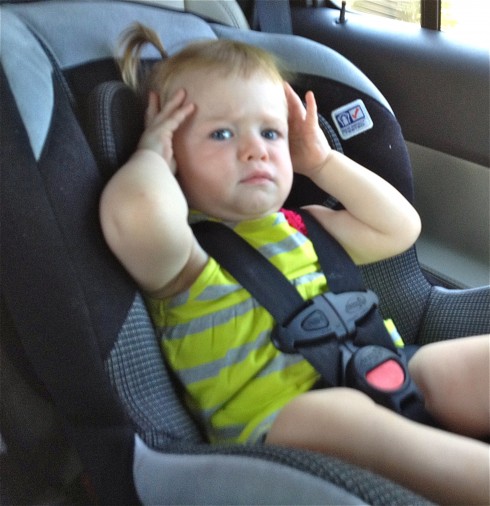 Yes, she is sticking her thumbs in her ears while giving us the evil eye. I'm not sure if it was our inane conversation or the song we were listening to that caused the offense.
These bars are fabulous. A perfect tangy summer treat. Blackberry and lime is a great flavor combo. We made these for a family barbecue and didn't pull them out until after 5 different kinds of salad, beans, hamburgers, brats, AND Bumpa's famous malts. (Bumpa is Eric's Grandpa. The first grandkid couldn't quite pronounce "grandpa" and the name stuck.) We were all so full that hardly anybody even tried them. But the next day I ate a copious amount for lunch and felt pretty good about that choice.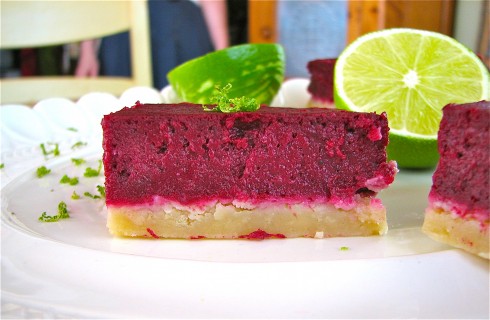 Blackberry Lime Bars

Source: The Improv Kitchen
For the crust:
9 tablespoons (1 stick + 1 tablespoon) butter
¼ cup sugar
1 cup flour
1 teaspoon vanilla extract
pinch of salt
For the filling:
12 oz (heaping 2 cups) frozen blackberries thawed (about 1 cup of pulp/juice)
¾ cup sugar
⅔ cup fresh lime juice (I used 4 large ones)
2 tablespoons lime zest (about 4 limes worth)
3 egg whites
1 egg
⅔ cup flour
pinch of salt
optional: powdered sugar for dusting on top
To make the crust:
Preheat oven to 350º F. Line an 8×8 glass baking dish with parchment paper so you can easily lift the bars out once they've cooled. Cream the butter and sugar together with an electric mixer, then add the vanilla and salt. Add flour until just incorporated. Put dough in baking pan and press with your hands until it evenly covers the bottom of the dish (this is a lot easier if you get your fingers wet.) If you want the crust to be even, get a drinking glass wet and use that to flatten it out. Bake for 20 – 25 minutes until slightly golden brown.
To make the filling:*
If you didn't have enough time for the blackberries to thaw on their own, place in microwave for 1 minute to soften them up. Place the berries in a blender or food processor and pulse until the berries are liquidy. Then place a fine mesh sieve over a bowl and press the berries through (this removes the seeds). If you don't mind seeds, you can add them in whole. Add sugar, egg whites, egg, lime juice, zest, flour, and salt to the bowl and stir to combine. Pour the mixture into the crust (don't worry, it's a very loose mixture, it will thicken) and bake for 25-30 minutes.
Let cool to room temperature and then place in the refrigerator for 4 hours (or until they've cooled completely). You can place them in the freezer if you need them sooner but refrigerator is best.
*If you like a higher crust to filling ratio, you might want to half the filling and decrease the baking time.